Tuesday Fashion Shot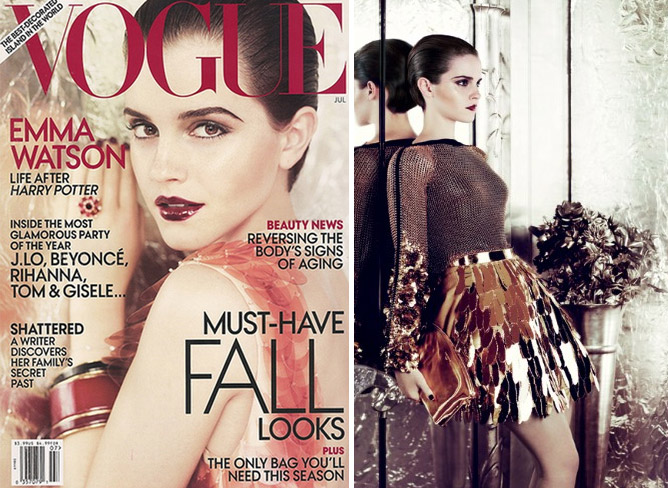 Emma Watson's First US Vogue Cover
Emma Watson has landed her first US Vogue cover at just 21 years of age!
The glamorous beauty covers the July 2011 issue of American Vogue, ahead of the release of the final Harry Potter film. Looking immaculately polished with her flawless skin and striking, delicate features; Watson wears a divine gown from the Prada Fall 2011/12 collection. Photographed by Mario Testino, within this issue Watson also wears looks by Tom Ford, Alexander McQueen, Prada, Calvin Klein and Dolce & Gabbana.
Watson is a fan of young British Designers – often choosing to wear labels such as Erdem and Hakaan, among others – and said in her interview with Vogue US: "I thought: "If people are going to write about what I'm wearing, then I would wear young British designers who need the publicity."
– – – – – – – – – – – – – – – – – – – – – – – – – – – – – – – – – – – – 
Angelina Jolie By Annie Leibovitz for Louis Vuitton

Renowned photographer Annie Leibovitz has photographed Angelina Jolie for the Louis Vuitton Core Values campaign.
The Louis Vuitton Core Values campaigns celebrate Vuitton's timeless classics pieces, in real situations on real people. Reclining on a wooden boat in Cambodia, Angelina Jolie looks serenely beautiful with her own six-year-old monogrammed 'Alto' carryall bag.
Of the campaign, Louis Vuitton's executive vice president, Pietro Beccari, has said: "People are not used to seeing Angelina in this situation. I like the fact that it's a real moment. This travel message we give through personal journeys is a fundamental one for the brand."
Previous people to feature in this campaign, include; Bono and his wife Ali Hewson in Africa; Sofia Coppola and her father Francis Ford Coppola in the Buenos Aires countryside; Keith Richards in a hotel suite; and Mikhail Gorbachev, former President of the Soviet Union and Nobel Peace Prize winner in the back of a limo passing remains of the Berlin Wall.
Jolie will donate a significant portion of her fee to a charity, which will most likely be the Maddox Jolie-Pitt Foundation in aid of community development and conservation in Cambodia.
– – – – – – – – – – – – – – – – – – – – – – – – – – – – – – – –
Tobey Maguire For Prada Menswear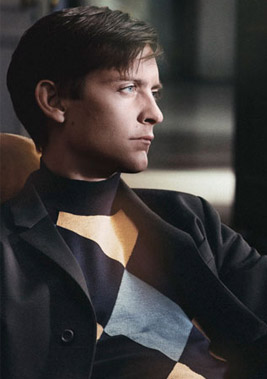 Tobey Maguire has been announced as the new face of Prada's Menswear Autumn / Winter 2011-12 campaign (pictured right).
Of his new role Maguire has said: "A great supporter of the Arts, Miuccia Prada has inspired a culture of creativity that is woven through every aspect of her company, from her collections, her campaigns, to every design detail in her stores. I have such admiration for her artistry and I'm thrilled to be a part of Prada's fall campaign."
– – – – – – – – – – – – – – – – – – – – – – – – – – – – – – – –
Top 3 Covers For July 2011
Besides Emma Watson's divine cover for Vogue US; my other top 3 covers for July 2011 are:
–  Cate Blanchett covers In Style Australia, in Gucci
–  Claudia Schiffer covers Harper's Bazaar UK, in Prada
–  Beyoncé covers Dazed & Confused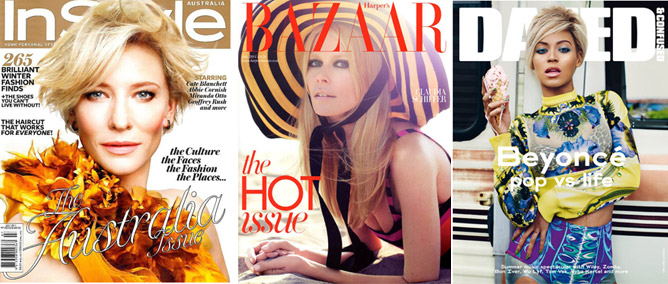 Happy Tuesday! xx
Photos from fashion.telegraph.co.uk / fashiongonerogue.com / vogue.co.uk
Your Fabulous Fashion Scoop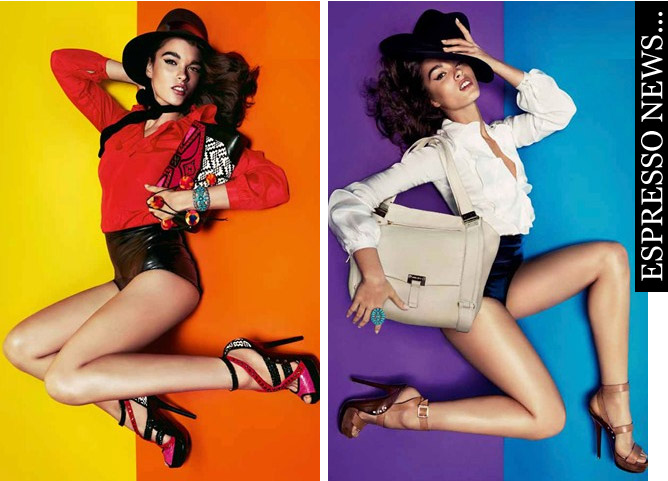 4 Espresso Shots Of Fashion News & My Top 5 'Chic Last Week'…
– – – – – – – – – – – – – – – – – – – – – – – –
Jimmy Choo Sold for £525.5 million
Labelux, a luxury goods group which also owns Bally, has brought Jimmy Choo for what is thought to be £525.5 million. While figures are yet to be confirmed, the future now looks even brighter for the luxury shoe label. Labelux has announced it has plans to expand Jimmy Choo into Asia.
Of the Business deal, Tamara Mellon, Jimmy Choo President and Co-Founder , has said; "I am immensely proud of all we have achieved over the last 15 years and delighted we are to be part of Labelux, a partner [that] I know shares our values and passion and [that] seeks ambitious growth in the luxury industry. This is wonderful news for the women who are, or who aspire to become, part of the Jimmy Choo lifestyle."
– – – – – – – – – – – – – – – – – – – – – – – –
Balmain To Launch
New Line
Balmain will be launching a new line targeting a younger customer. Entitled 'Pierre Balmain', after the label's founder, it will be created by a new design team but overseen by the new Creative Director, Olivier Rousteing. Pierre Balmain will feature both men's and women's ready-to-wear and will be unveiled in September for spring/summer 2012 season.
– – – – – – – – – – – – – – – – – – – – – – – –
Gucci Launches New Documentary Film Award
Gucci announced it will be launching a new documentary film award entitled – 'Spotlighting Women's Documentary Award'. The award, with a prize of $50,000 for the winner, is for film-makers highlighting women's issues. Francois Henri Pinault, PPR chairman, has said of the award, "This award dedicated to stories about women is a wonderful opportunity to raise awareness of women's issues such as violence, rights and empowerment to a larger audience."
– – – – – – – – – – – – – – – – – – – – – – – –
The Six New Faces Of Louis Vuitton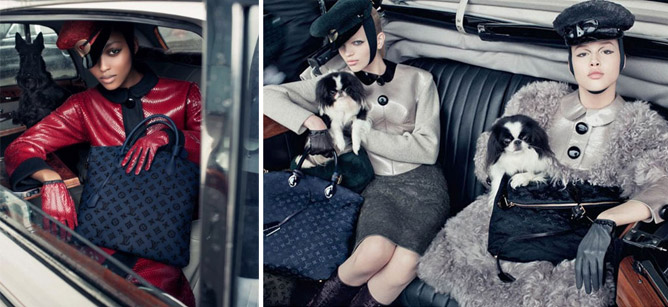 Out with the 'old' and in with the 'new'… and in this case, the very new.  Zuzanna Bijoch, Daphne Groeneveld, Gertrud Hegelund, Nyasha Matonhodze, Anaïs Pouliot and Fei Fei Sun, were announced as the new faces of Louis Vuitton. For the past two seasons, Louis Vuitton has championed more 'experienced' models… the Spring / Summer campaign featured – Kristen McMenamy, 46, Raquel Zimmermann, 28, and Freja Beha Erichsen, 23. Then Kate Moss and Naomi Campbell took to the catwalk Fall. And if you recall… this was the collection that attracted criticism when Moss smoked a cigarette back in February.
Changing it up, in this campaign the average age of the ladies is 18. The fresh faced models were shot by renowned fashion photographer, Steven Meisel, for the luxury French fashion label's Autumn/Winter 2011 campaign. Of the campaign, Marc Jacobs said, "Steven Meisel and I met and decided we would do this wonderful story of beautiful vintage cars, little dogs and fresh-faced young women. It's a very classic scenario, and of course it suggests travel, but I think we gave it a fresh, modern and sometimes a little bit naughty, tongue-in-cheek spin."
– – – – – – – – – – – – – – – – – – – – – – – –
Top 5 – Chic Last Week
Stepping Out Looking Ultra Chic Last Week: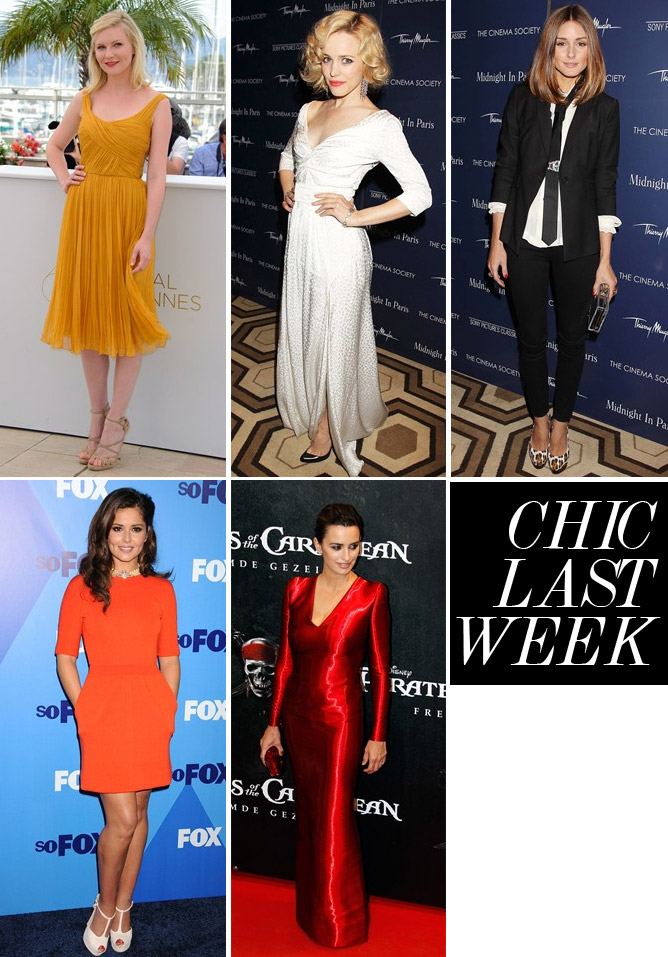 1>>  Kirsten Dunst wearing Chloe at a Photo Call in Cannes.
2>>  Rachel McAdams in Louis Vuitton at the New York premiere of Midnight in Paris.
3>>  Olivia Palermo also attended the Midnight in Paris premiere in a chic tuxedo look.
4>>  Cheryl Cole in a Giambattista Valli.
5>>  Penelope Cruz wore Armani in Munich at the premiere of Pirates of the Caribbean: On Stranger Tides.
Who was your best dressed lovely? xx
Photos from vogue.co.uk / fashion.telegraph.co.uk / style.com / jimmychoo.com
Burberry 'April Showers' Campaign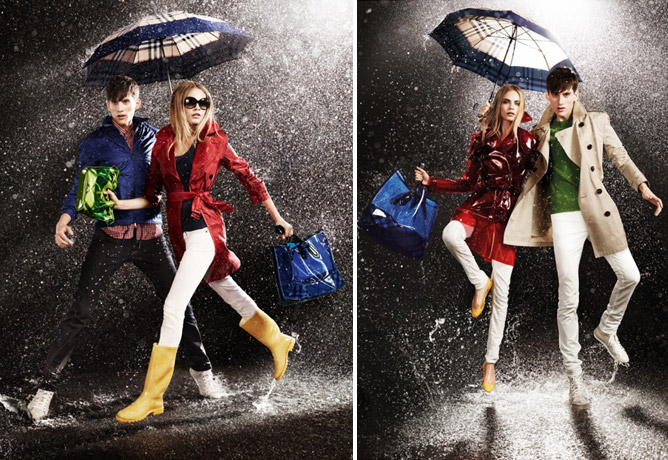 Celebrating Britain's Unpredictable Weather…
Burberry Brit's 'April Showers' Collection
Starring Cara Delevingne and Seb Brice, Burberry's 'April Showers' campaign is simply stunning. Beautifully capturing the models' movement and those delicious heavy rain drops – the photography, styling and models are all divine!
Falling within the Burberry Brit collection; this campaign showcases the essential mid-season pieces, including; the renowned Burberry trench coat, outerwear, denim, kits and the iconic Burberry striped bags.
Love the stunning imagery and how the brand has embraced both its British heritage and the surrounding uncontrollable environment, i.e. rainy April showers.
Rainy days… Burberry says bring them on!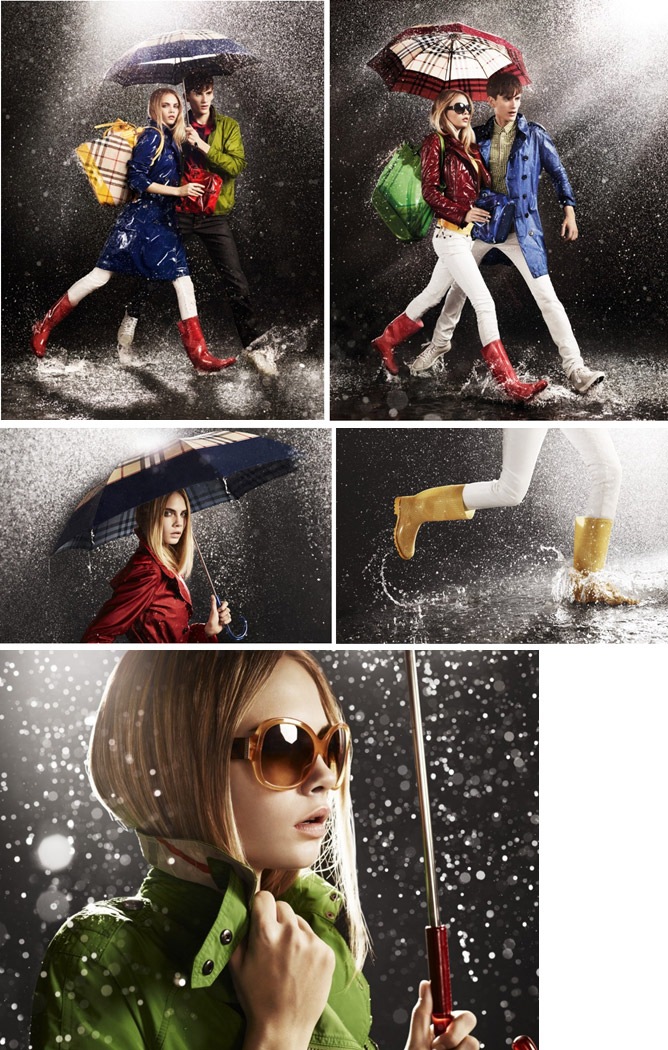 What are you loving this Monday? xx