Prada's exquisite curve-accentuating, bedazzled bathing suits have become the shimmering icons of Spring / Summer dressing.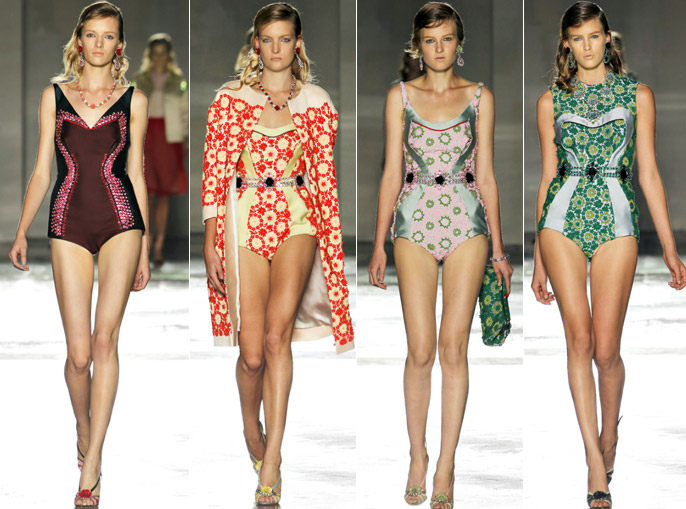 These colourful, embellished bathing suits have captured the hearts of Magazine Editors and Stylists around the globe. Racking up countless Magazine covers and editorials, these vintage-inspired swim suits are the toast of the season.
Appearing on the catwalk of the Prada Spring / Summer 2012 collection; Miuccia Prada took inspiration from 60's Americana; fast cars; and a celebration of feminine sweetness. Deep v-necklines and strategically placed lines of colourful crystals drew eyes inwards – accentuating the waist and emphasising feminine curves.
Created with graduating colours (beige, pink, red and black); crocheted flowers; or diamante crystals; these bathing suits have such beauty, texture, and craftsmanship one could be mistaken for hanging them on a wall rather than wearing them by the pool. Perfect then that the Prada one-piece is the cover subject of the season…

Do you covet the Prada one-piece? xx
Photos from style.com / fashion.telegraph.co.uk / vogue.it / google images
Tuesday Fashion Shot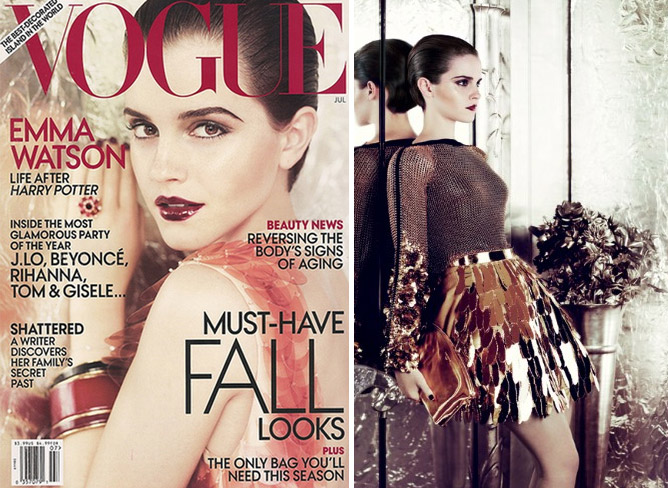 Emma Watson's First US Vogue Cover
Emma Watson has landed her first US Vogue cover at just 21 years of age!
The glamorous beauty covers the July 2011 issue of American Vogue, ahead of the release of the final Harry Potter film. Looking immaculately polished with her flawless skin and striking, delicate features; Watson wears a divine gown from the Prada Fall 2011/12 collection. Photographed by Mario Testino, within this issue Watson also wears looks by Tom Ford, Alexander McQueen, Prada, Calvin Klein and Dolce & Gabbana.
Watson is a fan of young British Designers – often choosing to wear labels such as Erdem and Hakaan, among others – and said in her interview with Vogue US: "I thought: "If people are going to write about what I'm wearing, then I would wear young British designers who need the publicity."
– – – – – – – – – – – – – – – – – – – – – – – – – – – – – – – – – – – – 
Angelina Jolie By Annie Leibovitz for Louis Vuitton

Renowned photographer Annie Leibovitz has photographed Angelina Jolie for the Louis Vuitton Core Values campaign.
The Louis Vuitton Core Values campaigns celebrate Vuitton's timeless classics pieces, in real situations on real people. Reclining on a wooden boat in Cambodia, Angelina Jolie looks serenely beautiful with her own six-year-old monogrammed 'Alto' carryall bag.
Of the campaign, Louis Vuitton's executive vice president, Pietro Beccari, has said: "People are not used to seeing Angelina in this situation. I like the fact that it's a real moment. This travel message we give through personal journeys is a fundamental one for the brand."
Previous people to feature in this campaign, include; Bono and his wife Ali Hewson in Africa; Sofia Coppola and her father Francis Ford Coppola in the Buenos Aires countryside; Keith Richards in a hotel suite; and Mikhail Gorbachev, former President of the Soviet Union and Nobel Peace Prize winner in the back of a limo passing remains of the Berlin Wall.
Jolie will donate a significant portion of her fee to a charity, which will most likely be the Maddox Jolie-Pitt Foundation in aid of community development and conservation in Cambodia.
– – – – – – – – – – – – – – – – – – – – – – – – – – – – – – – –
Tobey Maguire For Prada Menswear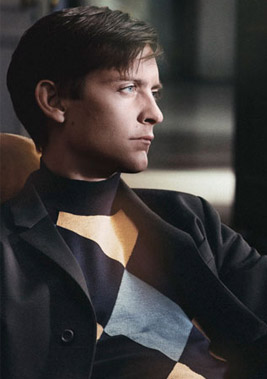 Tobey Maguire has been announced as the new face of Prada's Menswear Autumn / Winter 2011-12 campaign (pictured right).
Of his new role Maguire has said: "A great supporter of the Arts, Miuccia Prada has inspired a culture of creativity that is woven through every aspect of her company, from her collections, her campaigns, to every design detail in her stores. I have such admiration for her artistry and I'm thrilled to be a part of Prada's fall campaign."
– – – – – – – – – – – – – – – – – – – – – – – – – – – – – – – –
Top 3 Covers For July 2011
Besides Emma Watson's divine cover for Vogue US; my other top 3 covers for July 2011 are:
–  Cate Blanchett covers In Style Australia, in Gucci
–  Claudia Schiffer covers Harper's Bazaar UK, in Prada
–  Beyoncé covers Dazed & Confused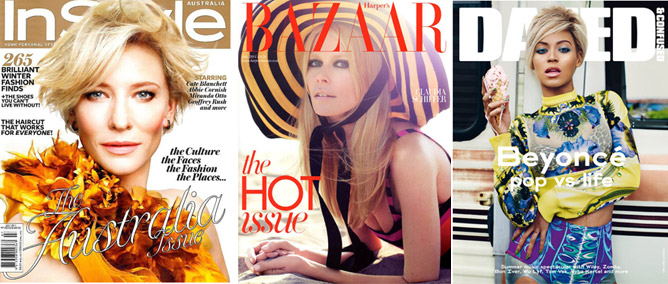 Happy Tuesday! xx
Photos from fashion.telegraph.co.uk / fashiongonerogue.com / vogue.co.uk