Prada's exquisite curve-accentuating, bedazzled bathing suits have become the shimmering icons of Spring / Summer dressing.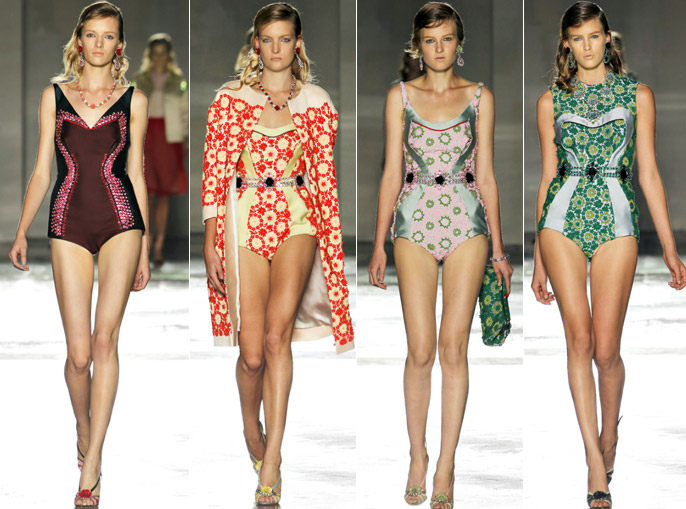 These colourful, embellished bathing suits have captured the hearts of Magazine Editors and Stylists around the globe. Racking up countless Magazine covers and editorials, these vintage-inspired swim suits are the toast of the season.
Appearing on the catwalk of the Prada Spring / Summer 2012 collection; Miuccia Prada took inspiration from 60's Americana; fast cars; and a celebration of feminine sweetness. Deep v-necklines and strategically placed lines of colourful crystals drew eyes inwards – accentuating the waist and emphasising feminine curves.
Created with graduating colours (beige, pink, red and black); crocheted flowers; or diamante crystals; these bathing suits have such beauty, texture, and craftsmanship one could be mistaken for hanging them on a wall rather than wearing them by the pool. Perfect then that the Prada one-piece is the cover subject of the season…

Do you covet the Prada one-piece? xx
Photos from style.com / fashion.telegraph.co.uk / vogue.it / google images
Your Fabulous Fashion Scoop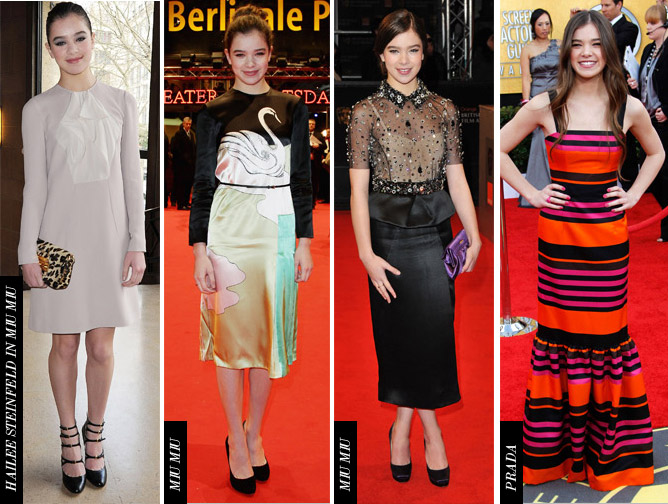 4 Delicious Espresso Shots of Fashion News &
My Top 10 Best Dressed List from Cannes…
– – – – – – – – – – – – – – – – – – – – – – – – – – – – – – – – –
Hailee Steinfeld The New Face of Miu Miu
At just 14years of age, Hailee Steinfeld has been announced as the new face of Miu Miu. Having already been nominated for an Oscar, Steinfeld has also graced numerous best dressed lists and made a style impact in her short time in front of the camera. She was also front row as a special guest at the Miu Miu A/W 11-12 show.
Steinfeld is set to appear in the Autumn / Winter 2011 / 12 campaign for the high end label which will be shot in Paris. Previous 'faces' of Miu Miu include; Kirsten Dunst, Vanessa Paradis Katie Holmes and Lindsay Lohan. Click here to read more about Steinfeld's red carpet style…
– – – – – – – – – – – – – – – – – – – – – – – – – – – – – – – – –
Elizabeth Olsen In Her Sisters' Label – The Row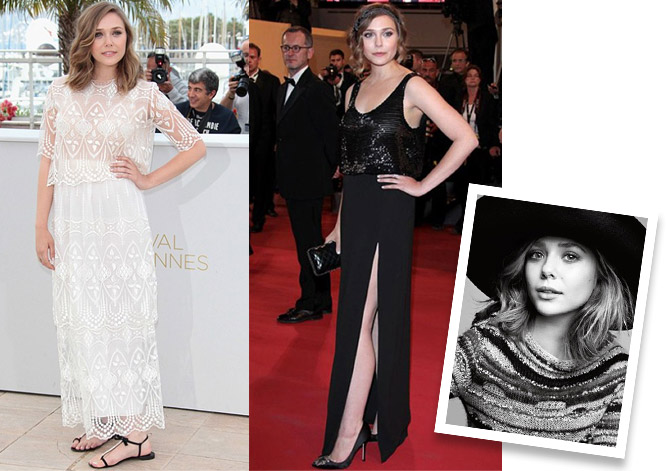 Little sister of Mary-Kate and Ashley Olsen, Elizabeth, has walked the red carpet in Cannes in two looks from The Row.  The 22 year old Olsen wore a white embellished gown during the day, before appearing in a black beaded floor-length gown in the evening. And yes… this is the Elizabeth whose name served as inspiration for the Olsen's other label – 'Elizabeth and James'.
– – – – – – – – – – – – – – – – – – – – – – – – – – – – – – – – –
Fendi To Leave Fur Off Runway In South Korea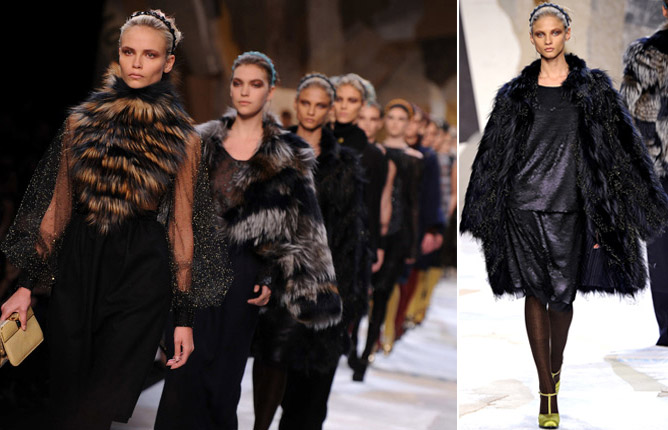 Fendi has been asked to remove all fur from their upcoming runway show in Seoul. Activists have threatened large-scale protests if fur is included in the runway; forcing the Mayor to request Fendi to pull all fur. If an agreement is not reached, Fendi may need to cancel the presentation…
– – – – – – – – – – – – – – – – – – – – – – – – – – – – – – – – –
Film Stars & Top Models Walk Charity Catwalk For Japan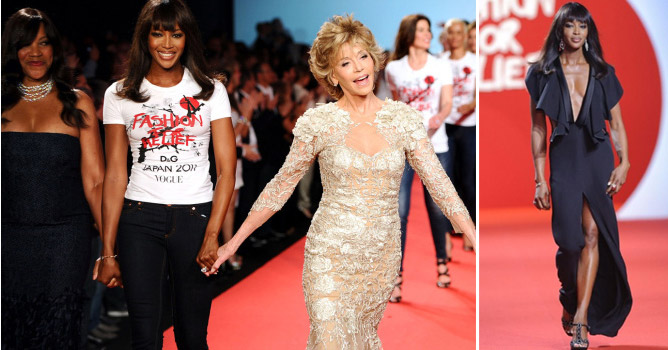 Supermodel Naomi Campbell once again organised a selection of top models and movie stars to walk in her charity fashion show. Taking place during the Cannes Film Festival; Jane Fonda, Rosario Dawson and Robert De Niro were among other A-listers who strutted down the catwalk in aid of Japan…
– – – – – – – – – – – – – – – – – – – – – – – – – – – – – – – – –
Best Dressed From Cannes…
Stepping Out In Style At Cannes, My Top 10 Favourite Looks:
1 >>  Penelope Cruz in Marchesa with Johnny Depp
2 >>  Alexa Chung wearing vintage Balenciaga
3 >>  Rachel McAdams in Monique Lhullier
4 >>  Dasha Zhukova in Valentino
5 >>  Zoe Saldana in Armani Privé
6 >>  Uma Thurman wearing Versace
7 >>  Sonam Kapoor in Jean Paul Gaultier
8 >>  Salma Hayek in Gucci Premiere
9 >>  Aishwarya Rai in Elie Saab Haute Couture
10 >> Astrid Bergès-Frisbey wearing Chanel Couture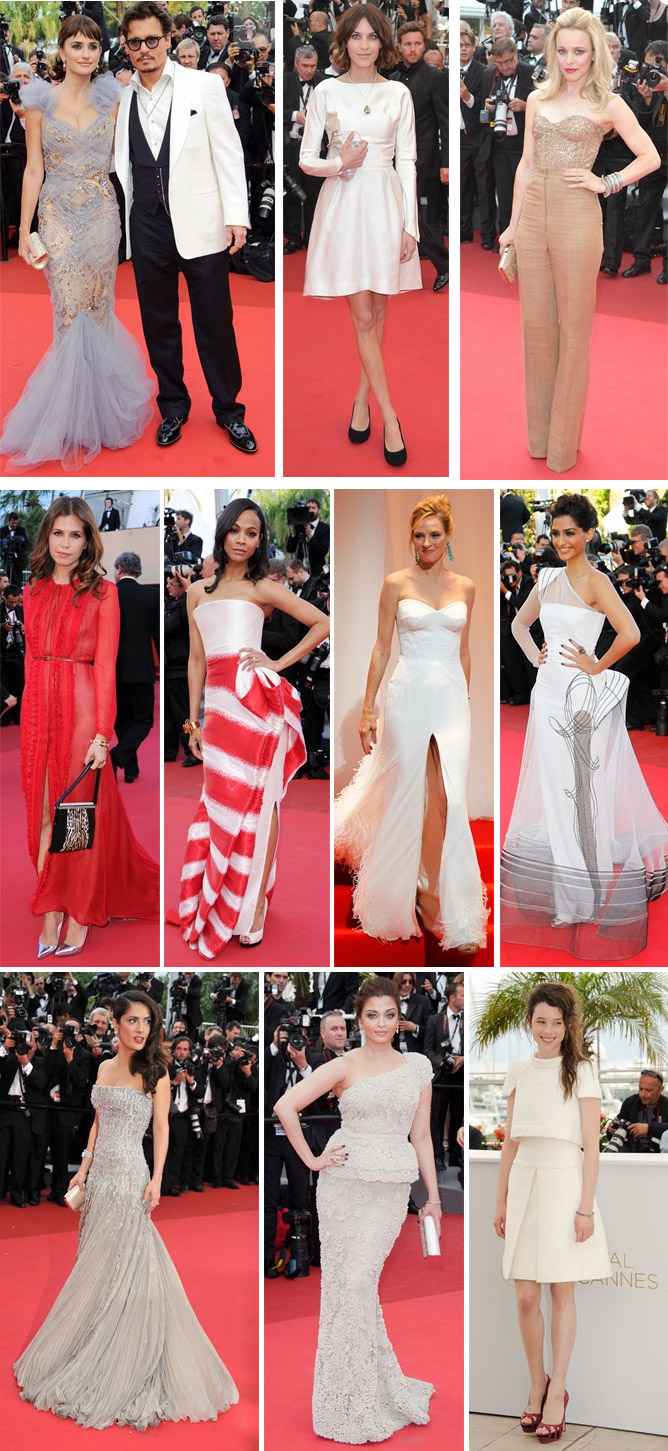 – – – – – – – – – – – – – – – – – – – – – – – – – – – – – – – – –
Who is your best dressed? xx
Photos from grazia.com.au / fashion.telegraph.co.uk / cbsnews.com / vogue.co.uk
Your Daily Fashion Scoop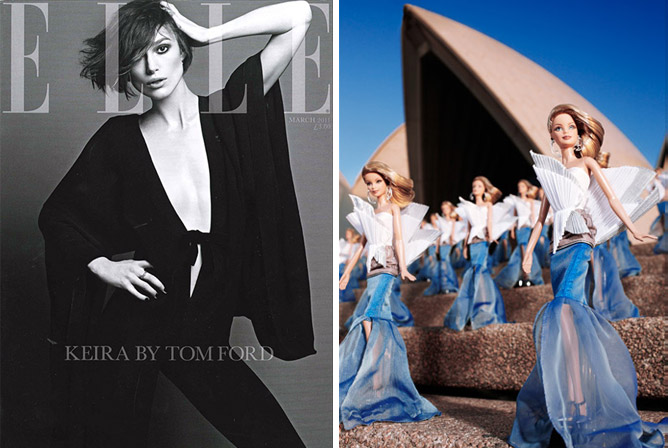 6 Espresso Shots Of News
Celebrate Sunday with some delicious scoops of Fashion News…

Tom Ford Stylist For Elle
For the March issue of Elle UK, Tom Ford is taking on the role of stylist. The first glance of Ford's work… the cover which features Keira Knightley and was photographed by Terry Tsiolis (pictured above left)…
Prada to float on the Hong Kong stock exchange
Prada's family owned company is set to float on the Hong Kong Stock Exchange. In what is set to mean big changes for the luxury brand, Prada will become a public company after 98years. Prada is also made up of labels: Miu Miu, Church's and Car Shoe. While this is the fourth time Prada has attempted such a move; depending on how many shares Miuccia Prada and her husband Patrizio Bertelli (company chief executive) chose to sell, they could boost their personal fortunes significantly…
Speaking of Prada…. The New 'Minimal Baroque' Sunglasses Campaign
Not just your ordinary campaign, models share the limelight with both dogs and eagles (pictured right).  Pushing the boundary between fashion and art; three artists – Ivo Bisignano, Marcela Gutiérrez and Andrea Tarella – have been commissioned to draw illustrations for the limited-edition 'Minimal Baroque' collection…
Sydney Opera House Barbie
To celebrate Australia Day last Wednesday, Mattel created the Sydney Opera House Barbie doll. Mattel enlisted the help of Australian Fashion Designer, Alex Perry, who created a miniature couture gown and accessories for the Barbie which was inspired by the iconic Australian Landmark. This is the fourth Barbie in the Landmark Series, which also includes; Big Ben, the Eiffel Tower and the Statue of Liberty…
Abbey Lee Kershaw for Portmans
Top Model Abbey Lee Kershaw is the new face of Australian retailer Portmans. Currently ranked No. 5 on Models.com, Kershaw is adored by Karl Lagerfeld, and has also appeared in campaigns for Chanel, Fendi, Gucci and D&G. Kershaw's Portmans campaign was shot in Sydney and one of the resulting images is pictured right. Portmans has previously cast other Australian models – Miranda Kerr, Jessica Hart and Elyse Taylor – before they went on to become international sensations…
Chic This Week… Diane Kruger
Diane Kruger had a super stylish week attending the Couture fashion shows. Kruger wore a Chanel Spring Couture dress (pictured below left) just 48 hours after it appeared on the catwalk! As one of Chanel's ambassadors, Kruger wore the exquisite powder-pink, structured dress adorned with diamanté buttons, to a charity dinner in Paris. Kruger also looked amazing this week in Gucci (below centre) and another Chanel look (below right)…