"I love to play with colour for Spring."  – Frida Giannini.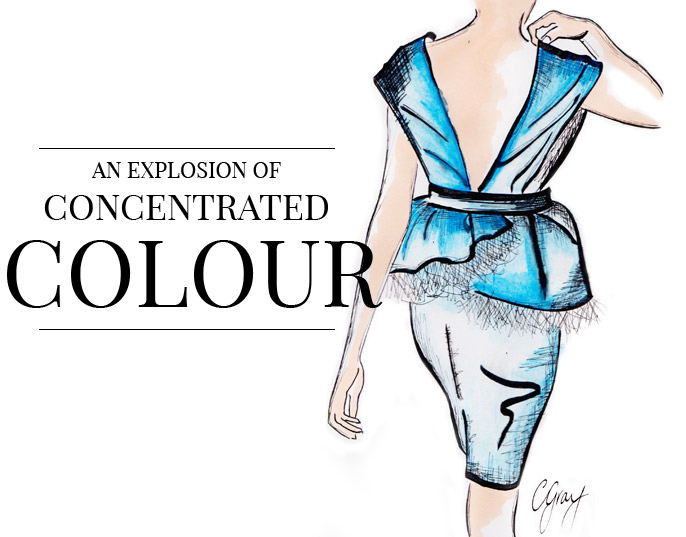 Unabashed colour is undeniably enticingly. Exuberant, passionate and joyously enchanting – an explosion of concentrated colour can put a spring in your step.
Gucci's Jet Setting Colour Palette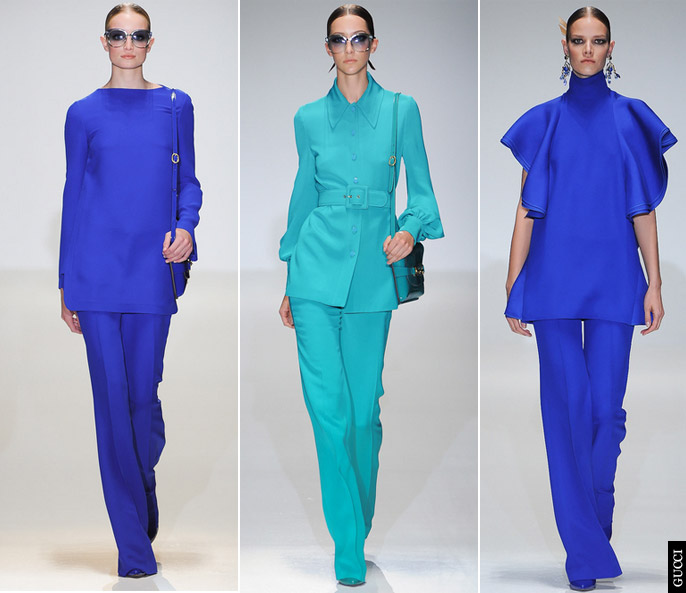 At the recent Gucci Spring / Summer 2013 collection, bold colour captured the imagination combined powerfully with chic silhouettes for maximum impact. From bright pink to coral, cobalt blue, citrus yellow and rich turquoise – it was a collection that screamed of maximalist Italian glamour.
Igniting the imagination and evoking a jet setting lifestyle – the colour intensity lifted the spirits to create a collection the designer herself labelled "aristographic". The late 60's / 70's silhouettes heighted the good mood; while subtle attention to detail saw ruffles line sleeves and necklines – arching around the body for added drama.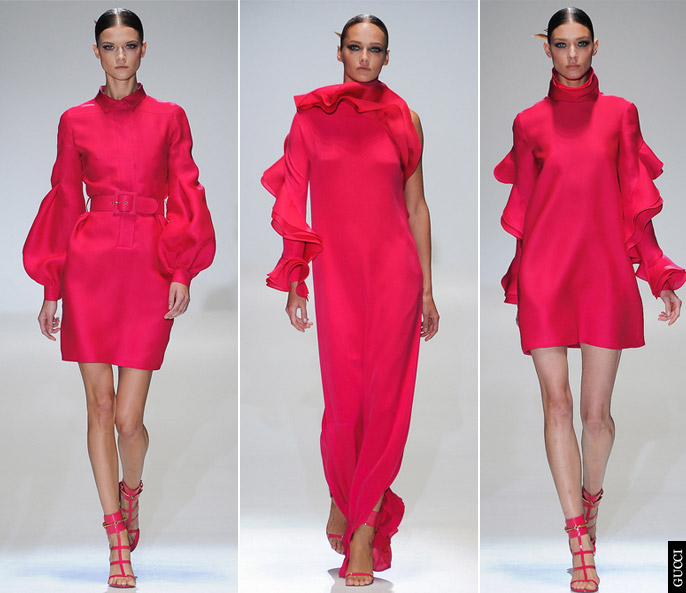 Colour Tip
Embrace vivid colour in a little cocktail dress. From bewitching cobalt blue to provocative red- it's a dashing alternative to the classic little black dress…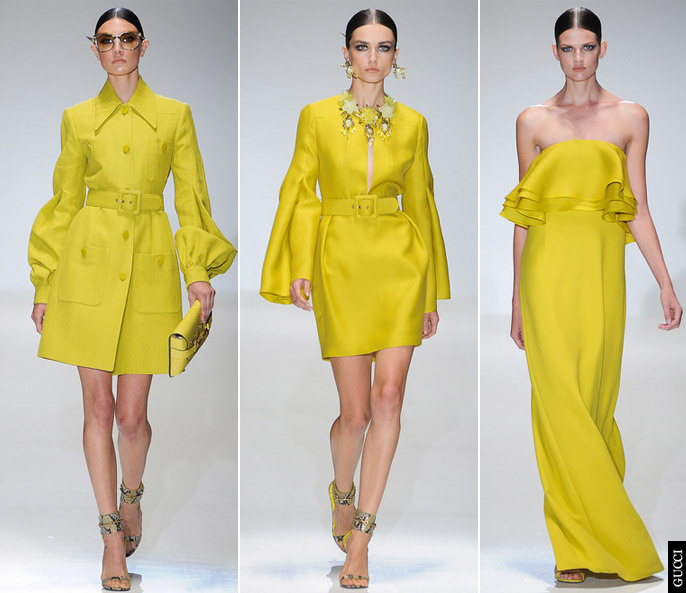 Will you embrace a high-voltage colour palette? xx
Photos from style.com
Prada's exquisite curve-accentuating, bedazzled bathing suits have become the shimmering icons of Spring / Summer dressing.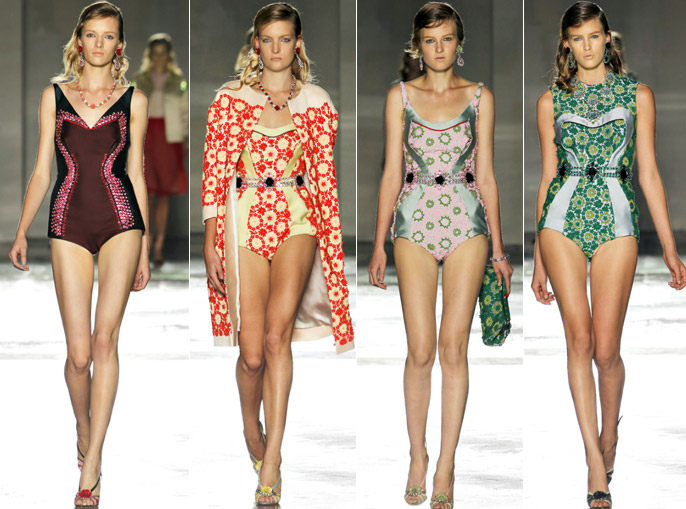 These colourful, embellished bathing suits have captured the hearts of Magazine Editors and Stylists around the globe. Racking up countless Magazine covers and editorials, these vintage-inspired swim suits are the toast of the season.
Appearing on the catwalk of the Prada Spring / Summer 2012 collection; Miuccia Prada took inspiration from 60's Americana; fast cars; and a celebration of feminine sweetness. Deep v-necklines and strategically placed lines of colourful crystals drew eyes inwards – accentuating the waist and emphasising feminine curves.
Created with graduating colours (beige, pink, red and black); crocheted flowers; or diamante crystals; these bathing suits have such beauty, texture, and craftsmanship one could be mistaken for hanging them on a wall rather than wearing them by the pool. Perfect then that the Prada one-piece is the cover subject of the season…

Do you covet the Prada one-piece? xx
Photos from style.com / fashion.telegraph.co.uk / vogue.it / google images
Zooey Deschanel
Known for her electric, vintage inspired wardrobe; Zooey Deschanel is fast becoming a modern-day style icon.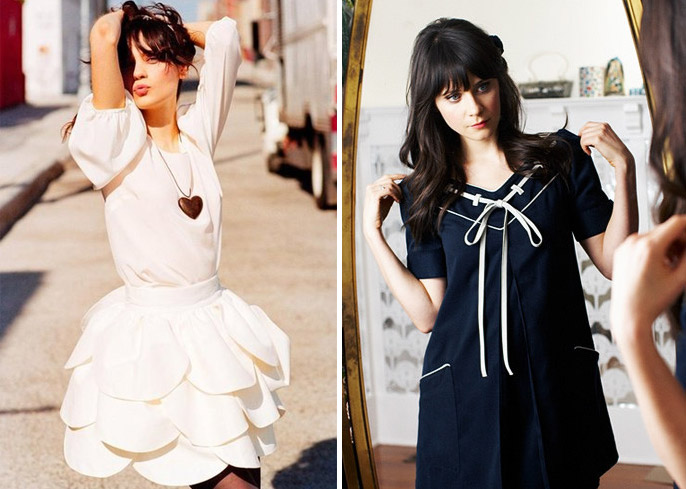 Feminine, sweet and unmistakably cool, Zooey Deschanel has a positively charming style.
A delicate, daring risk taker, Deschanel chooses vintage-inspired flattering silhouettes for day and night.  She is often in dresses and flirty skirts which are clinched in at the waist. She favours Mary-Jane heels and black opaque and coloured tights. With a love of bows and ribbons – her looks are often finished with a sweet belt or a headband in her hair. Floral accents, lace and hats also accentuate her unique style.
As a face of Rimmel, Deschanel always has flawless hair and make-up. With a nod to 60's sexy mod styling; sultry black eyeliner or a striking red pout are her beauty essentials. Beautiful bangs are also a signature component in her darling style.
Her love of fashion also extends to shopping, Deschanel has said:"I go shopping every week, literally. There's something about getting a new dress or shirt that makes you feel that extra 20 percent better."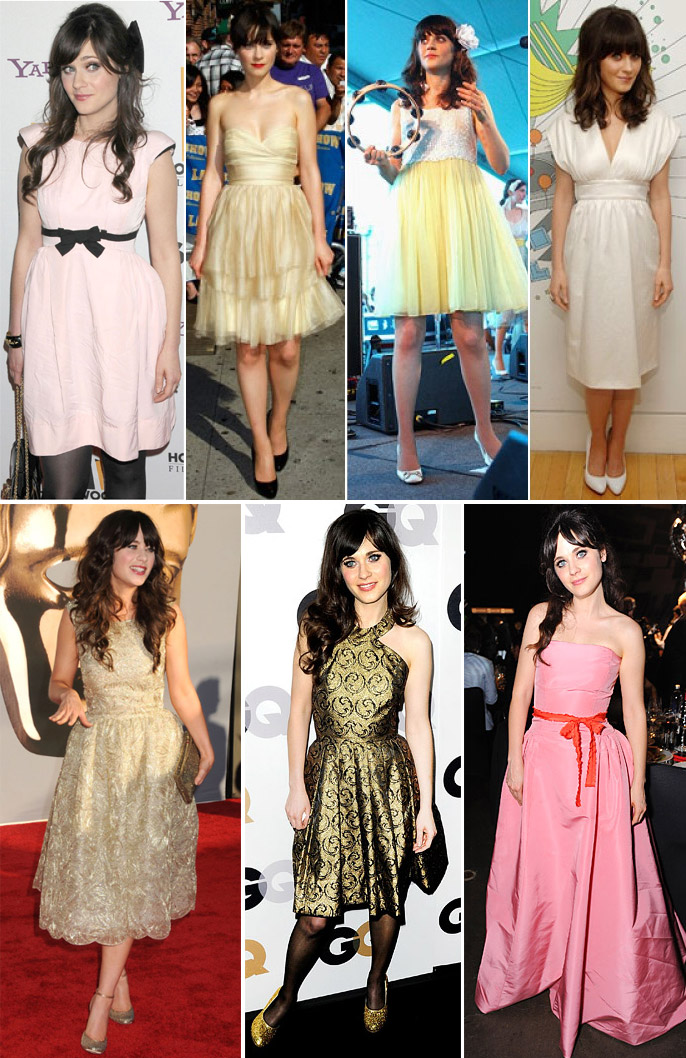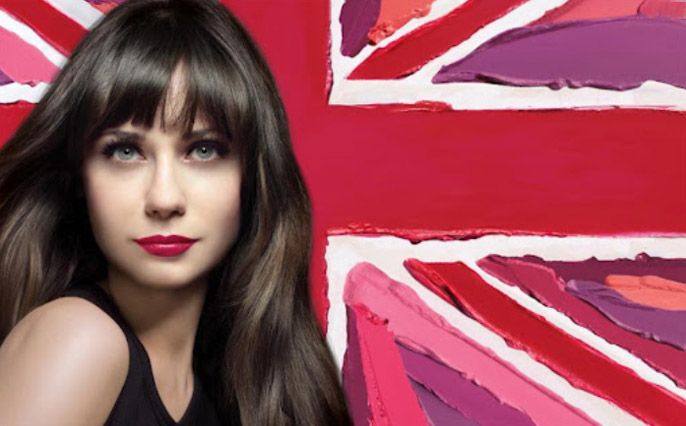 Do you covet Zooey Deschanel's style? xx