Zooey Deschanel
Known for her electric, vintage inspired wardrobe; Zooey Deschanel is fast becoming a modern-day style icon.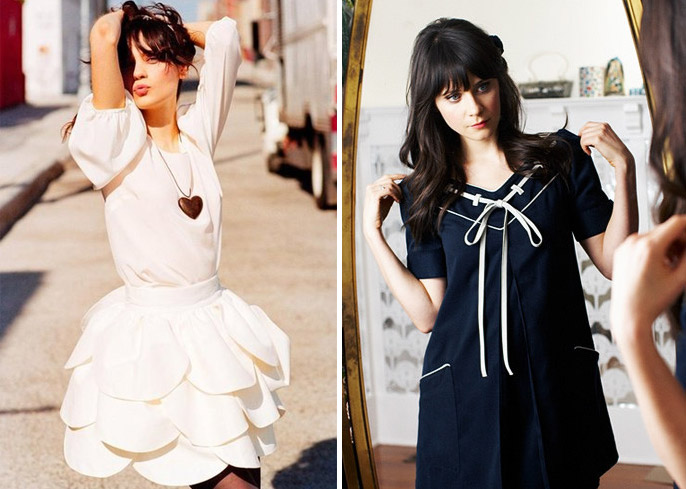 Feminine, sweet and unmistakably cool, Zooey Deschanel has a positively charming style.
A delicate, daring risk taker, Deschanel chooses vintage-inspired flattering silhouettes for day and night.  She is often in dresses and flirty skirts which are clinched in at the waist. She favours Mary-Jane heels and black opaque and coloured tights. With a love of bows and ribbons – her looks are often finished with a sweet belt or a headband in her hair. Floral accents, lace and hats also accentuate her unique style.
As a face of Rimmel, Deschanel always has flawless hair and make-up. With a nod to 60's sexy mod styling; sultry black eyeliner or a striking red pout are her beauty essentials. Beautiful bangs are also a signature component in her darling style.
Her love of fashion also extends to shopping, Deschanel has said:"I go shopping every week, literally. There's something about getting a new dress or shirt that makes you feel that extra 20 percent better."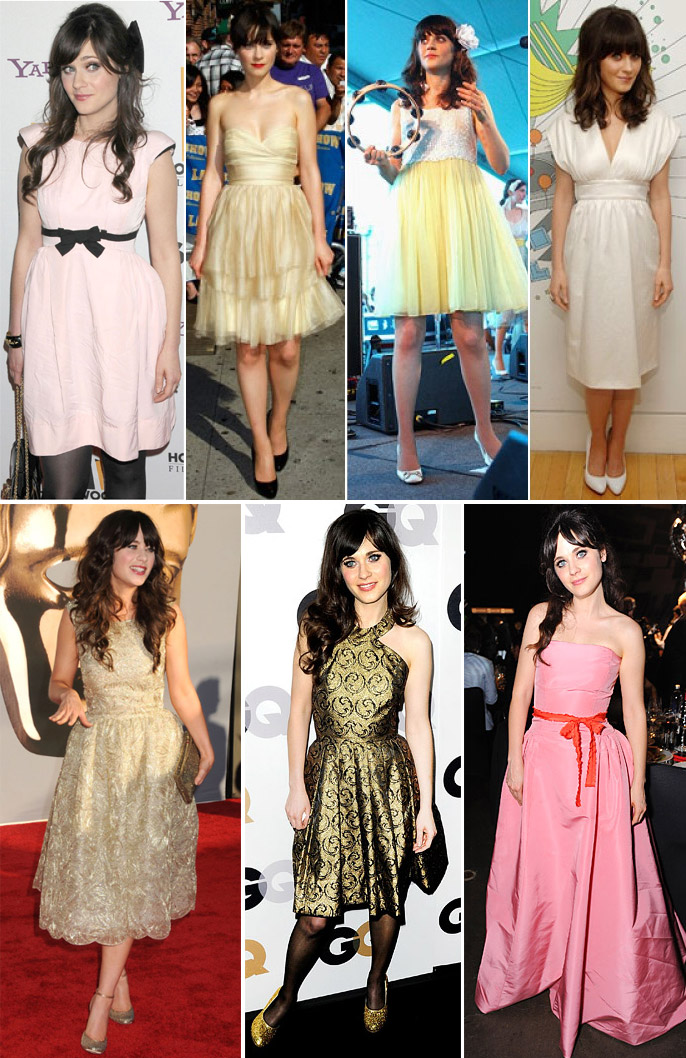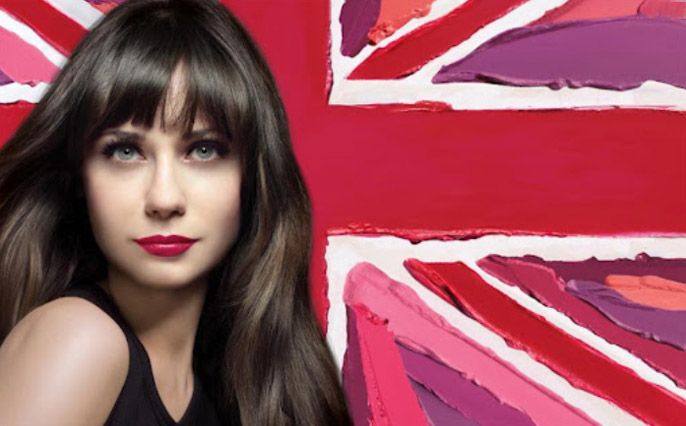 Do you covet Zooey Deschanel's style? xx
Your Most Popular Icon Is Revealed… xx
We love Audrey Hepburn!
When I asked you all who your style inspirations were, the darling Audrey Hepburn was the name that kept on popping up! Elegant, sophisticated and beautifully whimsical, Audrey Hepburn's style is timeless perfection.
Audrey Hepburn & Givenchy
Givenchy was Hepburn's signature look, both on and off the screen.
Of the fashion house, Hepburn said: "Balenciaga once said the secret of elegance is elimination. I believe that. That's why I love Hubert Givenchy… They're clothes without ornament, with everything stripped away."
Hepburn and Hubert de Givenchy first met in 1953, before she began filming 'Sabrina'. Hepburn flew to Paris for an appointment with him and to organise her wardrobe for the film. At twenty-six, Givenchy had just left Christian Dior the year previously, to open his own salon in Paris. Influenced by his mentor and friend Cristobal Balenciaga, Givenchy's style was minimal elegance.
A fashion fairytale was made that day. Givenchy let Hepburn choose anything she liked from his current collection. 'Sabrina' then went on to win an Oscar for Costume Design and Edith Head received the recognition. Hepburn was terribly upset by this and called Givenchy immediately to apologise.  Of this Givenchy said:  "I was very touched, but told her not to worry, because Sabrina had brought me more new clients than I could handle, but Audrey was still upset, and she made a promise to me that in the future she would make sure that it never happened again. And she kept her promise. This was one of the most marvellous things about her. She thought constantly of others."
Hepburn's alliance with Givenchy would last her lifetime. Givenchy went on to make costumes for most of Hepburn's films after 'Sabrina' and created a fragrance for her in 1957 called 'L'Interdit'. It was intended for her personal use only; however, she asked Givenchy to put L'Interdit into the marketplace. Hepburn stared in the campaign but refused to negotiate compensation for using her name; she would gladly assist her dear friend in launching his perfume.
To the darling Audrey Hepburn… Uptown Twirl & stylish people around the world love you! xx