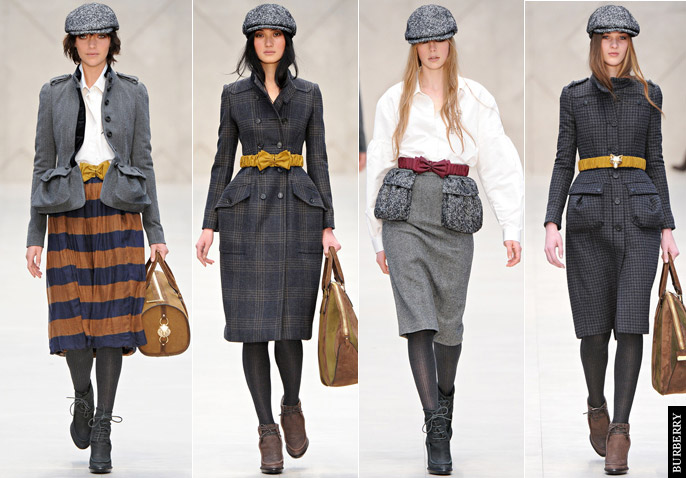 So far the runways have been topped with hats. From Ralph Lauren to Burberry, Rachel Zoe and more, it appears there will be a humble hat to suit every head for Fall.
The old adage: 'If you want to get ahead and get noticed, then get a hat' will certainly come into play for Fall. As the most eye-catching accessory you can wear, a hat instantly draws attention to your face.
At Ralph Lauren the collection took inspiration from Downton Abbey and featured glamorous 1920's accents. Classic cloche hats were the perfect exclamation points to iconic boy-for-girl suits (a la Coco Chanel). Meanwhile at Burberry, heritage herringbone and tweed hats echoed the 1930's / 40's English 'Town and Fields' inspiration.  While at Rachel Zoe it was the late 60's which inspired various chic hat styles to appear on the Runway.
With vintage accents, a hat is a stylish & warm way to make an iconic statement for Fall…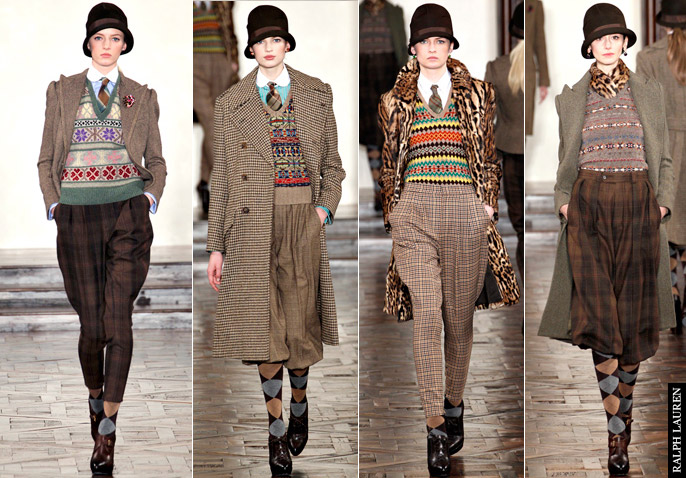 Which is your favourite hat style?
Photos from style.com
Opulent, sophisticated & irrevocably feminine; pearls are unmistakably chic…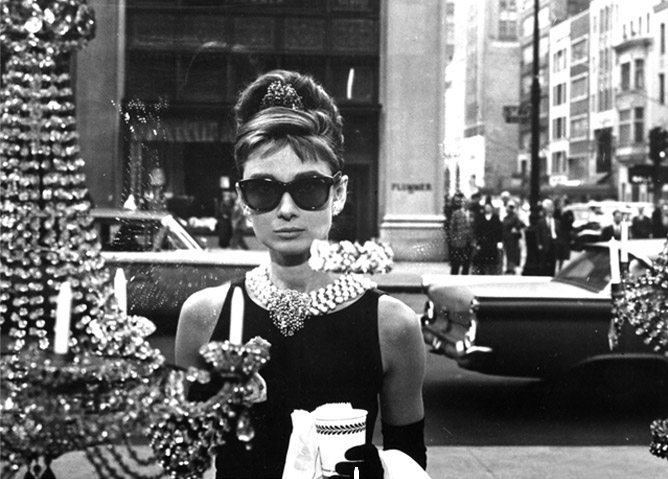 Pearls are an iconic statement. From Grace Kelly to modern day style icons Rachel Zoe and Olivia Palermo; pearls are a perfectly darling way to add the finishing touches to a timeless look.   
Nothing says pure Old-Hollywood glamour quite like Audrey Hepburn's striking white pearls against her little black dress in Breakfast At Tiffany's. Elegant, bold and a little whimsical, pearls have captured the hearts of stylish women across generations.
For a modern take, casually throw on a long strand of lustrous pearls. Wear with anything from a bright coloured cocktail dress to a simple white tee – a long single strand of pearls is always effortlessly chic. Pearls can also add the perfect subtle texture to neutral shades. Create volume around the neck by playing with different strand lengths. While for simple luxury choose delicate pearl studs.
The Latin word for Pearl literally means 'unique', testament to the fact that no two are identical. With their warm iridescence and shimmering beauty; pearls can even lift the complexion and give skin a subtle glow.
Pearl inspiration board…

Which are your favourite precious gemstones?
Photos from google images
4 Fabulous Fashion Shots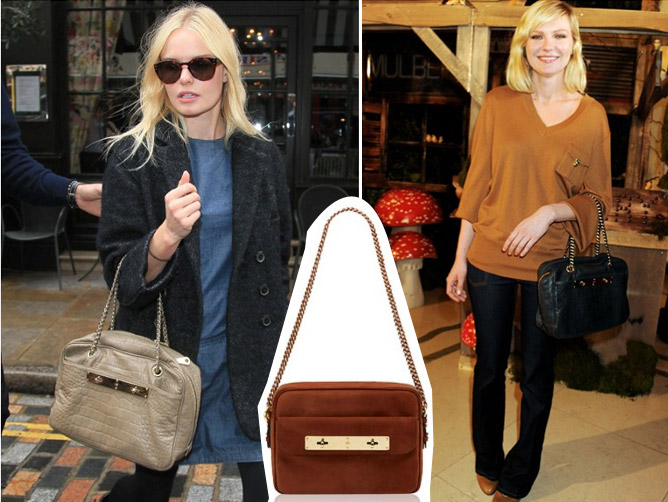 Have You Met Mulberry's New Family Member – Carter?
Mulberry has added a new handbag to their stylish accessory family – the Carter (pictured above). Already being worn about town by modern day style icons – Kate Bosworth, Emma Watson and Kirsten Dunst – the Carter is available in three sizes. It is a boxy, rectangular shape with chain handles. Mulberry has become the go-to label for IT accessories and the Carter looks set to further cement this status.
– – – – – – – – – – –
Baby's First
Louis Vuitton
Rachel Zoe announced her baby gift from Louis Vuitton on Twitter and it is B-A-N-A-N-A-S! Zoe tweeted: "Is Skyler to young to have his first LV? So MAJ for a new diaper bag."  The monogrammed 'speedy' bag (pictured right) with Skyler's initials is super stylish for a 4 month old! Zoe went on to tweet a thank you message to Louis Vuitton "Sending a big, stylish thank you to @LouisVuitton_US for Skyler's insane gift on his 4 month birthday! :)"
– – – – – – – – – – –
The Will of
Alexander McQueen
The Will of Alexander McQueen has hit the headlines with the extraordinarily talented designer leaving a significant amount of his estate to his pet dogs and favourite charities. McQueen's considerate and giving nature were clearing apparent as he bequeathed:
>> £50,000 to his dogs' trust fund to look after Minter, Juice and Callum for the rest of their lives
>> £50,000 to each of his two housekeepers
>> £50,000 to his godson and each of his nieces and nephews
>>  £250,000 to each of his three sisters and two brothers
>> £100,000 to his four favourite charities – The Terrence Higgins Trust, Battersea Dogs and Cats Home, the London Buddhist Centre and the Blue Cross sick animal centre
>> The remainder of his estate is in the trust for his Sarabande charity. McQueen asked that the money be considered to fund bursaries or grants for students at Central St Martin's College of Art and Design
– – – – – – – – – – –
Editorial Of The Week
Loving this editorial for Elle Russia, August 2011 issue, which celebrates lady-like elegance and old-world glamour. Pieces by Stella McCartney, Elie Saab, Louis Vuitton and Salvatore Ferragamo, amongst others, are worn by Hailey Clauson as she strikes a pose in striking black lace, polka dots and opulent textures! It's darling!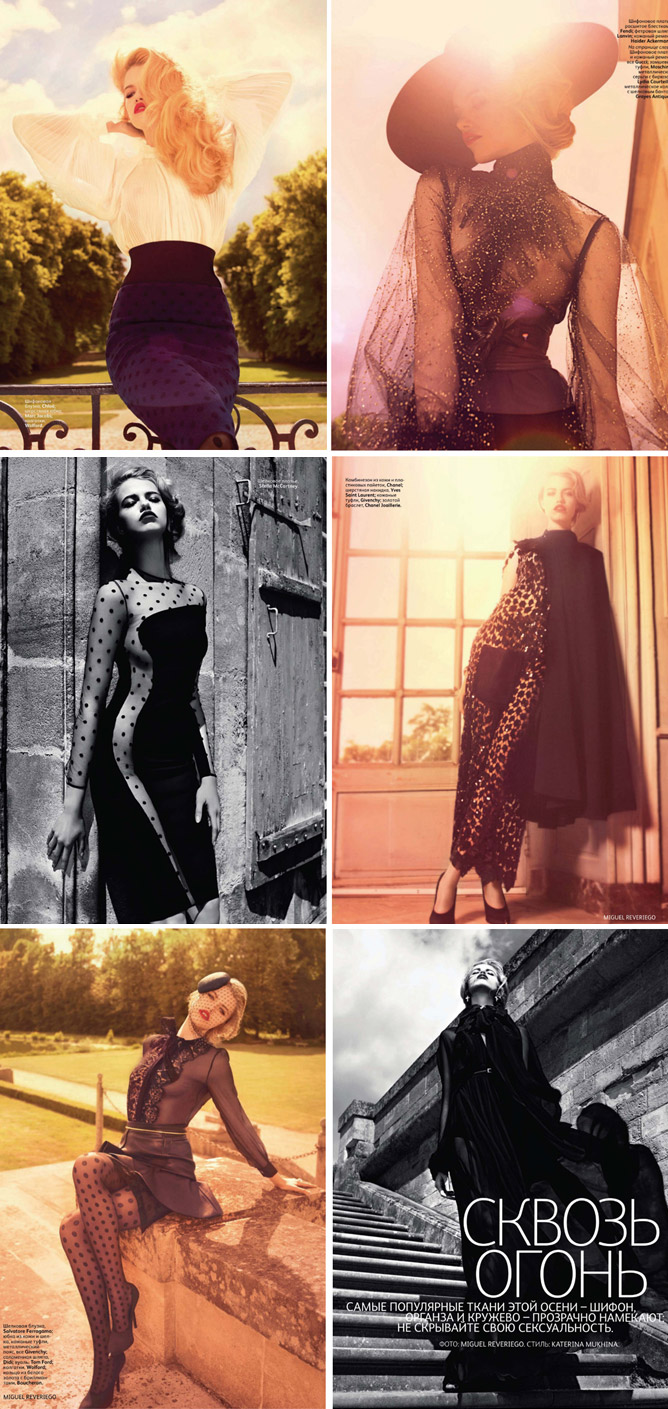 Happy Wednesday! xx
Photos from fashion.telegraph.co.uk / twitter.com / fashiongonerogue.com / google images