Resort 2012 Collections – Part2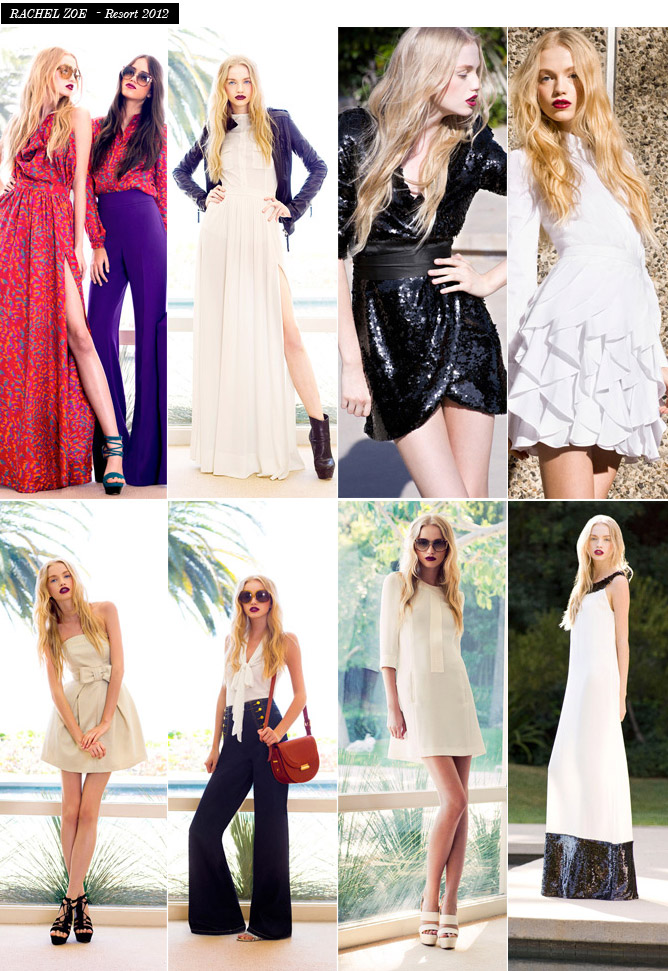 Rachel Zoe
I am loving the Rachel Zoe Resort 2012 collection! Playing with colour and print – Zoe's Resort collection features her signature seventies aesthetic in classic dress shapes and separates. Elongated trousers, cocktail and shift dresses, blazers and caftans are the basis of her collection, which will see you effortlessly travel between your city chic day-to-day to effortless holiday glamour. Of her second collection, Zoe said: "With Fall, a lot of what I was doing was staying in my comfort zone. Here, I'm playing with color, playing with prints, playing with proportion a little bit." Très Chic!
– – – – – – – – – – – – – – – – – –
Yves Saint Laurent
Stefano Pilati looked to the ocean for the Yves Saint Laurent Resort collection. The nautical inspiration was blatantly clear with chic anchor motifs, rope-print dresses and sailor jackets taking to the catwalk. Sophisticated stripes looked effortlessly elegant, while puff-sleeved blouses and high-waisted flaring pants added romantic volume to the collection. Whether you are lounging on a yacht in the South of France or hailing a cab in bustling New York, who could say no to an adorable stylish stripe?  Or a poppy print dress for that matter…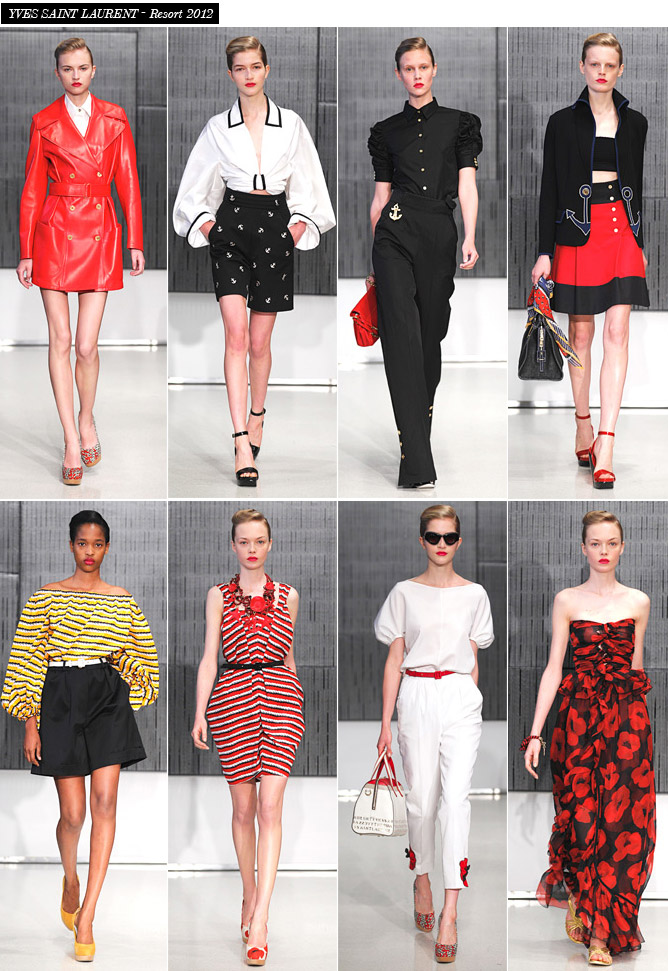 – – – – – – – – – – – – – – – – – –
Erdem
Inspired by Viennese actress Romy Schneider, the Erdem Resort collection is captivatingly beautiful. Featuring the designer's signature floral prints, exquisite use of lace and ultra feminine aesthetic – Erdem's perfectly proportioned silhouettes are sophisticatedly sexy and seductively elegant. Love the unexpected detailing on the simple dress silhouettes and the restraint yet powerful impact they have when combined with the enchanting flower prints.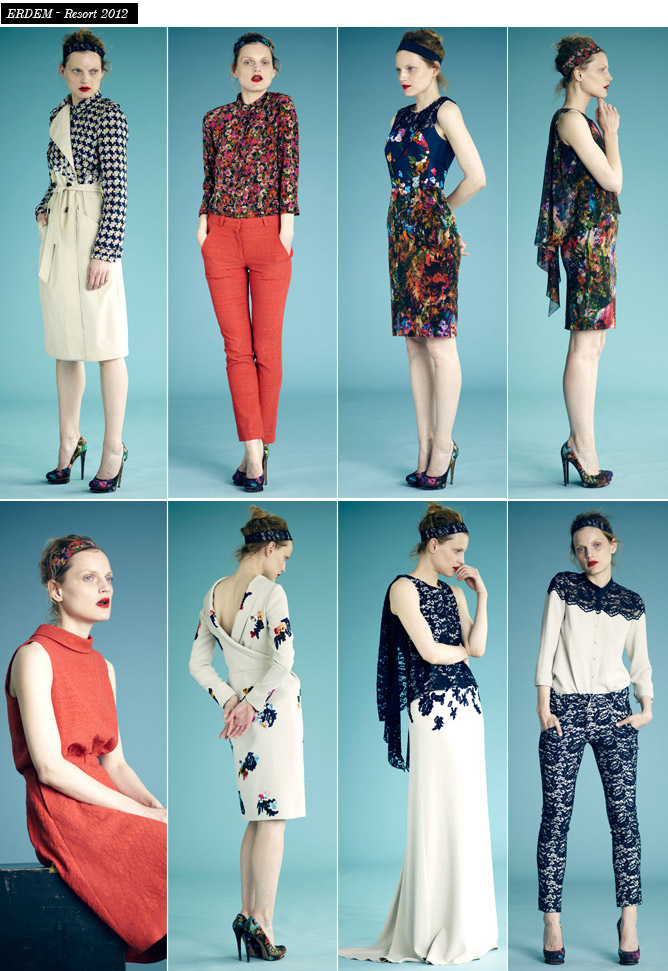 – – – – – – – – – – – – – – – – – –
Michael Kors
Inspired by a holiday he took in Sydney, Michael Kors' Resort collection combined the allure of the city and sports aesthetic of the beach. Of his inspiration, Kors' said, "Sydney is the ultimate city beach life. I was in love." Featuring an intoxicating mix of fluro colours, zebra prints and scuba inspired pieces – the Resort collection will lend itself perfectly to either beach or city dressing when looks are broken down into separates. It's summer, sporty, luxe, glamour! Love the green and black striped top…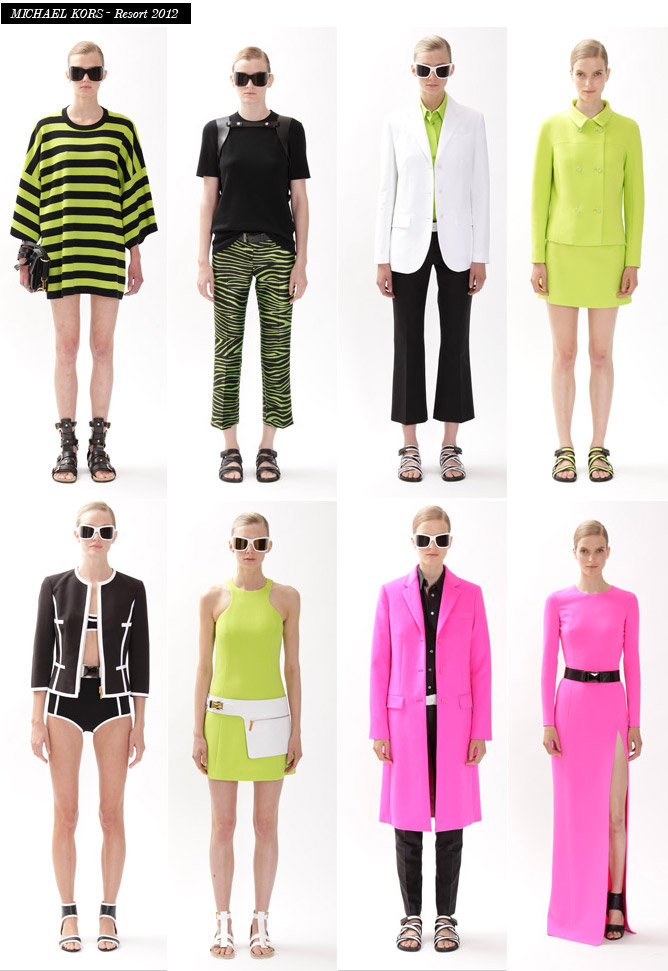 – – – – – – – – – – – – – – – – – –
Which is your favourite Resort Collection so far? xx
Click here to view Resort 2012 collections for: Elie Tahari, MaxMara, Sportmax, Oscar de la Renta and Bottega Veneta
Photos from style.com
Your Most Popular Icon Is Revealed… xx
We love Audrey Hepburn!
When I asked you all who your style inspirations were, the darling Audrey Hepburn was the name that kept on popping up! Elegant, sophisticated and beautifully whimsical, Audrey Hepburn's style is timeless perfection.
Audrey Hepburn & Givenchy
Givenchy was Hepburn's signature look, both on and off the screen.
Of the fashion house, Hepburn said: "Balenciaga once said the secret of elegance is elimination. I believe that. That's why I love Hubert Givenchy… They're clothes without ornament, with everything stripped away."
Hepburn and Hubert de Givenchy first met in 1953, before she began filming 'Sabrina'. Hepburn flew to Paris for an appointment with him and to organise her wardrobe for the film. At twenty-six, Givenchy had just left Christian Dior the year previously, to open his own salon in Paris. Influenced by his mentor and friend Cristobal Balenciaga, Givenchy's style was minimal elegance.
A fashion fairytale was made that day. Givenchy let Hepburn choose anything she liked from his current collection. 'Sabrina' then went on to win an Oscar for Costume Design and Edith Head received the recognition. Hepburn was terribly upset by this and called Givenchy immediately to apologise.  Of this Givenchy said:  "I was very touched, but told her not to worry, because Sabrina had brought me more new clients than I could handle, but Audrey was still upset, and she made a promise to me that in the future she would make sure that it never happened again. And she kept her promise. This was one of the most marvellous things about her. She thought constantly of others."
Hepburn's alliance with Givenchy would last her lifetime. Givenchy went on to make costumes for most of Hepburn's films after 'Sabrina' and created a fragrance for her in 1957 called 'L'Interdit'. It was intended for her personal use only; however, she asked Givenchy to put L'Interdit into the marketplace. Hepburn stared in the campaign but refused to negotiate compensation for using her name; she would gladly assist her dear friend in launching his perfume.
To the darling Audrey Hepburn… Uptown Twirl & stylish people around the world love you! xx
Your Fabulous Fashion Scoop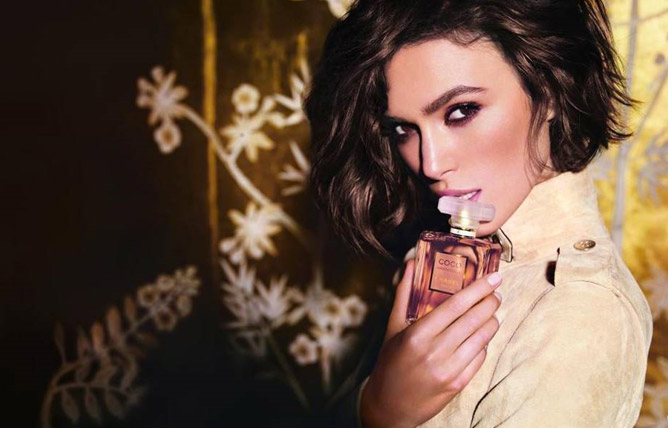 3 Espresso Shots Of News & 1 Style Tribute…
Karl Lagerfeld For Diet Coke
Karl Lagerfeld has reunited with Diet Coke to create three iconic bottle designs for Summer. Of the collaboration, Lagerfeld has said:
"I loved what we did last year but I will love 2011 even more. I'm delighted about this collaboration. It's exciting for me because I love the idea and as everybody knows, I drink Diet Coke and nothing else, night and day. It was pure pleasure to do a campaign with people I like and for a product I love".
LOVE, LOVE, LOVE THESE BOTTLES!
Coco Mademoiselle – The New Film
The new film for Coco Mademoiselle, starring Keira Knightley, has been released online. The film, directed by Joe Wright (who also worked with Knightley on Pride & Prejudice and Atonement), follows Knightley waking from her slumber; applying Coco Mademoiselle Parfum to her décolletage; riding around Paris on her motorcycle and seducing photographer, Alberto Ammann. This time round sees Knightley's leading lady more seductive, sexy and independent, yet always encapsulating the beautiful elegance of a Chanel lady.
Rachel Zoe & Rodger Berman Welcome Their First Child
Congratulations Rachel Zoe and Rodger Berman who have welcomed their first child – Skyler Morrison Berman – into the world! Zoe took to Twitter and wrote:
"Thank you all so much for your love! [Rodger] and I couldn't be happier with little Skyler Morrison in our arms … he is everything". I cannot wait to see his baby wardrobe!
Style Tribute – 
ELIZABETH TAYLOR
Mesmerising beauty, undeniable style & extraordinary glamour…
On Wednesday the world lost one of the great screen actresses of Hollywood's Golden Age. Elizabeth Taylor, the legendary actress and style icon, died at age 79.
Receiving two Academy Awards for Best Actress; her endless championing for AIDS awareness, research and cure; her eight marriages; her love of show-stopping jewels – Elizabeth Taylor was one of the most beautiful women the world has ever seen. As well as her four children, Taylor is survived by 10 grandchildren and four great-grandchildren. 

Uptown Twirl Loves Elizabeth Taylor xx
Photos from vogue.co.uk / catwalkqueen.tv /google images