6 Fabulous Fashion Shots Of Weekend News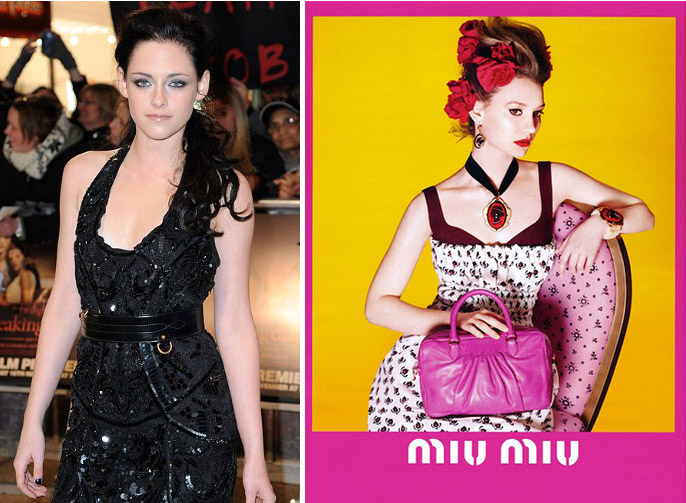 Kristen Stewart The New Face Of Balenciaga
Kristen Stewart has been announced as the face of Balenciaga's new fragrance to be launched this autumn. Balenciaga's Creative Director, Nicholas Ghesquière, has said of Stewart: "Kristen embodies the modernity of the new Balenciaga fragrance with her unique sensibility and intelligence… she shares the radical spirit of Balenciaga."
Stewart joins Charlotte Gainsbourg at Balenciaga, who is the face of Balenciaga Paris, the first olfactory venture from the fashion house which launched in 2010.
Mia Wasikowska The New Face Of Miu Miu
Mia Wasikowska has been named the face of Miu Miu's Spring / Summer 2012 campaign. The Jane Eyre actress will replace Hailee Steinfeld who was the face of the label for Autumn / Winter 2011. The first campaign image has been released (pictured above) and Wasikowska is certainly shining bright!
Mary Katrantzou For Longchamp


Known for her extraordinary digital prints, Mary Katrantzou has collaborated with Longchamp to create two exclusive new prints (pictured above). With an East-meets-West theme, the London designer used an Asian temple, the New York Carnergie Hall as well as orchids, amongst other inspiration, as her starting point.
Of the collaboration, Katrantzou has said: "The prints we designed reference Vietnam temple architecture, Thomas Heatherwick's design for their Soho store, lanterns, orchids, an aquarium and many more surreal juxtapositions. I wanted to create a Mary Katrantzou world for Longchamp and they were amazing at letting us be so creative with the prints!"
Fashion's First Lady Joins Twitter
Michelle Obama joined Twitter on Friday and has already attracted over 283,000 followers. The account will be managed by campaign staff; however, the First Lady will be signing off personal tweets with "mo". Follow Michelle Obama @michelleobama
Selfridges New Reading Experience
On Friday, Selfridges launched its own pop-up library which will house over 15,000 of the world's most inspirational books. Although shoppers will not be able to borrow the books, they can buy them and spend the afternoon reading one of Selfridge's comfortable chairs.
Curated by Penguin, Thames and Hudson, Faber and Taschen; some of the store's stylish friends -from Olivia Palermo to Lily Cole and Thandie Newton – have all revealed their favourite books for some reading added inspiration.
Alberta Ferretti Replaces Models With Debutantes
Alberta Ferretti's 'Limited Edition' collection presentation has been modelled by a connected group of young socialites. Solange Knowles, Tali Lennox, Amber Le Bon, Sarah Margaret Qualley and others took to the catwalk for Ferretti's mid-season show in Milan on Friday (pictured below).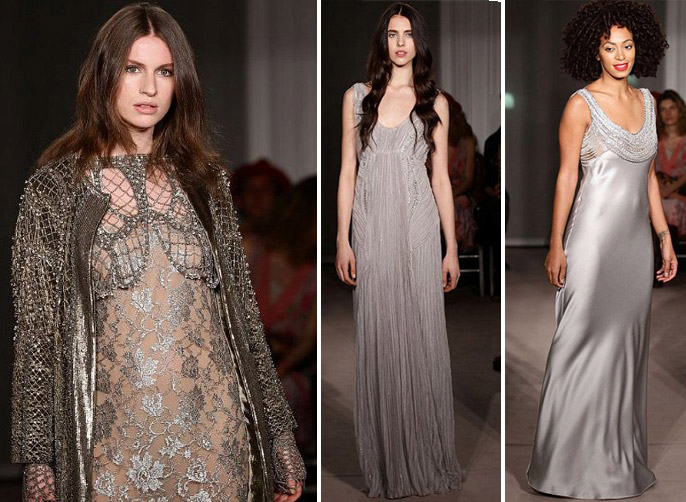 Happy Weekend! xx
Photos from vogue.co.uk / fashion.telegraph.co.uk
Uptown Twirl Espresso News Returns For 2012 With 5 Fabulous Fashion Shots!
1. Mila Kunis – The Newest Dior Beauty
Mila Kunis has become the new face of Christian Dior. The exquisite beauty stars in the Spring / Summer 2012 campaign which was shot by Mikael Jansson (pictured above). With her glowing natural beauty, Kunis can be seen in chic black looks and holding the newest 'Miss Dior' handbag.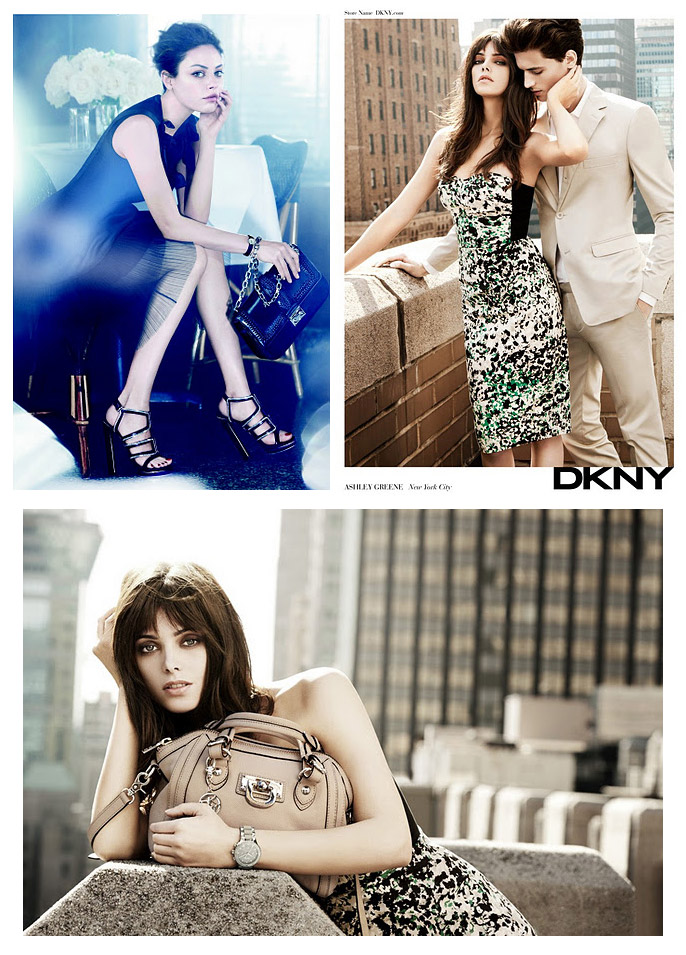 2. Ashley Greene Hearts DKNY
Posing amid the gorgeous Manhattan skyline, a gorgeous Ashley Greene strikes a pose as the face of DKNY (pictured above). Beautiful neutral tones shine across her clothing, accessories and eye make-up for fresh radiance.
– – – – – – – – – – – – – – – – – – – – – –
3. Emma Watson's Lancôme Beauty
Emma Watson's stunning Lancôme Cosmetics Ad has been revealed (pictured below). With her glowing clear complexion, Watson is exquisite in red lipstick and nail polish from the French label's two new collections – 'Rouge in Love' (the lipstick collection) and 'Vernis in Love' (the nail polish collection). The lipsticks will be available in 24 shades and come in a metallic case that can also be used as a mirror.
With Watson as the face of both lines, Lancôme hopes to ignite a love of lipstick amongst a younger generation of women. Youcef Nabi, president of Lancôme International, has said: "The idea is to make this young generation — that has been a gloss fan — come back to using lipsticks."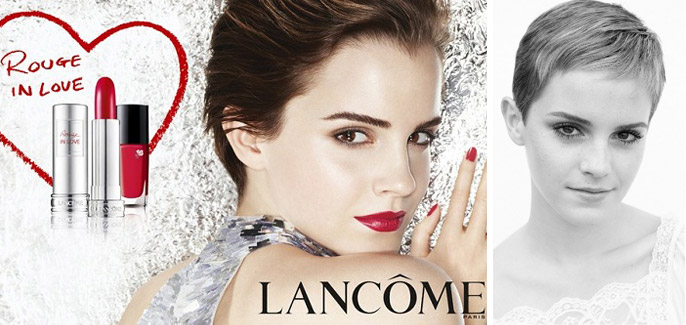 4. Emma Watson's Iconic Crop
In other news, Emma Watson's gorgeous pixie hair style has been named the most influential cut of 2011. The Wall Street Journal mentioned her darling crop in their Fashion Highlights from 2011 and even went so far as to recognise it may have instigated a major shift in hairstyle trends. Hair stylists around the world have been inundated with requests for her style and according to numerous reports, searches for Watson's hair have even outnumbered those for Jennifer Anniston's iconic locks.
5. Paul Smith Celebrates The London Olympics
Paul Smith has designed a collection of seven stamps in celebration of the London 2012 Olympic Games. Inspired by his friend, Olympic cyclist Mark Cavendish, the stamps showcase Smith's signature bright colour palette and distinct graphics. They are available from Paul Smith stores worldwide.
– – – – – – – – – – – – – – – – – – – – – –
Happy Thursday! xx
A Very Fashionable Christmas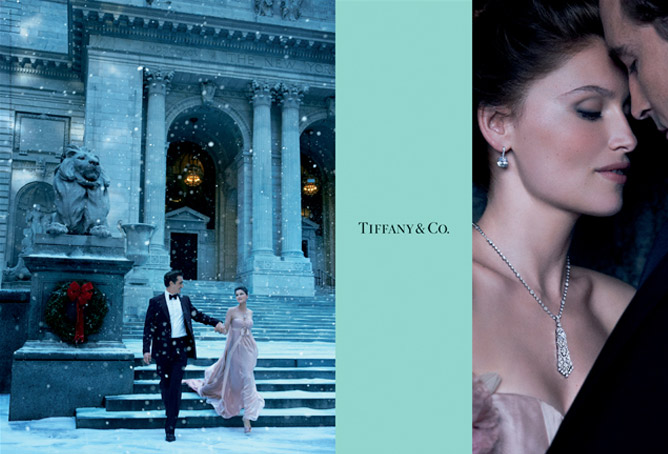 It's beginning to look a lot like Christmas…
With just over a month until Christmas Day, the festive fashion spirit is beginning to shine.
– – – – – – – – – – – – – – – – – – – – –  
Tiffany's Christmas Campaign
Each year I eagerly await the release of Tiffany's Christmas campaign. Romantic, whimsical and enchantingly beautiful, Tiffany's always manage to perfectly capture the wonderful essence of Christmas. Breathtaking New York, precious white snow, beautiful couples and exquisite jewellery – Tiffany's campaigns are unlike any other. And this year is no exception.  J'dore Tiffany's!
A Very Lanvin Christmas
Alber Elbaz of Lanvin has designed Claridge's iconic Christmas tree. Elbaz's darling sketch of his exquisite Christmas vision, pictured right, has been unveiled and it looks positively Lanvin perfection!
Of being given the Christmas tree honor, Elbaz said: "The concept of the Christmas Tree decoration is to create an installation that carries the spirit of Lanvin, an infusion of tradition and modernity at the same time. The tree is to emanate and bring heartwarming joy to all who work and stay as guests at Claridge's hotel: It's my way to wish them a very Merry Christmas."
The 2009 and 2010 Claridge's Christmas trees were Dior inspired and created by John Galliano. The Lanvin tree will be unveiled on November 22nd and will be on display in the iconic lobby until January 2nd.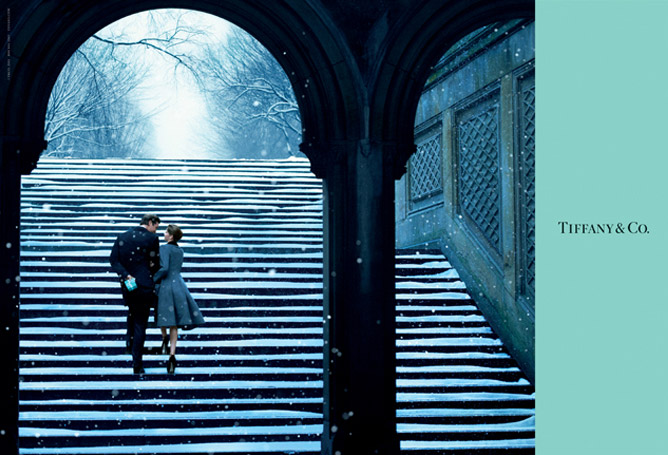 Are you beginning to feel the festive Christmas spirit? xx
Photos from vogue.co.uk & google images