A delicate diamond or pearl necklace is a style must-have.
As Holly Golightly so elegantly says in Breakfast At Tiffany's, "…Go to Tiffany's. Calms me down right away. The quietness and the proud look of it; nothing very bad could happen to you there." Jewellery is a key ingredient in any look and as outlined by Miss Golightly, it can also significantly improve your mood.
Exuding elegance and sophistication, a delicate necklace is a style signature. Instantly making a statement about your personality and style, a dainty pendant and chain is considered a 'wardrobe' must-have.
It is a necklace you can wear everyday with almost anything. From a simple white tee to a pretty cocktail dress – a delicate chain and pendant will take you from day to night.
A signature pendant proclaims your personal style. Which is your favourite? xx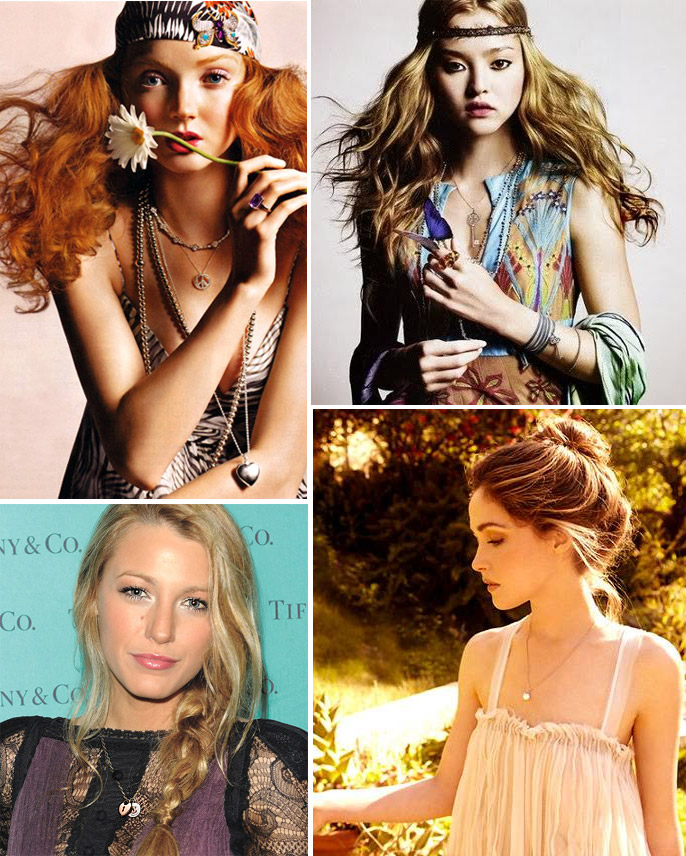 Photos from globalpress.tiffany.com / sassisamblog.com / fashioncopious.typepad.com
A Very Fashionable Christmas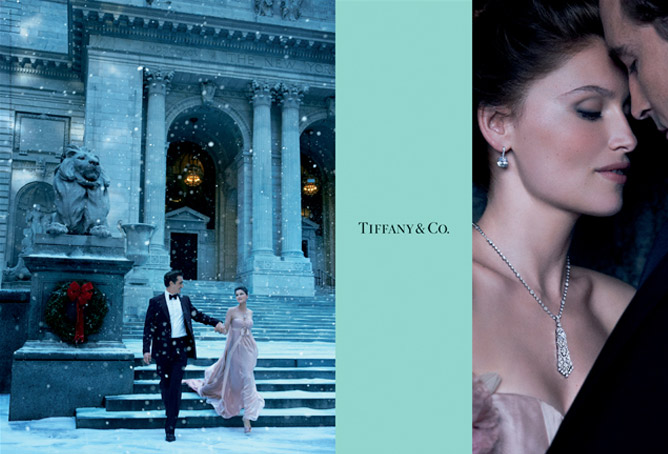 It's beginning to look a lot like Christmas…
With just over a month until Christmas Day, the festive fashion spirit is beginning to shine.
– – – – – – – – – – – – – – – – – – – – –  
Tiffany's Christmas Campaign
Each year I eagerly await the release of Tiffany's Christmas campaign. Romantic, whimsical and enchantingly beautiful, Tiffany's always manage to perfectly capture the wonderful essence of Christmas. Breathtaking New York, precious white snow, beautiful couples and exquisite jewellery – Tiffany's campaigns are unlike any other. And this year is no exception.  J'dore Tiffany's!
A Very Lanvin Christmas
Alber Elbaz of Lanvin has designed Claridge's iconic Christmas tree. Elbaz's darling sketch of his exquisite Christmas vision, pictured right, has been unveiled and it looks positively Lanvin perfection!
Of being given the Christmas tree honor, Elbaz said: "The concept of the Christmas Tree decoration is to create an installation that carries the spirit of Lanvin, an infusion of tradition and modernity at the same time. The tree is to emanate and bring heartwarming joy to all who work and stay as guests at Claridge's hotel: It's my way to wish them a very Merry Christmas."
The 2009 and 2010 Claridge's Christmas trees were Dior inspired and created by John Galliano. The Lanvin tree will be unveiled on November 22nd and will be on display in the iconic lobby until January 2nd.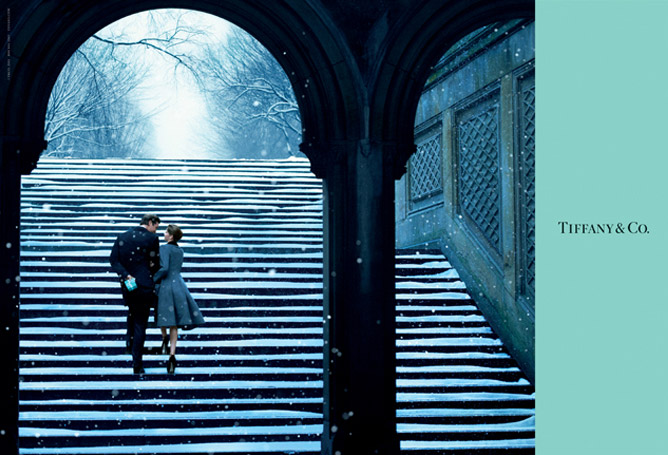 Are you beginning to feel the festive Christmas spirit? xx
Photos from vogue.co.uk & google images
Love Is In The Air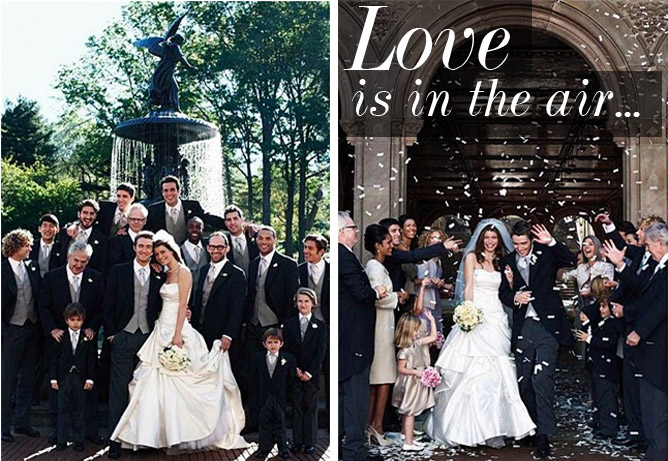 Wedding Espresso Shots of News…
Love, love, love a Wedding!
The world has fallen in love with the elegant, sophisticated Kate Middleton. The Royal Wedding, set to take place on April 29, 2011 at Westminster Abbey, has sprinkled love in the air right across the globe…
Tiffany & Co. Spring Campaign
Tiffany and Co. have released their Spring 2011 ad campaign, which perfectly captures the elegance, beauty and love of a gorgeous New York Wedding! The photography, styling, models and jewellery (pictured above & right), are as to anticipated from a Tiffany campaign, all exquisite. Love Tiffany's ability to transport you into a world of luxury…
Vogue UK Wedding Editions
To celebrate the Royal wedding of Prince William and Kate Middleton, Vogue UK is releasing three exquisite covers for the May 2011 issue (pictured below). The Three key factors to creating these extraordinarily beautiful covers:
– Three supermodels
Natalia Vodianova, Freja Beha Erichson and Lara Stone
– Three exquisite gowns
Vivienne Westwood, Oscar de la Renta and Bruce Oldfield
– One renowned Fashion Photographer
Mario Testino
Vodianova wears Vivienne Westwood, Beha Erichson in Oscar de la Renta, while Stone shines in Bruce Oldfield. The issue is Wedding themed and also features articles on Kate Middleton; a piece on fashion brides; as well as a guide to being a perfect wedding guest…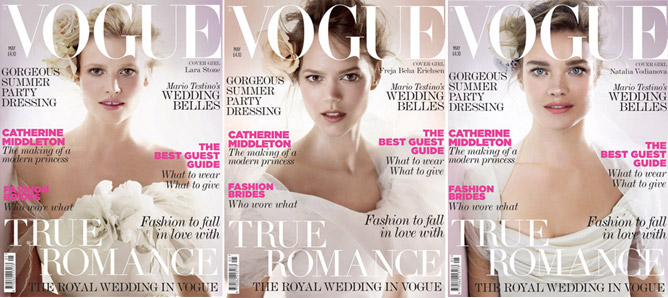 My Top Royal Wedding Gown Choices
While who will design the wedding gown of the Princess-to-be is still unknown, here are 6 of my favourites for Kate Middleton to consider… Alexander McQueen (Autumn / Winter 2011 collection), Elie Saab (Couture Spring / Summer 2011) and Marchesa (Autumn / Winter 2011 collection)!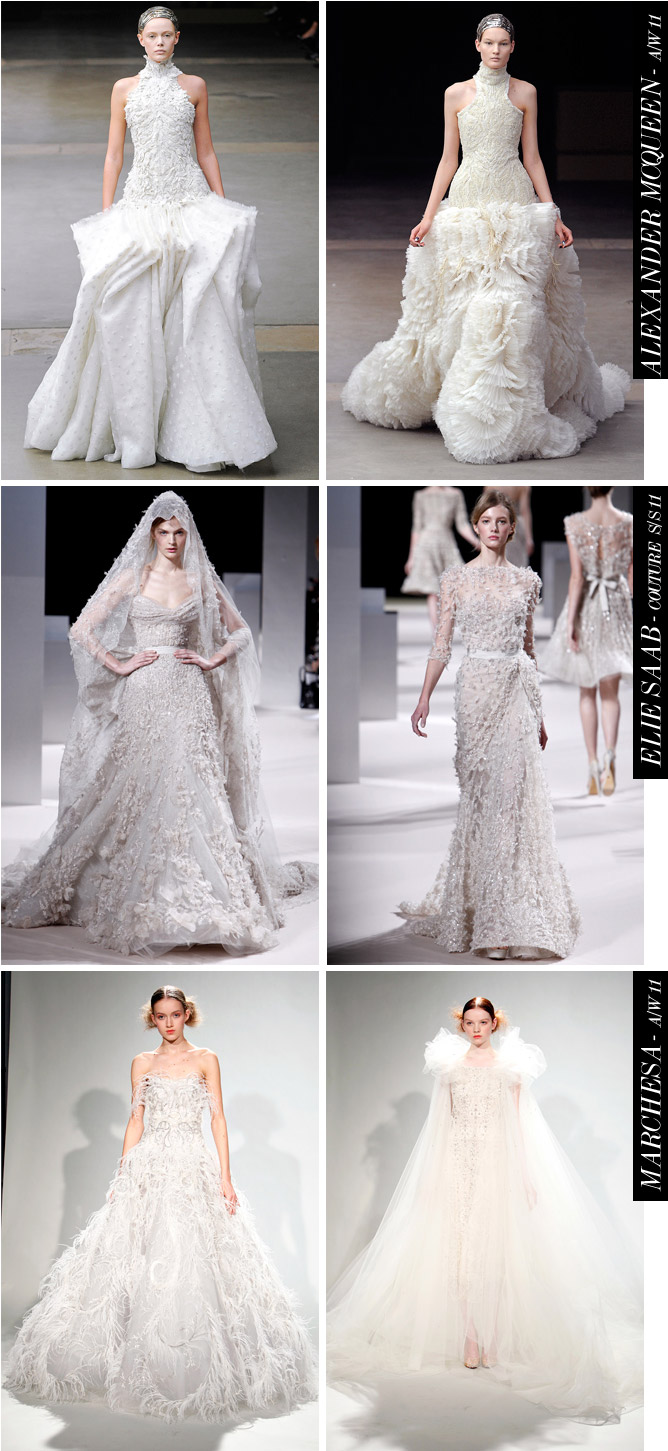 Who would you like to see design Kate Middleton's gown? xx
Photos from thetrendreport.ch / fabsugar.com.au / style.com