If I were to wish upon a fashion star and be attending the Golden Globes tomorrow, here are just a few of the gowns I would love to see on the red carpet…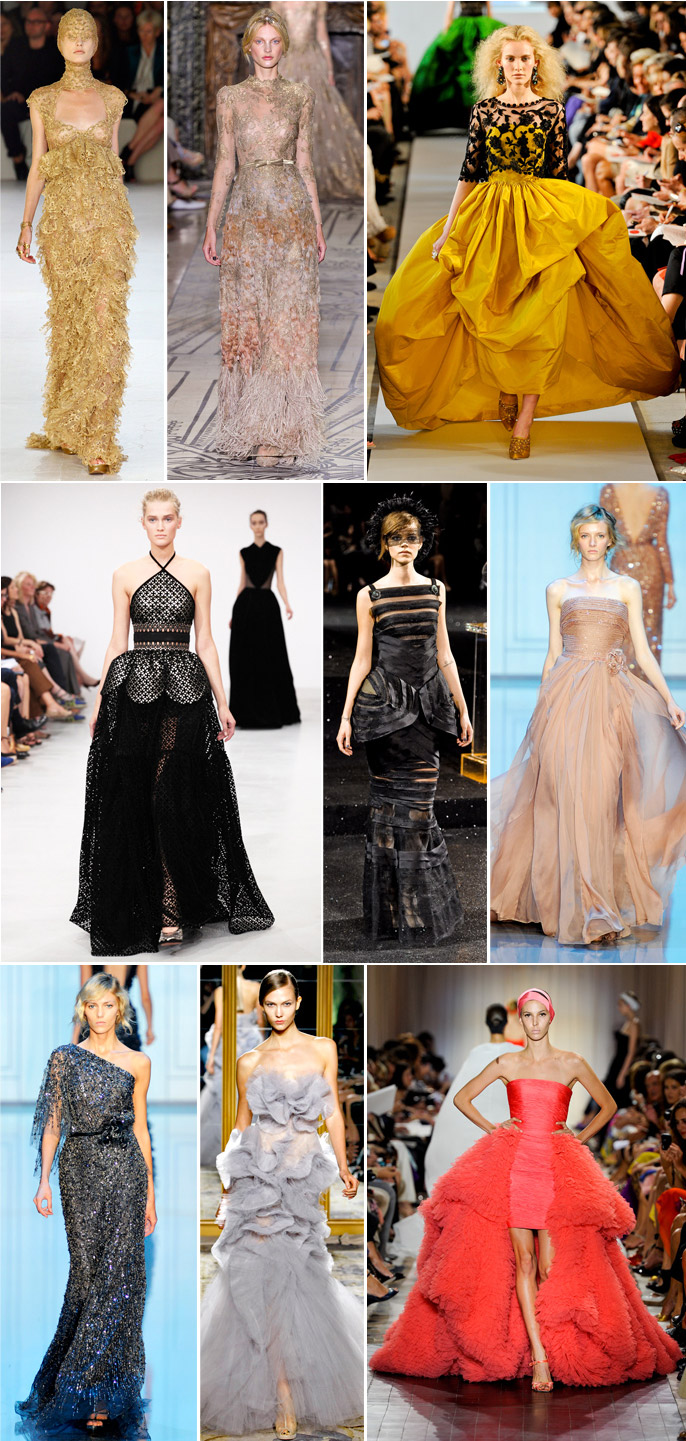 With many of the world's most beautiful women in attendance & wearing some truly dazzling gowns… this certainly could be an iconic red carpet moment to remember.
From Alexander McQueen's extraordinary Spring / Summer 2012 vision to Giambattista Valli's first couture collection; the red carpet options are looking exceptionally bright.
Choosing glistening subtle neutral shades, vivid colour or classic black; from lace embellishment to streamlined chic – what will the stars wear on this grand occasion? Be sure to see tomorrow's Espresso Shot Of Fashion News for full details.
Pictured above: Alexander McQueen, Valentino, Oscar de la Renta, Azzedine Alaïa, Chanel, Elie Saab, Elie Saab, Marchesa & Giambattista Valli
Who are you most looking forward to see walk the red carpet tomorrow? xx
Photos from style.com
Finding The Perfect LBD This Party Season
The little black dress – so iconic it is often referred to as simply the 'LBD' – is a fail-safe look during the festive season (well any season for that matter).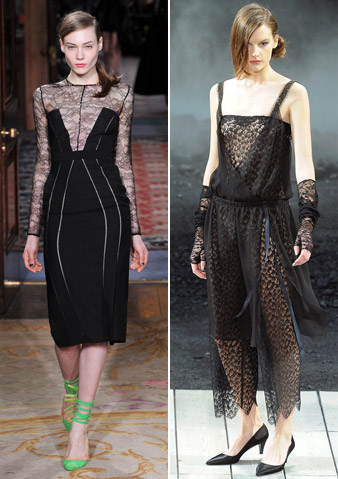 Made an essential item in every woman's wardrobe by Coco Chanel in the 1920's; it has been worn by the world's most stylish for nearly a century. From Grace Kelly to Marilyn Monroe – the little black dress is sexy, sophisticated and irrevocably chic.
Perhaps the most iconic of all little black dresses, Audrey Hepburn's Breakfast at Tiffany's gown, designed by Hubert de Givenchy, came to epitomise the chic just powerful impact a LBD could have. And when it was auctioned in 2006, it set another standard, selling for £410,000 – well over its asking price. Never ever under estimate the value of true style.
While the little black dress remains a sample across seasons and trends, it is constantly revitalised for the times. As Karl Lagerfeld once said: "Since it was invented there has always been a little black dress in the spirit of the moment. Women are never over- or underdressed with a little black dress. A woman never looks bad in one; she can always trust that look."  
Here are a few of the most coveted little black dress styles this season…
– – – – – – – – – – – – – – – – – – – – – – – – – – – – – – – – – – – – – – – – – – – – – – – – – –
Lace
The little lace dress is a style statement. Feminine, fresh and refined; it can take you from day (wear with sweet ballet flats) to evening glamour in an instant (simply add polished heels and go). The new use of lace is all about polished beauty. Très chic…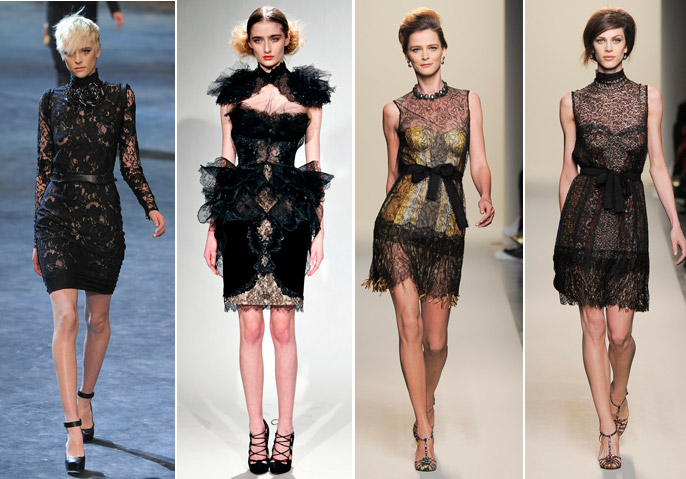 Prints
Romantic, Feminine and ever-so chic – the polka dot returned as the print of the season. See on Kate Winslet and Liv Tyler; Stella McCartney's polka dots sat on delicate chiffon over glimpses of seductive skin. While at Miu Miu, swallows became the sweetest print for Fall. Simply exquisite…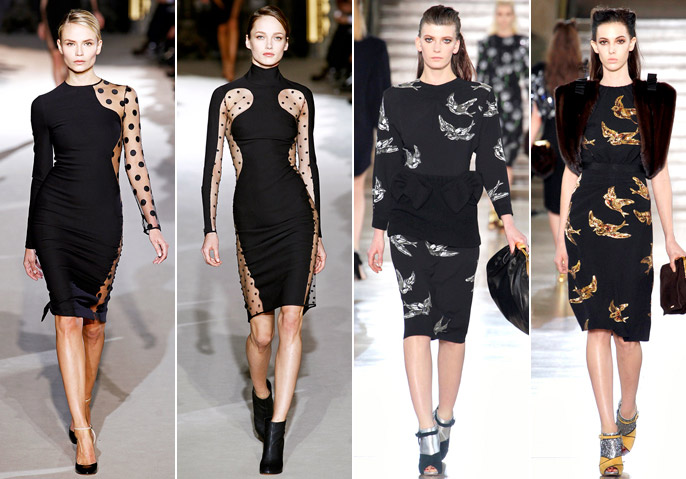 What is your fail-safe party dress of the festive season? xx
Photos from style.com & google images
Pretty In Pink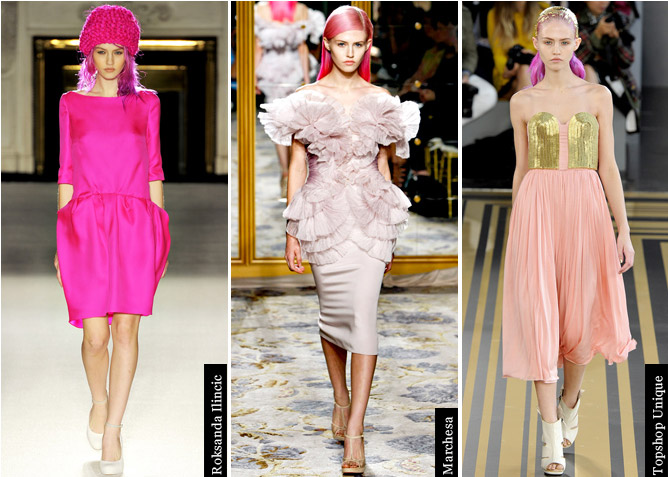 A Pink Lady Pledge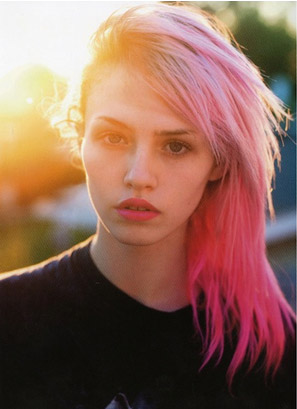 Model of the moment, Charlotte Free, isn't afraid to stand out from the crowd. Her striking pink locks have walked in a number of runway shows both in London and New York for high profile labels – from Marchesa to Vivienne Westwood.
What is quite unexpectedly startling though is how seemingly transitional pink hair can be. Looking at the selection of catwalk images from the Spring / Summer 2012 runways, Free's statement tresses embrace whatever the styling direction of the label. Whether channelling 'fresh, polished sophistication' at Marchesa; 'edgy grunge' at Kinder Aggugini; or 'sexy 60's Lolita' at Jeremy Scott – Free looks quite simply divine.
Having previously opened Vivienne Westwood's Red Label show; for Spring / Summer 2012 Free has already walked for Roksanda Ilincic, Topshop Unique, Jeremy Scott, PPQ, Kinder Aggugini, Vivienne Westwood and Louise Gray, amongst others.
Originally dying her own hair, using an assortment of shades – sweetly called 'Virgin Rose', 'Cupcake Pink', 'Hot Hot Pink' and 'Cotton Candy' – Free now leaves her daring pink tresses to the professionals.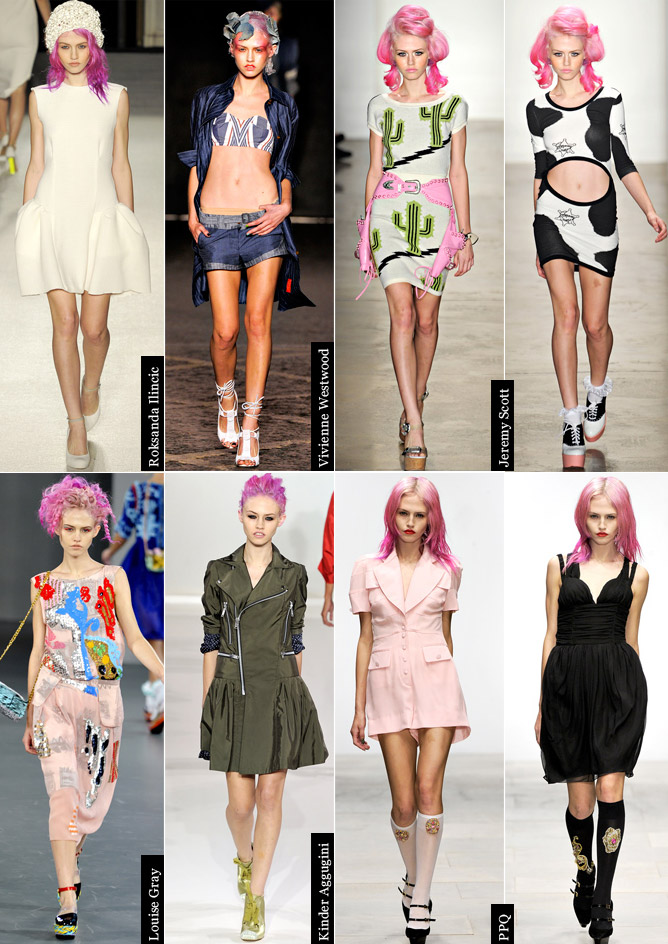 Pink hair = fearless beauty. Would you take the plunge? xx
Photos from style.com