Be inspired by the London Olympics & dress for gold, silver or bronze…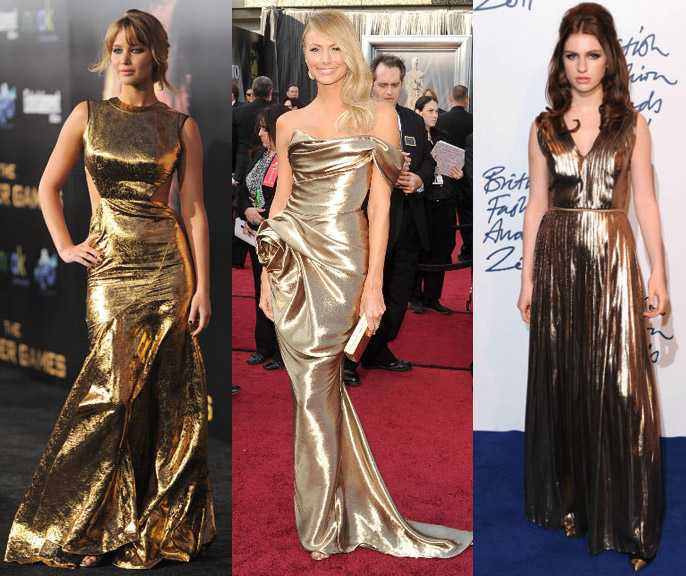 All that sparkles…
no Olympic event is complete without the lustre of precious metal. Salute your Olympic heroes' with a glamorous, shimmering of gold, silver or bronze.
While diamonds are a girl's best friend – precious metals can be equally enchanting. Whether you choose to add your metallic sparkle to wrists with selection of heavy jewels or to your eyes with a glistening shadow – molten metals can add a show stopping shimmer.
And while discretion is often the epitome of chic, don't be afraid to embrace the heavy metal movement. A full length metallic gown can be truly hypnotising…
Will you be going for gold, silver or bronze? xx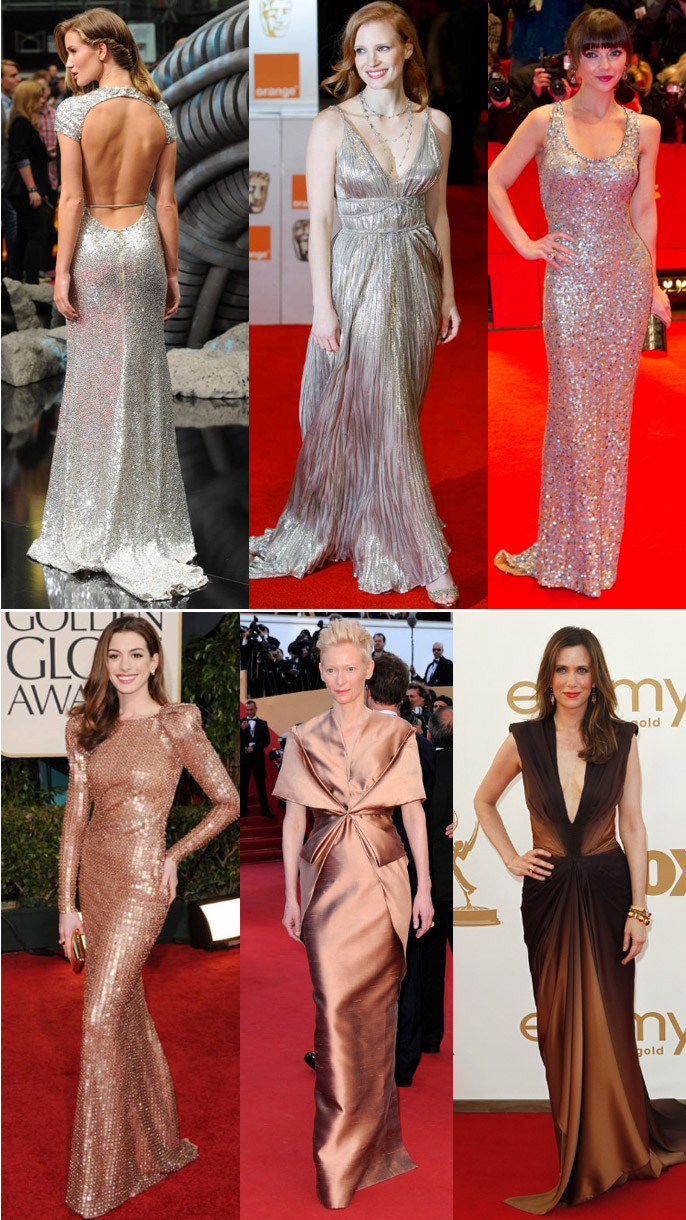 Photos from stylebistro.com / candybarbie.com / stephieprice.com / graziadaily.co.uk / magazine.motilo.com / fashionschooldaily.com / yahoo.com / fashion.about.com / celebrity-event.com
From Chanel to Dior, Versace, Gucci, Prada and more – the ladies of Hollywood dazzled in the world's most exquisite gowns…
The biggest trend of the night – fishtail gowns. From Kate Beckinsale in Roberto Cavalli to Sofia Vergara in Vera Wang and Reese Witherspoon & Elle Macpherson both in Zac Posen – fishtail gowns added a grand Old-Hollywood elegance to the Red Carpet.
A 1920's exuberance could also be felt from Salma Hayek's dazzling art deco inspired gown and Charlize Theron's divine styling – her hair swept softly back in loose waves with a vintage 1920's Cartier hair band. Michelle Williams also wore a hair band on the red carpet (surely igniting an important trend for coming Awards ceremonies). Theron's gown, one of my absolute favourites, in blush-coloured chiffon with an oversized bow at the waist and thigh-high slit, is the perfect embodiment of timeless, iconic style.
My favourites on the red carpet…

– Evan Rachel Wood show stopping in Gucci
– Sofia Vergara perfection in Vera Wang
– Salma Hayek glistening in Gucci
– Julianne Moore timeless in Chanel Haute Couture
– Rooney Mara chic in Nina Ricci
– Charlize Theron darling in Dior Couture
Who was your best dressed on the red carpet? xx
Photos from zimbio.com & google images
If I were to wish upon a fashion star and be attending the Golden Globes tomorrow, here are just a few of the gowns I would love to see on the red carpet…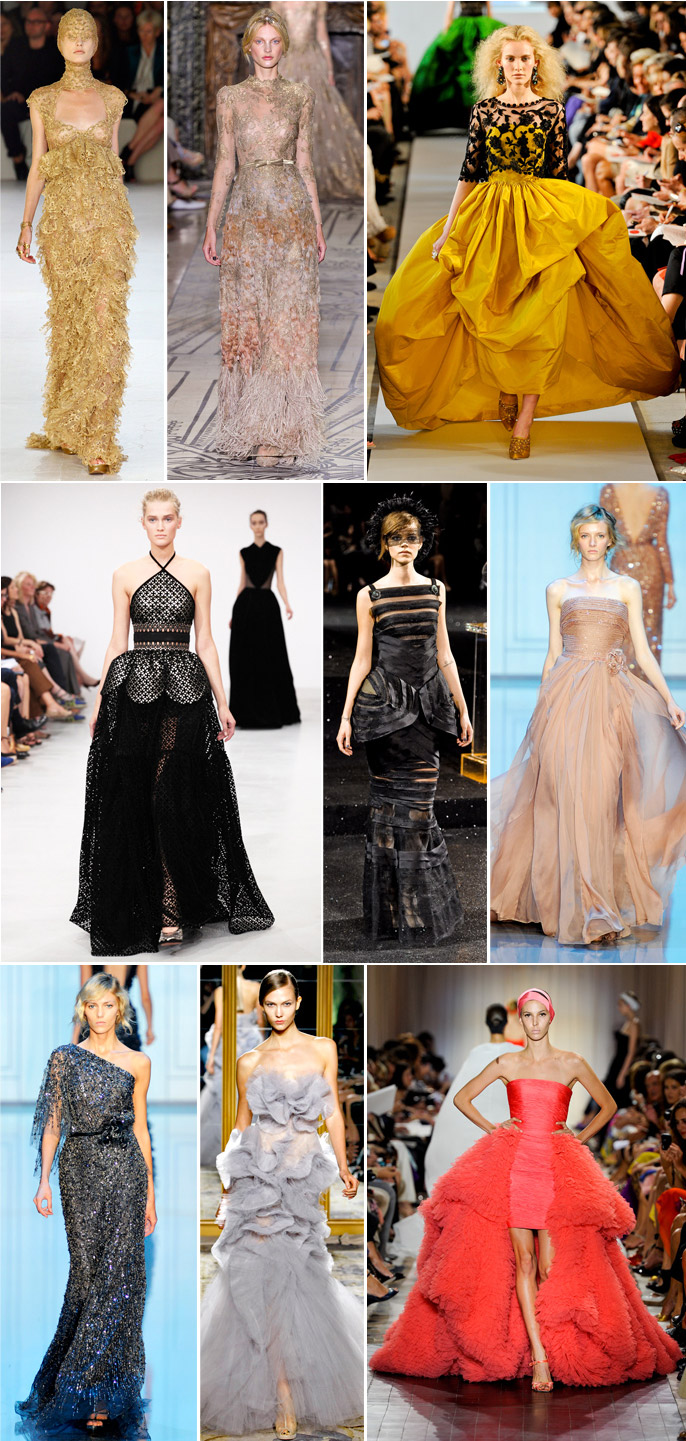 With many of the world's most beautiful women in attendance & wearing some truly dazzling gowns… this certainly could be an iconic red carpet moment to remember.
From Alexander McQueen's extraordinary Spring / Summer 2012 vision to Giambattista Valli's first couture collection; the red carpet options are looking exceptionally bright.
Choosing glistening subtle neutral shades, vivid colour or classic black; from lace embellishment to streamlined chic – what will the stars wear on this grand occasion? Be sure to see tomorrow's Espresso Shot Of Fashion News for full details.
Pictured above: Alexander McQueen, Valentino, Oscar de la Renta, Azzedine Alaïa, Chanel, Elie Saab, Elie Saab, Marchesa & Giambattista Valli
Who are you most looking forward to see walk the red carpet tomorrow? xx
Photos from style.com