Michelle Williams
Ahead of the Oscars and her possible win for 'My Week With Marilyn' for Best Actress, today we take a look at Michelle Williams striking style.
From the ethereal beauty of a hand-beaded Chanel couture gown to the epitome of cool-girl chic in Jason Wu, Michelle Williams is never afraid to take a risk on the red carpet.  
Often opting for elegant black and white, Williams has the perfect fashion-forward yet classic style. Elegant yet never fussy, beautiful but never expected. With a love for Jason Wu, Chanel, Erdem, Victoria Beckham and more, Williams is becoming a modern day style icon.
'Elegant yet never fussy, beautiful but never expected.'
Choosing looks to perfectly complement her platinum crop, Williams understands the 'less is more mantra'. Her refined, natural make-up and simple, elegant diamond jewellery evoke a timeless beauty.
A personal favourite: The exquisite Vera Wang saffron gown, worn by Williams to the 2006 Oscars (pictured above). Her relaxed chignon, red lips, and vintage necklace exude 'Old-Hollywood glamour' to perfection.

Do you covet Michelle Williams' style? Who is a modern day style icon to you? xx
Photos from google images
From Chanel to Dior, Versace, Gucci, Prada and more – the ladies of Hollywood dazzled in the world's most exquisite gowns…
The biggest trend of the night – fishtail gowns. From Kate Beckinsale in Roberto Cavalli to Sofia Vergara in Vera Wang and Reese Witherspoon & Elle Macpherson both in Zac Posen – fishtail gowns added a grand Old-Hollywood elegance to the Red Carpet.
A 1920's exuberance could also be felt from Salma Hayek's dazzling art deco inspired gown and Charlize Theron's divine styling – her hair swept softly back in loose waves with a vintage 1920's Cartier hair band. Michelle Williams also wore a hair band on the red carpet (surely igniting an important trend for coming Awards ceremonies). Theron's gown, one of my absolute favourites, in blush-coloured chiffon with an oversized bow at the waist and thigh-high slit, is the perfect embodiment of timeless, iconic style.
My favourites on the red carpet…

– Evan Rachel Wood show stopping in Gucci
– Sofia Vergara perfection in Vera Wang
– Salma Hayek glistening in Gucci
– Julianne Moore timeless in Chanel Haute Couture
– Rooney Mara chic in Nina Ricci
– Charlize Theron darling in Dior Couture
Who was your best dressed on the red carpet? xx
Photos from zimbio.com & google images
In Rouge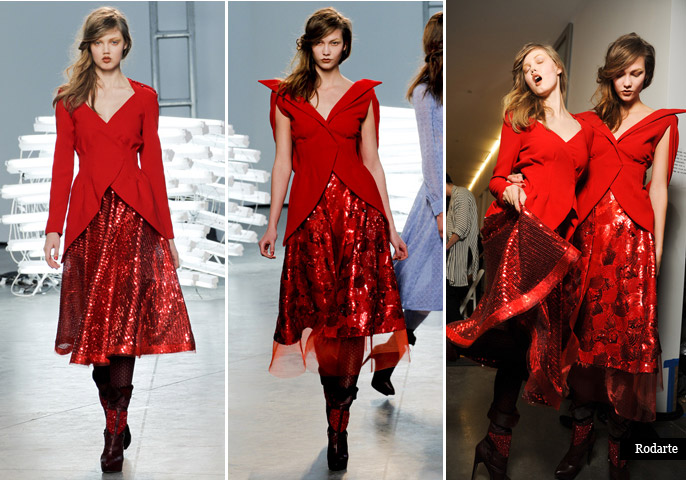 Catch Scarlet Fever…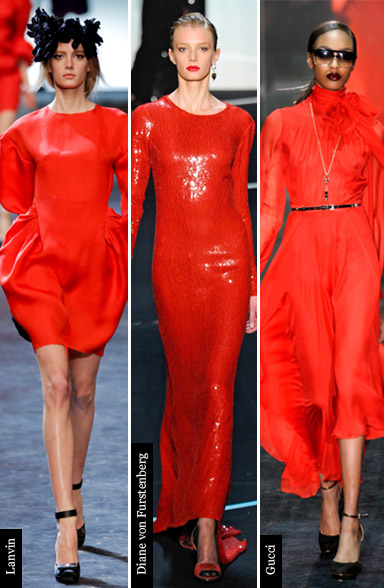 Across the runways designers were feeling a little hot under the collar. Shades of scarlet, crimson, cardinal and vermilion brought an undeniable warmth of sexy, bright, sophistication to the upcoming Fall season.
The House of Valentino has long painted the town red, with the Couturier himself once saying: "Women usually prefer to wear black at events because it makes them feel safe, however, if there's one woman wearing red, she will inevitably be the eye-catcher of the evening. It's as though the room is suddenly illuminated — simply perfect for a grand entrance."
The little red dress made for a dashing statement at Gucci, Lanvin, Jil Sander and Diane von Furstenberg, not to mention countless others. Meanwhile, at Michael Kors' a luxe red fur added the finishing touch to a complete scarlet look. At Chanel a little red jacket also added a dash of colour to a monochromatic collection.
The colour of passion, red isn't a look for the faint of heart. Sizzling sirens need only apply!
Must Have… The little red dress; sensational red trousers; or a statement red fur.
Minimal Chic… Want to dip your toes into this delightful trend? Try a slick of bold red lipstick; sultry red stilettos; or finish your look with a darling red clutch.
Favourite Catwalk Look… Rodarte Red! Love the Rodarte's Wizard Of Oz inspired dresses which feature red sequins in divine silhouettes.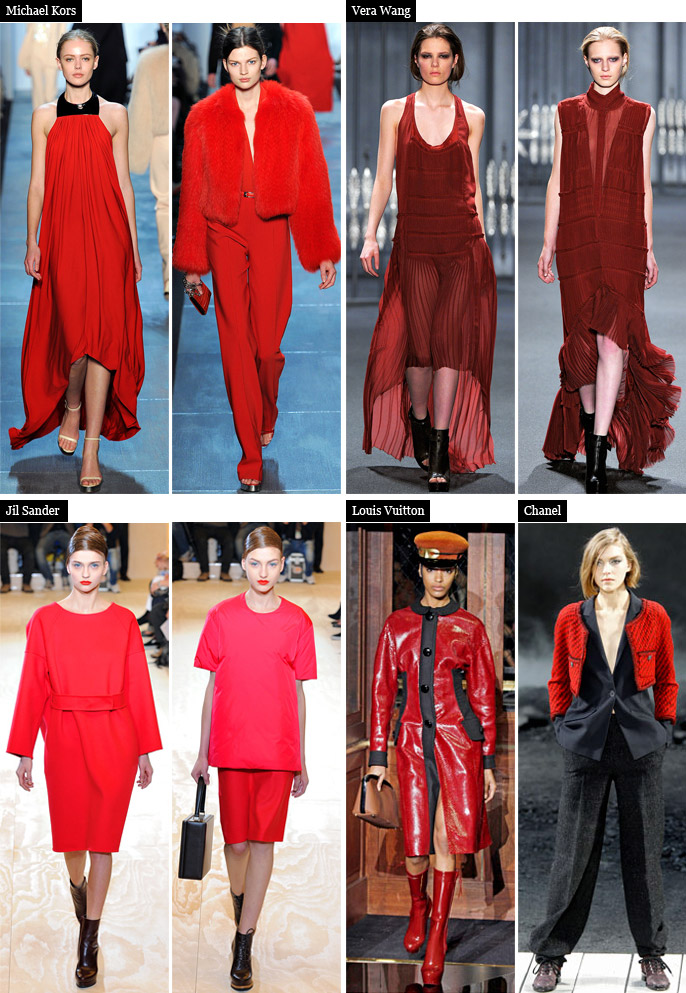 Will you sizzle in radiant red for Fall?
Photos from style.com / elle.com