The Fall Fashion Campaigns – Take 2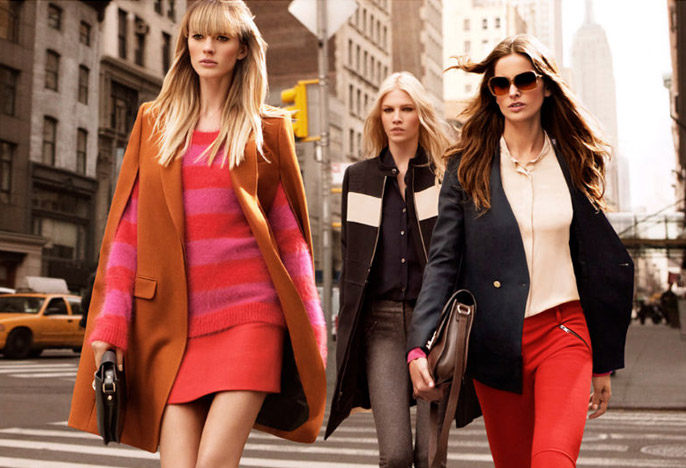 Take Two – more of the latest Fashion Campaigns for Fall…
– – – – – – – – – – – – – – – – – – – –
DKNY
Featuring Anne Vyalitsyna, Izabel Goulart and Aline Weber, the DKNY Fall campaign is all about chic modern power dressing. The shots burst with darling stripes, tweeds and brights – perfect for a fashionable Fall.  Effortlessly cool, New York Chic…

– – – – – – – – – – – – – – – – – – – –
Stella McCartney
Natalia Vodianova looks as though she is in Wonderland for the Stella McCartney Fall 2011 campaign. Returning as the face of the Stella McCartney label, Vodianova exudes pure natural beauty in polka dots and oversized comfy knits. Simply stunning…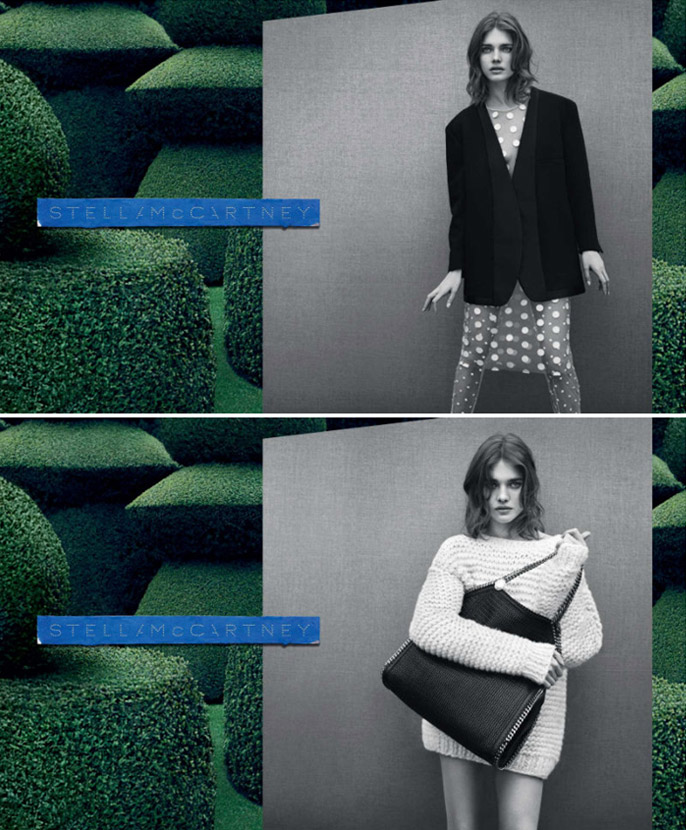 – – – – – – – – – – – – – – – – – – – –
Alberta Ferretti
Arizona Muse goes 60's cool for the Alberta Ferretti Fall 2011 Campaign. In a cosy setting, Muse exudes confidence and swinging 60's sophistication in striking colours and iconic shapes. Adore…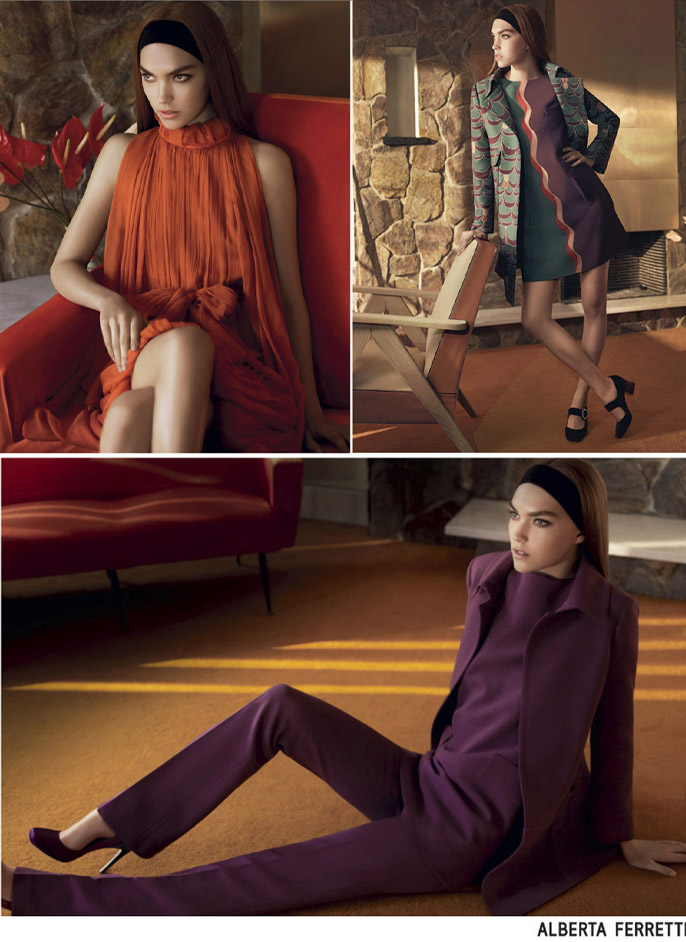 – – – – – – – – – – – – – – – – – – – –
Elie Saab
Elegant and sexy – the Elie Saab woman is enchantingly alluring. Juju Ivanyuk wears the label's form fitting, sharply tailored looks to perfection for the Fall 2011 campaign. Divine…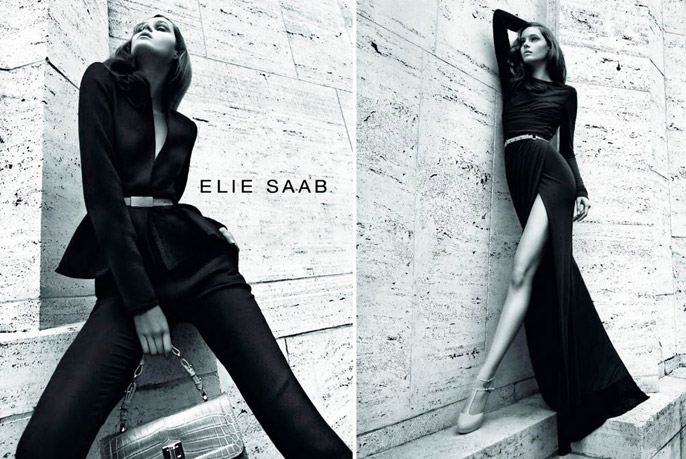 – – – – – – – – – – – – – – – – – – – –
Donna Karan
Donna Karan's Fall 2011campaign explores a day in the life of a busy yet exquisitely elegant New York woman. Isabeli Fontana is the sophisticated, refined woman we are following. Wearing beautiful pieces with an iconic nostalgia to them, the collection draws on the past in a divine colour palette of silver tones. Elegance personified…

– – – – – – – – – – – – – – – – – – – –
Valentino
Seductive, Romantic and Enchanting – the Valentino campaign features Jac Jagaciak, Caroline Brasch Nielsen, Ruby Aldridge, Sara Blomqvist and Kim Dall Armi for Fall 2011. Radiating mysterious glamour the looks include delicate light-weight dress and elegant accessories. Heavenly…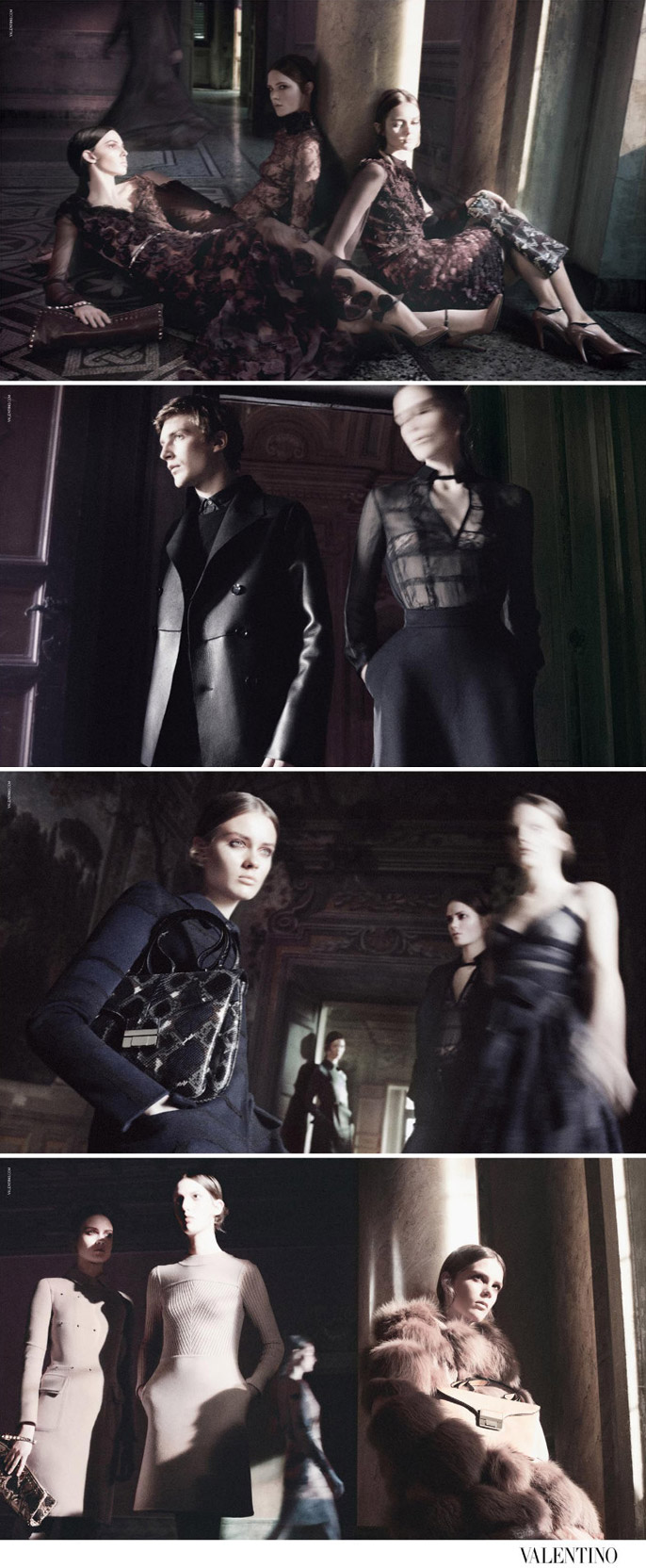 – – – – – – – – – – – – – – – – – – – –
Michael Kors
Karmen Pedaru and Simon Nessman prepare for a night out on the town in the Michael Kors Fall 2011 campaign. The couple ride in the back of a limo in looks that evoke pure 70's glam. Sexy, sophisticated, modern day glamour at its finest…

– – – – – – – – – – – – – – – – – – – –
Which Fall campaigns best represent your style? xx
Photos from fashiongonerogue.com
In Rouge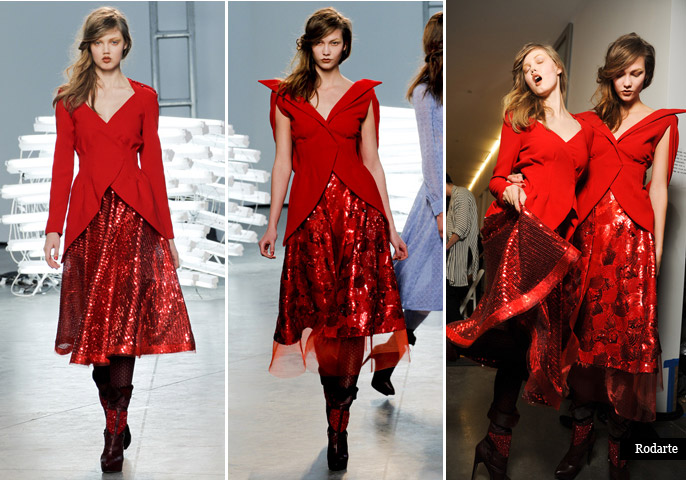 Catch Scarlet Fever…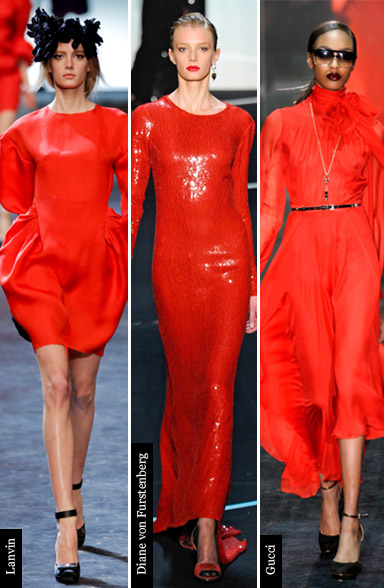 Across the runways designers were feeling a little hot under the collar. Shades of scarlet, crimson, cardinal and vermilion brought an undeniable warmth of sexy, bright, sophistication to the upcoming Fall season.
The House of Valentino has long painted the town red, with the Couturier himself once saying: "Women usually prefer to wear black at events because it makes them feel safe, however, if there's one woman wearing red, she will inevitably be the eye-catcher of the evening. It's as though the room is suddenly illuminated — simply perfect for a grand entrance."
The little red dress made for a dashing statement at Gucci, Lanvin, Jil Sander and Diane von Furstenberg, not to mention countless others. Meanwhile, at Michael Kors' a luxe red fur added the finishing touch to a complete scarlet look. At Chanel a little red jacket also added a dash of colour to a monochromatic collection.
The colour of passion, red isn't a look for the faint of heart. Sizzling sirens need only apply!
Must Have… The little red dress; sensational red trousers; or a statement red fur.
Minimal Chic… Want to dip your toes into this delightful trend? Try a slick of bold red lipstick; sultry red stilettos; or finish your look with a darling red clutch.
Favourite Catwalk Look… Rodarte Red! Love the Rodarte's Wizard Of Oz inspired dresses which feature red sequins in divine silhouettes.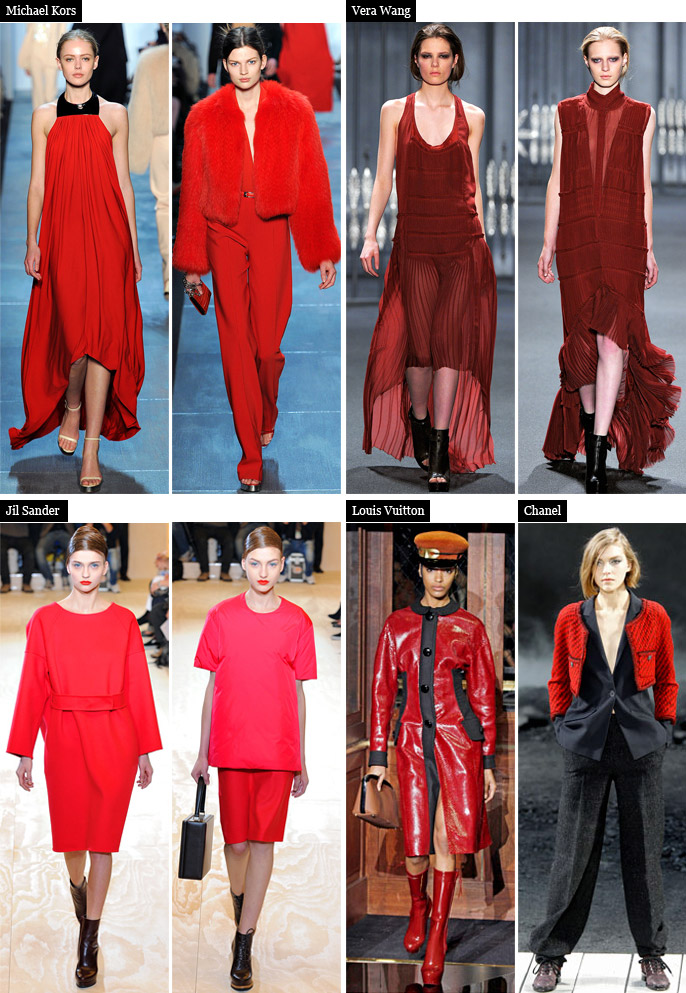 Will you sizzle in radiant red for Fall?
Photos from style.com / elle.com
July Inspiration…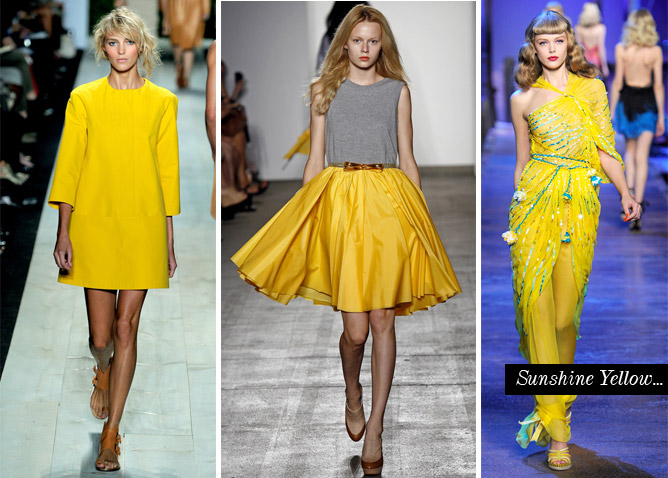 My quote of the month is from the darling iconic beauty Audrey Hepburn… "I believe in manicures. I believe in overdressing. I believe in primping at leisure and wearing lipstick. I believe in pink. I believe happy girls are the prettiest girls.  I believe that tomorrow is another day, and… I believe in miracles." 
I love the pure sweetness of Audrey Hepburn's overtly girly quote and I am determined to embrace her philosophy for July. This month I am all about 'beauty' and maintenance – my nails will always be perfectly manicured and I shall be wearing lipstick in an assortment of luscious shades every day. Overdressing is already a forte of mine; however, I am certain it can be taken to a new level for Audrey. Let the challenge begin (I cannot wait)!  
On another exciting note, Uptown Twirl will be turning one on July 10th! Celebrations will commence soon so be sure to watch this space!
In the meantime, here are some of the things that are inspiring me for July….

What are your July Inspirations? xx
Photos from style.com / cocokelley.blogspot.com / littlebitsoflovely.blogspot.com  / cocokelley.blogspot.com / google images