I Want Candy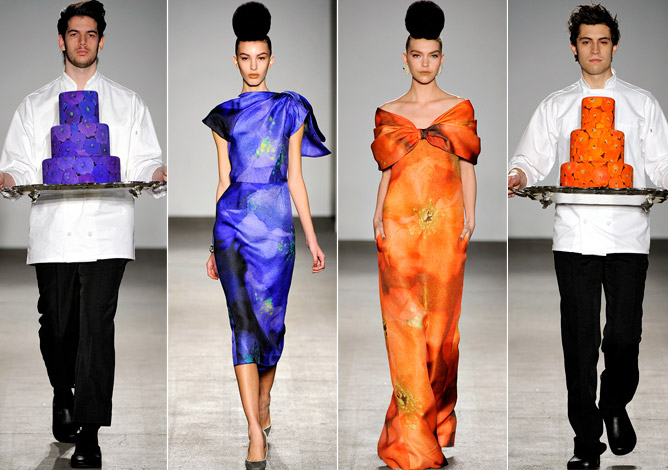 Indulge your senses with sweet confectionary inspired delights.
From soft sherbet shades to bonbon brights; recent collections took a turn on the sweeter side.
At Stella McCartney's resort launch, models played croquet alongside lollipop wagons. While at Isaac Mizrahi's Autumn / Winter collection waiters carried brightly decorated cakes inspired by the delectable gowns on the runway.
From cream puff skirts and candy stripe cocktail dresses, this trend evokes an airy Marie-Antoinette-like indulgence.  For a lighter take on this sugary palette, take arm candy to new heights. Kate Spade's deliciously playful 'Cha Cha Chocolate' clutches = chocolat perfection (pictured right)!
Opulent, whimsical and delectably lovely, what better way to indulge in a concoction of lavish desserts?
Bon Appétit!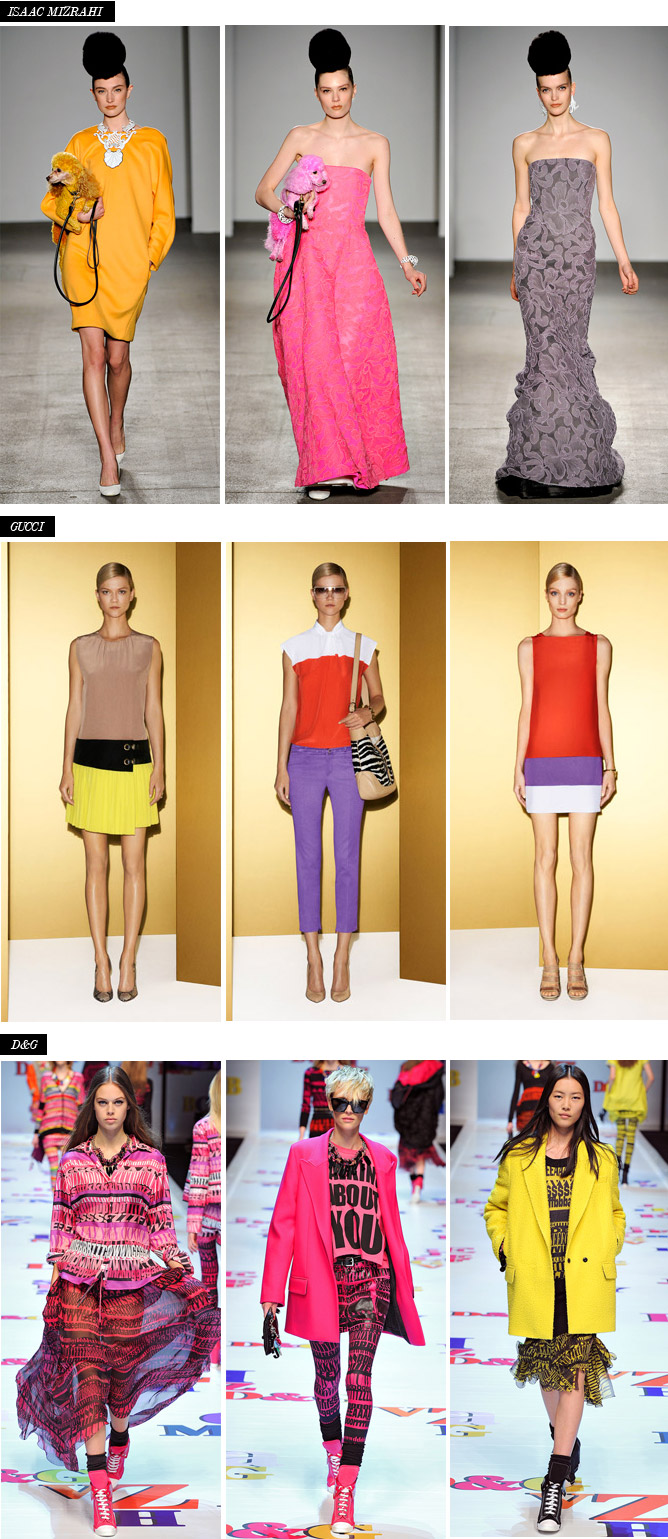 Will you indulge in this sweeter way of dressing?
Photos from style.com
5 Fabulous Fashion Shots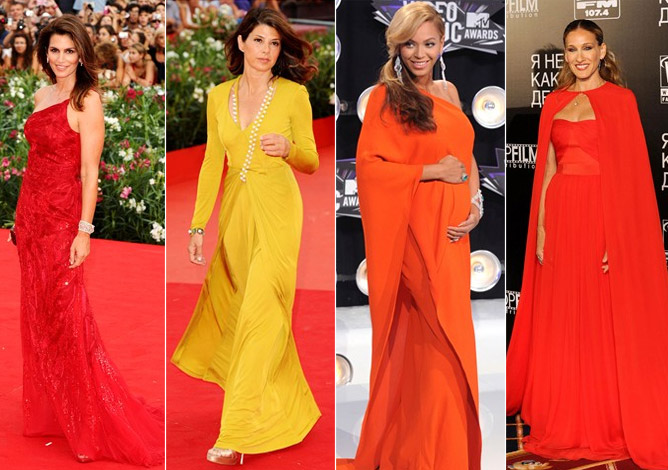 Bold Colour On The Red Carpet
The black, grey and dark shades for Winter are nowhere to be seen this Fall, with bold intoxicating colour taking the centre stage. In the past week alone, these four beautiful belles have stepped out in ravishing gowns and in extraordinary tones.
Cindy Crawford in Roberto Cavalli  / Marisa Tomei wore Marios Schwab (fall 2011)  / Sarah Jessica Parker chose Giambattista Valli (fall 2011 couture) / Beyoncé in Lanvin
Je t'aime Colour!
– – – – – – – – – – – – – – – – – – – –
Lanvin's Valley of the Dolls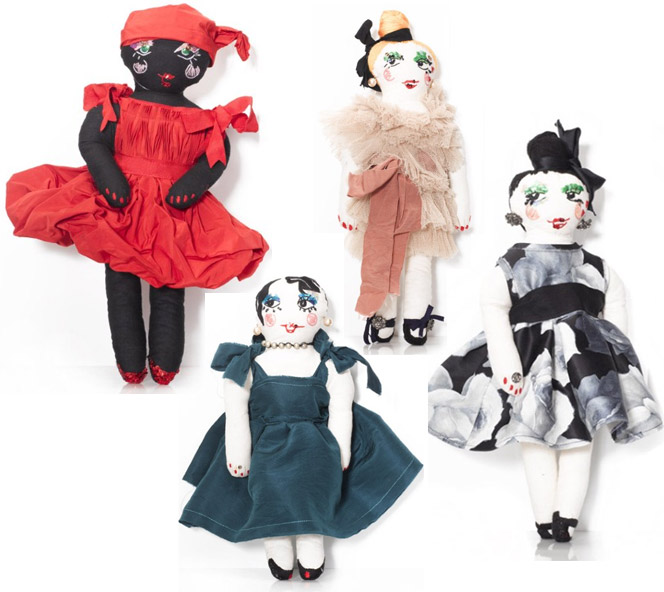 French Luxury House, Lanvin, has created a limited edition collection of fabric dolls to raise money for women with HIV in Africa.
The dolls are made in the spirit of Jeanne Lanvin, Lanvin Founder, who would make clothes for children and their dolls. Four limited edition fabric dolls each dressed in its own Lanvin Petite outfit, have been hand stitched and embroidered by women in Swaziland who are diagnosed as HIV positive. The dolls will go on sale in November to coincide with the launch of Lanvin's first luxury childrenswear range – with each miniature gown a scaled down version from the main collection.
– – – – – – – – – – – – – – – – – – – –
Valentino The Musical?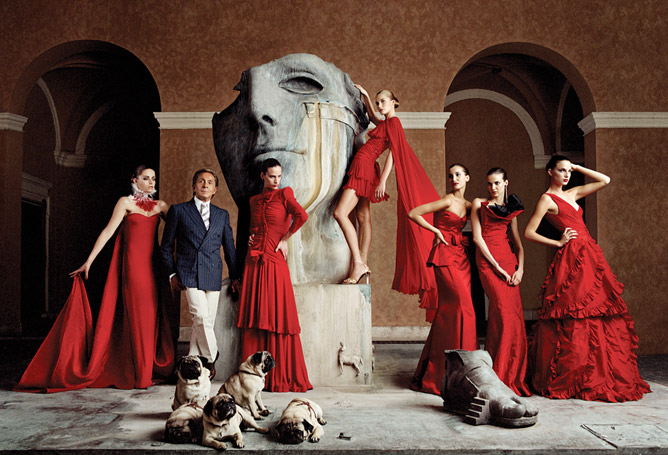 Valentino Garavani, the extraordinary Italian Couturier, has announced: "We're looking at the possibility of taking my story to Broadway, as a musical."
At 79, Valentino has had a life worth singing and dancing about. Valentino's life was previously documented during the 2008 documentary, Valentino: The Last Emperor. After originally feeling sceptical about his perception, Valentino said of the experience:  "[At the end of the screening] the applause never stopped and I realised that people liked me as I am. The film was even more successful [at the] Toronto [film festival]."
– – – – – – – – – – – – – – – – – – – –
Chanel World In Harrods
20,000 square feet of Chanel magic has opened in the legendary department store, Harrods, for the next three weeks.  
A series of mini boutiques within the department store have been packed with exquisite Chanel fashions, accessories, jewellery and a new limited-edition Knightsbridge make-up collection. Chanel's Autumn/Winter 2011 collection has also taken over all of the windows on the Brompton Road facade.
A one-off exhibition, entitled Une Promenade, will showcase the extraordinary work that goes into making one of the iconic 2.55 quilted handbags; a display of haute couture gowns in a replica of Coco's apartment; and an ode to the legendary Chanel No 5 perfume bottle. Located on the third floor, behind a curtain of pearl beads, shoppers will also discover an enchanted garden (a la the setting for Chanel's spring/summer fashion show).
– – – – – – – – – – – – – – – – – – – –
British Fashion Awards Nominees Announced
British Fashion Awards, celebrating the crème de la crème of the style world, will take place in London on November 28th.
The Nominees for these prestigious awards have been announced and some of the hopefuls, include; Sarah Burton, Stella McCartney, Victoria Beckham, Erdem and Mary Katrantzou. Of the Nominees, British Fashion Council Chair, Harold Tillman has said: "This year's nominees demonstrate the breadth and creativity London has to offer. The fashion brands and designers that are based here set the trends across the globe."
And the Nominees are…
DESIGNER OF THE YEAR
Christopher Kane, Erdem and Sarah Burton for Alexander McQueen
LAST YEAR'S WINNER: Pheobe Philo for Céline
– – – – – – – – – – – – – – – – – – – – – – – – – – – — – – – – – – – – –
MODEL OF THE YEAR
Georgia Jagger, Kristen McMenamy, Stella Tennant
LAST YEAR'S WINNER: Lara Stone
– – – – – – – – – – – – – – – – – – – – – – – – – – – — – – – – – – – – –
DESIGNER BRAND OF THE YEAR
Burberry, Stella McCartney, Tom Ford and Victoria Beckham
LAST YEAR'S WINNER: Mulberry
– – – – – – – – – – – – – – – – – – – – – – – – – – – — – – – – – – – – –
ISABELLA BLOW AWARD FOR FASHION CREATOR
Guido Palau, Katie Grand and Sam Gainsbury
LAST YEAR'S WINNER: Nicola Formichetti
– – – – – – – – – – – – – – – – – – – – – – – – – – – — – – – – – – – – –
MENSWEAR DESIGNER
Kim Jones, Margaret Howell and Oliver Spencer
LAST YEAR'S WINNER: E.Tautz
– – – – – – – – – – – – – – – – – – – – – – – – – – – — – – – – – – – – –
ACCESSORY DESIGNER
Charlotte Olympia, Emma Hill for Mulberry and Katie Hillier
LAST YEAR'S WINNER: Nicholas Kirkwood
– – – – – – – – – – – – – – – – – – – – – – – – – – – — – – – – – – – – –
EMERGING TALENT AWARD – READY TO WEAR
J.W. Anderson, Mary Katrantzou and Peter Pilotto
LAST YEAR'S WINNER: Meadham Kirchhoff
– – – – – – – – – – – – – – – – – – – – – – – – – – – — – – – – – – – – –
EMERGING TALENT AWARD – ACCESSORIES
Jordan Askill, Nasir Mazhar, Tabitha Simmons
LAST YEAR'S WINNER: Husam El Odeh
– – – – – – – – – – – – – – – – – – – – – – – – – – – — – – – – – – – – –
EMERGING TALENT AWARD – MENSWEAR
Christopher Raeburn, James Long and J.W. Anderson
– – – – – – – – – – – – – – – – – – – –
Happy Tuesday! xx
Photos from instyle.co.uk / vogue.co.uk / grazia.com.au / google images
The Fall Fashion Campaigns – Take 2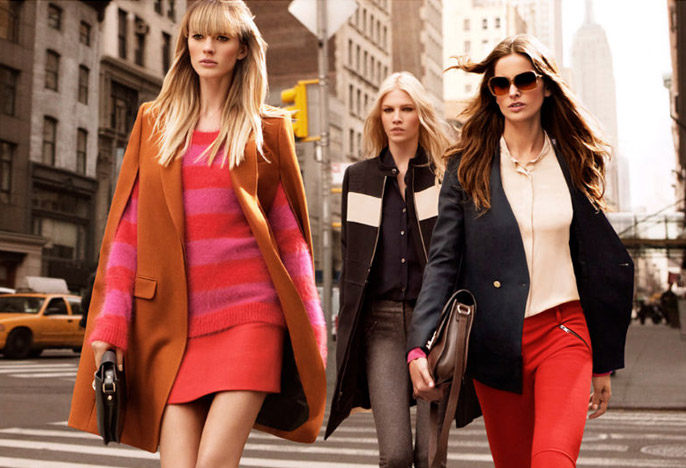 Take Two – more of the latest Fashion Campaigns for Fall…
– – – – – – – – – – – – – – – – – – – –
DKNY
Featuring Anne Vyalitsyna, Izabel Goulart and Aline Weber, the DKNY Fall campaign is all about chic modern power dressing. The shots burst with darling stripes, tweeds and brights – perfect for a fashionable Fall.  Effortlessly cool, New York Chic…

– – – – – – – – – – – – – – – – – – – –
Stella McCartney
Natalia Vodianova looks as though she is in Wonderland for the Stella McCartney Fall 2011 campaign. Returning as the face of the Stella McCartney label, Vodianova exudes pure natural beauty in polka dots and oversized comfy knits. Simply stunning…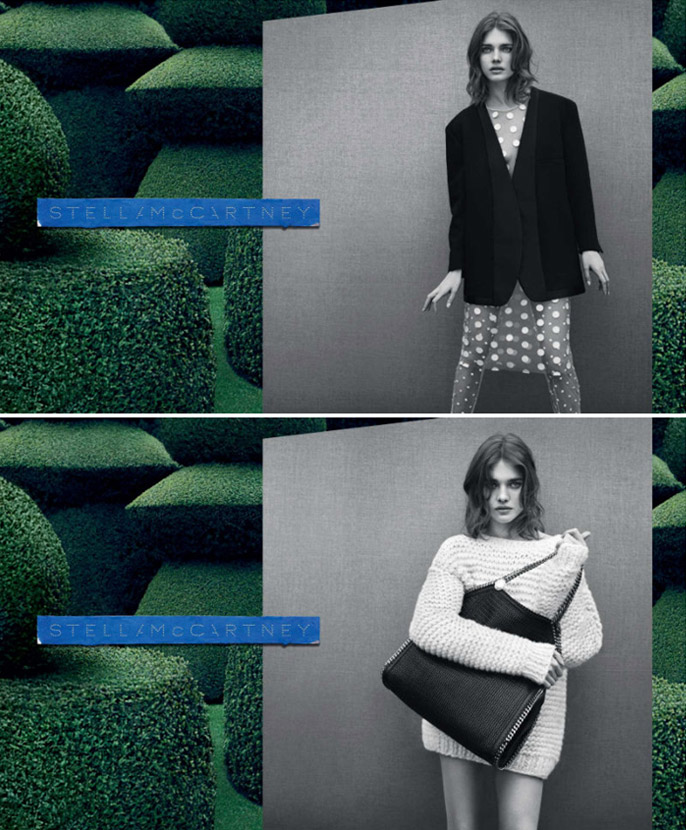 – – – – – – – – – – – – – – – – – – – –
Alberta Ferretti
Arizona Muse goes 60's cool for the Alberta Ferretti Fall 2011 Campaign. In a cosy setting, Muse exudes confidence and swinging 60's sophistication in striking colours and iconic shapes. Adore…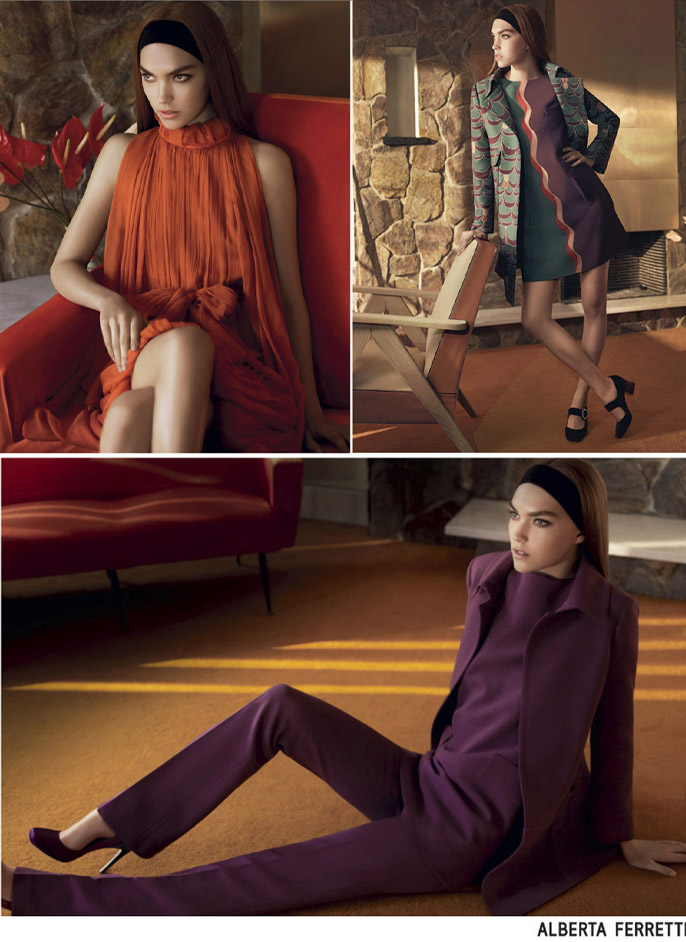 – – – – – – – – – – – – – – – – – – – –
Elie Saab
Elegant and sexy – the Elie Saab woman is enchantingly alluring. Juju Ivanyuk wears the label's form fitting, sharply tailored looks to perfection for the Fall 2011 campaign. Divine…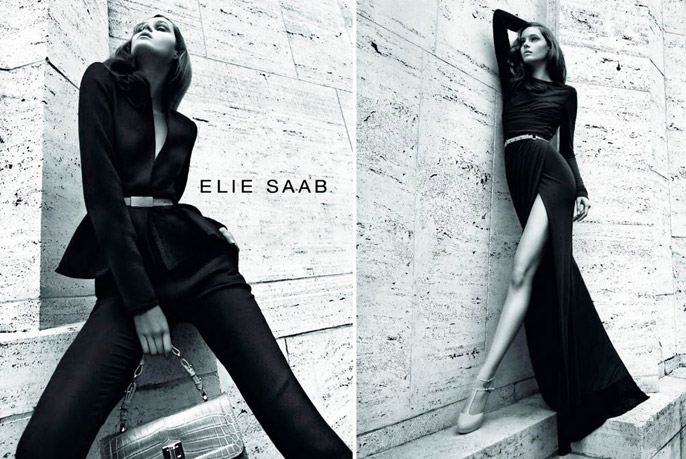 – – – – – – – – – – – – – – – – – – – –
Donna Karan
Donna Karan's Fall 2011campaign explores a day in the life of a busy yet exquisitely elegant New York woman. Isabeli Fontana is the sophisticated, refined woman we are following. Wearing beautiful pieces with an iconic nostalgia to them, the collection draws on the past in a divine colour palette of silver tones. Elegance personified…

– – – – – – – – – – – – – – – – – – – –
Valentino
Seductive, Romantic and Enchanting – the Valentino campaign features Jac Jagaciak, Caroline Brasch Nielsen, Ruby Aldridge, Sara Blomqvist and Kim Dall Armi for Fall 2011. Radiating mysterious glamour the looks include delicate light-weight dress and elegant accessories. Heavenly…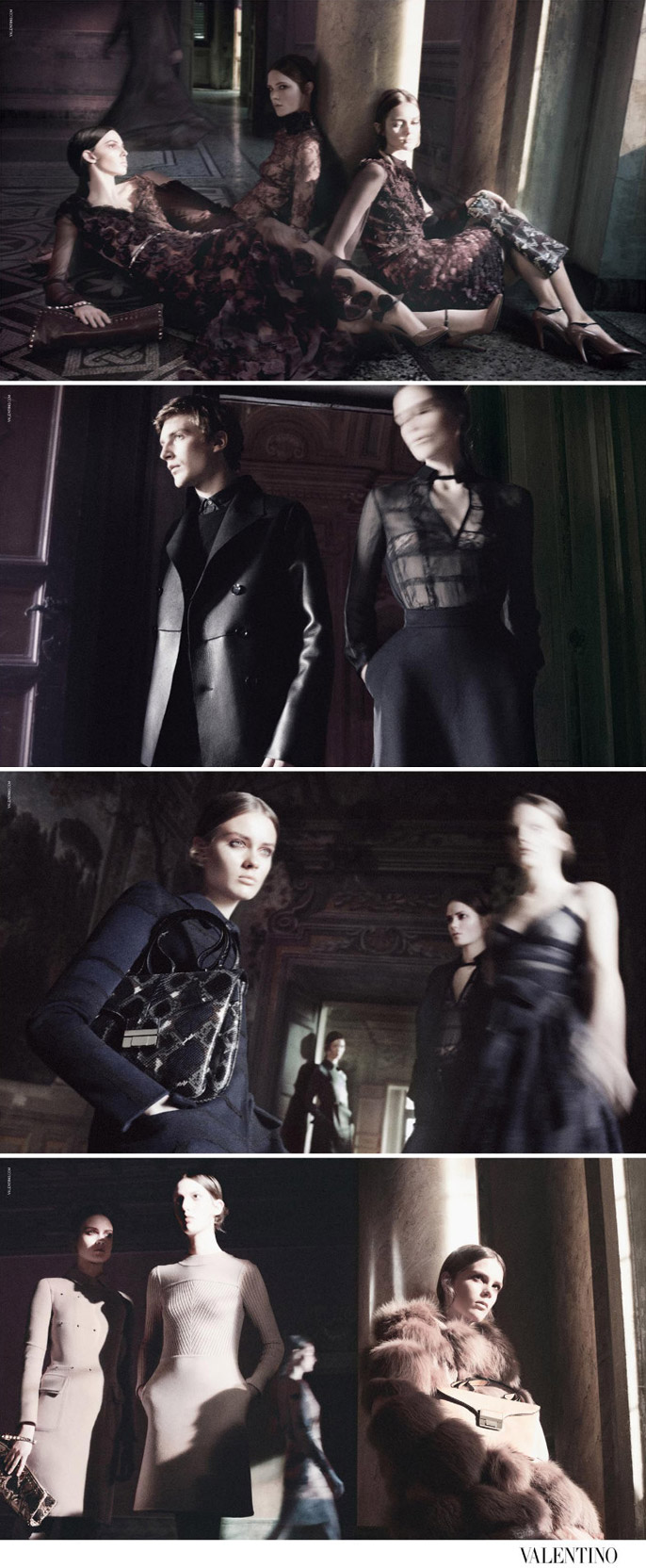 – – – – – – – – – – – – – – – – – – – –
Michael Kors
Karmen Pedaru and Simon Nessman prepare for a night out on the town in the Michael Kors Fall 2011 campaign. The couple ride in the back of a limo in looks that evoke pure 70's glam. Sexy, sophisticated, modern day glamour at its finest…

– – – – – – – – – – – – – – – – – – – –
Which Fall campaigns best represent your style? xx
Photos from fashiongonerogue.com