From Chanel to Dior, Versace, Gucci, Prada and more – the ladies of Hollywood dazzled in the world's most exquisite gowns…
The biggest trend of the night – fishtail gowns. From Kate Beckinsale in Roberto Cavalli to Sofia Vergara in Vera Wang and Reese Witherspoon & Elle Macpherson both in Zac Posen – fishtail gowns added a grand Old-Hollywood elegance to the Red Carpet.
A 1920's exuberance could also be felt from Salma Hayek's dazzling art deco inspired gown and Charlize Theron's divine styling – her hair swept softly back in loose waves with a vintage 1920's Cartier hair band. Michelle Williams also wore a hair band on the red carpet (surely igniting an important trend for coming Awards ceremonies). Theron's gown, one of my absolute favourites, in blush-coloured chiffon with an oversized bow at the waist and thigh-high slit, is the perfect embodiment of timeless, iconic style.
My favourites on the red carpet…

– Evan Rachel Wood show stopping in Gucci
– Sofia Vergara perfection in Vera Wang
– Salma Hayek glistening in Gucci
– Julianne Moore timeless in Chanel Haute Couture
– Rooney Mara chic in Nina Ricci
– Charlize Theron darling in Dior Couture
Who was your best dressed on the red carpet? xx
Photos from zimbio.com & google images
Chanel Couture Fall 2011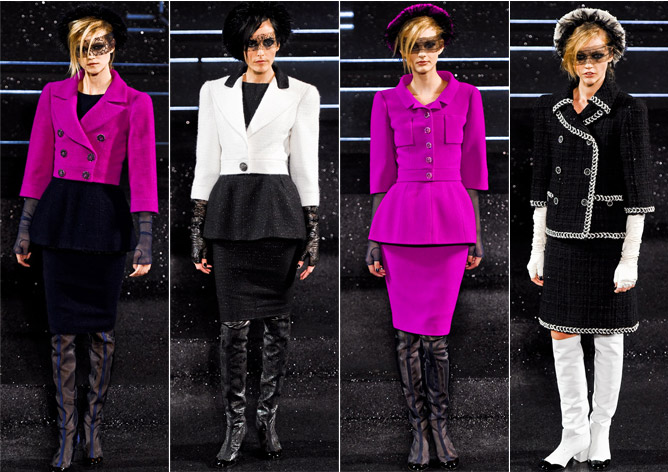 Spectacular craftsmanship; everlasting beauty; mesmerizing extravagance; opulent desire
There really is nothing quite like a Chanel Haute Couture Show…
– – – – – – – – – –
The Collection
Dominated by shades of black, grey and midnight blue; with striking accents of daring fuchsia; the Chanel Autumn/Winter 2011 Haute Couture Collection was an alluringly dark, seductive affair.
Held at 10pm under a starry Parisian sky, the Grand Palais was transformed into the Place Vendôme – complete with sparkling black pavements and instead of Napoleon's statue, one of Coco Chanel herself now took centre stage.
Focused on the signature Chanel skirt suit, the collection played homage to Chanel's iconic design with a breath of glamorous fresh air. Jackets were nipped in at the waist with a stiff peplum; while skirts were slimmer and slightly longer than previous seasons. Each look was accessorised with a sweet 'Victorian-inspired' hat as well as a lace fascinator worn just over the model's eyes. Exquisite beading and embellishment added the powerful finishing touches to Lagerfeld's opulent vision.
The collection exuded old-world elegance and sophistication – the perfect film noir atmosphere accompanied by strong 1940's shapes – with a refreshingly modern, unmistakably seductive, charm.
– – – – – – – – – –
A sneak peek behind the Chanel Couture scenes…
>> Karl Lagerfeld's original design sketch and the silk fabric
>> The silk fabric is folded, draped and pinned
>> The 'petites mains' are delicately folded and twisted to create the perfect effect
>> Attention to detail – delicate silver buttons and white plumes are created
>> The toile and pattern of an iconic Chanel tweed jacket
>> The pattern is placed on a mannequin
>> Tweed fabric is infused with glittering beadwork
>> The lining and hems complete the couture garments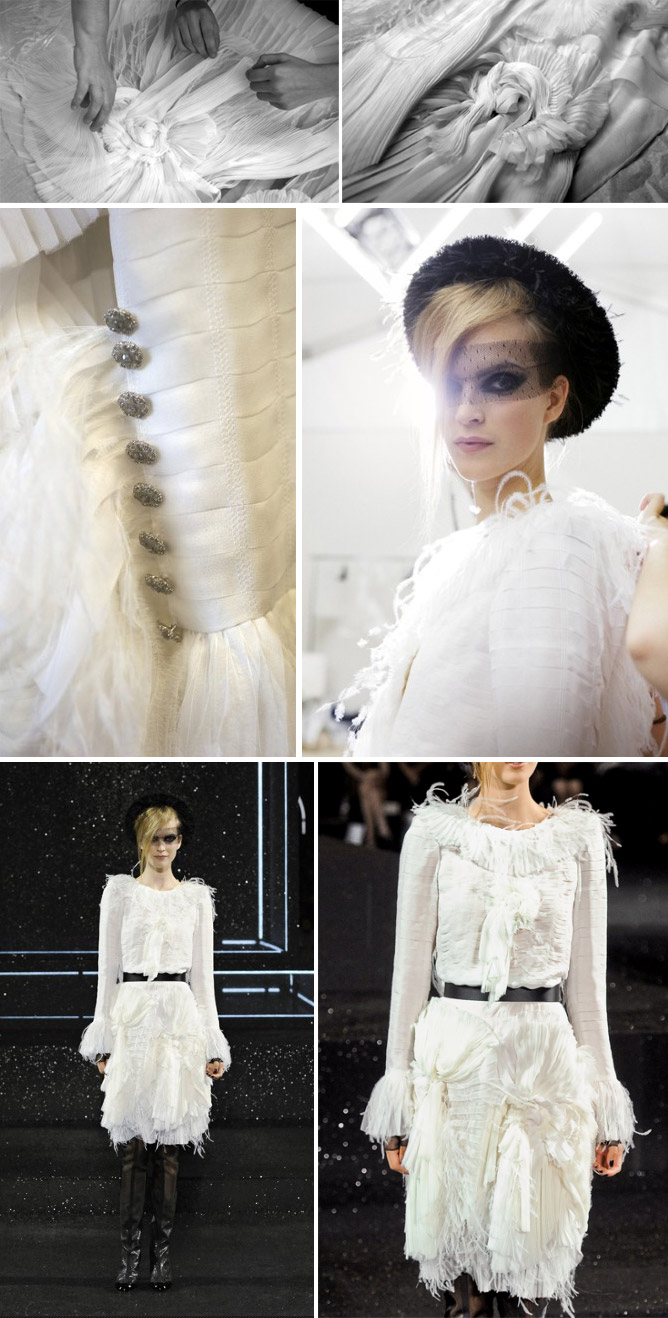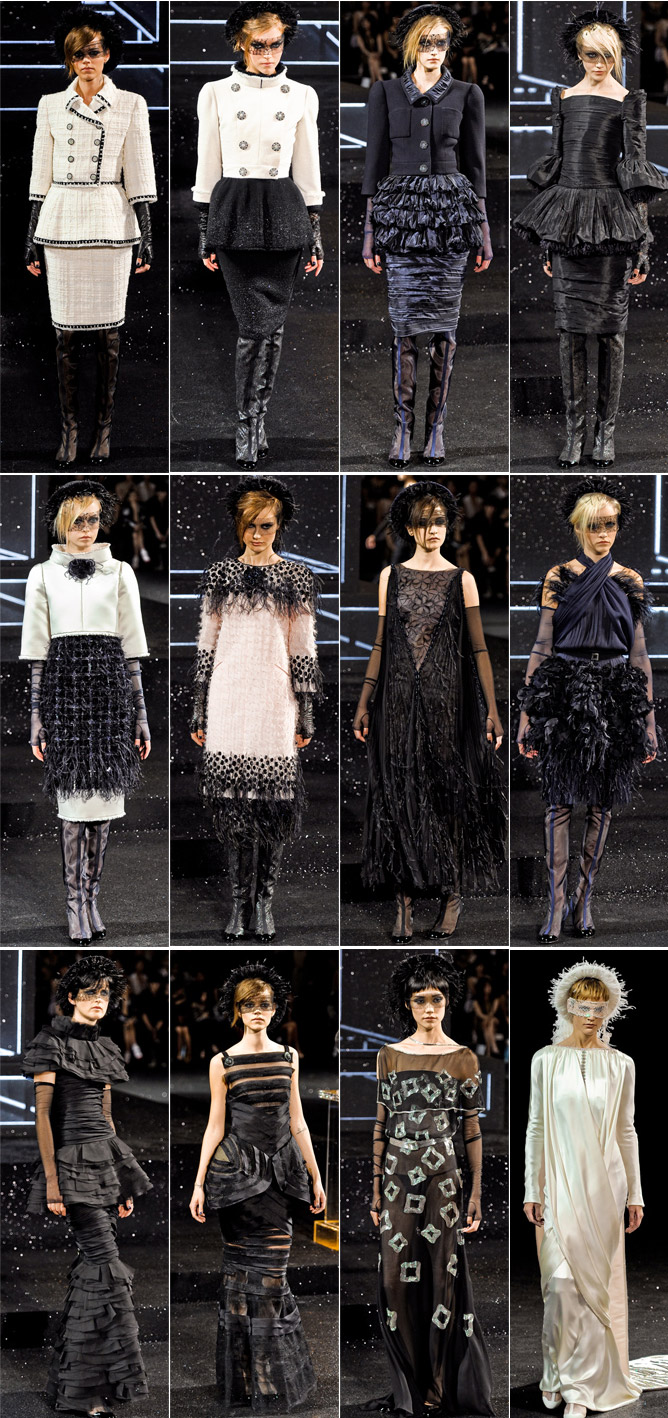 The decadence, the beauty, the unmistakable elegance… oh how I love Chanel! xx
Photos from style.com / fashion.telegraph.co.uk