Chanel Couture Fall 2011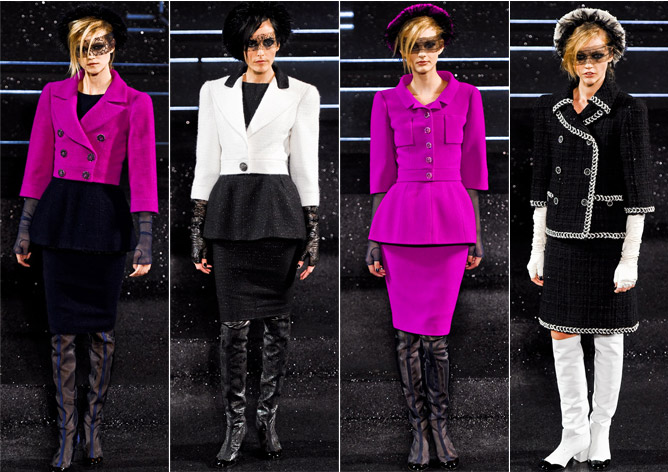 Spectacular craftsmanship; everlasting beauty; mesmerizing extravagance; opulent desire
There really is nothing quite like a Chanel Haute Couture Show…
– – – – – – – – – –
The Collection
Dominated by shades of black, grey and midnight blue; with striking accents of daring fuchsia; the Chanel Autumn/Winter 2011 Haute Couture Collection was an alluringly dark, seductive affair.
Held at 10pm under a starry Parisian sky, the Grand Palais was transformed into the Place Vendôme – complete with sparkling black pavements and instead of Napoleon's statue, one of Coco Chanel herself now took centre stage.
Focused on the signature Chanel skirt suit, the collection played homage to Chanel's iconic design with a breath of glamorous fresh air. Jackets were nipped in at the waist with a stiff peplum; while skirts were slimmer and slightly longer than previous seasons. Each look was accessorised with a sweet 'Victorian-inspired' hat as well as a lace fascinator worn just over the model's eyes. Exquisite beading and embellishment added the powerful finishing touches to Lagerfeld's opulent vision.
The collection exuded old-world elegance and sophistication – the perfect film noir atmosphere accompanied by strong 1940's shapes – with a refreshingly modern, unmistakably seductive, charm.
– – – – – – – – – –
A sneak peek behind the Chanel Couture scenes…
>> Karl Lagerfeld's original design sketch and the silk fabric
>> The silk fabric is folded, draped and pinned
>> The 'petites mains' are delicately folded and twisted to create the perfect effect
>> Attention to detail – delicate silver buttons and white plumes are created
>> The toile and pattern of an iconic Chanel tweed jacket
>> The pattern is placed on a mannequin
>> Tweed fabric is infused with glittering beadwork
>> The lining and hems complete the couture garments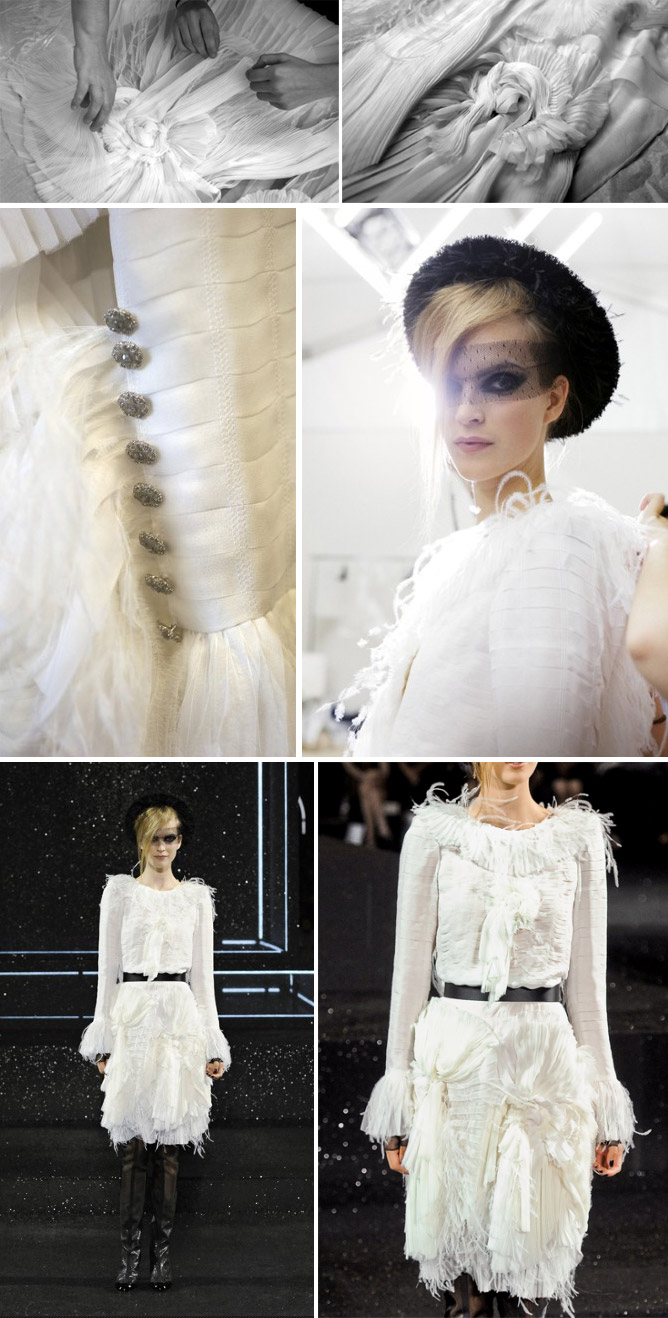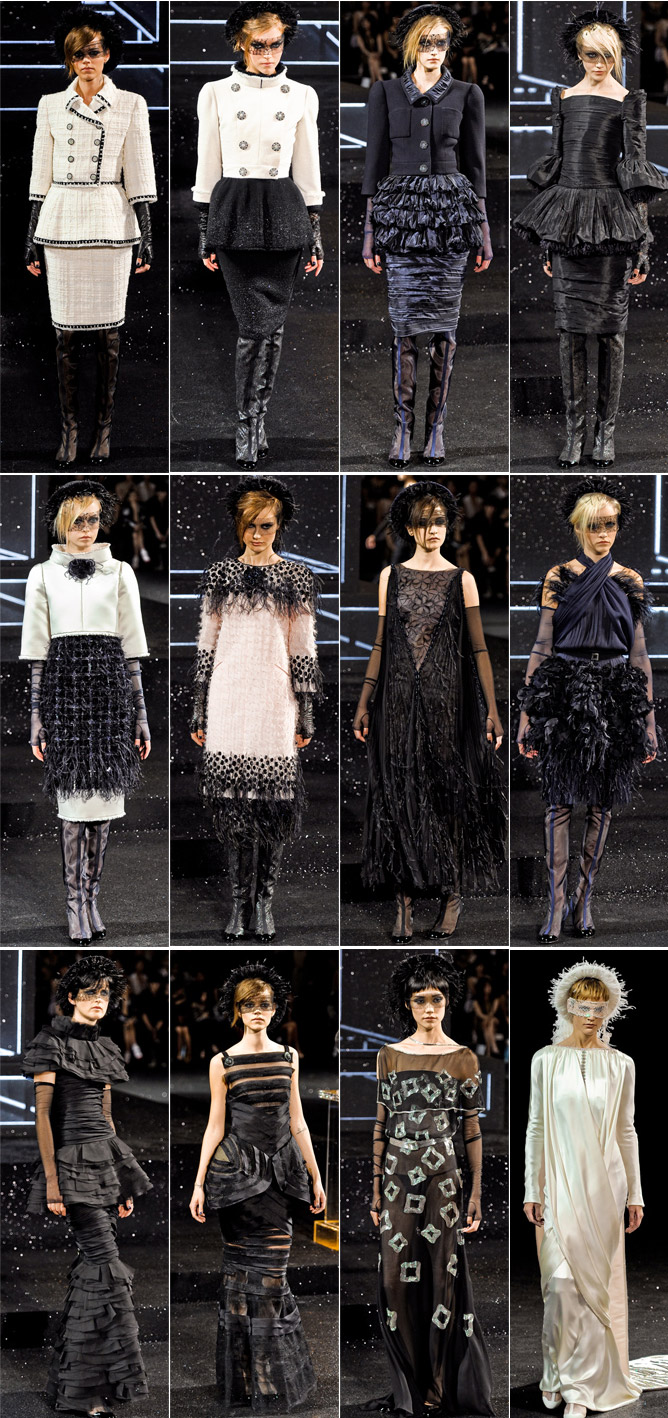 The decadence, the beauty, the unmistakable elegance… oh how I love Chanel! xx
Photos from style.com / fashion.telegraph.co.uk
Luxury Of Haute Couture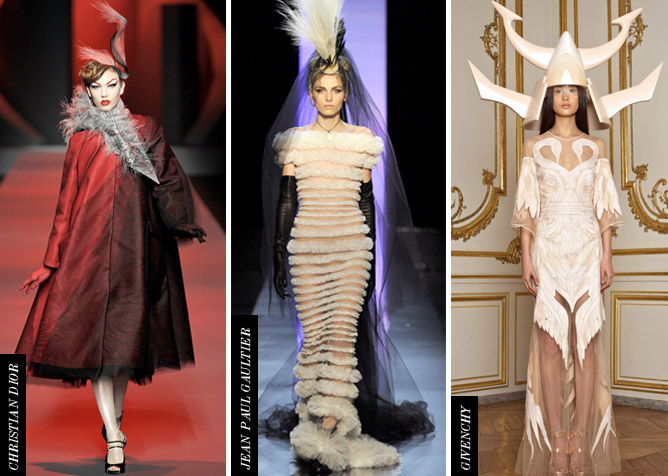 Couture collections are some of the most highly anticipated events on the fashion calendar – not to mention the most enchantingly beautiful. But do these seemingly expensive, overtly extravagant and often times very impractical pieces have a place in today's 'fast fashion' society?
Quite simply yes. And Haute Couture is even becoming more popular!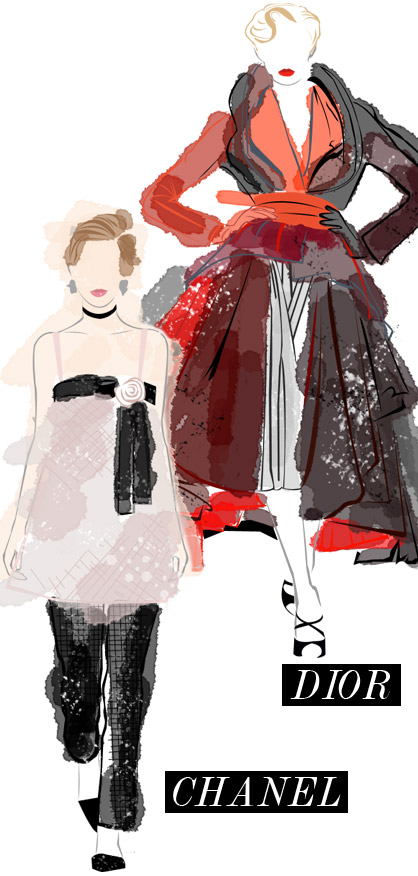 Haute couture, French for 'high sewing', refers to the creation of exclusive custom-fitted clothing made to order. Sewn with extreme attention to detail with hand-executed techniques, Haute Couture is created with the highest quality fabrics, finishings and embellishments. Now a 'protected name' there are only a handful of labels that meet the couture criteria. These include: Chanel; Christian Dior; Valentino; Elie Saab; Givenchy; Armani Privé and Jean Paul Gaultier.
The Haute Couture Business
To these powerful luxury labels, Haute Couture is still an important element of business. It's an investment in the label's image and global communication.
The dream of Couture fantasy helps to sell perfume and all areas of the brand; but most importantly it is the purest form of fashion, with a growing client base intent on keeping the extraordinary craftsmanship and intangible beauty alive.
Today, Chanel has estimated that there are 1,000 potential Haute Couture clients around the world. With 200 to 300 of these clients attending the Chanel collections each season. Dior too has expressed that their client base is growing. The Dior Couture Spring 2011 collection was presented in front of 800 guests – double that of the previous season. Demand for Givenchy couture is expected to rise by 10%; meanwhile for Elie Saab the couture calendar accounted for 43% of the company's business.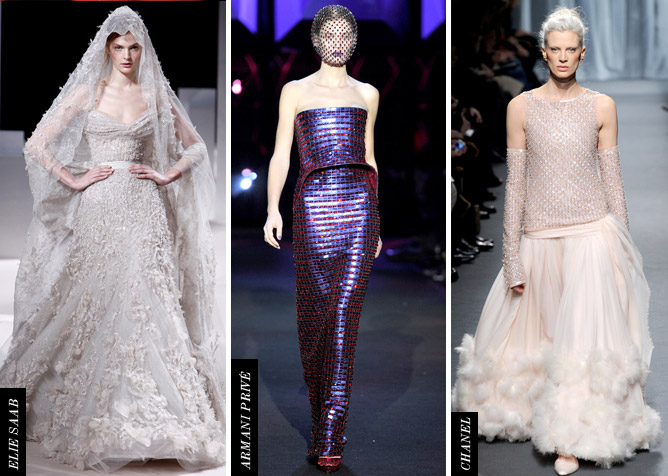 It is also an imperative component in publicity – with images of actresses walking the red carpet in these spectacular gowns beamed around the world. With Paris Couture Week taking place just before the Golden Globes, Oscars then followed by the Cannes Film Festival – it's a winning combination for both actress and the label's image. Remember Cate Blanchett's unique Givenchy Haute Couture gown or the lavender lace Elie Saab Haute Couture gown worn by Mila Kunis (both pictured below)? These ladies and their gowns will be documented forever.
Haute Couture Evolution
An imperative element of all fashion is evolution. And Haute Couture is no exception. During the Couture Spring 2011 collections, a few houses broke the convention of traditional 'Haute Couture' to present spectacular creations for women of today.
Karl Lagerfeld weaved his magic at Chanel with a collection that was fresh with iridescent sparkle and delicate charisma. This wasn't Chanel as we know it or traditional Haute Couture either. Skinny black jeans, black ballet flats and sprinklings of 'cobweb' like beads, floated down the runway like glistening rebellious ballerinas.
In fantastical shades of the lightest pinks, like delicious sweet macaroons, worn with beaded tulle leggings or jeans cut long and close to the leg – Chanel was seemingly enchanting a whole new generation of couture lovers. Of the collection, Lagerfeld said: "Haute Couture is about modern attitude. You have to adopt to the mood of the moment… this is the way people dress today."  

Christian Lacroix once said, "Haute Couture should be fun, foolish and almost unwearable" Haute Couture is a expression of spectacular craftsmanship, everlasting beauty, mesmerizing extravagance and above all else desire. Qualities I am certain will hold their place in the world for many, many years to come.
Your Daily Fashion Scoop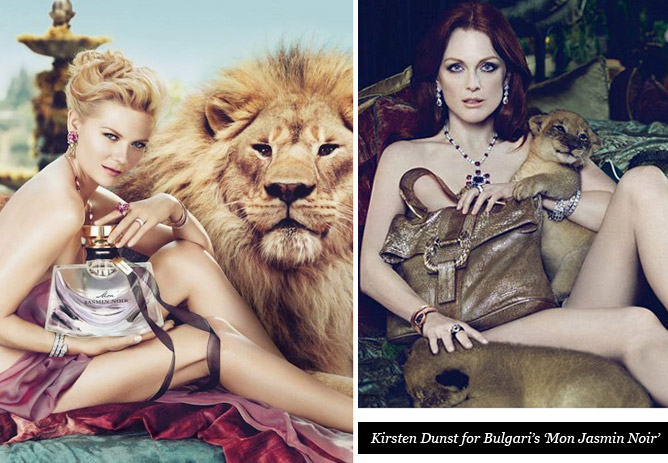 Kirsten Dunst for Bulgari
Bulgari loves a beautiful naked lady and a wild animal! Kirsten Dunst is the face of Bulgari's new fragrance, 'Mon Jasmin Noir', campaign. Also featured is a very large lion! Mon Jasmin Noir is a lighter version of the label's Jasmin Noir scent, with notes of lily of the valley, sambac jasmine, nougatine and wood. Very beautiful, fierce campaign…
John Galliano Suspended From Dior
On Friday, John Galliano was arrested for an alleged assault and anti-Semitic remarks. The designer was allegedly accused of verbally abusing a couple who were sitting in a cafe in Paris. Christian Dior went onto confirm that John Galliano had been suspended from his role with the company pending investigation.
Yesterday it was reported Galliano will be fighting back against allegations and accusing them of defamation. And according to WWD, he is "shocked" by his suspension from Dior…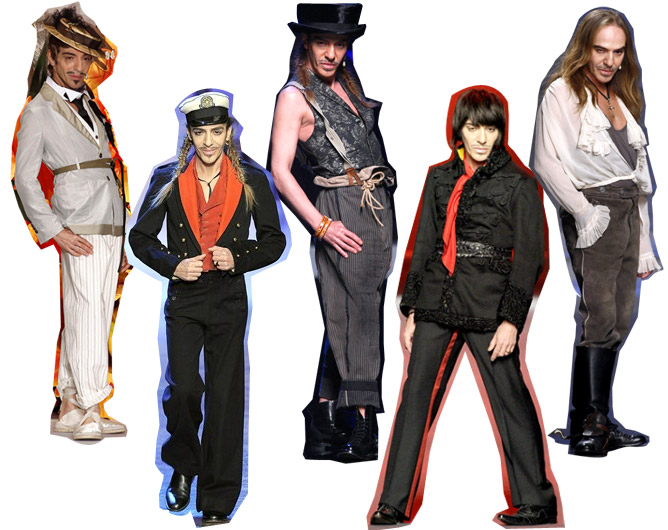 Proenza Schouler Dislike Their Name
Designers Lazaro Hernandez and Jack McCollough, the duo behind Proenza Schouler have said they have reservations about their label's name. The name stems from both their mother's names. Of the name, Jack McCollough said "It's one of our biggest regrets is the name of our company. It's like alphabet soup. There are so many letters."
Proenza Schouler showed their Fall 2011 collection in New York a fortnight ago, a selection of looks from the collection is featured below…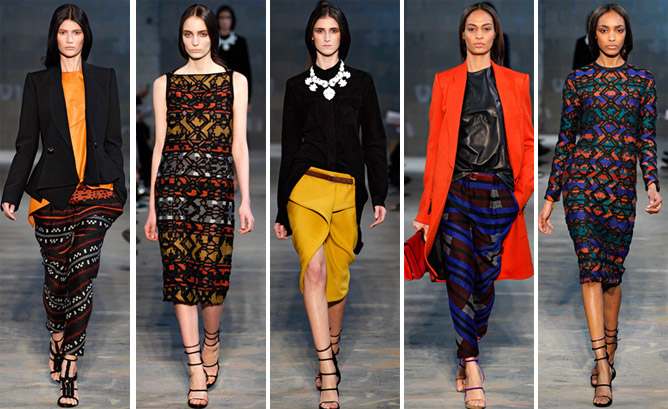 Emma Watson's People Tree Final Collaboration
Emma Watson has launched her third and final People Tree collection. The collection includes sweet dresses in gingham, florals and polka-dots; playsuits; harem pants; and more. Of the design process and experience, Watson said:
"The design process continued with me trying on each and every piece to get the fits just as I wanted them and then I visited Bangladesh to see the clothing actually being made and meet the people making it. It was an incredible and life-changing experience – I really wish everyone had the chance to see the difference Fair Trade makes with their own eyes."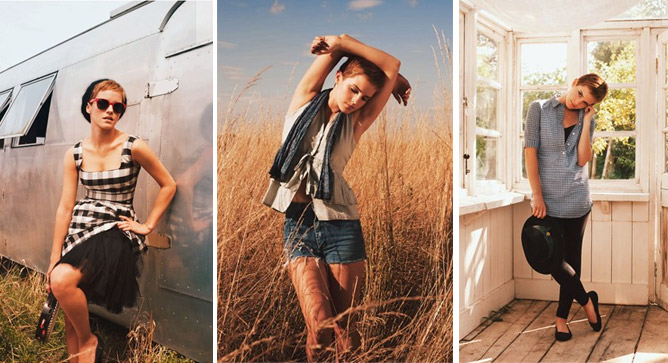 Chic This Week…
1>> Lea Seydoux wore a gorgeous Elie Saab look from Spring 2011 Couture
2>> Diane Kruger looked immaculate once again in Chanel Fall 2011 Couture
3>> Michelle Trachtenberg oozed Old-Hollywood glamour in Edition by Georges Chakra Fall 2010
3>> Halle Berry shone in Elie Saab Spring 2011 Couture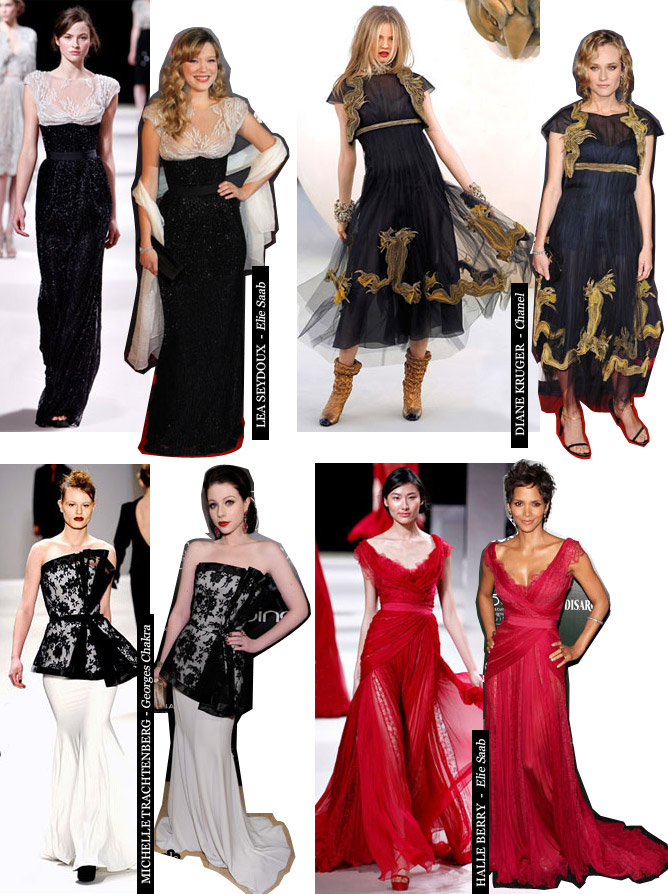 Who Is Your Best Dressed This Week? xx
Photos from style.com, vogue.co.uk & google images