Your Daily Fashion Scoop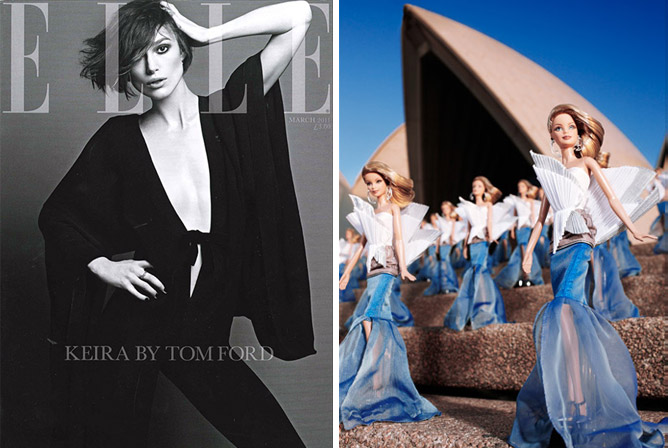 6 Espresso Shots Of News
Celebrate Sunday with some delicious scoops of Fashion News…

Tom Ford Stylist For Elle
For the March issue of Elle UK, Tom Ford is taking on the role of stylist. The first glance of Ford's work… the cover which features Keira Knightley and was photographed by Terry Tsiolis (pictured above left)…
Prada to float on the Hong Kong stock exchange
Prada's family owned company is set to float on the Hong Kong Stock Exchange. In what is set to mean big changes for the luxury brand, Prada will become a public company after 98years. Prada is also made up of labels: Miu Miu, Church's and Car Shoe. While this is the fourth time Prada has attempted such a move; depending on how many shares Miuccia Prada and her husband Patrizio Bertelli (company chief executive) chose to sell, they could boost their personal fortunes significantly…
Speaking of Prada…. The New 'Minimal Baroque' Sunglasses Campaign
Not just your ordinary campaign, models share the limelight with both dogs and eagles (pictured right).  Pushing the boundary between fashion and art; three artists – Ivo Bisignano, Marcela Gutiérrez and Andrea Tarella – have been commissioned to draw illustrations for the limited-edition 'Minimal Baroque' collection…
Sydney Opera House Barbie
To celebrate Australia Day last Wednesday, Mattel created the Sydney Opera House Barbie doll. Mattel enlisted the help of Australian Fashion Designer, Alex Perry, who created a miniature couture gown and accessories for the Barbie which was inspired by the iconic Australian Landmark. This is the fourth Barbie in the Landmark Series, which also includes; Big Ben, the Eiffel Tower and the Statue of Liberty…
Abbey Lee Kershaw for Portmans
Top Model Abbey Lee Kershaw is the new face of Australian retailer Portmans. Currently ranked No. 5 on Models.com, Kershaw is adored by Karl Lagerfeld, and has also appeared in campaigns for Chanel, Fendi, Gucci and D&G. Kershaw's Portmans campaign was shot in Sydney and one of the resulting images is pictured right. Portmans has previously cast other Australian models – Miranda Kerr, Jessica Hart and Elyse Taylor – before they went on to become international sensations…
Chic This Week… Diane Kruger
Diane Kruger had a super stylish week attending the Couture fashion shows. Kruger wore a Chanel Spring Couture dress (pictured below left) just 48 hours after it appeared on the catwalk! As one of Chanel's ambassadors, Kruger wore the exquisite powder-pink, structured dress adorned with diamanté buttons, to a charity dinner in Paris. Kruger also looked amazing this week in Gucci (below centre) and another Chanel look (below right)…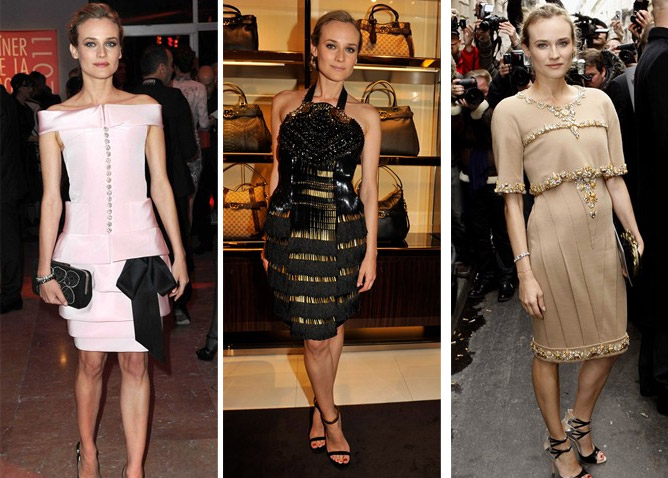 Chanel Couture Spring 2011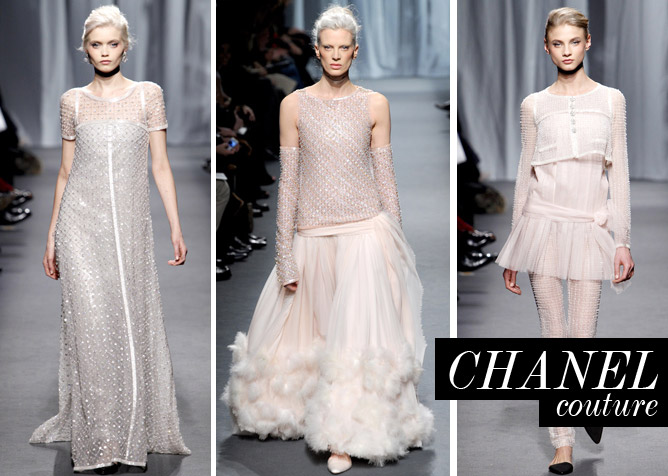 I love pink & white. I love sequins. I love Chanel Suits. Add these together and I am in fashion heaven!
Chanel's Couture Spring 2011 collection was cascade of light. Shimmering, dazzling, radiant light, that sparkled from a staggering ten million beads used in this collection!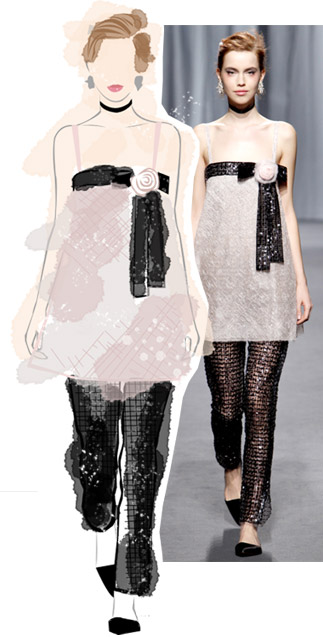 Pink bouclé suits, drop-waist dresses, sequined leggings, divine tweed coats – the Chanel Couture collection is best described as heaven sent. The collection was inspired by the watercolours of Marie Laurencin and her pastel palette. Laurencin painted Coco Chanel in the 1920s.
Whimsical and delicate, with an underlying 'ballet' feel; there were also some unexpected notes – one being jeans and leggings worn under almost all coats and skirts. And the most eye-catching element – every model walked in ballet flats. Of this, Karl Lagerfeld said, "I am getting tired of the way the girls walk in those high shoes. One saw a lot of it so maybe it's time to see something else". Bound to the ankle by transparent straps, the ballet flats added an enticingly sweet twist to the collection. A fresh, innocent and charming twist on the already exquisite…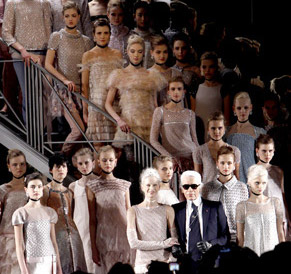 Are you loving or loathing the Chanel Couture Spring 2011 collection? xx
Photos from Style.com
A Christmas in Paris…
Continuing With The Christmas Spirit…
For the Dec 2010 issue of Harper's Bazaar Australia, Bambi Northwood-Blyth celebrates Christmas in Paris.
After walking the runways of New York, London and Paris Fashion Weeks, Bambi Northwood-Blyth became the cover girl of Harper's Bazaar Australia's December 2010 issue. With her baby faced features and strong statement brows, Bambi has captured the world's attention. At just 20 years of age she has already walked the runways for Chanel, Balenciaga, Loewe and Emanuel Ungaro.
For Harper's Bazaar's 'A Christmas In Paris', Bambi models a sensational red dress with bow detail from Chanel Couture (the cover dress featured above) as well as looks from Givenchy, Balmain and Balenciaga. Pieces from Australian designers, Willow and Josh Goot, also capture the spotlight. The photos were shot by Victor Demarchelier, son of renowned fashion photographer Patrick Demarchelier, on location in Paris…
The Chanel Couture dress is magnifique!
LOVE LOVE LOVE it! It would be my crème de la crème Christmas Day dress! xx