As style icon Audrey Hepburn once said: 'I believe in pink…'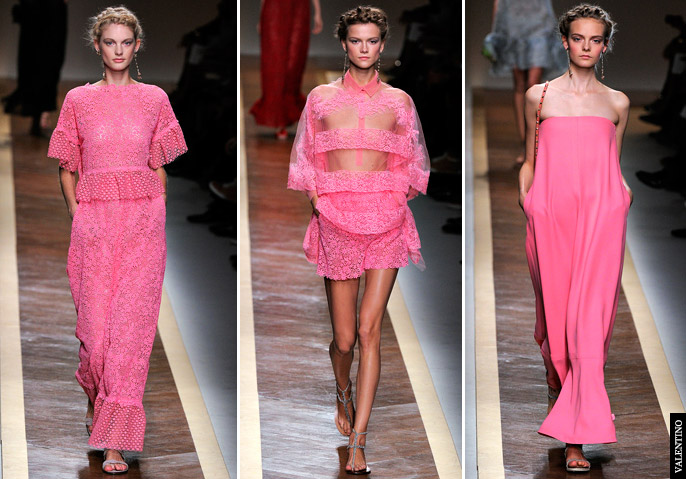 From the lightest loveliest pastel to delicious vivid shades of candy – pink always packs the perfect punch.
This coming Spring / Summer season, many Designers have embraced this charming tone – perfect for a sweet Summer romance. Not too girly and not too precious – pink is bold, optimistic and arrestingly alluringly.
From Yves Saint Laurent to Ralph Lauren, Chanel to Prada – pink enlivens the senses and evokes a nostalgic sweetness. My favourite though, the bold, bright shade of candy at Valentino – delectable enough to eat!
On the runway, pink was worn with black to add a toughened edge to this adorable tone. Or why not be daring and simply wear pink from head to toe…
Pink Inspiration From The Spring / Summer 2012 runways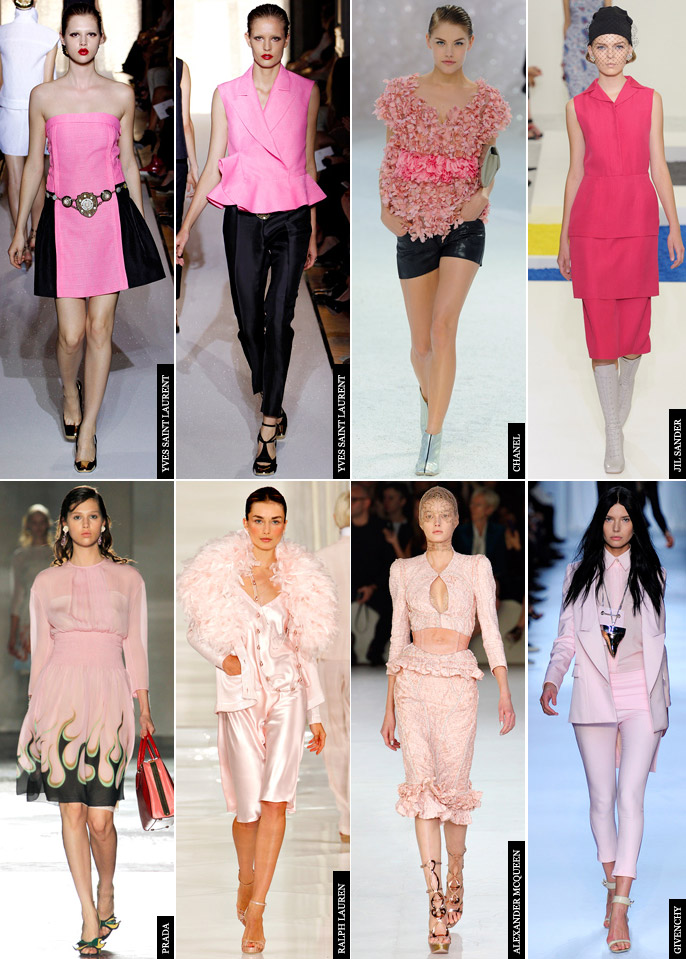 Will you be pretty in pink? xx
Photos from fashiongonerogue.com / style.com
5 Fabulous Fashion Shots Of News…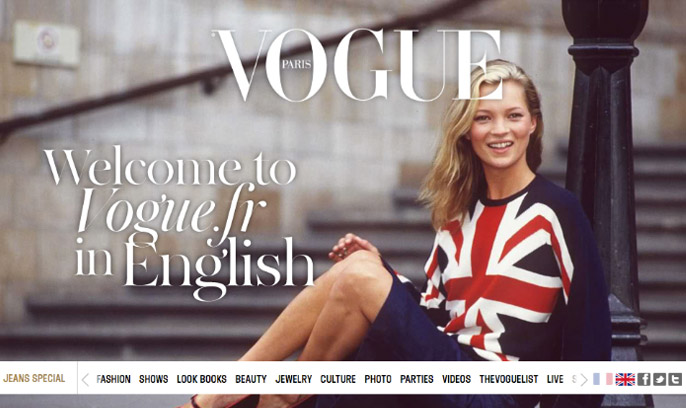 Vogue Paris Goes International
A new daily must-read – the Vogue Paris website has gone international. I can now enjoy every word of Vogue Paris as well as all of the gorgeous photographs! Exclusive daily content is now being translated into English. Yesterday also saw a new mobile site; iPad and iPhone Apps launched for the iconic Fashion Magazine.
Click here to visit Vogue Paris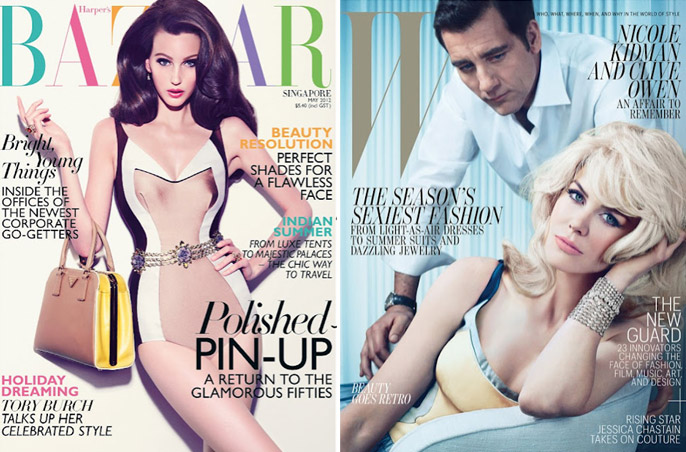 The Prada Swim Suit Covers
The vintage-inspired Prada Bathing Suit from the Spring / Summer 2012 collection continues to clock up magazine covers. Harper's Bazaar Singapore and W Magazine are the latest magazines to showcase these curve-accentuating, bedazzled bathing suits.
Click here to read more about Prada's Bombshell Swim Suits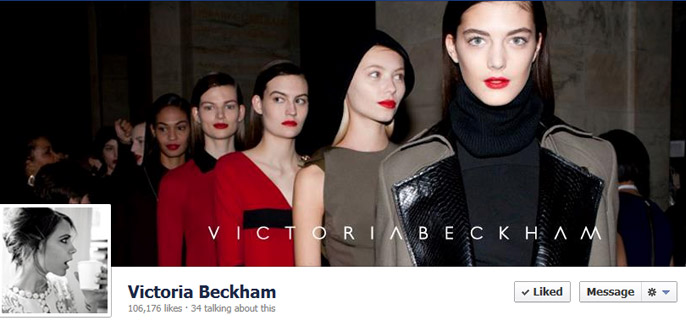 Victoria Beckham Joins Facebook
On her 38th birthday Victoria Beckham joined Facebook, documenting her special day which included flowers, a fruit platter and balloons. Within just one day Beckham had 101,000 likes; with thousands wishing the designer many happy returns. Her facebook page is set to bring the latest news from her brand's collections.
Click here to visit Victoria Beckham's Facebook
Quote Of The Day:
Christian Louboutin:
The shoe designer behind those iconic red soles has said: "I really have not so much sympathy. If Tina Turner and Prince's back-up band can perform on stage in them for three hours, you can't tell me they are impossible to walk in. High heels are pleasure with pain. If you can't walk in them, don't wear them."
Sarah Burton Named on Time Magazine's 100 Most Influential People list
Sarah Burton, Alexander McQueen's Creative Director and designer of the Duchess of Cambridge's wedding dress, has been named on Time magazine's 100 Most Influential People list. Taking the reigns as Creative Director in 2010, Burton has continued McQueen's exquisite work season after season. In the issue, Sarah Jessica Parker pays tribute to the designer writing: "She is a young woman who shouldered an enormous burden and privilege with dignity, heart and strength".
– – – – – – – – – – – – – – – – – – – – – – – – – – – – – – – – – – – – – – – – – – – – – – – – – – – – – – – –
Happy Wednesday! xx
Hair is one of the key beauty trends for 2012. While the Spring / Summer collections brought a sugary menu of pastel hair colours to the runway; for Autumn / Winter locks have turned to the dark side.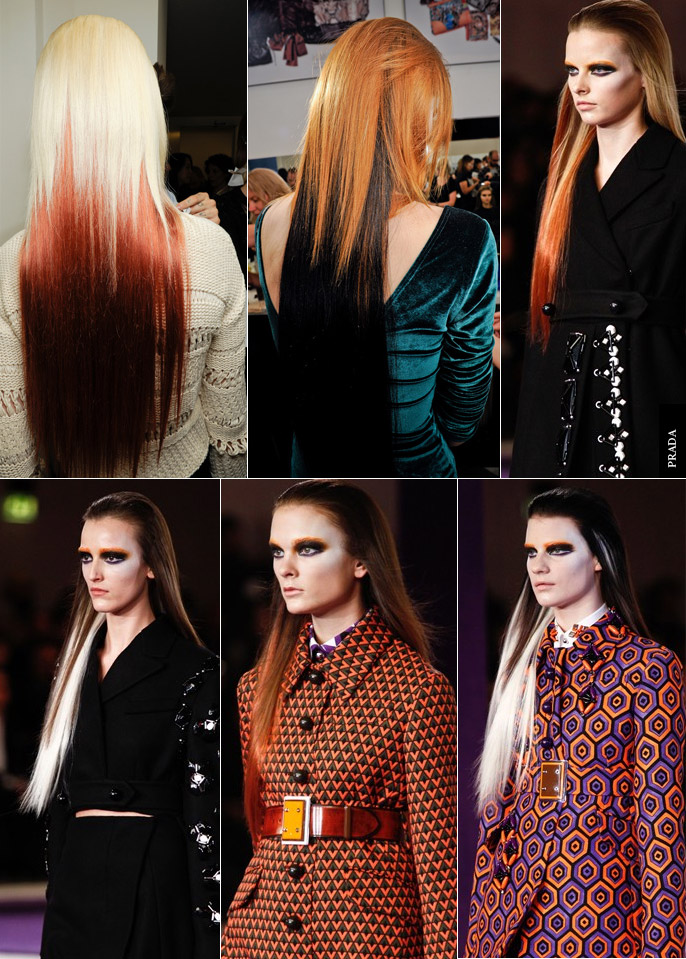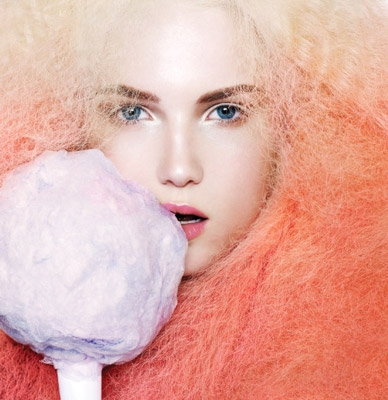 From Prada to Pringle Of Scotland, Jean Paul Gaultier to Haider Ackermann, designers embraced vivid hair dyes in unexpected places for high impact statements. And the best part about this trend… it can just wash out!
At Prada models wore hair extensions in contrasting colours for a sultry dip dye effect. While at Pringle Of Scotland dip dyed hair came in blue and pink. "Dip dye for many girls is like dipping your toe into the pool of hair colouring without taking the full commitment." – Alex Brownsell, Bleach salon founder
Dip dying was then literally turned on its head at Jean Paul Gaultier, where hair was painted at the root in an assortment of intense colour – giving a chic nod to the collections grunge aesthetic.
Switching your hair colour doesn't just mean choosing between blonde, brunette and red anymore – there are now so many more options to consider…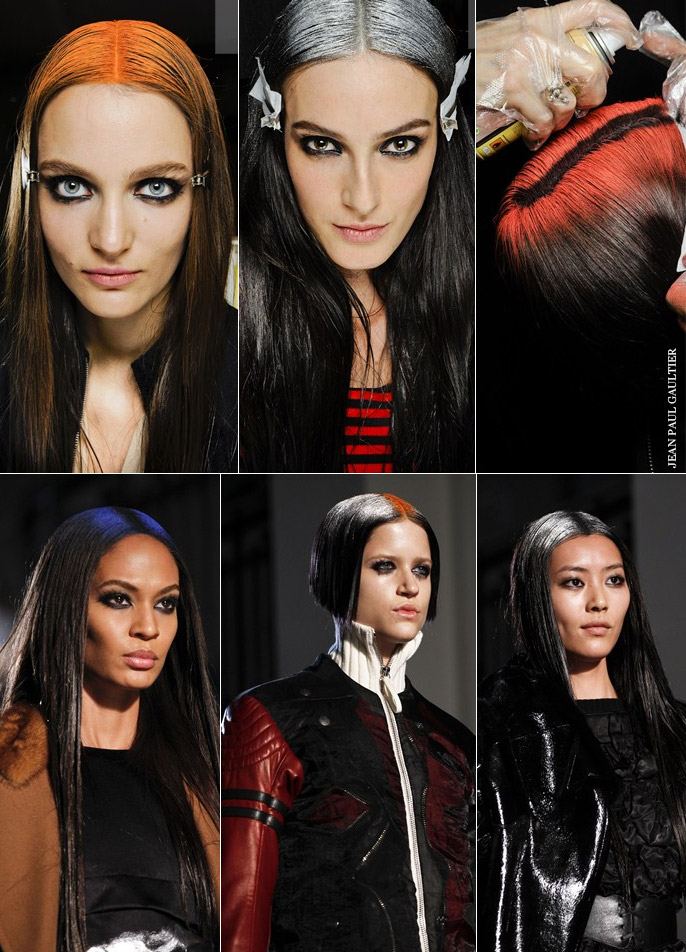 Would you dye your hair in one of these vivid shades? xx
Photos from vogue.co.uk / fashion magazine