As style icon Audrey Hepburn once said: 'I believe in pink…'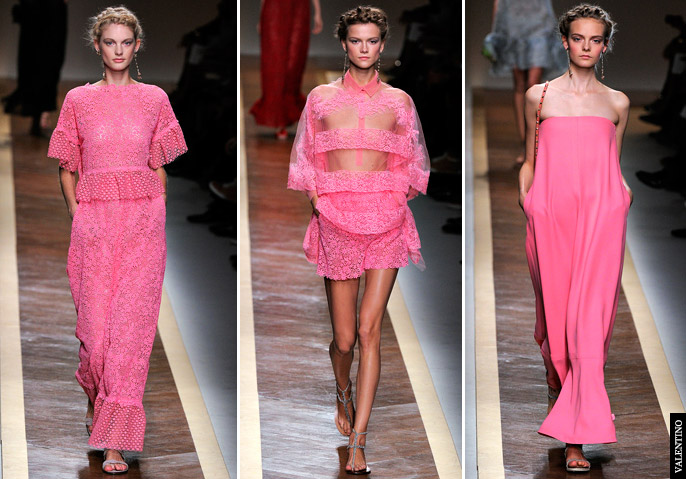 From the lightest loveliest pastel to delicious vivid shades of candy – pink always packs the perfect punch.
This coming Spring / Summer season, many Designers have embraced this charming tone – perfect for a sweet Summer romance. Not too girly and not too precious – pink is bold, optimistic and arrestingly alluringly.
From Yves Saint Laurent to Ralph Lauren, Chanel to Prada – pink enlivens the senses and evokes a nostalgic sweetness. My favourite though, the bold, bright shade of candy at Valentino – delectable enough to eat!
On the runway, pink was worn with black to add a toughened edge to this adorable tone. Or why not be daring and simply wear pink from head to toe…
Pink Inspiration From The Spring / Summer 2012 runways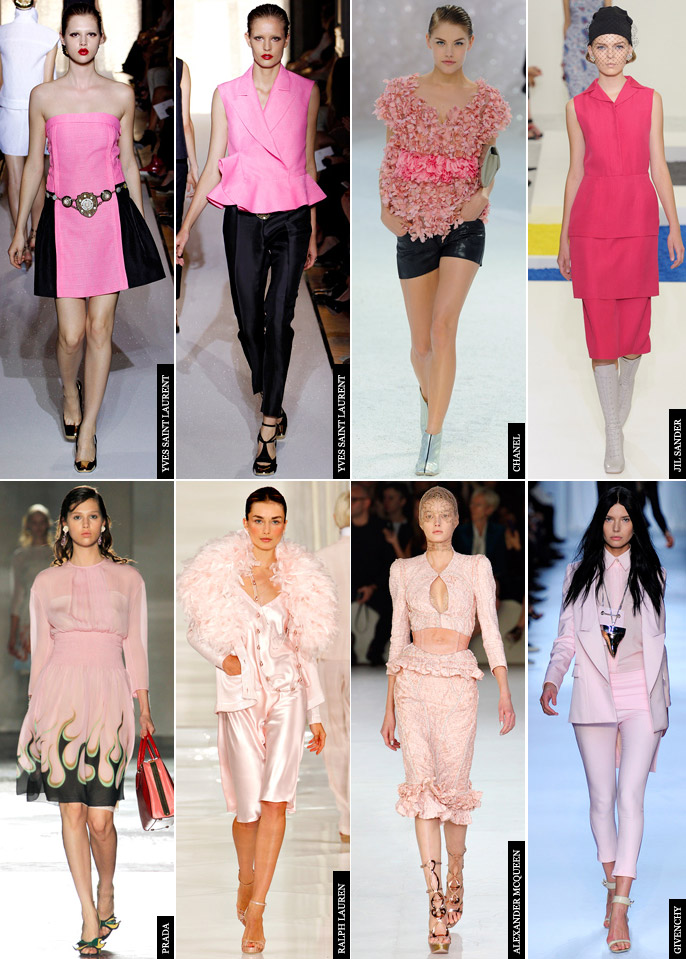 Will you be pretty in pink? xx
Photos from fashiongonerogue.com / style.com
The Little Lace Dress

Hello Lover!
'Love Miranda. Love Lace. Love Lover.'
You may recall I posted about the Lover, Spring / Summer 2011 collection here – with its red-hot lace and delicately, whimsical allure. It was one of my favourites! So you should have seen my excitement, when one of my top models – Miranda Kerr – stepped out in not one, but two of the most iconic little lace dresses from the collection! Love Miranda. Love Lace. Love Lover.
– – – – – – – – – – – – – – – – – – – – – – – – –
The LLD
(little lace dress)
The little lace dress is a style statement. Feminine, elegant and sophisticatedly sexy; it can take you from day (wear with sweet ballet flats) to evening glamour in an instant (simply add polished heels and go).
From Erdem to Lover, Stella McCartney and Marchesa, amongst others – lace has undoubtedly made a return to the catwalk in recent seasons. Fresh, refined and sweet – the new use of lace is all about polished beauty. Iconic white or black lace dresses are très chic; while those in strong statement hues, such as blood red, are irresistibly charming.
– – – – – – – – – – – – – – – – – – – – – – – – –
More of the Lover, Spring / Summer 2011 collection…
Sleek lines, crisp tailoring and lots of exquisitely feminine lace – the striking collection was brought to life solely in blood red, white and black.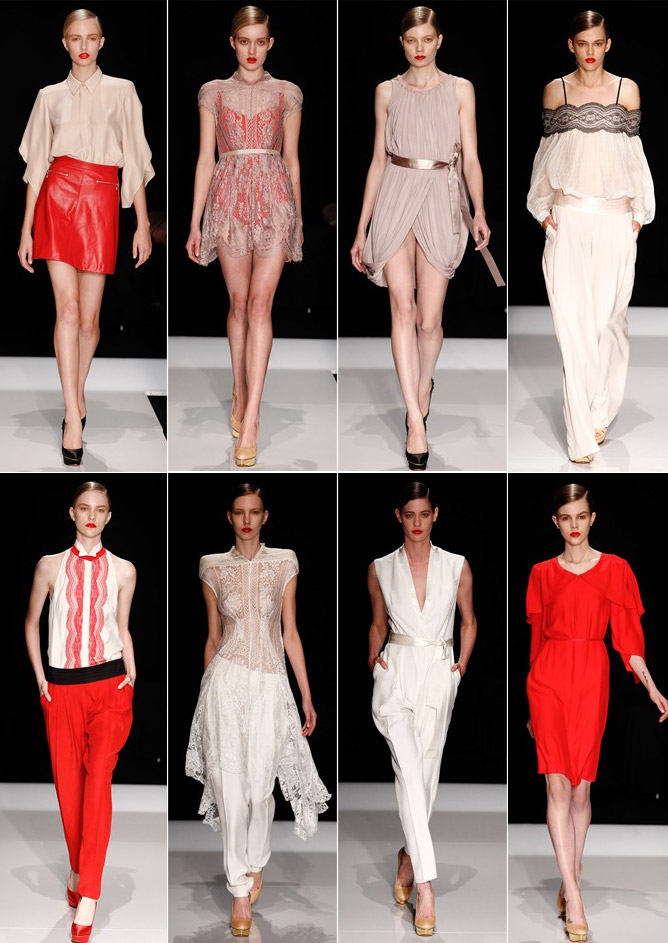 Do you love the LLD (little lace dress)? xx
Photos from vogue.co.uk / fabsugar.com.au

Your Daily Fashion Scoop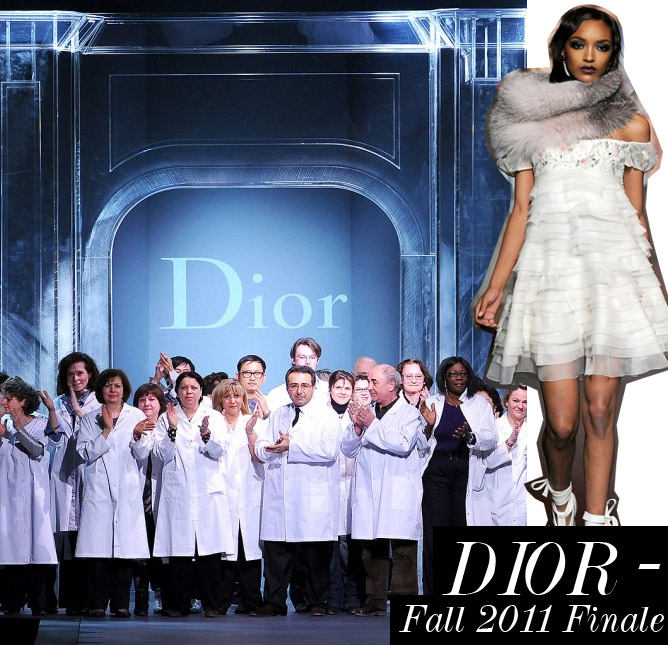 1 Beautiful Fashion Moment…
After the events of last week, who would have known what to expect at the Dior Fall 2011 show yesterday. But as the lights dimmed after the final look left the runway, the entire 30-strong members of the Dior ateliers – the seamstresses and craftsmen, all dressed in white coats – appeared. Tears were shed and the crowd applauded… a beautiful moment at the end of much upheaval.
9 Espresso Shots Of News…
John Galliano's Show Cancelled
1>> John Galliano's show has been cancelled due to last week's events. Select editors and buyers have been invited to view the new collection at a much smaller presentation on Sunday. Galliano however will not be attending…
Miranda Kerr Back On The Catwalk At Balenciaga
2>> Just 2months after giving birth to her first child, Flynn, Miranda Kerr was back on the catwalk at the Balenciaga during Paris Fashion Week. This was her third time walking for Balenciaga (last season she was 5months pregnant when she took to the runway!). Her husband Orlando Bloom watched from the front row. After the show, Kerr wrote on her Facebook: "The Balenciaga Show was incredible. We are having a great time in Paris. Love Miranda xxx".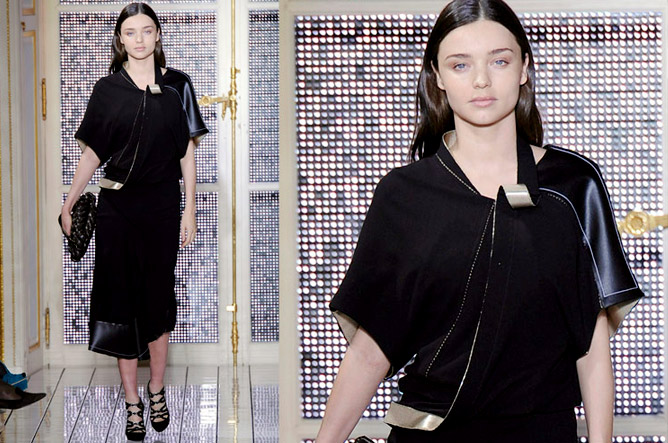 Lady Gaga Walks For Mugler In Paris
3>> Lady Gaga also took to the catwalk this week, modelling for Nicola Formichetti's first womenswear show for Mugler in Paris. Nicola Formichetti is Gaga's Stylist and became creative director of Mugler last year. Never one to do things by halves, Gaga also took on the role of Musical Director for the show; treating the crowd to the premiere of her new song Government Hooker. Gaga took to the catwalk wearing two looks from the collection – one black and one white…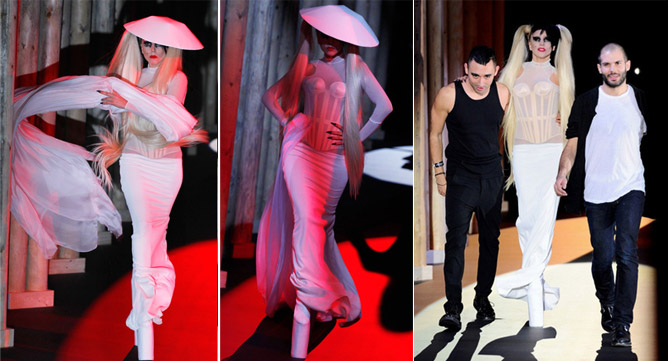 Alberta Ferretti & Emma Watson's 'Pure Treads'
4>> The first look from Alberta Ferretti and Emma Watson's capsule collection Pure Treads has been released. Made from environmentally friendly materials in Italy, the capsule collection is available to buy exclusively from AlbertaFerretti.com from March 21st 2011. A percentage of each purchase will be donated to People Tree…
Kate Middleton's Royal Wedding Shoes
5>>While what gown Kate Middleton will be wearing for her royal wedding has been in high discussion, talk is now turning to her toes. WWD's Footwear News asked five esteemed shoe designers – Manolo Blahnik, Giuseppe Zanotti, René Caovilla, Cesare Casadei and Georgina Goodman – to sketch what they believe is perfect for special day…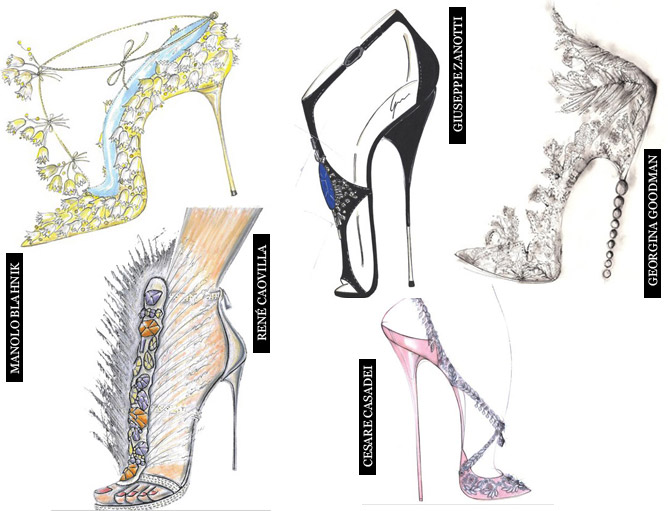 Megan Fox For Giorgio Armani
6>> Megan Fox has been announced as the face of Giorgio Armani Code Woman. Her striking campaign sees her wear a devine Armani gown and alluring red lipstick, while showcasing her extraordinary beauty…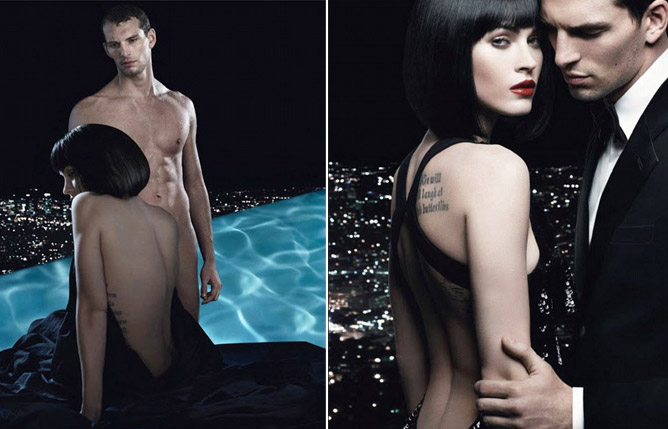 Ashton Kutcher For Colcci
7>> Speaking (well typing) of an actor turned 'model', starring in the Colcci Autumn Winter 2011 Campaign, is Ashton Kutcher. In the campaign he is joined by Victoria's Secret Angel Alessandra Ambrosio. Kutcher is no stranger to modelling jeans, he was previously the face of Pepe Jeans…

Abbie Cornish Wears Iconic Prada Stripes
8>> The iconic Prada Spring / Summer 2011 stripes make another extraordinary cover! Abbie Cornish graces the cover of Harper's Bazaar Australia wearing the divine strapless green stripe dress! Simply stunning…
Brad Goreski Styling
Jessica Alba
9>> Brad Goreski (aka previously Rachel Zoe's bow tie wearing Stylist Assistant) now has his own star client. Goreski is styling Jessica Alba. Cannot wait to see Alba at her next red carpet event for the result…
What did you think of Dior's Fall 2011 collection? & Who do you think will replace John Galliano at Dior? xx
Photos from style.com / vogue.co.uk / grazia.com.au / albertaferretti.com / dailymail.co.uk / harpersbazaar.com.au