Your Daily Fashion Scoop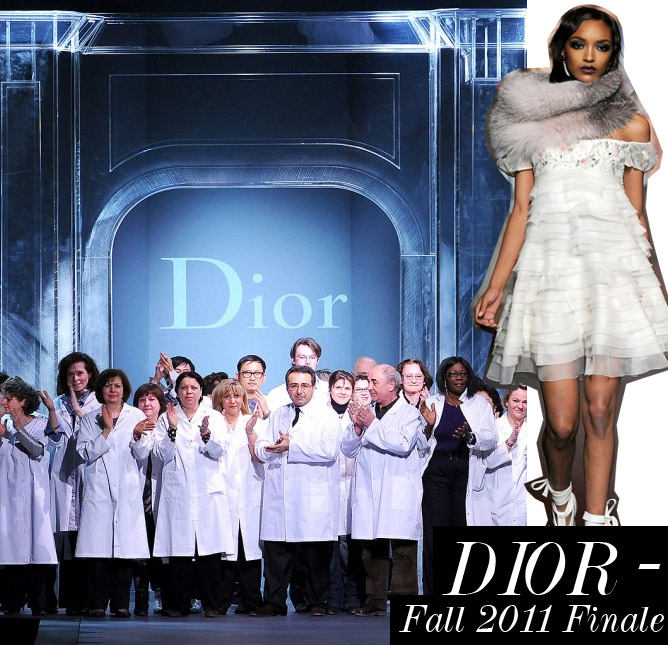 1 Beautiful Fashion Moment…
After the events of last week, who would have known what to expect at the Dior Fall 2011 show yesterday. But as the lights dimmed after the final look left the runway, the entire 30-strong members of the Dior ateliers – the seamstresses and craftsmen, all dressed in white coats – appeared. Tears were shed and the crowd applauded… a beautiful moment at the end of much upheaval.
9 Espresso Shots Of News…
John Galliano's Show Cancelled
1>> John Galliano's show has been cancelled due to last week's events. Select editors and buyers have been invited to view the new collection at a much smaller presentation on Sunday. Galliano however will not be attending…
Miranda Kerr Back On The Catwalk At Balenciaga
2>> Just 2months after giving birth to her first child, Flynn, Miranda Kerr was back on the catwalk at the Balenciaga during Paris Fashion Week. This was her third time walking for Balenciaga (last season she was 5months pregnant when she took to the runway!). Her husband Orlando Bloom watched from the front row. After the show, Kerr wrote on her Facebook: "The Balenciaga Show was incredible. We are having a great time in Paris. Love Miranda xxx".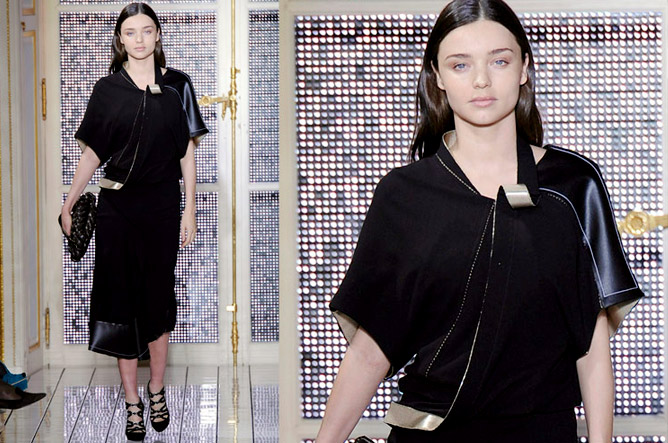 Lady Gaga Walks For Mugler In Paris
3>> Lady Gaga also took to the catwalk this week, modelling for Nicola Formichetti's first womenswear show for Mugler in Paris. Nicola Formichetti is Gaga's Stylist and became creative director of Mugler last year. Never one to do things by halves, Gaga also took on the role of Musical Director for the show; treating the crowd to the premiere of her new song Government Hooker. Gaga took to the catwalk wearing two looks from the collection – one black and one white…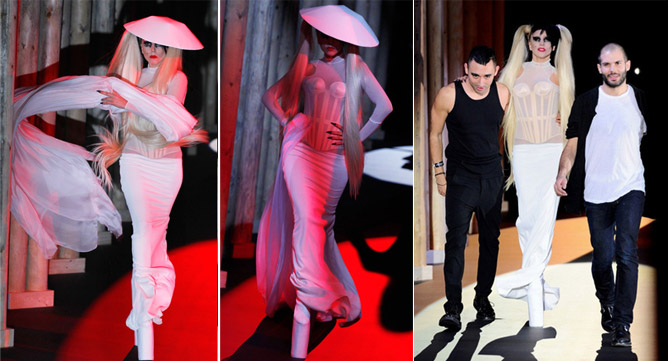 Alberta Ferretti & Emma Watson's 'Pure Treads'
4>> The first look from Alberta Ferretti and Emma Watson's capsule collection Pure Treads has been released. Made from environmentally friendly materials in Italy, the capsule collection is available to buy exclusively from AlbertaFerretti.com from March 21st 2011. A percentage of each purchase will be donated to People Tree…
Kate Middleton's Royal Wedding Shoes
5>>While what gown Kate Middleton will be wearing for her royal wedding has been in high discussion, talk is now turning to her toes. WWD's Footwear News asked five esteemed shoe designers – Manolo Blahnik, Giuseppe Zanotti, René Caovilla, Cesare Casadei and Georgina Goodman – to sketch what they believe is perfect for special day…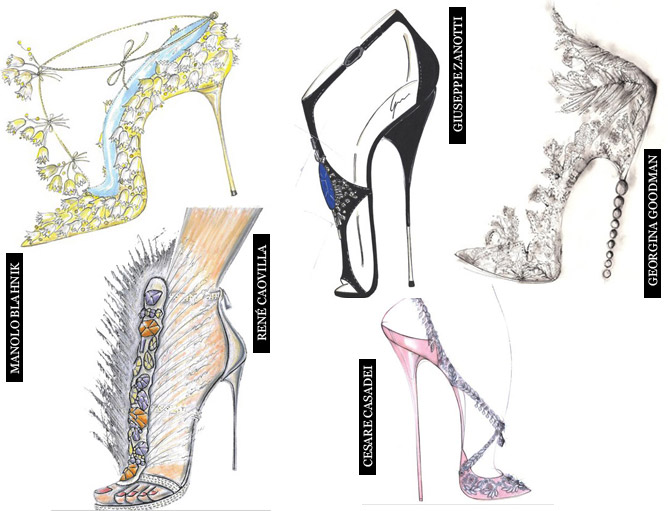 Megan Fox For Giorgio Armani
6>> Megan Fox has been announced as the face of Giorgio Armani Code Woman. Her striking campaign sees her wear a devine Armani gown and alluring red lipstick, while showcasing her extraordinary beauty…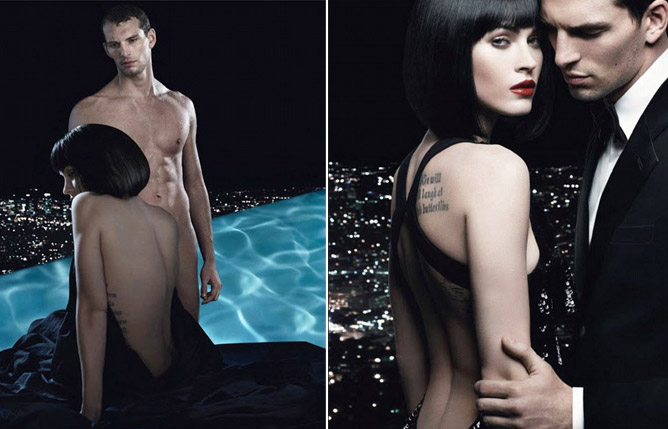 Ashton Kutcher For Colcci
7>> Speaking (well typing) of an actor turned 'model', starring in the Colcci Autumn Winter 2011 Campaign, is Ashton Kutcher. In the campaign he is joined by Victoria's Secret Angel Alessandra Ambrosio. Kutcher is no stranger to modelling jeans, he was previously the face of Pepe Jeans…

Abbie Cornish Wears Iconic Prada Stripes
8>> The iconic Prada Spring / Summer 2011 stripes make another extraordinary cover! Abbie Cornish graces the cover of Harper's Bazaar Australia wearing the divine strapless green stripe dress! Simply stunning…
Brad Goreski Styling
Jessica Alba
9>> Brad Goreski (aka previously Rachel Zoe's bow tie wearing Stylist Assistant) now has his own star client. Goreski is styling Jessica Alba. Cannot wait to see Alba at her next red carpet event for the result…
What did you think of Dior's Fall 2011 collection? & Who do you think will replace John Galliano at Dior? xx
Photos from style.com / vogue.co.uk / grazia.com.au / albertaferretti.com / dailymail.co.uk / harpersbazaar.com.au
Your Daily Fashion Scoop
8 Espresso Shots of News:

1>> Manolo Blahnik will be in London's Liberty department store tonight. The shoe designer will be signing copies of his new book, Manolo's New Shoes, (pictured above). To find him head to Liberty's World of Manolo shop space, on the ground floor, from 6pm until 8pm. 
2>> The LVMH group has confirmed the refreshed demand for luxury goods, reporting a 19% sales rise over the first nine months of 2010 when compared with the same period last year. LVMH owns Marc Jacobs and Louis Vuitton. 
3>> Disney has partnered with designers Jerome C. Rousseau, Hayden-Harnett, Robin Rotenier and TomTom to launch a high-end accessory and shoe line inspired by 'Tron: Legacy'. Targeting the film's female audience, the line will include a pair of five-inch metallic platforms (pictured above) as well as earrings and necklace. Tron originally a 1982 action science fiction film; Tron: Legacy will be released this year and stars Olivia Wilde. 
4>> Ralph Lauren was presented with the prestigious Mayor of New York's Key to the City honour. In recognition for his contributions as a designer, business leader and philanthropist; Lauren received the award at the opening of his new Ralph Lauren women's flagship store on Madison Avenue. 
5>> PETA denied it is planning to attack Victoria Beckham after the Daily Mirror reported the group intended to douse "a bucket of animal blood – cow or lizard – at her next UK public appearance". Beckham created several different pieces from crocodile and lizard skins for her latest range. PETA has asked that she contemplate using other materials. "We don't believe that Victoria has chosen to ignore the plight of these animals, we just worry that the information didn't make its way to her," a spokesperson from PETA. 
6>> Stella McCartney's new children's wear range will be launched on November 3rd. Available from www.stellamccartneykids.com, the collection includes looks for boys and girls ranging from 0 to 12years. The designs will also align with McCartney's signature style and aesthetic. 
7>> Jennifer Lopez and her twins, Max and Emme, are the stars of Gucci's debut children's wear campaign. Shot back in July, the campaign features the three beach side in the new range. 
8>> A unique fashion event will be occurring this Friday at the Taste Restaurant, Hammersmith. The show will include disabled and non-disabled designers and models. ASOS.COM will show their latest collection there. Organised by Hafad, the Hammersmith and Fulham Action on Disability, the showcase starts at 6pm and tickets cost £10 to be purchased in advance. 
Side Photos: Photo1 from style.com | photo2 from independent.co.uk