Mary Katrantzou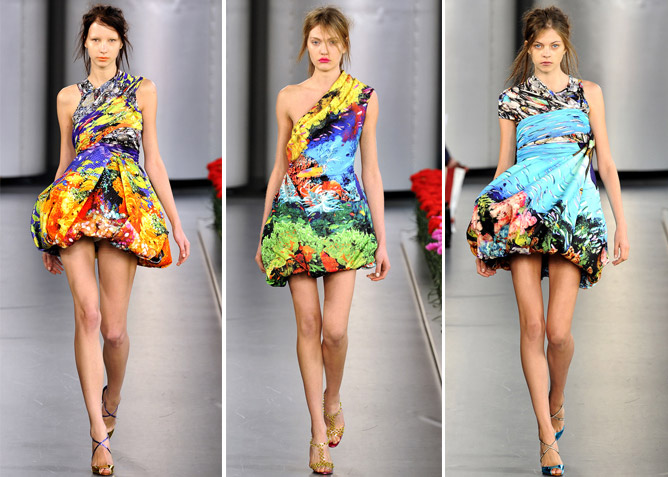 Extraordinary Colour, Mesmerising Prints, Joyous Spring Dresses…
During London Fashion Week, Mary Katrantzou presented yet another collection filled with pure joy and intoxicating boldness. Known for her prints and structural silhouettes, Katrantzou's Spring / Summer 2012 collection stayed true to her unique intensity of vision, blazing a trail for modern day print masters anywhere.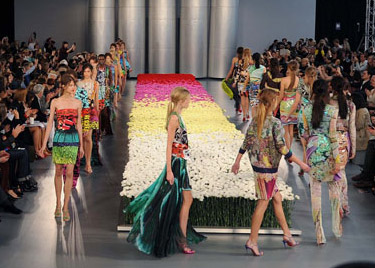 On a bed of red, pink, yellow and white carnations, Katrantzou explored the idea of repetition in nature and the industrial revolution.The influence of nature started with striking prints – there were scales, feathers, flowers – all blown up, 'zoomed in' and distorted, until they became unrecognisable. These luxe materials formed the decedent patchwork of vibrant colour and pattern across the collection. Dresses twisted and draped around the body. Embellishment also reigned – sequined florals outlined tropical bird and skyscrapers shapes.
Exaggerated silhouettes closed the collection with pieces enriched with character – where prints seemed to only heighten in intensity. Metal appliqué swirled diagonally in bands of coloured metal flowers around dresses. Katrantzou described the 3D metallic creations as "A whirlwind of metal".
My favourite look… A bell shape mini dress, in rich Caribbean blue, seemingly had tropical fish swimming right around the body (pictured above right). J'adore!
Katrantzou has become a remarkable new voice in fashion. Her astonishing artistry and talent for shape and structure is incredibly inspiring…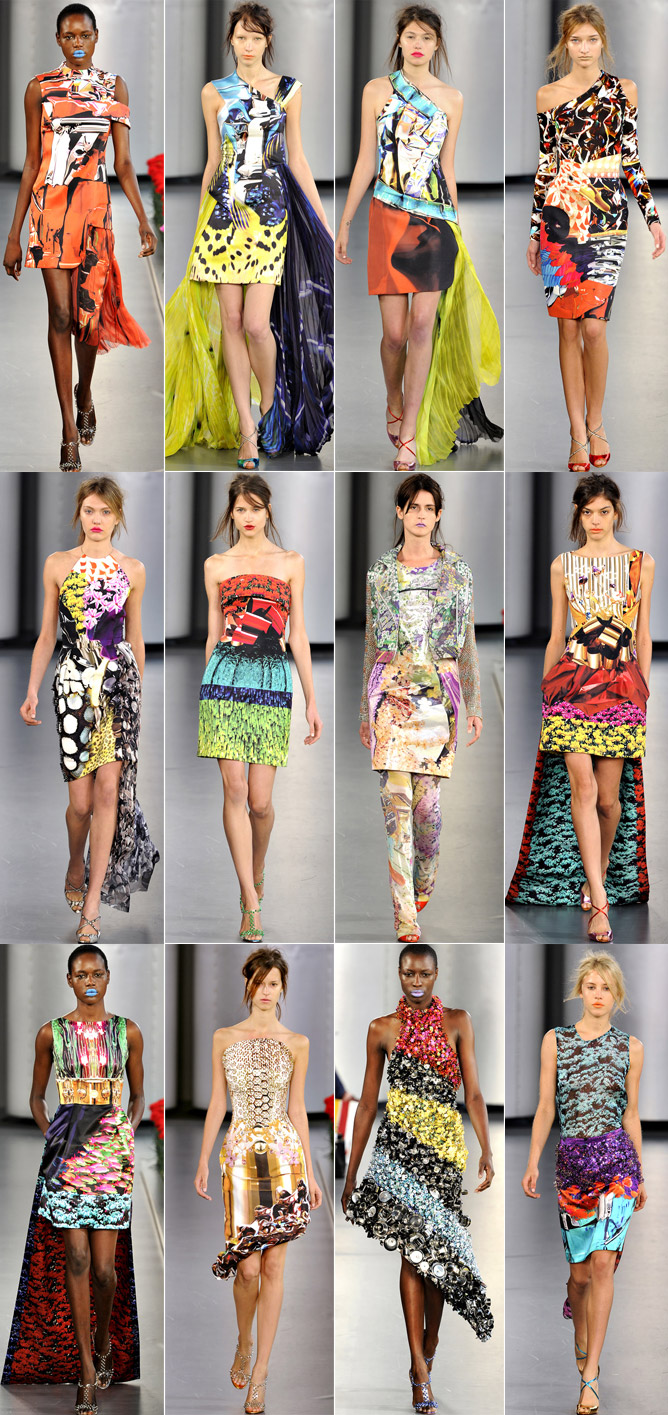 Will you embrace bold prints for Summer? xx 
Photos from style.com
Erdem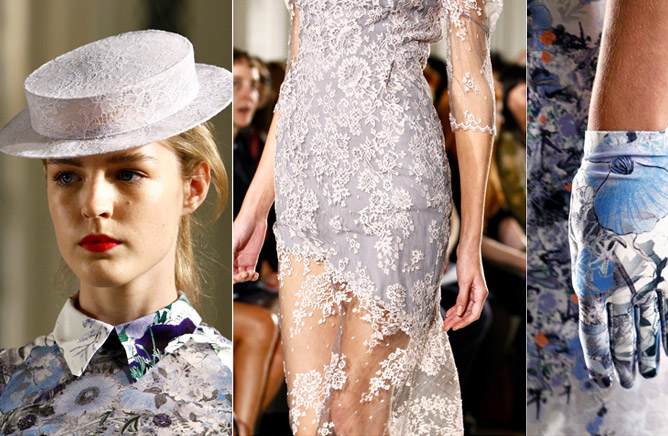 London Fashion Week is known for its youthful energy, vitality and unprecedented cool factor. Looking at some of my favourite collections from the week, I must start with Erdem.
Known for his striking floral prints, Erdem once again created a collection so elegant, beautiful and enchanting for Spring / Summer 2012 that it appeared to be heaven sent. With the perfect mix of innocence and gown-up allure, pieces were tailored close to the body, while being "more undressed, more décolleté, more skin, nape, and spine".
The collection began with a series of looks in an icy cornflower and blue hydrangea print, before progressing to yellow tones with red poppies and lace – all worthy of "Wedgwood preciousness". Darling Dresses fell delicately off each shoulder or were low backed and held up by shoe string straps. Romantic, whimsical and bewitching. Crisp white shirts were teamed with hot pants or slim fit trousers adding an unexpected contrast. The collection closed with sheer lace evening dresses lined in nude organza… a breathtaking moment.
Pointy-toed kitten heels with coordinating ankle straps, delicate little car gloves and hats gave the collection the sublime finishing touches. The ladylike polish also extended to hair and make-up, where lips were a painted a deep, succulent red and hair swept back into a neat ponytail.
This collection had an unmistakable presence… one worthy of  tears for it pure, mesmerising beauty.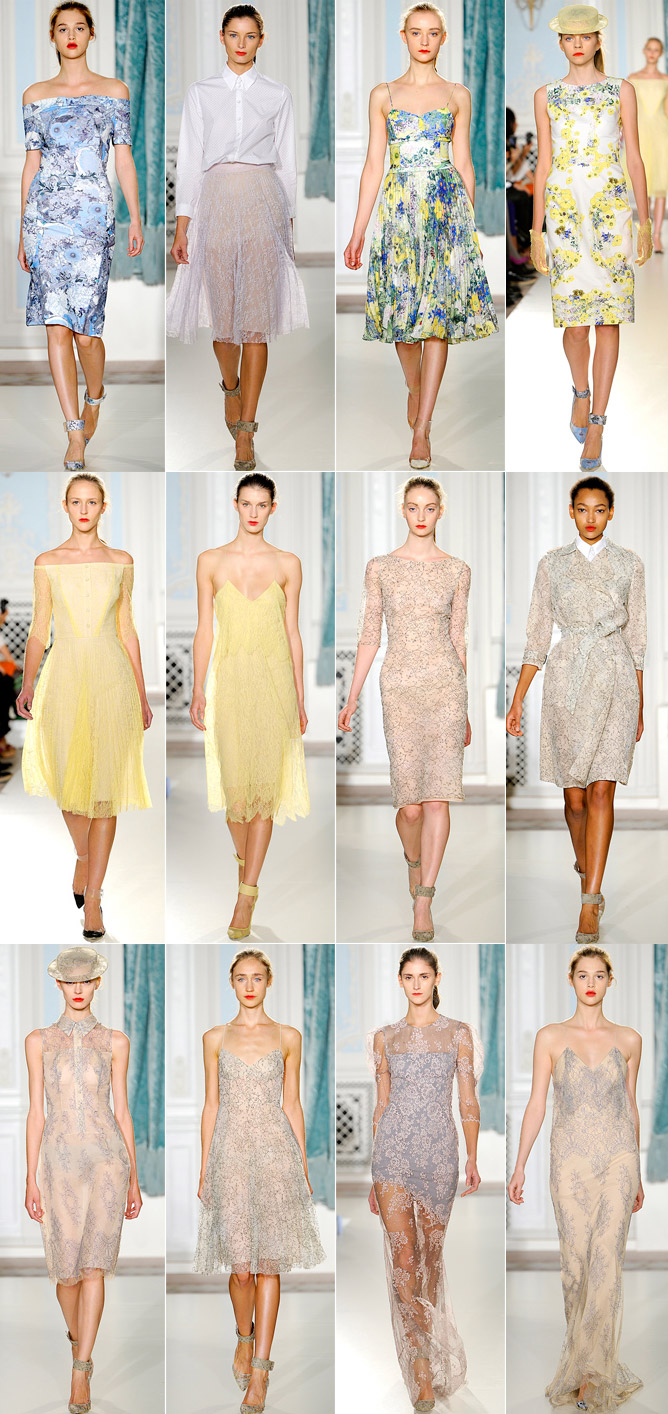 What were some of your favourite collections at London Fashion Week? xx
Photos from style.com
Betsey Johnson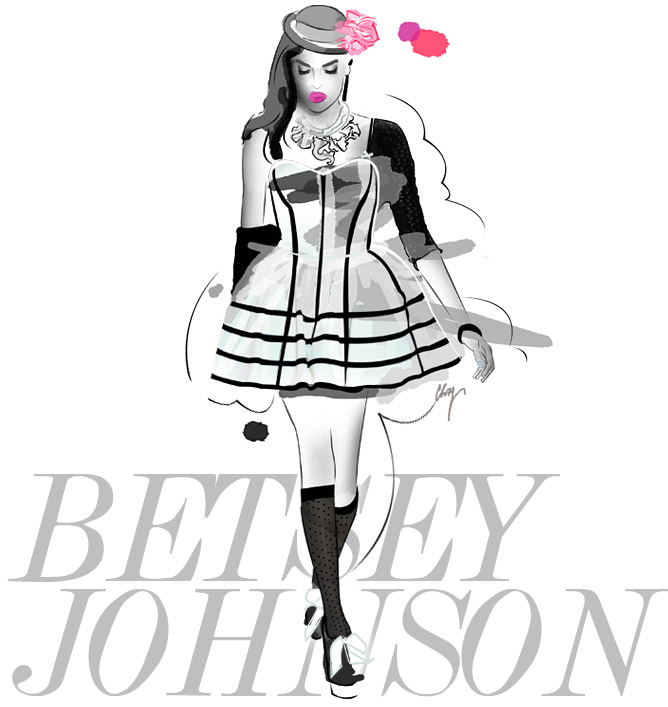 The Betsey Johnson label is all about attitude and for Spring / Summer 2012, the iconic New York designer celebrated the female form with a fresh vitality and insatiable appetite for all things youthful, fun and sexy.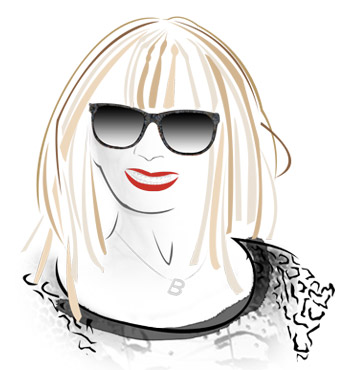 Taking her inspiration from burlesque and legendary bombshell Brigitte Bardot, the collection was anchored around sexy, lingerie-inspired ensembles – perfect to embrace and flaunt your curves in.
Pieces were slightly sheer, flirty and playful. Bra straps went peak-a-boo under pretty party dresses; while hemlines went from racy thigh-high to floor length. Johnson's signature prom dress also appeared – worn strapless with a sweetheart neckline and frothy skirt. Each look struck the perfect balance between fitted and loose. Tops fell off the shoulder; lace-up corsets clinched in the waist; chic leather jackets in hot pink, black and white were trimmed with ruffles.
Yet it was the accessories that further amped up the volume and took the collection into overdrive. Fingerless gloves, lightning bolt earrings and chunky statement necklaces combined for a mesmerising runway presentation. Not to mention the pert hats accentuated with flowers, sheer knee high socks worn with sky-high heels and that unmistakable bombshell hair.
When Johnson did take to the stage, she performed her signature cartwheel and landed in a split with her arms raised boldly in the air. Another epic runway collection unlike any other…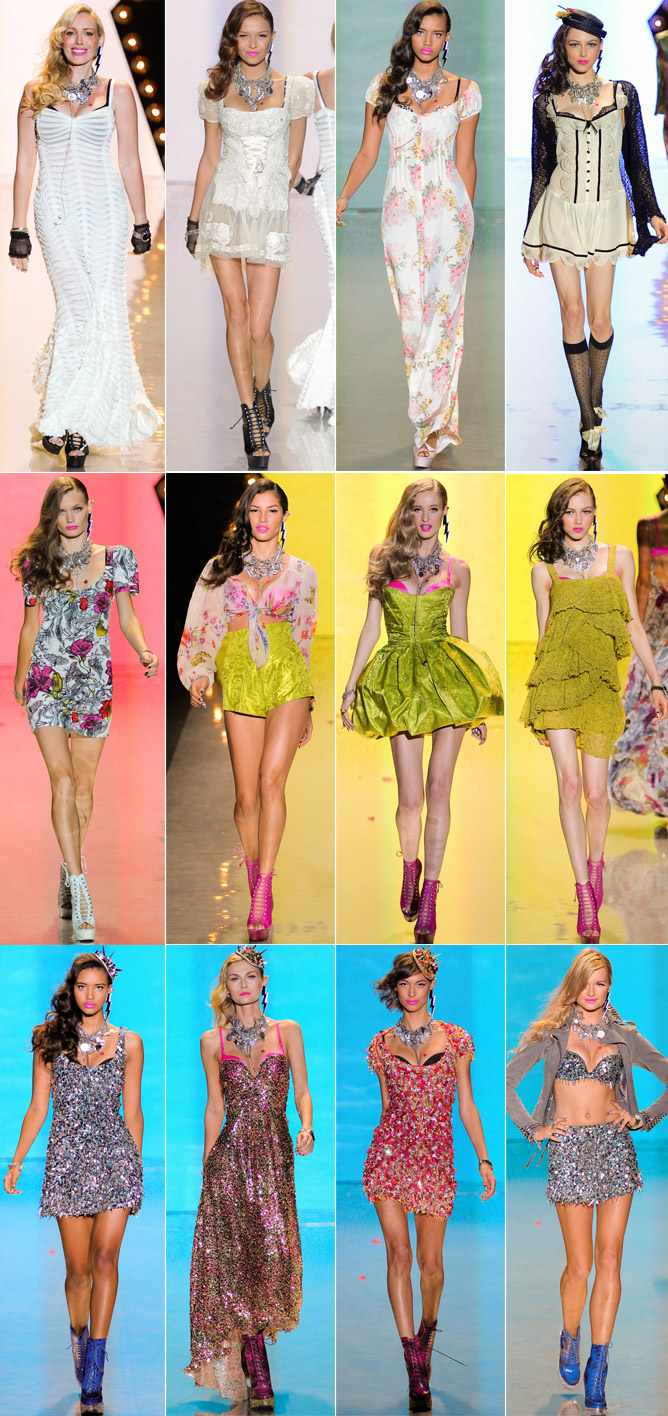 What do you think of this Betsey Johnson collection? xx
Photos from style.com