Mary Katrantzou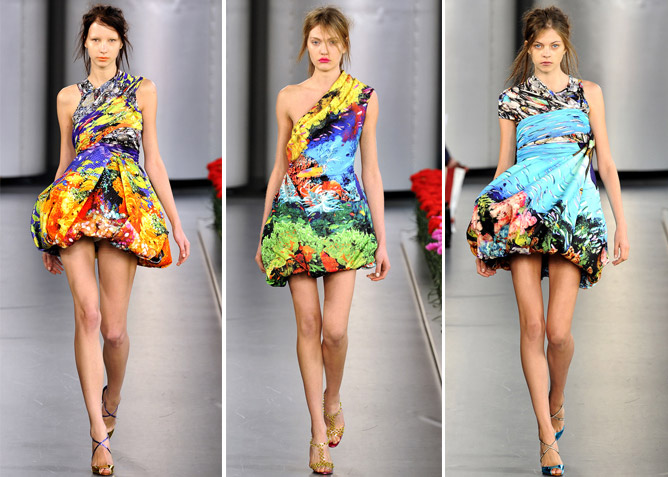 Extraordinary Colour, Mesmerising Prints, Joyous Spring Dresses…
During London Fashion Week, Mary Katrantzou presented yet another collection filled with pure joy and intoxicating boldness. Known for her prints and structural silhouettes, Katrantzou's Spring / Summer 2012 collection stayed true to her unique intensity of vision, blazing a trail for modern day print masters anywhere.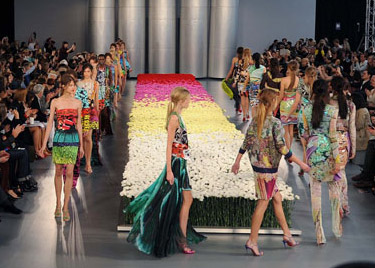 On a bed of red, pink, yellow and white carnations, Katrantzou explored the idea of repetition in nature and the industrial revolution.The influence of nature started with striking prints – there were scales, feathers, flowers – all blown up, 'zoomed in' and distorted, until they became unrecognisable. These luxe materials formed the decedent patchwork of vibrant colour and pattern across the collection. Dresses twisted and draped around the body. Embellishment also reigned – sequined florals outlined tropical bird and skyscrapers shapes.
Exaggerated silhouettes closed the collection with pieces enriched with character – where prints seemed to only heighten in intensity. Metal appliqué swirled diagonally in bands of coloured metal flowers around dresses. Katrantzou described the 3D metallic creations as "A whirlwind of metal".
My favourite look… A bell shape mini dress, in rich Caribbean blue, seemingly had tropical fish swimming right around the body (pictured above right). J'adore!
Katrantzou has become a remarkable new voice in fashion. Her astonishing artistry and talent for shape and structure is incredibly inspiring…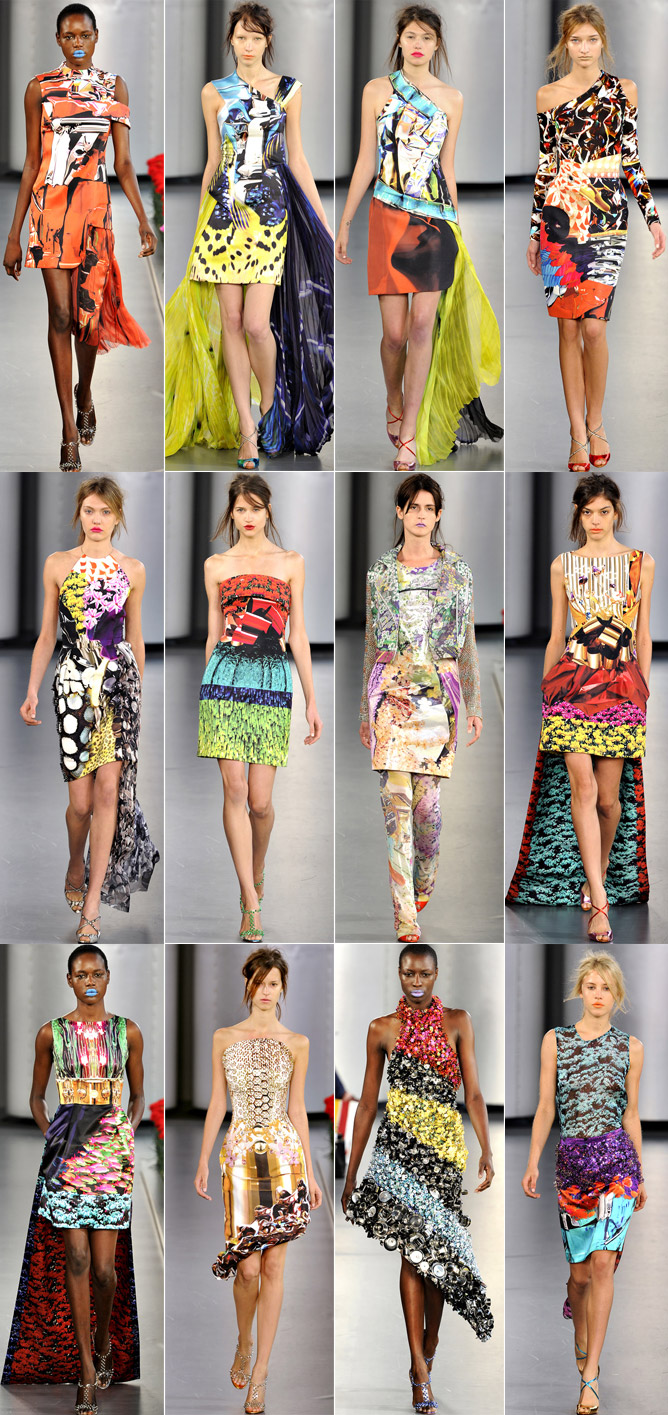 Will you embrace bold prints for Summer? xx 
Photos from style.com
Erdem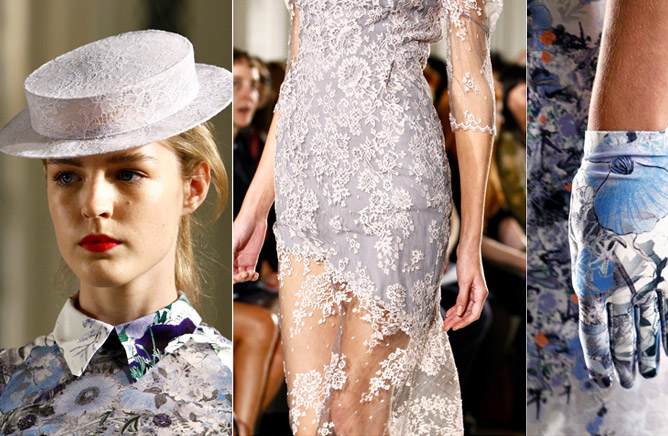 London Fashion Week is known for its youthful energy, vitality and unprecedented cool factor. Looking at some of my favourite collections from the week, I must start with Erdem.
Known for his striking floral prints, Erdem once again created a collection so elegant, beautiful and enchanting for Spring / Summer 2012 that it appeared to be heaven sent. With the perfect mix of innocence and gown-up allure, pieces were tailored close to the body, while being "more undressed, more décolleté, more skin, nape, and spine".
The collection began with a series of looks in an icy cornflower and blue hydrangea print, before progressing to yellow tones with red poppies and lace – all worthy of "Wedgwood preciousness". Darling Dresses fell delicately off each shoulder or were low backed and held up by shoe string straps. Romantic, whimsical and bewitching. Crisp white shirts were teamed with hot pants or slim fit trousers adding an unexpected contrast. The collection closed with sheer lace evening dresses lined in nude organza… a breathtaking moment.
Pointy-toed kitten heels with coordinating ankle straps, delicate little car gloves and hats gave the collection the sublime finishing touches. The ladylike polish also extended to hair and make-up, where lips were a painted a deep, succulent red and hair swept back into a neat ponytail.
This collection had an unmistakable presence… one worthy of  tears for it pure, mesmerising beauty.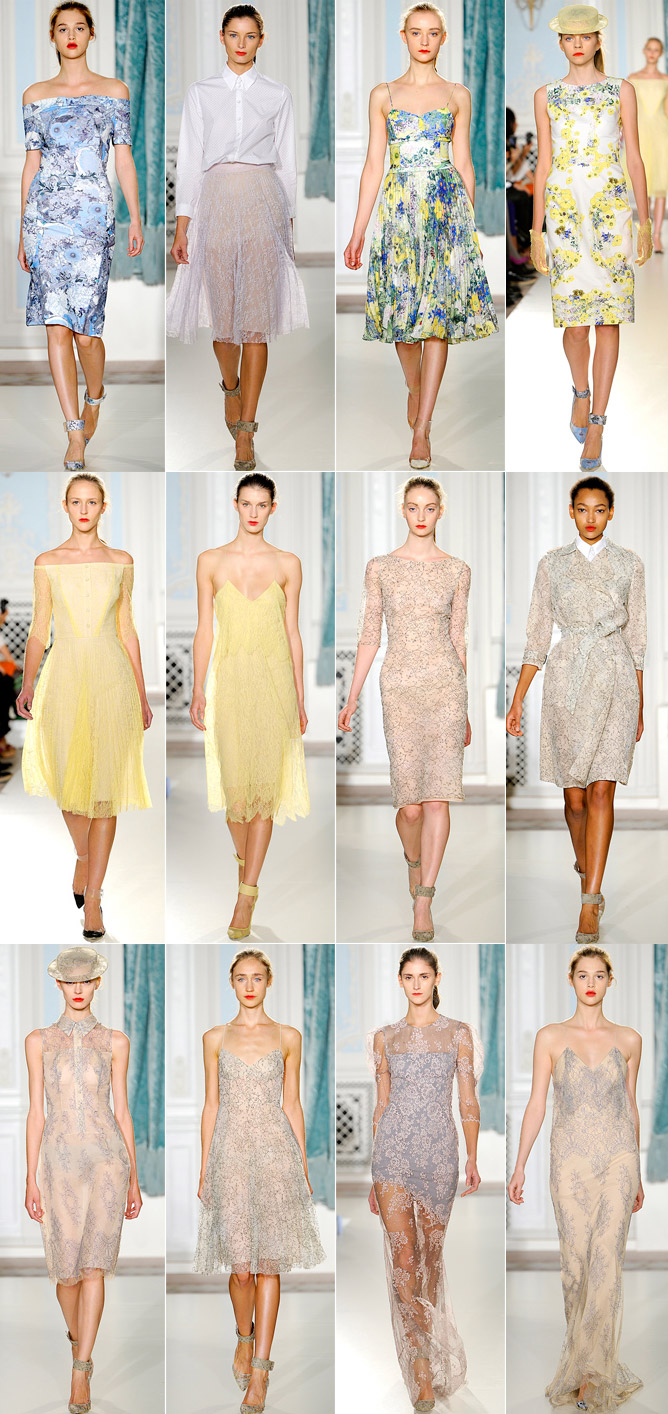 What were some of your favourite collections at London Fashion Week? xx
Photos from style.com
Thursday Fashion Shot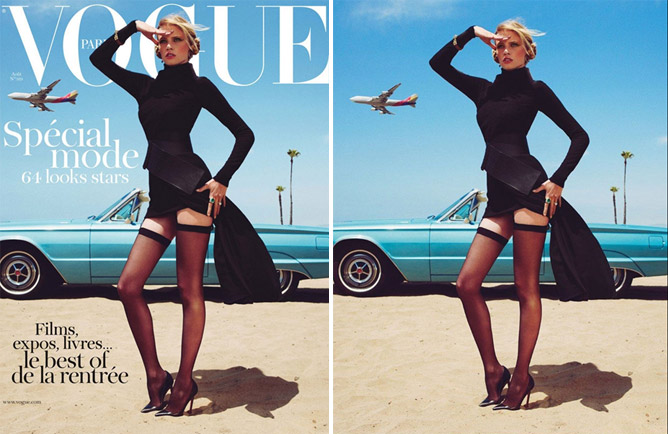 5 Espresso Shots Of News…
– – – – – – – – – – – – – – – –
An Amazing Magazine Cover – Vogue Paris, August 2011
Lara Stone graces the striking Vogue Paris, August 2011 cover. As Emmanuelle Alt's fourth edition as Editor-In-Chief, the cover is a cinematic fashion moment! Stone wears a Haider Ackermann Fall 2011 coat and can be seen peering off into the distance on a Californian beach. Love the juxtaposition of the sandy beach with Stone's unattainable glamorous beauty! Definitely one of my favourite covers of the year!
– – – – – – – – – – – – – – – –
Vintage Gucci Advertising
This year marks the 90th Anniversary of Gucci. To celebrate the extensive heritage of this renowned Italian label, Gucci has reissued its very first ad from 1922 as part of the 'Forever Now' campaign. Set to appear next to the vintage ad will be a photograph of Aldo Gucci from 1955, standing in front of the first Gucci store in Rome on Via Condotti.  Aldo Gucci was the son Gucci founder, Guccio Gucci. The 'Forever Now' campaign, now in its fourth instalment, celebrates the quality, craftsmanship and heritage of Gucci.
– – – – – – – – – – – – – – – –
'Burberry Body' – Rosie Huntington-Whiteley
The first campaign image for Burberry's new fragrance for women, Burberry Body, has been released featuring the impeccably beautiful Rosie Huntington-Whiteley. Huntington-Whiteley wears only an iconic rose gold satin trench coat in the shot which is sure to stop traffic. Burberry Body will launch in over 150 countries from September 1st.
Of Burberry Body, Christopher Bailey, Chief Creative Officer, has said:  "Burberry Body is the most exciting launch that we have ever created and captures the iconic spirit of the brand today in a striking and sensual way. Rosie's effortless style and her staggering beauty made her the natural choice as the first Burberry Body."
– – – – – – – – – – – – – – – –
New Creative Directors At Kenzo
Humberto Leon and Carol Lim, have been named as the new Creative Directors for Kenzo. The duo was previously behind dynamic label Opening Ceremony, which they started in 2002. Pierre-Yves Roussel, Chairman and CEO of the Fashion Division of LVMH, has said of the new appointment:
"Humberto and Carol will bring their fresh creative talent and innovative approach to Kenzo to rejuvenate this iconic brand. I am confident that they will leverage the unique contemporary & lifestyle spirit of the Brand to position it ideally for an ambitious development."
– – – – – – – – – – – – – – – –
Tom Ford Officially On The London Fashion Week Schedule
This will be the first season Tom Ford will present his collection during London Fashion Week as part of the British Fashion Council's official LFW schedule. Previously for his Autumn / Winter 2011 / 12 collection, Ford hosted a small gathering of key press only.
Other big names who recently returned to London Fashion Week include; Burberry Prorsum (returned from Milan for S/S 2010) as well as Temperley London, Matthew Williamson and Jonathan Saunders (who all returned from previous showings in New York).
– – – – – – – – – – – – – – – –
Happy Thursday! xx
Photos from fashiongonerogue.com / fashion.telegraph.co.uk / google images