Entitled 'Return To Elegance', Temperley London's Spring / Summer 2013 collection had the vision of "a late-1950s couture model or a young Sophia Loren".

Alice Temperley's vision to modernise her muse while making her "uncomplicated and effortlessly beautiful" was exquisitely achieved. With an effortless sophistication and chic simplicity, Temperley played with the notions of sheer and solid; precision and prettiness; modern and timeless.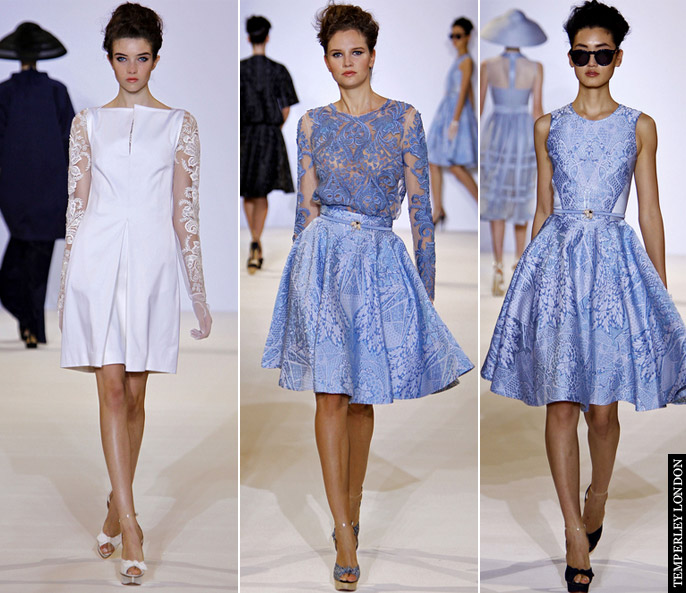 In a luxurious colour palette of pale china blue, white, navy, scarlet and black – intensive workmanship shined through in every piece of the collection. Intensive digital prints and delicate floral appliqués combined for looks that were beyond beautiful. Thick horizontal stain bands ran around organza skirts and dresses – evoking a floaty, fun and overtly feminine look.
The freshness of the colour palette – especially the use of crisp white cotton and lace sprinkled with fine crystals – evoked pure loveliness for Summer.
It was a distinct departure for the label, which saw this collection appear much lighter and more luxurious in decedent fabrics and undeniably pretty silhouettes.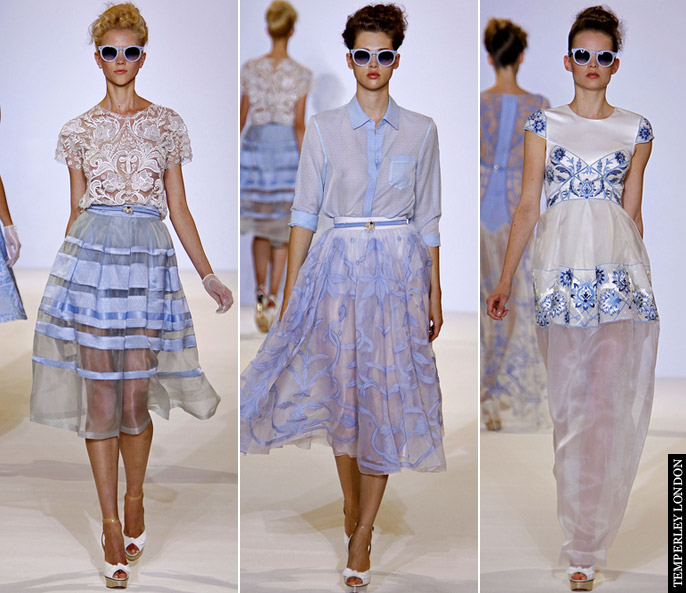 Femme Fatale Accessories
Iconic wide-brim hats, statement-making circular sunglasses and sweet net gloves – created an additional dose of drama. While the highly covetable heels were courtesy of Charlotte Olympia.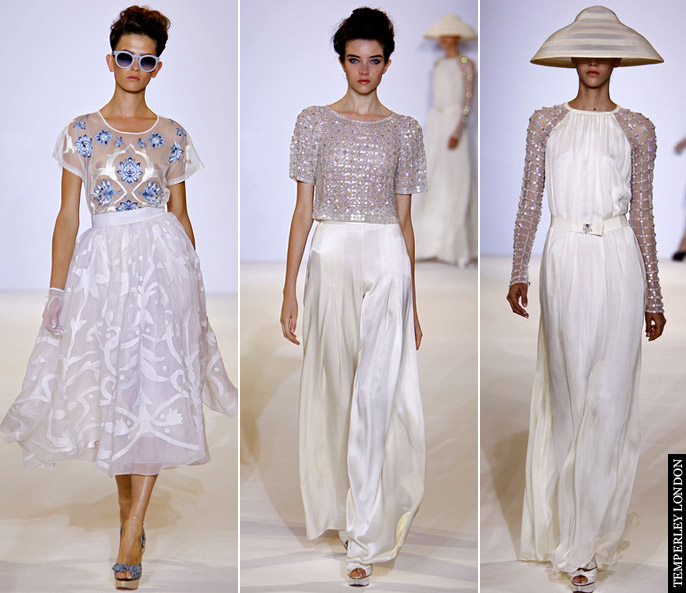 "It's just more fun, more playful this season. It's less about the dress – which is obviously still a really key piece for us – but more about really great separates in high-quality fabrics, and the way you put them together."
– Alice Temperley
Photos from style.com
Thursday Fashion Shot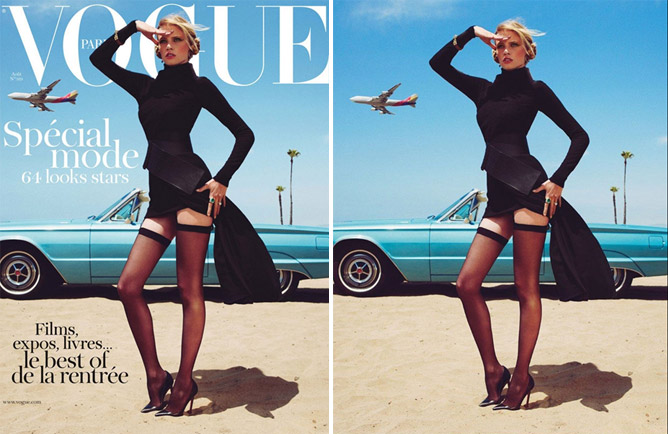 5 Espresso Shots Of News…
– – – – – – – – – – – – – – – –
An Amazing Magazine Cover – Vogue Paris, August 2011
Lara Stone graces the striking Vogue Paris, August 2011 cover. As Emmanuelle Alt's fourth edition as Editor-In-Chief, the cover is a cinematic fashion moment! Stone wears a Haider Ackermann Fall 2011 coat and can be seen peering off into the distance on a Californian beach. Love the juxtaposition of the sandy beach with Stone's unattainable glamorous beauty! Definitely one of my favourite covers of the year!
– – – – – – – – – – – – – – – –
Vintage Gucci Advertising
This year marks the 90th Anniversary of Gucci. To celebrate the extensive heritage of this renowned Italian label, Gucci has reissued its very first ad from 1922 as part of the 'Forever Now' campaign. Set to appear next to the vintage ad will be a photograph of Aldo Gucci from 1955, standing in front of the first Gucci store in Rome on Via Condotti.  Aldo Gucci was the son Gucci founder, Guccio Gucci. The 'Forever Now' campaign, now in its fourth instalment, celebrates the quality, craftsmanship and heritage of Gucci.
– – – – – – – – – – – – – – – –
'Burberry Body' – Rosie Huntington-Whiteley
The first campaign image for Burberry's new fragrance for women, Burberry Body, has been released featuring the impeccably beautiful Rosie Huntington-Whiteley. Huntington-Whiteley wears only an iconic rose gold satin trench coat in the shot which is sure to stop traffic. Burberry Body will launch in over 150 countries from September 1st.
Of Burberry Body, Christopher Bailey, Chief Creative Officer, has said:  "Burberry Body is the most exciting launch that we have ever created and captures the iconic spirit of the brand today in a striking and sensual way. Rosie's effortless style and her staggering beauty made her the natural choice as the first Burberry Body."
– – – – – – – – – – – – – – – –
New Creative Directors At Kenzo
Humberto Leon and Carol Lim, have been named as the new Creative Directors for Kenzo. The duo was previously behind dynamic label Opening Ceremony, which they started in 2002. Pierre-Yves Roussel, Chairman and CEO of the Fashion Division of LVMH, has said of the new appointment:
"Humberto and Carol will bring their fresh creative talent and innovative approach to Kenzo to rejuvenate this iconic brand. I am confident that they will leverage the unique contemporary & lifestyle spirit of the Brand to position it ideally for an ambitious development."
– – – – – – – – – – – – – – – –
Tom Ford Officially On The London Fashion Week Schedule
This will be the first season Tom Ford will present his collection during London Fashion Week as part of the British Fashion Council's official LFW schedule. Previously for his Autumn / Winter 2011 / 12 collection, Ford hosted a small gathering of key press only.
Other big names who recently returned to London Fashion Week include; Burberry Prorsum (returned from Milan for S/S 2010) as well as Temperley London, Matthew Williamson and Jonathan Saunders (who all returned from previous showings in New York).
– – – – – – – – – – – – – – – –
Happy Thursday! xx
Photos from fashiongonerogue.com / fashion.telegraph.co.uk / google images
Favourite Pieces…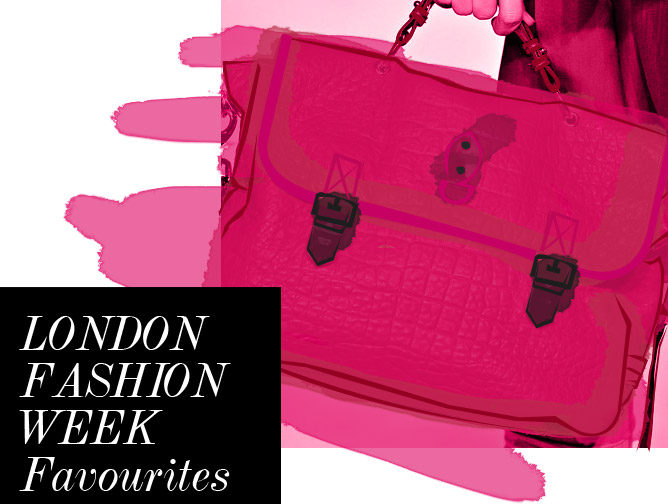 London Fashion Week – Fall 2011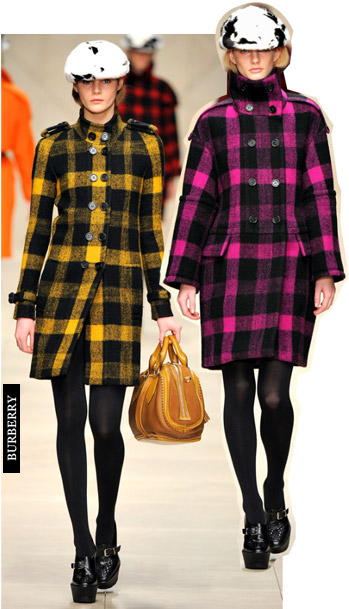 London Fashion Week is nearly coming to a close and I have been so sad that I was unable to make it! To get my Fashion Week Fix I have been watching the live streaming at all hours of the morning; checking style.com feverishly; and dreaming ahead to a Fall season full of eye-popping colour; accessorising with tights and hats; and staying warm in those divine coats.  
From established Fashion Week Must-See shows – such as Mulberry, which attracted a celebrity front row of Kirsten Dunst, Clémence Poésy, Gemma Arterton, and Nicholas Hoult – to the up-and-coming designers at Fashion East; I get so excited about seeing them all!   
Some Of My Favourite Pieces…
As you can see from the looks below I am going through an orange and yellow stage! These colours are so fresh, optimistic and vibrant for Autumn / Winter.
The orange Burberry trench leaves me speechless! It is one of the most gorgeous things I have ever seen! I love the cut, striking buttons and seam detailing. Burberry also offered countless other stunning coat options for Fall. I also adore the off-white, bow coat worn by Abby Lee Kershaw below.
The looks from Mulberry were also high on my lust-list. The use of quilting in dresses; knee-high socks; and gorgeous colour hues – were too-die-for! Inspired by Ronald Dahl's Fantastic Mr. Fox; Emma Hill, Creative Director of Mulberry, described the collection's muse as: "She's very English. She's got a dilapidated, stately home. She's got her long party dress on and she throws on a duffel coat." The brands signature IT bags – the Bayswater, Alexa and Tillie – were also updated for Fall. The pink Alexa (above) needs to get into my wardrobe immediately!  
I also had a soft spot for Holly Fulton, Temperley London & Erdem…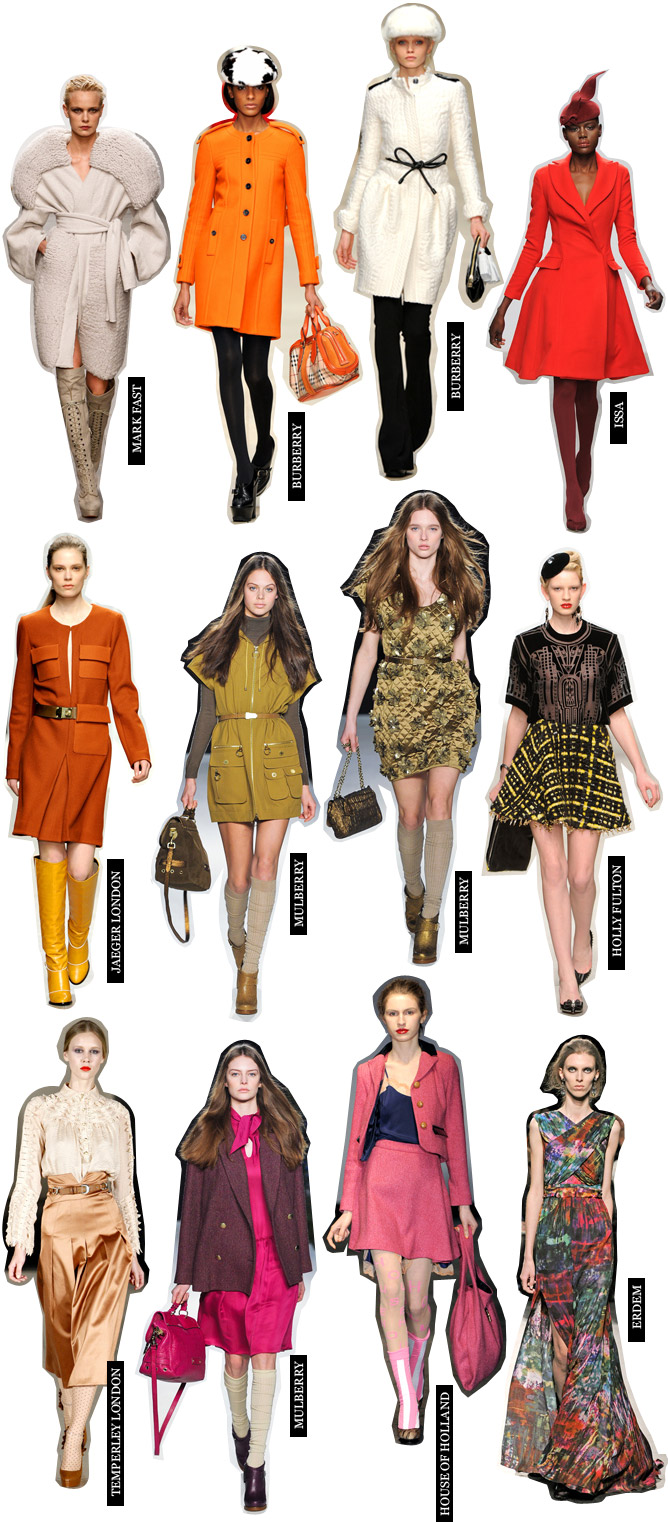 What are your dream pieces for Fall? xx
Photos from Style.com