Favourite Pieces…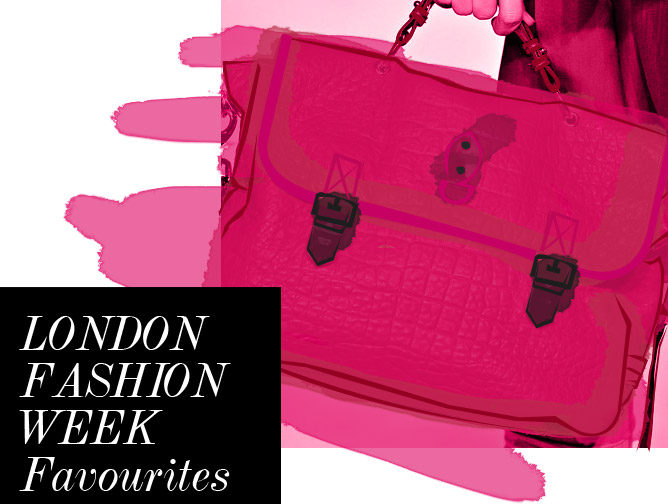 London Fashion Week – Fall 2011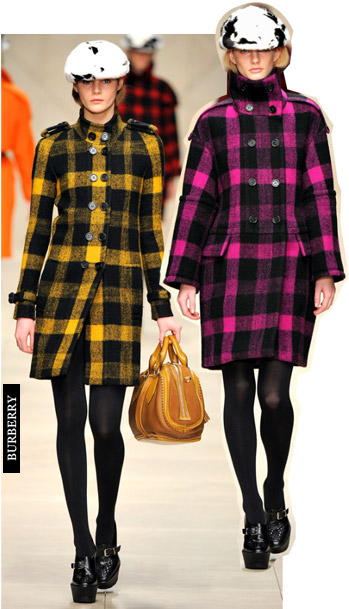 London Fashion Week is nearly coming to a close and I have been so sad that I was unable to make it! To get my Fashion Week Fix I have been watching the live streaming at all hours of the morning; checking style.com feverishly; and dreaming ahead to a Fall season full of eye-popping colour; accessorising with tights and hats; and staying warm in those divine coats.  
From established Fashion Week Must-See shows – such as Mulberry, which attracted a celebrity front row of Kirsten Dunst, Clémence Poésy, Gemma Arterton, and Nicholas Hoult – to the up-and-coming designers at Fashion East; I get so excited about seeing them all!   
Some Of My Favourite Pieces…
As you can see from the looks below I am going through an orange and yellow stage! These colours are so fresh, optimistic and vibrant for Autumn / Winter.
The orange Burberry trench leaves me speechless! It is one of the most gorgeous things I have ever seen! I love the cut, striking buttons and seam detailing. Burberry also offered countless other stunning coat options for Fall. I also adore the off-white, bow coat worn by Abby Lee Kershaw below.
The looks from Mulberry were also high on my lust-list. The use of quilting in dresses; knee-high socks; and gorgeous colour hues – were too-die-for! Inspired by Ronald Dahl's Fantastic Mr. Fox; Emma Hill, Creative Director of Mulberry, described the collection's muse as: "She's very English. She's got a dilapidated, stately home. She's got her long party dress on and she throws on a duffel coat." The brands signature IT bags – the Bayswater, Alexa and Tillie – were also updated for Fall. The pink Alexa (above) needs to get into my wardrobe immediately!  
I also had a soft spot for Holly Fulton, Temperley London & Erdem…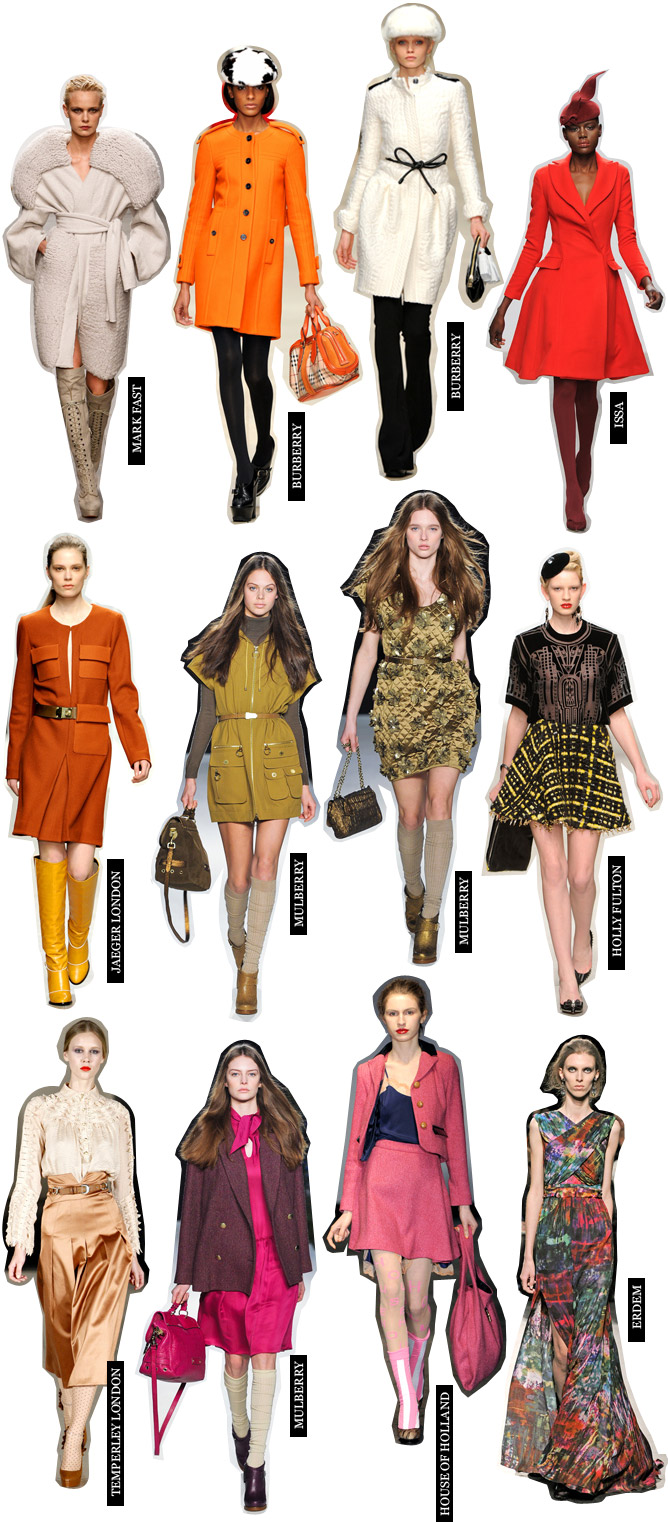 What are your dream pieces for Fall? xx
Photos from Style.com
Your Daily Fashion Scoop 
Make Wednesday wonderful with some delicious scoops of fashion news…
Holly Fulton Does Chic Stationery
One of my London Fashion Week Favourites, Holly Fulton has created a capsule collection of ultra stylish diaries, notepads and correspondence cards (pictured above & on right). In gorgeous shades of fresh lemon yellow and aqua, the capsule collection has been created through Smythson. Now there is no excuse for not being punctual and organised in style!
The Alexander McQueen label
in Lawsuit
The Hells Angels Motorcycle Group have filed a lawsuit against the Alexander McQueen fashion house for misuse of their trademarked logo. The iconic winged death symbol appears on two Alexander McQueen items – the 'Hell's Knuckle Duster Ring' and 'Hell's Knuckleduster Box Clutch' (both pictured right).
McQueen, known for his high-fashion drama and edge, used similar imagery in other items of his work; his dramatic skull scarves continually growing in popularity.
The 'Hell's Knuckleduster Box Clutch' is available to buy online at Net-A-Porter.com for £1,295. It is described by Net-A-Porter as:
'The black embossed-leather box clutch with a gold skull and feather knuckle-duster clasp is a dramatic after-dark accessory. Carry this theatrical extra at glamorous black-tie events with a bold scarlet gown and killer heels.' 
Sides photos from: Photo1 insideout.topshop.com |
Photo2 net-a-porter.com | Photo3 from polyvore.com
Designer Introduction – Marnie Skillings
Some of you may not have heard of Marnie Skillings, so I would like to introduce you. Marnie Skillings is one of my favourite Australian designers. Known for her youthful, playful pieces; Skillings aesthetic often incorporates vintage-inspired prints and textures.
Showing her Spring / Summer 2011 collection at the Royal Botanic Gardens, Sydney; Skillings perfectly captured the whimsical innocence of summer. Her collection entitled 'Lady.Nimble.Shadow', was inspired by the Australian summer and an adventurous girl with a witty sense of style.
The sweetest of summer dresses were embroidered with tulle flowers. Vintage brogues were styled with socks and straw fedoras. Handmade pom poms were also added in for good measure. The colour palette shifted as the collection continued. Peach, mint and dusty pink where followed by striking sunset oranges, navy, red and white. Floaty cottons, vivid prints and youthful frivolity … it is a collection that inspired daydreams of warm weather, lazy weekends and a bygone era with its lovely prints and vintage inspired textures.
I hope you enjoy Marnie Skillings' collection as much as I did xx
My London Favourite Pieces…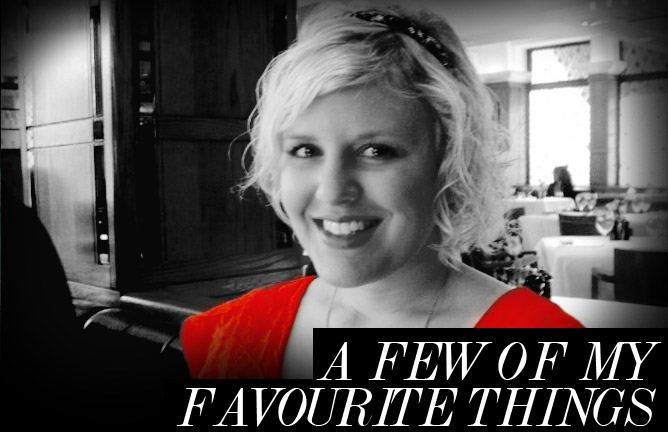 The vibrant, alluring and cosmopolitan nature of London makes London Fashion Week one of the most anticipated in all of the Fashion Week Calendars. It is renowned for showcasing young emerging talent right alongside Fashion Week Veterans (a la Burberry). And it was also of extra excitement to me this year living right nearby.  As many of you know I was lucky enough to attend and it is an experience that I will remember forever… my first London Fashion Week!
My favourite 12 looks from London Fashion Week are:
Holly Fulton is a new favourite of mine and I adore these high-waisted flared trousers with the striking patterns. The wispy, feminine dresses at Nicole Farhi, Julien Macdonald and Emilio de la Morena also caught my eye. My London Fashion Week choices show I am still mad about white, yellow and orange, but with more pink added in than New York!
Love the pink stripe pencil skirt and simple white shirt at Vivenne Westwood Red Label. Stripes also stood out at Sass and Bide when combined with a gorgeous textured skirt and belt. The Sass and Bide collection was one of my favourites of the week – perfectly bringing together edge with feminine beauty.
Erdem was the highlight of London Fashion Week for me. Whimsical, delicate and feminine. Erdem's floral patterns, embroidery and use of lace equals undeniably exquisite. There are almost no words to quite describe it…xx