Weekend Fashion Shot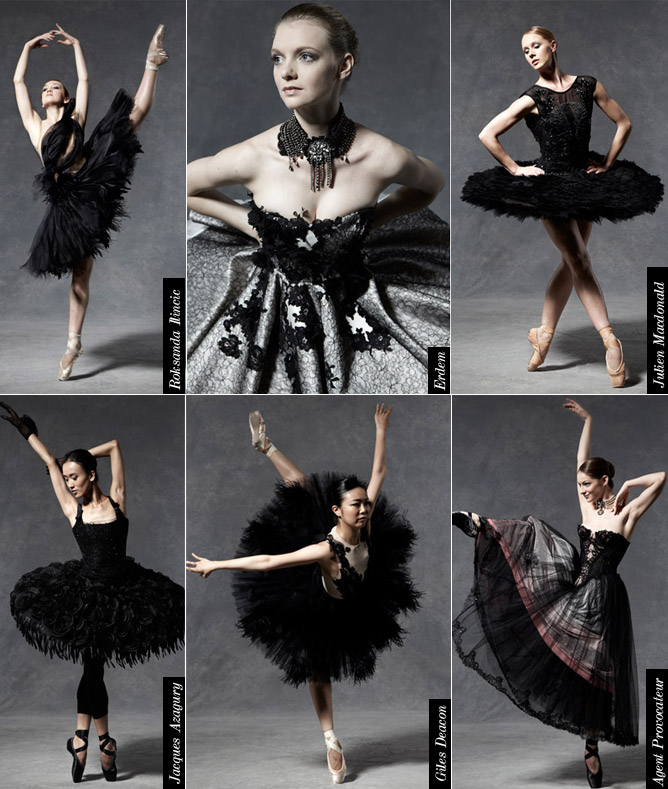 3 Shots Of Espresso News…
When Fashion Meets The Arts
– – – – – – – – – – – – – – – – – – – – – – – – – – – – – – – – – – – – – – – –
10 Highly Fashionable Tutus
10 Fashion Designers – Julien Macdonald; Erdem; Roksanda Ilincic; Agent Provocateur; Moschino; Kinder Aggugini; Jacques Azagury; Beatrix Ong; Giles Deacon and House of Worth – have collaborated with the English National Ballet to put their individual design aesthetic on the tutu (some pictured above).
Detailed, delicate, whimsically idyllic – the tutu is one of the most iconic and beautiful things that can be worn.  Of the tutu, Moschino's creative director Rossella Jardini, said: "I think that the tutu is one of the most beautiful pieces of clothing invented and I was honoured by the request from an institution as prestigious as the English National Ballet. It came naturally because the pearl-and-queen button embroidery are typically English and I have always found them beautiful."
On June 29th, each tutu will be presented in a catwalk show at the English National Ballet's Summer Party at Kensington Palace. The exquisite tutus will then be sold by silent auction.
– – – – – – – – – – – – – – – – – – – – – –
Gucci Costumes For Florence Welch
It has been announced Gucci will create the costumes for Florence Welch's North American tour.
Gucci's Creative Director, Frida Giannini, has previously mentioned her admiration for Welch's style, even citing her as an inspiration for the Gucci Fall 2011/12 collection. The collection featured bold, striking looks reminiscent of film noir in colour. Of Welch's dynamic style, Frida Giannini has said;
"When Florence first came onto the scene, I was captivated by her eccentric style and her willingness to dare. I felt there was such an authentic energy to her sound and her look. This was confirmed when I met her at the Grammy's earlier this year. I used one of Florence's songs, 'Hurricane Drunk,' to set the mood for my Autumn Winter women's show, as she was truly an inspiration for this collection as a modern day icon with her cinematic allure and powerful presence."
– – – – – – – – – – – – – – – – – – – – – –
Yves Saint Laurent On The Stage
Yves Saint Laurent's Creative Director, Stefano Pilati, has designed the costumes for a new play in London.
Starring Kristen Scott-Thomas, Dougray Scott and Ben Miles, the new theatre version of Harold Pinter's Betrayal is set between 1968 and 1977. The costumes reflect the time period and will see Scott-Thomas wearing a fuschia silk dress, camel coat, YSL tote bags and more signature YSL looks. Yves Saint Laurent, himself, was an avid theatre lover and designed costumes for countless plays across his career. (A look from the YSL Fall 2011 / 2012 collection is pictured right)
Happy Saturday! xx
Photos from vogue.co.uk
My London Favourite Pieces…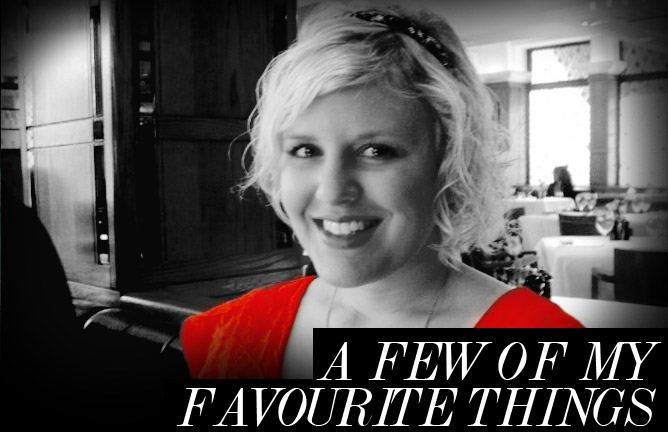 The vibrant, alluring and cosmopolitan nature of London makes London Fashion Week one of the most anticipated in all of the Fashion Week Calendars. It is renowned for showcasing young emerging talent right alongside Fashion Week Veterans (a la Burberry). And it was also of extra excitement to me this year living right nearby.  As many of you know I was lucky enough to attend and it is an experience that I will remember forever… my first London Fashion Week!
My favourite 12 looks from London Fashion Week are:
Holly Fulton is a new favourite of mine and I adore these high-waisted flared trousers with the striking patterns. The wispy, feminine dresses at Nicole Farhi, Julien Macdonald and Emilio de la Morena also caught my eye. My London Fashion Week choices show I am still mad about white, yellow and orange, but with more pink added in than New York!
Love the pink stripe pencil skirt and simple white shirt at Vivenne Westwood Red Label. Stripes also stood out at Sass and Bide when combined with a gorgeous textured skirt and belt. The Sass and Bide collection was one of my favourites of the week – perfectly bringing together edge with feminine beauty.
Erdem was the highlight of London Fashion Week for me. Whimsical, delicate and feminine. Erdem's floral patterns, embroidery and use of lace equals undeniably exquisite. There are almost no words to quite describe it…xx
London Spring/Summer 2011 – Favourites 2
Holly Fulton
At Holly Fulton, 60's inspired graphic prints made for an eye-catching Spring/Summer vision. Art Deco tribal motifs, laser-cut dresses and embellishment; created a feast for the eyes in bold black, sunshine yellow and sky blue. Fulton explored a jet-set theme which made for strikingly, unique yet wearable pieces. Aviator sunglasses, patterned clutch bags and dramatic statement necklaces added the perfect finishing touches. 
Favourite Fulton piece – The high waisted, flared patterned trousers worn with a simple, classic white tee and statement necklace – is my favourite look from the collection. Classic, elegant yet unique! (pictured 2nd, line1 above). 
Roksanda Ilincic
70's glamour took centre stage at Roksanda Ilincic. Pieces stood out in an impressive shade of pink and soft grey. Breezy light dresses and billowing silk head-wraps; seemed to float effortlessly around the body. Motivated to capture the essence of a beautiful summer afternoon – Ilincic's colour palette and use of the softest most luxurious materials made the collection feel weightless and whimsical. High-waisted trousers and pencil skirts with blouses also carried this theme into wearable separates. 
Most wanted Roksanda Ilincic look – Love the first look to appear on the catwalk – the fluorescent pink dress with ¾ sleeves and gorgeous grey head-wrap – the perfect summer look. (pictured 1st, line1 above)