For Spring / Summer 2012, fashion takes a masterclass from the world of art.
The Spring / Summer 2012 collections were ablaze with artistic references. At Rodarte, Vincent Van Gogh's 'Sunflowers' and 'Starry Night' were exquisitely printed onto 50's inspired dresses, creating breathtakingly beautiful & quite simply stunning result.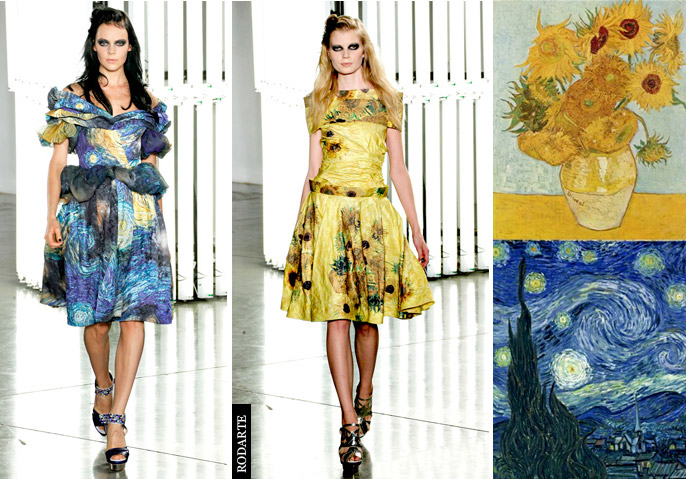 Giles Deacon drew inspiration from Andy Warhol's 'Silver Clouds'. Raf Simons equally created an extraordinary fashion-art moment when he turned to Picasso ceramics for a modernist take on knitwear at Jil Sander.
Sculptors were also a great reference of inspiration. At Burberry, Christopher Bailey found inspiration in the work of sculptor Henry Moore. While Mary Katrantzou explored the work of John Chamberlain's crushed-car sculptures. Aluminium cans substituted for car parts in her beautiful abstract creations. Minimalist sculptor, Richard Serra's metal structures were the starting point for Nicole and Michael Colovos first runway collection for Helmut Lang.
Meanwhile, Dries Van Noten collaborated with photographer James Reeve, using imagery from his Lightscapes series.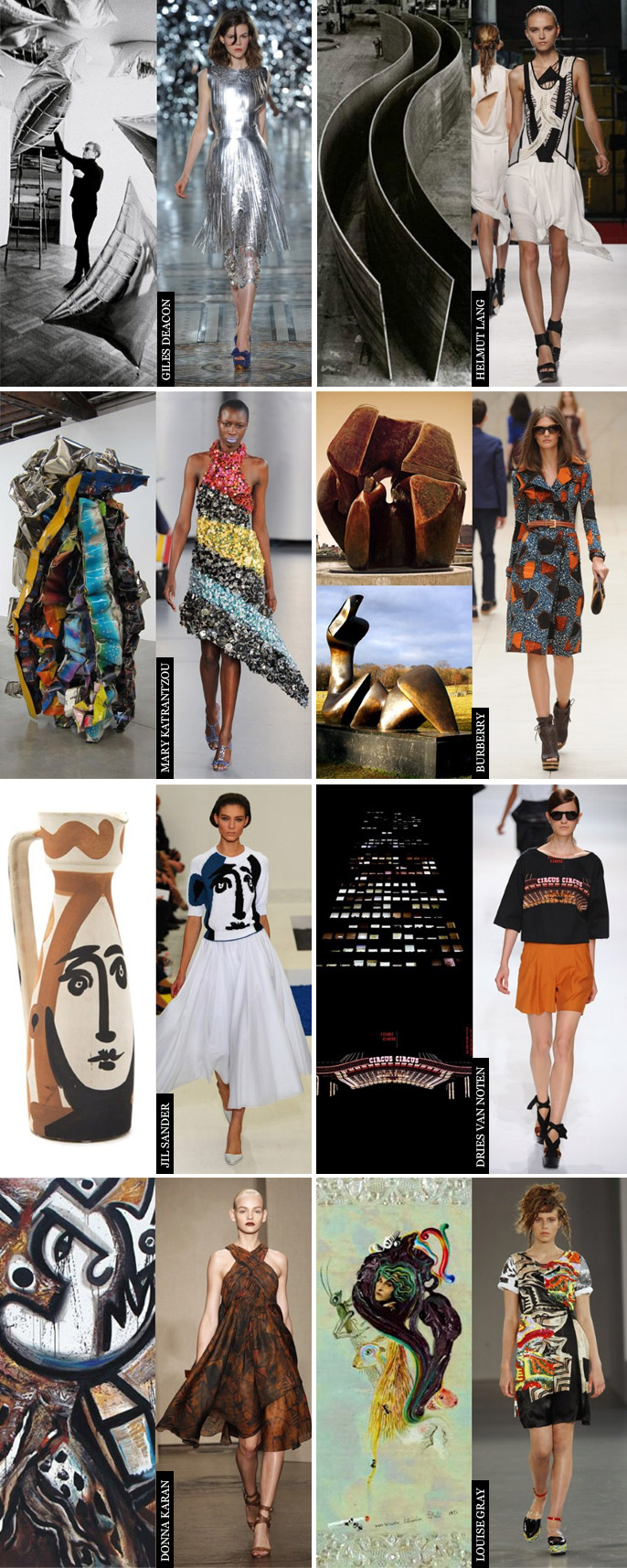 I believe fashion is an art form – especially in the case of Haute Couture. Do you see Fashion as an art form all it's own? I would love to hear your thoughts. xx
Photos from fashion.telegraph.co.uk
Weekend Fashion Shot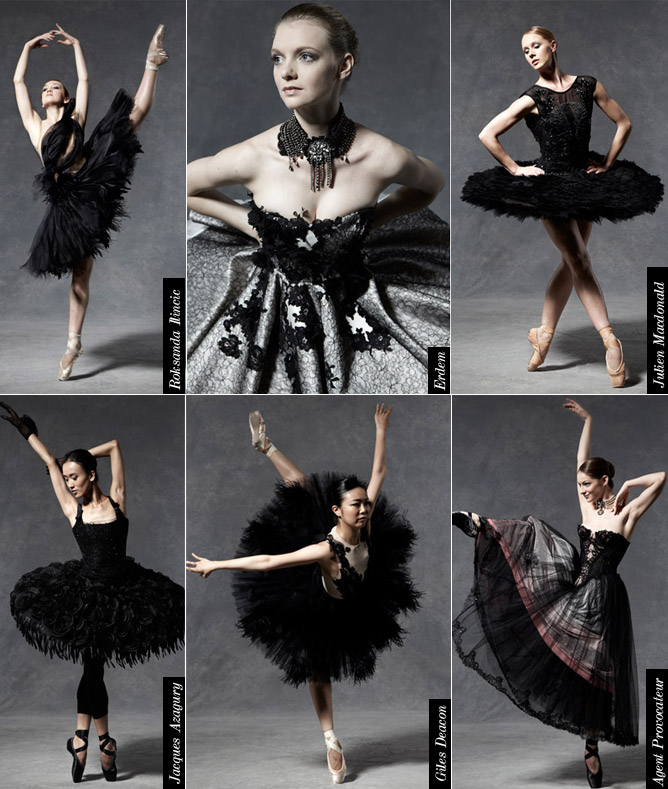 3 Shots Of Espresso News…
When Fashion Meets The Arts
– – – – – – – – – – – – – – – – – – – – – – – – – – – – – – – – – – – – – – – –
10 Highly Fashionable Tutus
10 Fashion Designers – Julien Macdonald; Erdem; Roksanda Ilincic; Agent Provocateur; Moschino; Kinder Aggugini; Jacques Azagury; Beatrix Ong; Giles Deacon and House of Worth – have collaborated with the English National Ballet to put their individual design aesthetic on the tutu (some pictured above).
Detailed, delicate, whimsically idyllic – the tutu is one of the most iconic and beautiful things that can be worn.  Of the tutu, Moschino's creative director Rossella Jardini, said: "I think that the tutu is one of the most beautiful pieces of clothing invented and I was honoured by the request from an institution as prestigious as the English National Ballet. It came naturally because the pearl-and-queen button embroidery are typically English and I have always found them beautiful."
On June 29th, each tutu will be presented in a catwalk show at the English National Ballet's Summer Party at Kensington Palace. The exquisite tutus will then be sold by silent auction.
– – – – – – – – – – – – – – – – – – – – – –
Gucci Costumes For Florence Welch
It has been announced Gucci will create the costumes for Florence Welch's North American tour.
Gucci's Creative Director, Frida Giannini, has previously mentioned her admiration for Welch's style, even citing her as an inspiration for the Gucci Fall 2011/12 collection. The collection featured bold, striking looks reminiscent of film noir in colour. Of Welch's dynamic style, Frida Giannini has said;
"When Florence first came onto the scene, I was captivated by her eccentric style and her willingness to dare. I felt there was such an authentic energy to her sound and her look. This was confirmed when I met her at the Grammy's earlier this year. I used one of Florence's songs, 'Hurricane Drunk,' to set the mood for my Autumn Winter women's show, as she was truly an inspiration for this collection as a modern day icon with her cinematic allure and powerful presence."
– – – – – – – – – – – – – – – – – – – – – –
Yves Saint Laurent On The Stage
Yves Saint Laurent's Creative Director, Stefano Pilati, has designed the costumes for a new play in London.
Starring Kristen Scott-Thomas, Dougray Scott and Ben Miles, the new theatre version of Harold Pinter's Betrayal is set between 1968 and 1977. The costumes reflect the time period and will see Scott-Thomas wearing a fuschia silk dress, camel coat, YSL tote bags and more signature YSL looks. Yves Saint Laurent, himself, was an avid theatre lover and designed costumes for countless plays across his career. (A look from the YSL Fall 2011 / 2012 collection is pictured right)
Happy Saturday! xx
Photos from vogue.co.uk
Your Fabulous Fashion Scoop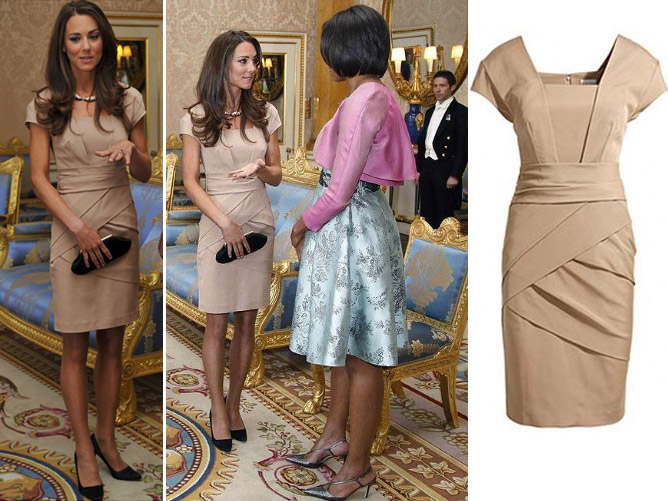 5 Espresso Shots Of Fashion News On A Wonderful Wednesday…
Catherine Middleton Wore Reiss To Meet Mrs. Obama
The Duchess of Cambridge wore a dress by Reiss when she met with the President of the United States and Michelle Obama at Buckingham Palace. Looking her usual glowing beautiful self, Catherine chose a Reiss 'Shola' dress for the monumental occasion. The camel bandage dress is still available to purchase at £175 from Reiss stores and online. As soon as photos of Catherine emerged wearing the High Street label the Reiss website crashed, inundated with an excess of traffic.
The Duchess Of Cambridge is a fan of the High Street label, also choosing a Reiss white shift dress previously for her official engagement portraits, taken by Mario Testino.
Giles Deacon For Nine West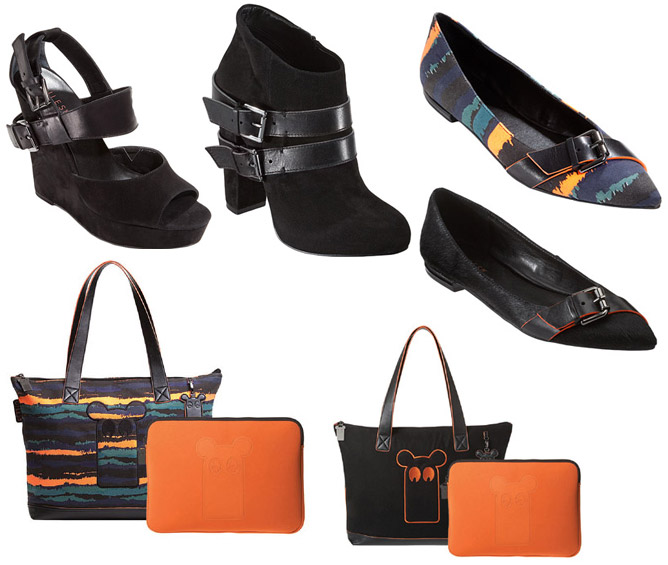 Giles Deacon has presented his new accessories collaboration with Nine West. The capsule collection consists of five pieces – two handbags and three footwear styles (ankle boot, pointed ballerina flats and peep-toe wedges). The Giles for Nine West collection will be available from September. Of the collaboration, Deacon has said: "I was catering to the Nine West customer, so these pieces are for wearing from breakfast until bedtime. The collection is still inherently Giles – there's still that London edge. It's not about the super-expensive though, not everyone can or wants to spend £900 on a pair of shoes. There's all day appeal about these pieces."
Christopher Kane's Taxi Makeover
Christopher Kane has taken a fleet of London Black Cabs and given them a makeover. The designs were inspired by his Resort 2011 galactic galaxy print and also feature the union jack. Of the transformation, Kane has said: "The black cab is such an iconic part of London's landscape. I am honoured to have the opportunity to put my own distinctive stamp on it. Looking forward to seeing one on the street and hailing it down". Sponsored by Vodafone, during their journey customers will be able to charge their mobile phones and also pay for their fare by text.
YSL Responds To Louboutin's 'Red' Claims
In April, Uptown Twirl reported that Christian Louboutin had filed a lawsuit against Yves Saint Laurent for a pair of 'virtually identical' red pumps with red soles (picture right). Louboutin is seeking damages of $1 million from YSL for copyright infringement. The court papers filed by Yves Saint Laurent in response to these accusations, state:
"Red outsoles are a commonly used ornamental design feature in footwear, dating as far back as the red shoes worn by King Louis XIV in the 1600s and the ruby red shoes that carried Dorothy home in The Wizard of Oz. As an industry leader who has devoted his entire professional life to women's footwear, Mr Louboutin either knew or should have known about some or all of the dozens of footwear models that rendered his sworn statement false." Well said Yves Saint Laurent!
Chloë Sevigny's First Catwalk Show
Chloë Sevigny is preparing for her first catwalk show for her collaboration with Opening Ceremony. Chloë Sevigny x Opening Ceremony 2011 Resort collection will be presented in New York in June. This is also a first for Opening Ceremony, whose collections have never before been shown on the catwalk.
Happy Wednesday! xx
Photos from vogue.co.uk / fashion.telegraph.co.uk / marieclaire.co.uk