For Spring / Summer 2012, fashion takes a masterclass from the world of art.
The Spring / Summer 2012 collections were ablaze with artistic references. At Rodarte, Vincent Van Gogh's 'Sunflowers' and 'Starry Night' were exquisitely printed onto 50's inspired dresses, creating breathtakingly beautiful & quite simply stunning result.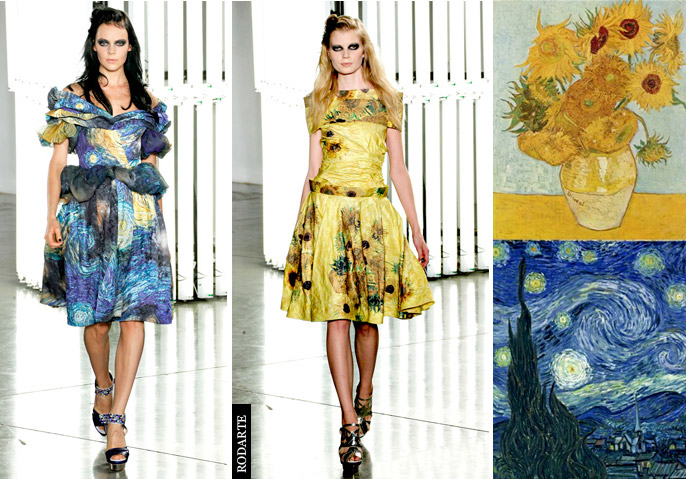 Giles Deacon drew inspiration from Andy Warhol's 'Silver Clouds'. Raf Simons equally created an extraordinary fashion-art moment when he turned to Picasso ceramics for a modernist take on knitwear at Jil Sander.
Sculptors were also a great reference of inspiration. At Burberry, Christopher Bailey found inspiration in the work of sculptor Henry Moore. While Mary Katrantzou explored the work of John Chamberlain's crushed-car sculptures. Aluminium cans substituted for car parts in her beautiful abstract creations. Minimalist sculptor, Richard Serra's metal structures were the starting point for Nicole and Michael Colovos first runway collection for Helmut Lang.
Meanwhile, Dries Van Noten collaborated with photographer James Reeve, using imagery from his Lightscapes series.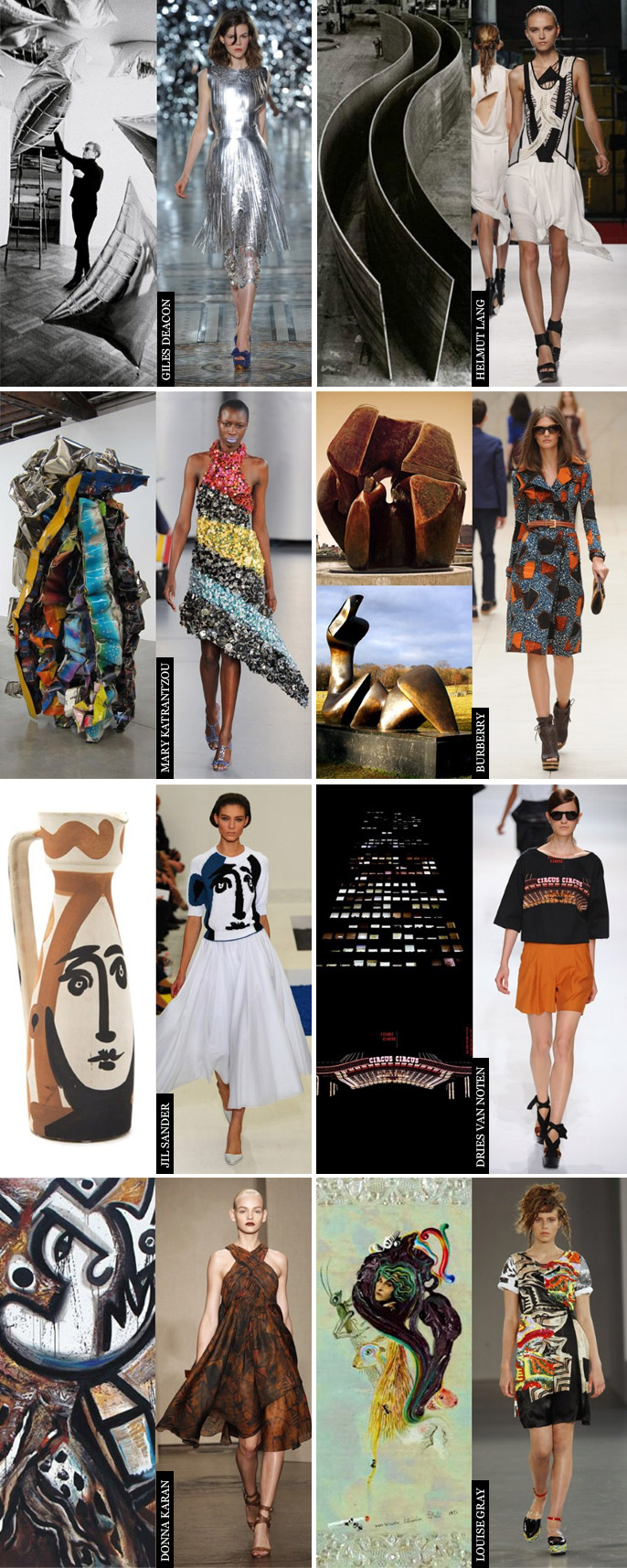 I believe fashion is an art form – especially in the case of Haute Couture. Do you see Fashion as an art form all it's own? I would love to hear your thoughts. xx
Photos from fashion.telegraph.co.uk
Weekend Fashion Shot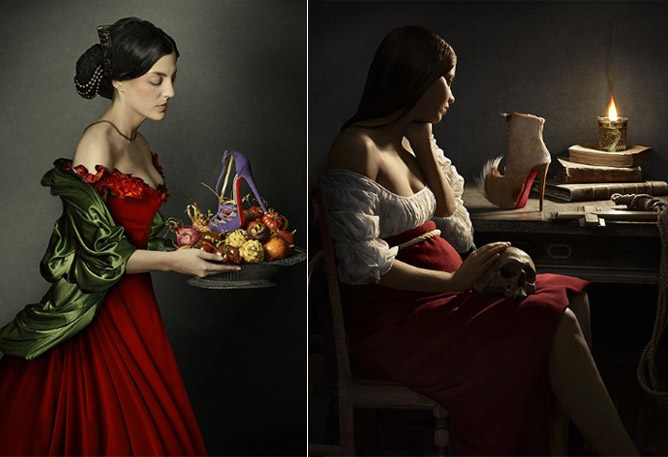 The Art Of Beautiful Accessories
Exquisitely handmade, unbelievably gorgeous heels are themselves works of art. However, Christian Louboutin has taken this concept to the next level. A selection of heels and accessories  from Christian Louboutin's Autumn / Winter 2011 collection, have been transported into some of the world's most iconic paintings.
Collaborating with photographer Peter Lipmann, well known portraits have been given a Louboutin makeover. A leopard-print shoulder bag has appeared under the arm of Jean-Marc Nattier's 'Marquise de Pompadour' (pictured below left); while Francisco de Zurbaran's 'Santa Dorotea' holds her fruit platter with a carefully balanced '8 Mignon' strappy sandal (pictured above left).
What a brilliant Autumn / Winter campaign… love, love, love this!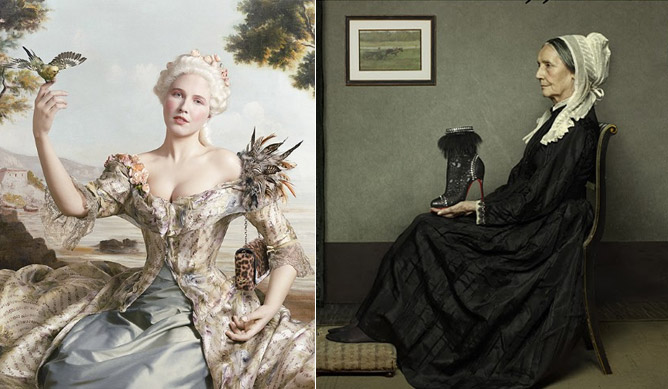 – – – – – – – – – – – – – – – – – – – – – – – – – – – – – – – – – – – – – – – – – – – –
Ralph Lauren For Wimbledon
This year marks the 125th Wimbledon Championship. It also sees Ralph Lauren involved to re-design the official ball boy and girl outfits (pictured below). In chic Ralph Lauren style, the polo shirt in Wimbledon colours features both the signature big pony on the chest along with the Wimbledon logo on the opposite sleeve. Seriously sophisticated…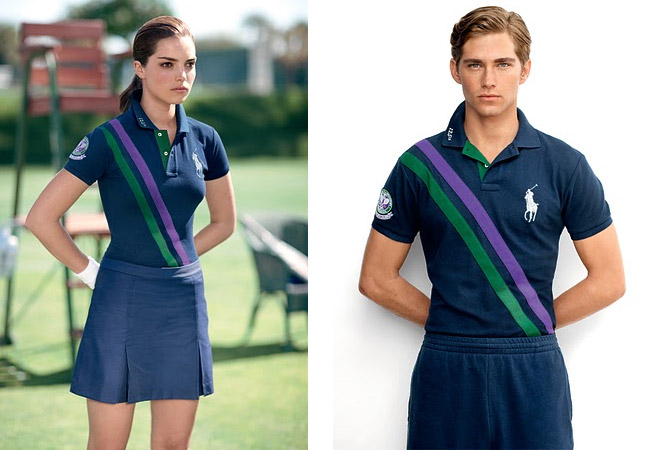 – – – – – – – – – – – – – – – – – – – – – – – – – – – – – – – – – – – – – – – – – – – –
Lily Allen's Wedding Gowns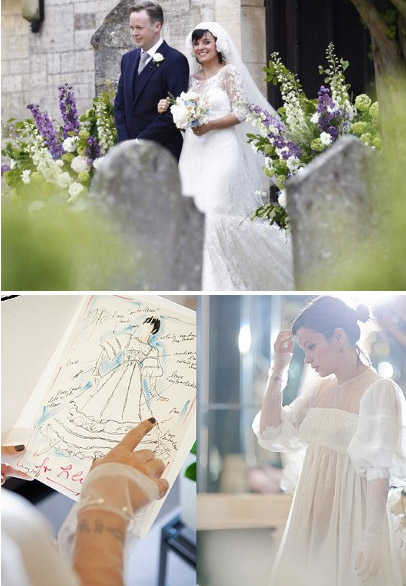 When Lily Allen (now Lily Cooper) married last week, she wore two gowns. First up for the church service she chose French designer, Delphine Manivet (pictured top right). This was the image that was beamed around the world – with many Allen fans disappointed she hadn't gone with Chanel. However, it was then later reported, Allen had changed her gown for the reception. And that second dress has just been revealed…
Designed by Karl Lagerfeld, Allen's second Wedding gown (pictured below right), was uploaded to the Chanel website. The photo shows Allen during the fitting as well as Lagerfeld's original design sketch.
The Chanel gown featured voluminous bell sleeves and an empire-line cut in sheer white chiffon, staying true to Allen's love of vintage fashion…
– – – – – – – – – – – – – – – – – –
Happy Weekend! xx
Your Fabulous Fashion Scoop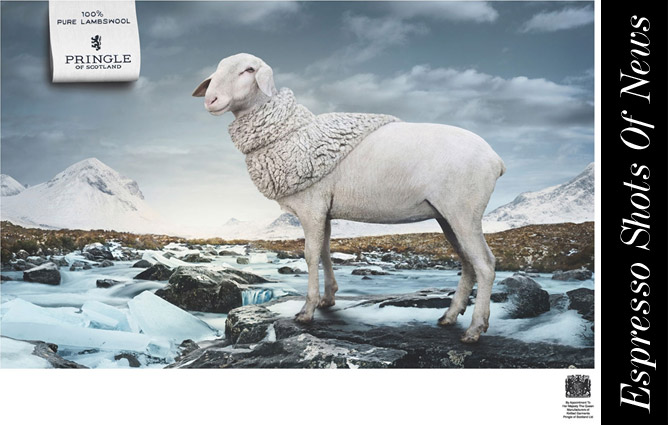 4 Delicious Espresso Shots Of News…
It's 100% Pure Lambswool for Pringle of Scotland
While everyone loves to see today's top models covering the high fashion campaigns, Pringle of Scotland has released a new ad series that may just capture your heart! Reminding us of where their clothing comes from, Pringle of Scotland features an adorable sheep, with the wool having been shorn into a hat, scarf and jumper… too adorable!

Daphne Guinness: Fashion As Art
Daphne Guinness in collaboration with Barneys New York, will turn fashion into installation art. The Heiress, renowned for her love of high fashion, will be showcasing some of her most exquisite couture pieces in a six week changing window display for the iconic department store. From Alexander McQueen to Gareth Pugh; the finale will be Guinness herself getting dressed and readied for the Met Ball in the store window.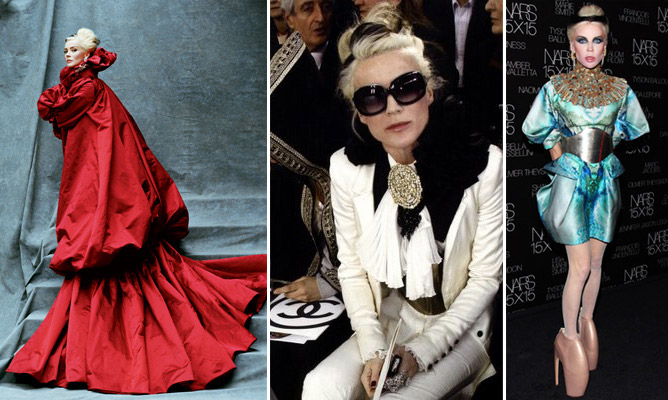 Christophe Decarnin Leaves Balmain
Luxury French fashion house, Balmain, announced Christophe Decarnin has stepped down as Creative Director. It is believed Decarnin's successor will most likely be someone from within the current design team. Decarnin had been absent from Balmain's Autumn / Winter 2011 collection show, amid rumours he was in a mental hospital. From the Balmain official statement:
"Balmain's success in the Decarnin years was based on a relatively simple formula of impeccably tailored jackets, tough pants, T-shirts and sexy beaded dresses — all for staggering sums — and Mr Decarnin may have felt stuck in recent months about his direction. Designers are indeed under a lot of pressure, some of it self-imposed, to create relevant collections. Shy and introverted, with a label that had its admirers and critics, Mr Decarnin may have been more vulnerable than others to that pressure."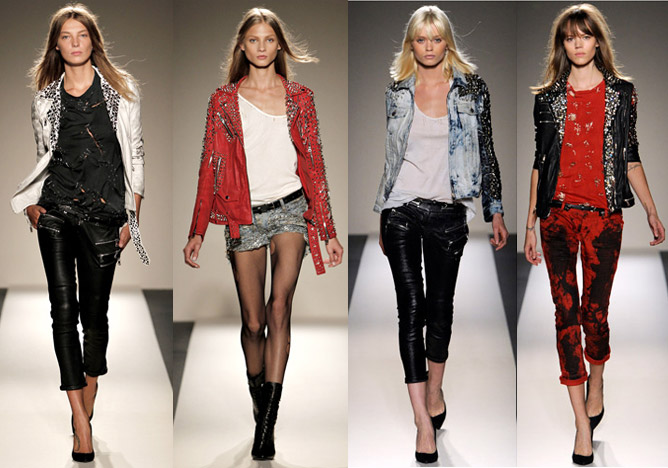 Happy Birthday Dame Vivienne Westwood
As a belated celebration for Dame Vivienne Westwood's 70th birthday (last Friday April 8th), below are a selection of looks from her signature label's Autumn / Winter 2011 collection. Entitled 'World Wide Woman', the collection celebrates the woman as a guardian of culture, values and the planet. From gold glittery shoes to dark punk-warrior makeup; the collection offered something for every woman's style…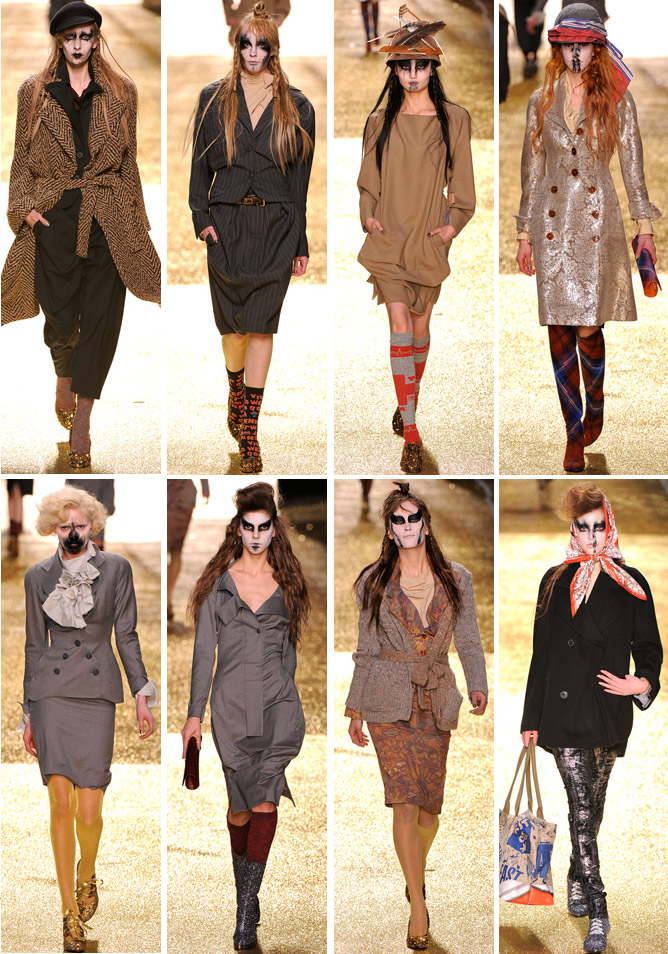 Happy Monday! Hope you all have a fabulously fashionable week! xx
Photos from fashionising.com / fashion.telegraph.co.uk / style.com