Sleek, sophisticated and often times extraordinarily beautiful, the clutch handbag has become a wardrobe staple.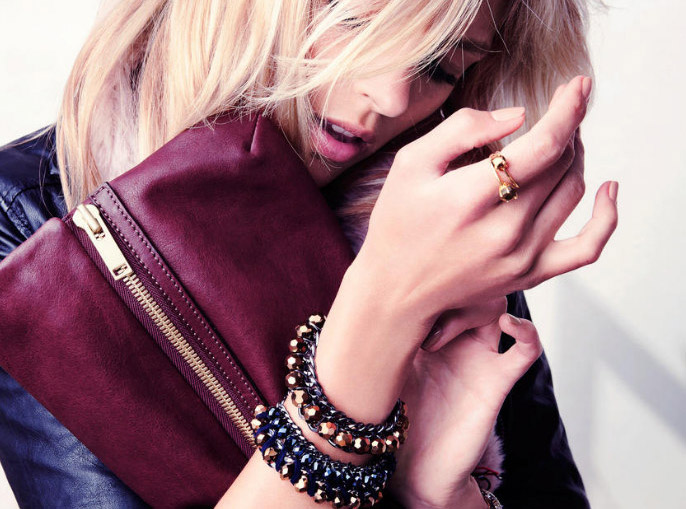 The clutch handbag has evolved. Your clutch can take you from work to weekend; the boardroom to the ball. There is now a clutch style and size to suit every need.
Typically the perfect choice for evening and formal occasions, clutch bags are now seeing the light of day.
Downsizing your handbag contents to fit within a clutch purse for day can be highly liberating. And it needn't be in classic black – from striking leopard print to vivid brights – choose your clutch to be bold, beguiling and beautiful.
Did you know… the idea behind the clutch bag originated during the Victorian era when women would carry a decorative purse for their handkerchiefs and smelling salts? The clutch reappeared during World War II when rationing demanded things become smaller and simpler. After the war the clutch jumped in popularity and became the evening bag of choice for elegant, modern women.
For colourful clutch inspiration Anja Rubik's recent campaign for Kurt Geiger is truly gorgeous….

Will you downsize your purse & embrace the day-time clutch? xx
Photos from fashiongonerogue.com
Accessories, Fashion Illustration
Luxury Handbags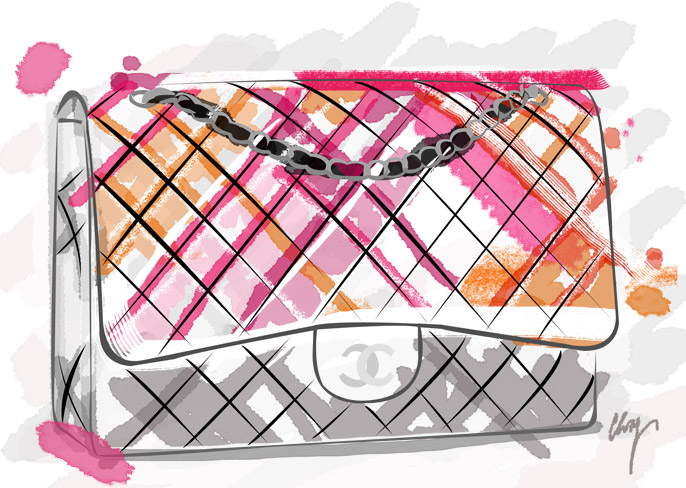 A beautiful designer handbag is a true investment in a timeless work of craftsmanship… a piece of art.
Ok so a handbag cannot change your life by itself; however, it can make a dramatic difference in your wardrobe. A gorgeous handbag can make your heart flutter; rejuvenate your style; and be an investment in your fashion future.

The Chanel 2.55 quilted bag is at the top of my 'Handbag Most Wanted' list. It is the crème da la crème of French style. Coco Chanel designed the 2.55 as she was tired of carrying her handbag in her arms and decided to create a bag that freed up her hands. Now over 30 new models of the classic 2.55 are produced each year, forming part of the House's collections.
The design of any luxury handbag is meticulously created with consideration paid to every tiny element – from the inside material to the outside detailing. For instance every part of the Chanel 2.55 bag is rumoured to be attributed to an exact reasoning:
>> The lining's burgundy colour represents the colour of the uniforms at the convent where Coco Chanel grew up
>> The zippered compartment on the inside of the front flap  is where Chanel is rumoured to have stored her love letters… oh la la
>>The back outside flap is for storing money.
>> The famous quilted pattern is believed to have been inspired by several sources, one of which was the cushions in Chanel's Parisian apartment.
>> The revolutionary chain strap is supposedly inspired by the orphanage Chanel grew up in. The caretakers would hold their keys at their waist dangling from the same type of chains.
Why invest in a beautiful handbag:
Craftsmanship
Each bag is handcrafted with extreme attention to detail and in some bags cases it can take up to 18 to 24hours to complete just one bag. For instance, Hermès does not use assembly lines. Only one Hermès craftsman may work on one handbag at any time – painstakingly hand-stitching each individual piece.
Luxury Materials
Designer handbags may be created in an array of materials, from luxury fabrics to precious metals and exotic skins, including; alligator, crocodile, buffalo, shark, lizard, snake, lamb, oxen, deer, calf and ostrich. The skins are first professionally treated before being dyed in an extensive range of gorgeous colours and shades.
Innovation
The metallic detailing on designer handbags is often plated with precious metals, such as gold, and will not tarnish over time.
Worth The Wait
The term "It Bag" is often used to describe an easily recognisable status bag. Many truly lust worthy bags you will have to wait for…some a very long time! The Hermès Birkin bag can have up to a 6year waiting list.
A Work Of Art
A beautiful handbag is a miniature work of art, which would be as much at home on your wall in a frame as it is holding your belongings.
It May Just Become A Collector's Item
Hermès is one of the few handbag labels which either hold or increase their value over time.
A classic handbag is one you will still be loving and wearing until your granddaughters are old enough to covet them… truly the title of a 'quality investment'.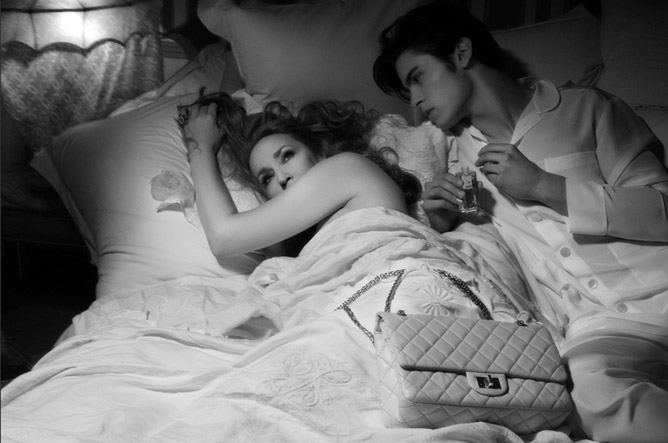 I would love to hear your thoughts. Which designer handbag are you lusting after? Or you do you feel any or overrated? xx
Weekend Fashion Shot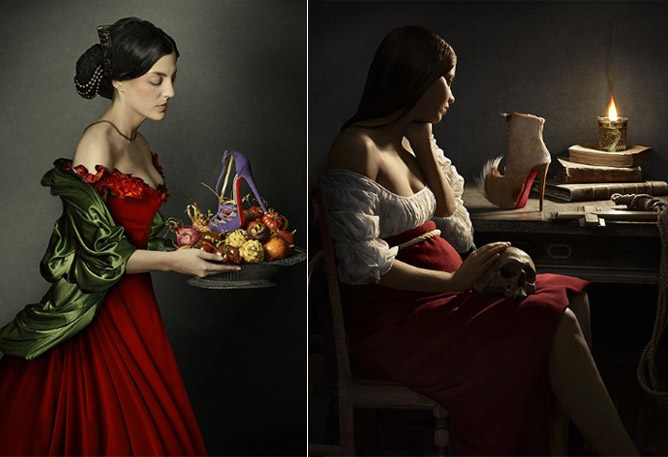 The Art Of Beautiful Accessories
Exquisitely handmade, unbelievably gorgeous heels are themselves works of art. However, Christian Louboutin has taken this concept to the next level. A selection of heels and accessories  from Christian Louboutin's Autumn / Winter 2011 collection, have been transported into some of the world's most iconic paintings.
Collaborating with photographer Peter Lipmann, well known portraits have been given a Louboutin makeover. A leopard-print shoulder bag has appeared under the arm of Jean-Marc Nattier's 'Marquise de Pompadour' (pictured below left); while Francisco de Zurbaran's 'Santa Dorotea' holds her fruit platter with a carefully balanced '8 Mignon' strappy sandal (pictured above left).
What a brilliant Autumn / Winter campaign… love, love, love this!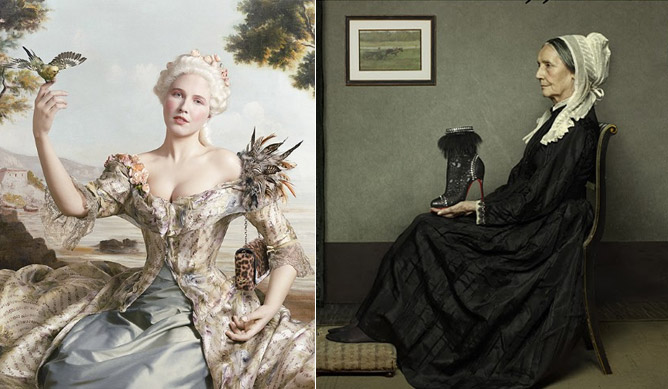 – – – – – – – – – – – – – – – – – – – – – – – – – – – – – – – – – – – – – – – – – – – –
Ralph Lauren For Wimbledon
This year marks the 125th Wimbledon Championship. It also sees Ralph Lauren involved to re-design the official ball boy and girl outfits (pictured below). In chic Ralph Lauren style, the polo shirt in Wimbledon colours features both the signature big pony on the chest along with the Wimbledon logo on the opposite sleeve. Seriously sophisticated…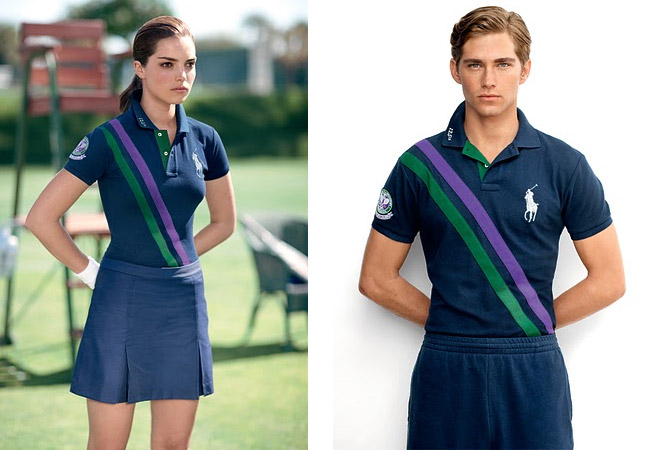 – – – – – – – – – – – – – – – – – – – – – – – – – – – – – – – – – – – – – – – – – – – –
Lily Allen's Wedding Gowns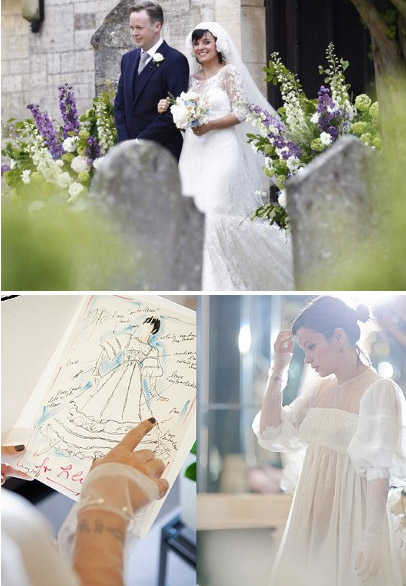 When Lily Allen (now Lily Cooper) married last week, she wore two gowns. First up for the church service she chose French designer, Delphine Manivet (pictured top right). This was the image that was beamed around the world – with many Allen fans disappointed she hadn't gone with Chanel. However, it was then later reported, Allen had changed her gown for the reception. And that second dress has just been revealed…
Designed by Karl Lagerfeld, Allen's second Wedding gown (pictured below right), was uploaded to the Chanel website. The photo shows Allen during the fitting as well as Lagerfeld's original design sketch.
The Chanel gown featured voluminous bell sleeves and an empire-line cut in sheer white chiffon, staying true to Allen's love of vintage fashion…
– – – – – – – – – – – – – – – – – –
Happy Weekend! xx