Weekend Fashion Shot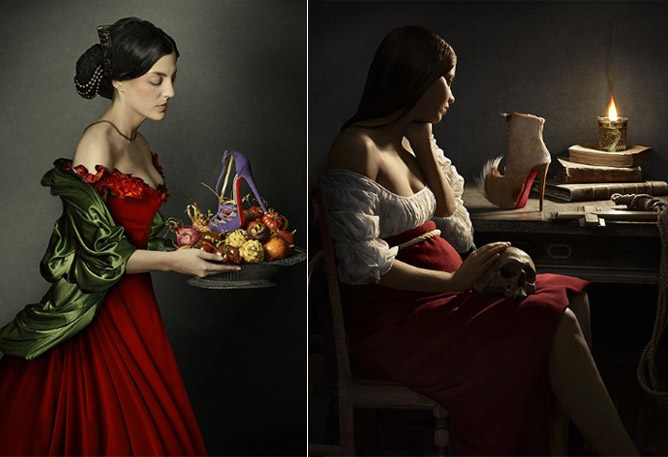 The Art Of Beautiful Accessories
Exquisitely handmade, unbelievably gorgeous heels are themselves works of art. However, Christian Louboutin has taken this concept to the next level. A selection of heels and accessories  from Christian Louboutin's Autumn / Winter 2011 collection, have been transported into some of the world's most iconic paintings.
Collaborating with photographer Peter Lipmann, well known portraits have been given a Louboutin makeover. A leopard-print shoulder bag has appeared under the arm of Jean-Marc Nattier's 'Marquise de Pompadour' (pictured below left); while Francisco de Zurbaran's 'Santa Dorotea' holds her fruit platter with a carefully balanced '8 Mignon' strappy sandal (pictured above left).
What a brilliant Autumn / Winter campaign… love, love, love this!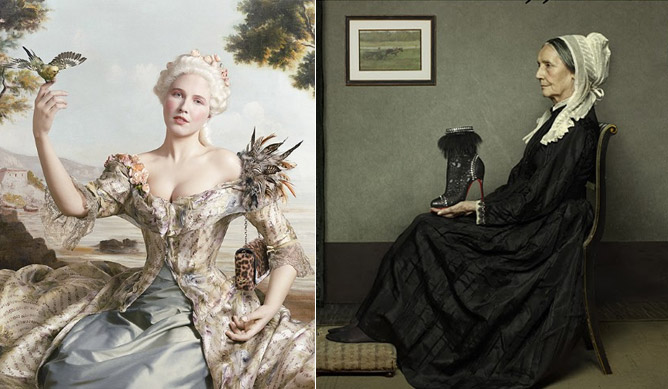 – – – – – – – – – – – – – – – – – – – – – – – – – – – – – – – – – – – – – – – – – – – –
Ralph Lauren For Wimbledon
This year marks the 125th Wimbledon Championship. It also sees Ralph Lauren involved to re-design the official ball boy and girl outfits (pictured below). In chic Ralph Lauren style, the polo shirt in Wimbledon colours features both the signature big pony on the chest along with the Wimbledon logo on the opposite sleeve. Seriously sophisticated…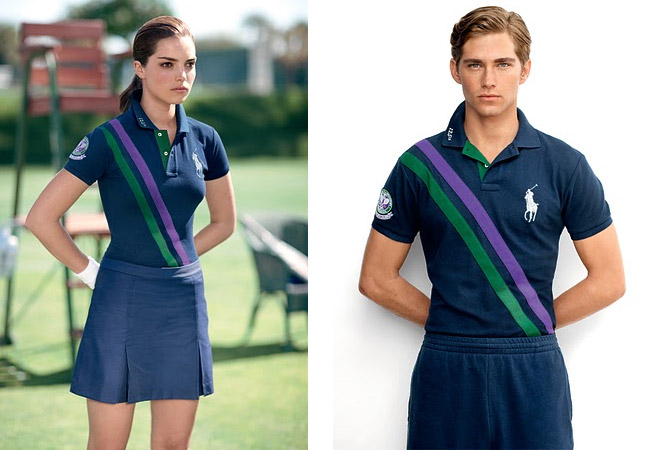 – – – – – – – – – – – – – – – – – – – – – – – – – – – – – – – – – – – – – – – – – – – –
Lily Allen's Wedding Gowns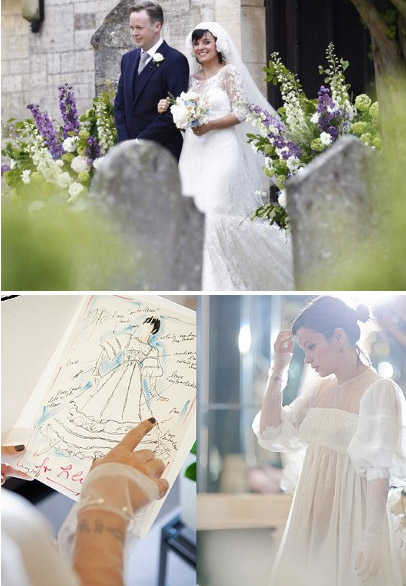 When Lily Allen (now Lily Cooper) married last week, she wore two gowns. First up for the church service she chose French designer, Delphine Manivet (pictured top right). This was the image that was beamed around the world – with many Allen fans disappointed she hadn't gone with Chanel. However, it was then later reported, Allen had changed her gown for the reception. And that second dress has just been revealed…
Designed by Karl Lagerfeld, Allen's second Wedding gown (pictured below right), was uploaded to the Chanel website. The photo shows Allen during the fitting as well as Lagerfeld's original design sketch.
The Chanel gown featured voluminous bell sleeves and an empire-line cut in sheer white chiffon, staying true to Allen's love of vintage fashion…
– – – – – – – – – – – – – – – – – –
Happy Weekend! xx
Accessories, Style, Espresso News
Designer Spotlight
It's Monday & time for some Designer Espresso Shot Of News…
Fashion Fund Shortlist
The 2010 BFC/Vogue Fashion Fund Shortlist has been announced and the finalists are: Christopher Kane, Richard Nicoll, Jonathan Saunders, Charlotte Olympia, E. Tautz, Nicholas Kirkwood, Osman Yousefzada and Peter Pilotto.
The Fashion Fund winner will receive £200,000 to assist with their brand as well as a bespoke mentoring support programme. All finalists from the shortlist will also be allocated a mentor through the Fund.
Last year, one of my favourite designers, Erdem received the Fashion Fund. I cannot wait to see which of these talented designers will take the prize home this year!
Everyone Loves…
Charlotte Olympia Heels
Speaking of Charlotte Olympia… she seems to have her heels on everyone's feet! Loved by many of the world's most fashion conscious celebrities, Charlotte Olympia heels are sexy, sophisticated and ever-so-chic!  (pictured right)
London IT girl, Charlotte Olympia Dellal launched her label in 2006. Inspired by the glamour of the 40's and 50's; her designs are known for their use of block colour and Perspex heels. Her signature spider's web adorns each pair.
With fans including the very fashionable likes of; Kate Moss, Sienna Miller, Keira Knightley, Olivia Palermo, Emma Watson and more; Charlotte Olympia heels will definitely make a statement!
My favourites: The Charlotte Olympia Paloma pumps which feature a divine pleated ruffle on the back. Olivia Palermo has Paloma pumps in the several different colours! I think my favourite is the red! Below are some of Charlotte Olympia's fans wearing her killer heels…
Who is your favourite designer for killer Heels? xx
Side photos from net-a-porter.com
Your Daily Fashion Scoop
Shoe Espresso Shots of News…
Jimmy Choo Celebrates 15 years
Jimmy Choo has turned 15 and is celebrating with a traditional 15th Anniversary gift… Crystal… in the form of shoes of course! The Jimmy Choo Crystal Collection promises timeless evening glamour at the highest voltage! (pictured above and right)
Iconic Jimmy Choo skyscraper heels and chic flats have been bedazzled in sparkle. From large bagettes to pavé-style tiny crystals, this collection will have your toes twinkling. Founder and Chief Creative Officer of Jimmy Choo, Tamara Mellon has said of the Crystal Collection, "I was inspired by vintage jewellery to add sparkling and luminous details to iconic Jimmy Choo shapes."
Selfridges Shoe Galleries
Stepping into shoe heaven at the Selfridges Shoe Galleries is a must-do experience next time you are in London!
Since opening the Shoe Galleries at the beginning of September, the Department store is now selling 7,000 pairs of shoes each week. And it is easy to see why. With 55,000 shoes in stock at any one time and 4,000 shoes on display from over 150 brands – Selfridges' new Shoe Galleries will change the way you shop for shoes forever! From Dior to Chanel (pictured below), Lanvin to Prada as well as many of the High Street shoe brands – every shoe you could ever dream of is here!
My Shoe Christmas Wishlist…
Speaking of shoes… here is a couple of pairs that have caught my eye and I am hoping to find in my Christmas stocking this year…
What shoes are you dreaming of this Christmas? xx