Dear Santa…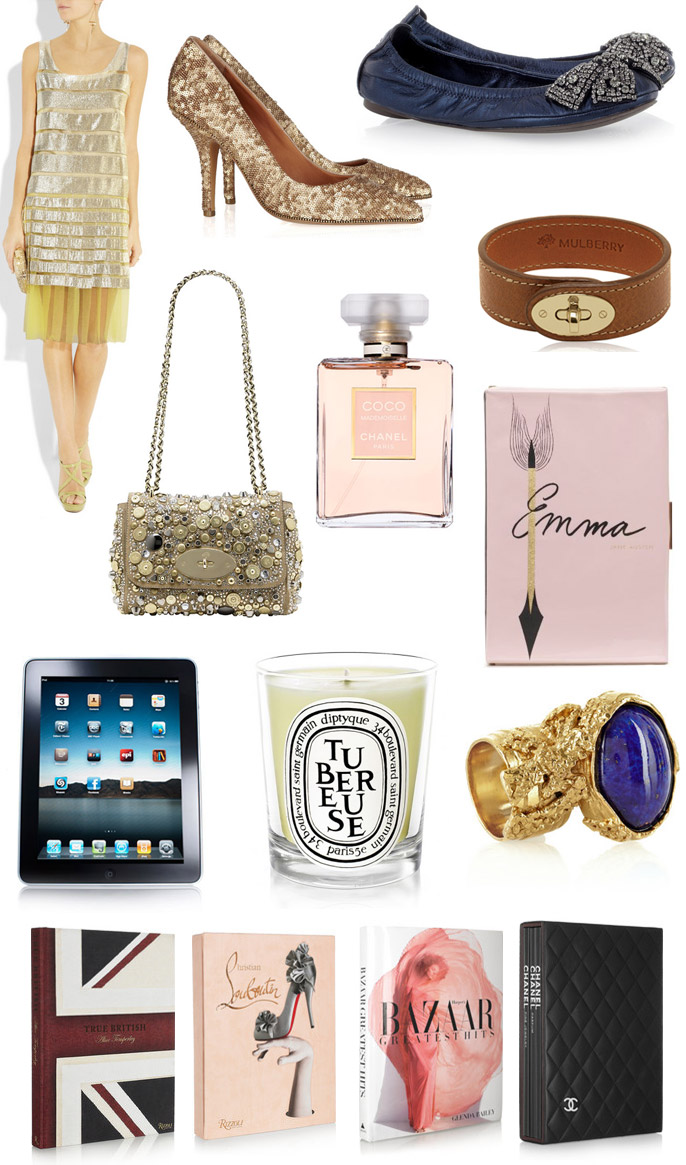 …since I have been a very good girl this year, this Christmas I am writing to you to say…
if you are stuck on what to bring me, here is my ultimate Christmas Wish List. But don't worry Santa if these gifts aren't suitable, I will be more than happy with a little something from Chanel!
Lots Of Love Cara xx
– – – – – – – – – – – – – – – – – – – – – – – – – – – – – – – – – – – – – – – – – – My Christmas Wish List From Above… Marc Jacobs Metallic lamé and mesh striped dress Givenchy sequined leather pumps Tory Burch crystal-embellished leather ballet flats Mulberry Jewelled Lilly Handbag Coco Mademoiselle Perfume Mulberry Bayswater Oak Leather Bracelet Kate Spade Emma book clutch iPad Diptyque Paris Candles Yves Saint Laurent glass ring True British Alice Temperley by Alice Temperley, Harper's Bazaar: Greatest Hits by Glenda Bailey, Chanel Luxe by François Baudot and François Aveline & Christian Louboutin by Christian Louboutin. – – – – – – – – – – – – – – – – – – – – – – – – – – – – – – – – – – – – – – – – – –
What are you dreaming of this Christmas? xx
Photos from net-a-porter.com / mulberry.com / katespade.com / google images
My Dream Fall Wardrobe…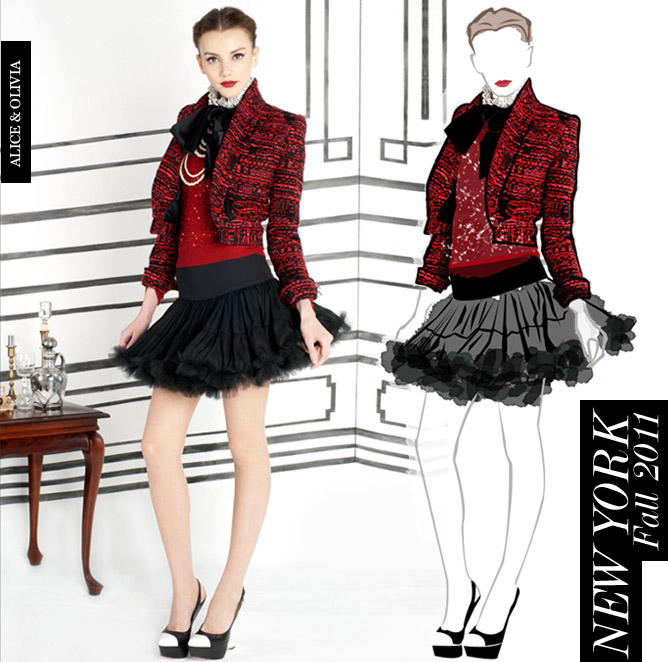 New York Fashion Week has come and gone… tear! Luckily there is still London, Milan and Paris Fashion Weeks to look forward to (including my favourite Chanel!).
New York Fashion Week left us with so many delectable looks it is almost impossible to ingest them all!  From Michael Kors (who is celebrating his 30th Anniversary) to Marchesa, Oscar De La Renta, Rodarte, Anna Sui, Jil Stuart and more – there are so many extraordinary collections to devour.
The too-die-for white feather skirt, delicate top with silver sequins and fur head piece by Oscar De La Renta (pictured line 2, 4th image) is elegance and sweet seduction personified! LOVE, LOVE, LOVE the head piece!  And how adorable are the animal prints at Jil Stuart – especially the foxes below (pictured line 3, 2nd image)? Not to mention, how exactly does Anna Sui always seem to create the perfect balance of feminine charm with an 'i'm with the band', effortless, cool aesthetic? Michael Kors, Erin Fethertson and Alice & Olivia also captured my heart with some exquisite pieces I cannot wait to see next Fall.
Some of my favourite looks from NY Fashion Wk…

P.S. Coincidentally, every one of my favourite looks from New York Fashion Week are dresses! Dresses are my absolute fashion true love! So I guess I will be investing in tights… xx
Photos from style.com
Your Daily Fashion Scoop
Shoe Espresso Shots of News…
Jimmy Choo Celebrates 15 years
Jimmy Choo has turned 15 and is celebrating with a traditional 15th Anniversary gift… Crystal… in the form of shoes of course! The Jimmy Choo Crystal Collection promises timeless evening glamour at the highest voltage! (pictured above and right)
Iconic Jimmy Choo skyscraper heels and chic flats have been bedazzled in sparkle. From large bagettes to pavé-style tiny crystals, this collection will have your toes twinkling. Founder and Chief Creative Officer of Jimmy Choo, Tamara Mellon has said of the Crystal Collection, "I was inspired by vintage jewellery to add sparkling and luminous details to iconic Jimmy Choo shapes."
Selfridges Shoe Galleries
Stepping into shoe heaven at the Selfridges Shoe Galleries is a must-do experience next time you are in London!
Since opening the Shoe Galleries at the beginning of September, the Department store is now selling 7,000 pairs of shoes each week. And it is easy to see why. With 55,000 shoes in stock at any one time and 4,000 shoes on display from over 150 brands – Selfridges' new Shoe Galleries will change the way you shop for shoes forever! From Dior to Chanel (pictured below), Lanvin to Prada as well as many of the High Street shoe brands – every shoe you could ever dream of is here!
My Shoe Christmas Wishlist…
Speaking of shoes… here is a couple of pairs that have caught my eye and I am hoping to find in my Christmas stocking this year…
What shoes are you dreaming of this Christmas? xx