My Top 5 Beauty & Make-Up Must Haves…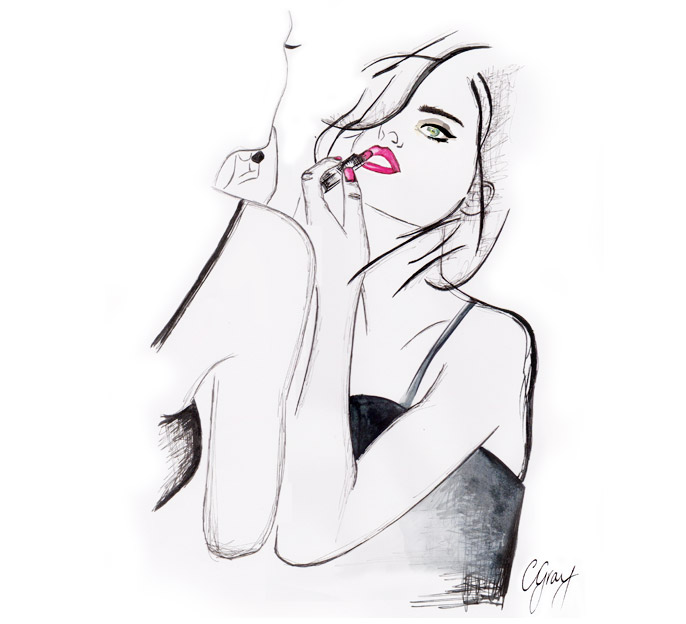 I have had a couple of people ask me about my beauty routine and the products I simply cannot live without. While I try to keep my routine simple and really rather effortless {I have a tendency to run late in the morning}, here are my top 5 beauty product must-haves…
1. BareMinerals Foundation
 My make-up routine begins every morning with BareMinerals. I have very sensitive skin, so I choose BareMinerals as it is formulated without preservatives to promote clear, healthy skin.  First I use BareMinerals Primer – to even out my complexion and create a smooth texture for my foundation coverage. I then apply BareMinerals Foundation (which looks like a powder yet feels like a cream); followed by their Mineral Veil for my skin finale (to absorb oil and soften the complexion).
2. Chanel Mascara
If your eyes are the windows to your soul, then Mascara is the curtains. Widening and intensifying the eyes, mascara is one of my absolute favourite beauty products. Chanel 'Inimitable Intense' Mascara is voluminous and lengthening. It adds an instant bold glamour to your look. Simply lash magnifique!
3. Lancome Lipstick
I am a 'statement lip' kinda-girl. I forgo sexy smoky eye trends and sultry cat eyeliners in favour of bold, dramatic colour for lovely luscious lips. Shopping for lipsticks is a favourite past time of mine and I recently discovered how truly brilliant Lancome lipsticks are. One I absolutely adore is the 'Rouge In Love' collection in shade 34 (Rose Boudoir) – an eye-popping tone perfect for cocktail hour. Je t'aime Lancome Lips!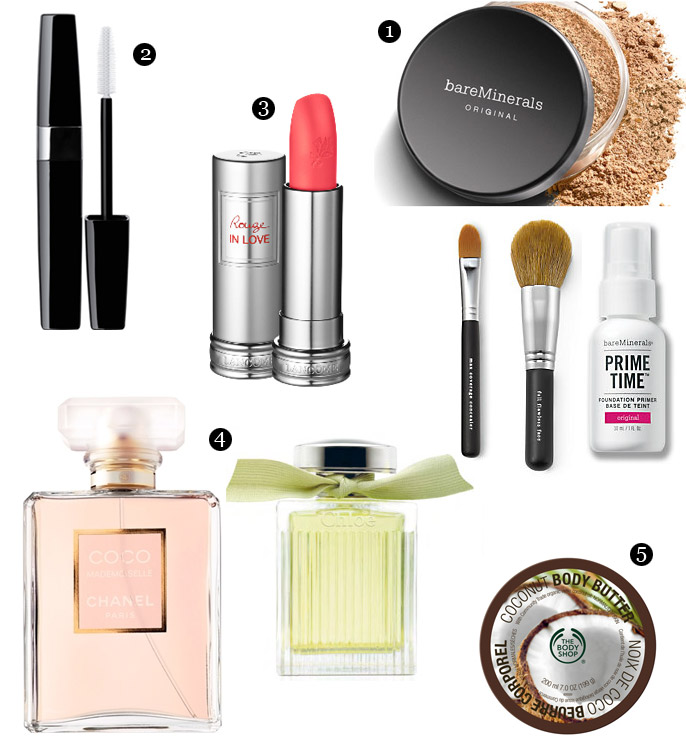 4. Pretty Perfumes
Coco Chanel believed that women should wear perfume wherever they wanted to be kissed. Perfume is a very personal statement. Your signature scent is an extension of your personality and character. Two of my favourites are: Chanel 'Coco Mademoiselle' and Chloé 'L'Eau de Chloé'. Spray your perfume lightly on pulse points morning and evening.
5. Moisturising Moments
I moisturise my hands a couple of times a day and I love Coconut Body Butter from The Body Shop. A simple yet classic product, the creamy texture and divine Summery fragrance are uplifting every time you apply it.
– – – – – – – – – – – – – – – – – – – – – – – –
What are your top 5 must-have beauty products? xx
Photos from chanel.com /  lancome-usa.com / bareescentuals.com / chloe.com / allthingsbeautyuk.blogspot.com
Dear Santa…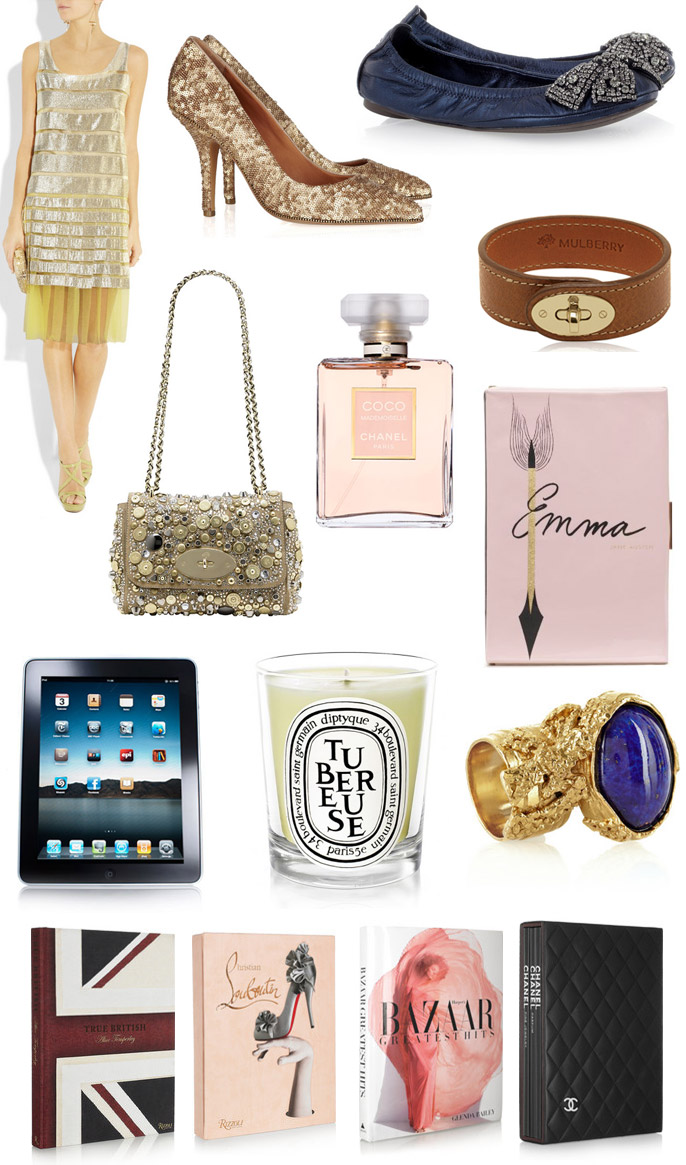 …since I have been a very good girl this year, this Christmas I am writing to you to say…
if you are stuck on what to bring me, here is my ultimate Christmas Wish List. But don't worry Santa if these gifts aren't suitable, I will be more than happy with a little something from Chanel!
Lots Of Love Cara xx
– – – – – – – – – – – – – – – – – – – – – – – – – – – – – – – – – – – – – – – – – – My Christmas Wish List From Above… Marc Jacobs Metallic lamé and mesh striped dress Givenchy sequined leather pumps Tory Burch crystal-embellished leather ballet flats Mulberry Jewelled Lilly Handbag Coco Mademoiselle Perfume Mulberry Bayswater Oak Leather Bracelet Kate Spade Emma book clutch iPad Diptyque Paris Candles Yves Saint Laurent glass ring True British Alice Temperley by Alice Temperley, Harper's Bazaar: Greatest Hits by Glenda Bailey, Chanel Luxe by François Baudot and François Aveline & Christian Louboutin by Christian Louboutin. – – – – – – – – – – – – – – – – – – – – – – – – – – – – – – – – – – – – – – – – – –
What are you dreaming of this Christmas? xx
Photos from net-a-porter.com / mulberry.com / katespade.com / google images
Your Fabulous Fashion Scoop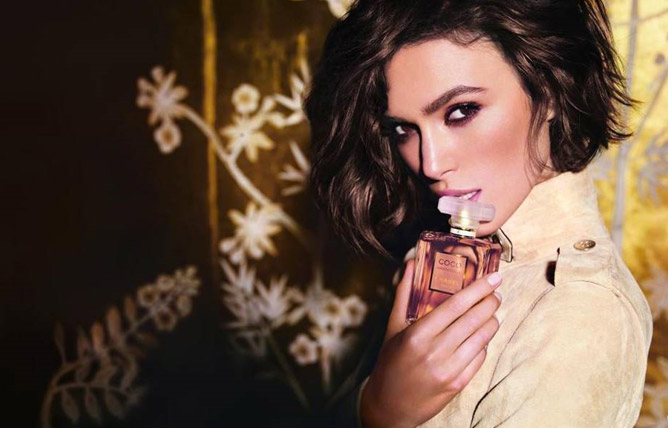 3 Espresso Shots Of News & 1 Style Tribute…
Karl Lagerfeld For Diet Coke
Karl Lagerfeld has reunited with Diet Coke to create three iconic bottle designs for Summer. Of the collaboration, Lagerfeld has said:
"I loved what we did last year but I will love 2011 even more. I'm delighted about this collaboration. It's exciting for me because I love the idea and as everybody knows, I drink Diet Coke and nothing else, night and day. It was pure pleasure to do a campaign with people I like and for a product I love".
LOVE, LOVE, LOVE THESE BOTTLES!
Coco Mademoiselle – The New Film
The new film for Coco Mademoiselle, starring Keira Knightley, has been released online. The film, directed by Joe Wright (who also worked with Knightley on Pride & Prejudice and Atonement), follows Knightley waking from her slumber; applying Coco Mademoiselle Parfum to her décolletage; riding around Paris on her motorcycle and seducing photographer, Alberto Ammann. This time round sees Knightley's leading lady more seductive, sexy and independent, yet always encapsulating the beautiful elegance of a Chanel lady.
Rachel Zoe & Rodger Berman Welcome Their First Child
Congratulations Rachel Zoe and Rodger Berman who have welcomed their first child – Skyler Morrison Berman – into the world! Zoe took to Twitter and wrote:
"Thank you all so much for your love! [Rodger] and I couldn't be happier with little Skyler Morrison in our arms … he is everything". I cannot wait to see his baby wardrobe!
Style Tribute – 
ELIZABETH TAYLOR
Mesmerising beauty, undeniable style & extraordinary glamour…
On Wednesday the world lost one of the great screen actresses of Hollywood's Golden Age. Elizabeth Taylor, the legendary actress and style icon, died at age 79.
Receiving two Academy Awards for Best Actress; her endless championing for AIDS awareness, research and cure; her eight marriages; her love of show-stopping jewels – Elizabeth Taylor was one of the most beautiful women the world has ever seen. As well as her four children, Taylor is survived by 10 grandchildren and four great-grandchildren. 

Uptown Twirl Loves Elizabeth Taylor xx
Photos from vogue.co.uk / catwalkqueen.tv /google images