My Top 5 Beauty & Make-Up Must Haves…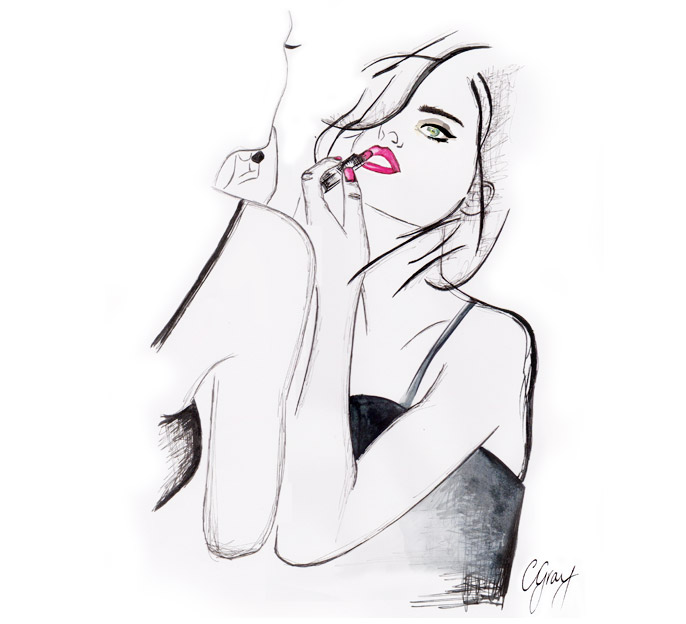 I have had a couple of people ask me about my beauty routine and the products I simply cannot live without. While I try to keep my routine simple and really rather effortless {I have a tendency to run late in the morning}, here are my top 5 beauty product must-haves…
1. BareMinerals Foundation
 My make-up routine begins every morning with BareMinerals. I have very sensitive skin, so I choose BareMinerals as it is formulated without preservatives to promote clear, healthy skin.  First I use BareMinerals Primer – to even out my complexion and create a smooth texture for my foundation coverage. I then apply BareMinerals Foundation (which looks like a powder yet feels like a cream); followed by their Mineral Veil for my skin finale (to absorb oil and soften the complexion).
2. Chanel Mascara
If your eyes are the windows to your soul, then Mascara is the curtains. Widening and intensifying the eyes, mascara is one of my absolute favourite beauty products. Chanel 'Inimitable Intense' Mascara is voluminous and lengthening. It adds an instant bold glamour to your look. Simply lash magnifique!
3. Lancome Lipstick
I am a 'statement lip' kinda-girl. I forgo sexy smoky eye trends and sultry cat eyeliners in favour of bold, dramatic colour for lovely luscious lips. Shopping for lipsticks is a favourite past time of mine and I recently discovered how truly brilliant Lancome lipsticks are. One I absolutely adore is the 'Rouge In Love' collection in shade 34 (Rose Boudoir) – an eye-popping tone perfect for cocktail hour. Je t'aime Lancome Lips!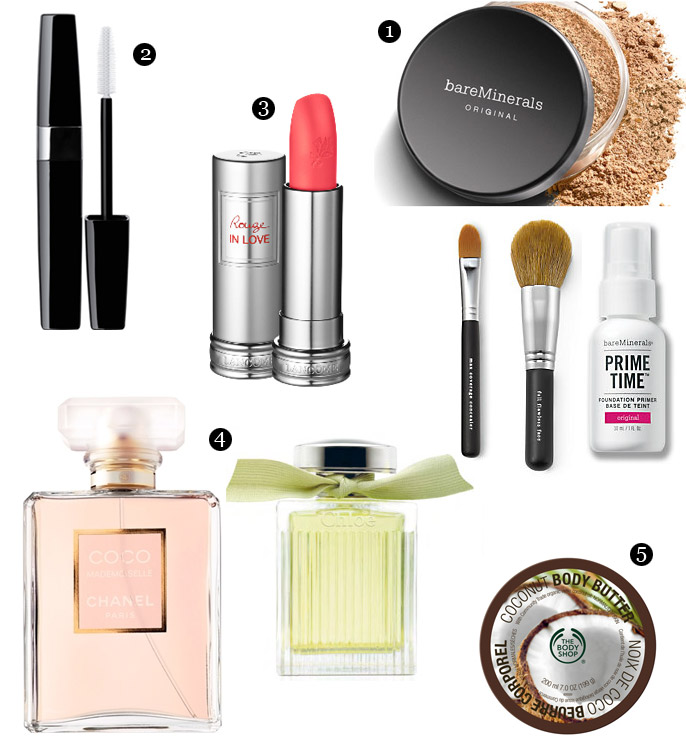 4. Pretty Perfumes
Coco Chanel believed that women should wear perfume wherever they wanted to be kissed. Perfume is a very personal statement. Your signature scent is an extension of your personality and character. Two of my favourites are: Chanel 'Coco Mademoiselle' and Chloé 'L'Eau de Chloé'. Spray your perfume lightly on pulse points morning and evening.
5. Moisturising Moments
I moisturise my hands a couple of times a day and I love Coconut Body Butter from The Body Shop. A simple yet classic product, the creamy texture and divine Summery fragrance are uplifting every time you apply it.
– – – – – – – – – – – – – – – – – – – – – – – –
What are your top 5 must-have beauty products? xx
Photos from chanel.com /  lancome-usa.com / bareescentuals.com / chloe.com / allthingsbeautyuk.blogspot.com
A bold lip instantly creates a lasting impression & draws attention to a luscious pout.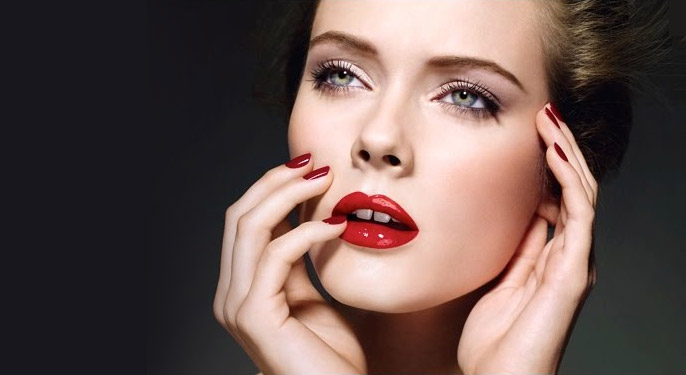 Red lipstick is a true beauty icon. Timeless, classic and seductively chic – a red pout evokes smouldering 'Old Hollywood Glamour' and unmistakable appeal.
As the most popular lip colour for nearly a century, red lipstick is elegant, sophisticated and sexy. The popularity of red lipstick was significantly boosted by Hollywood Silver Screen icons, like Marilyn Monroe, who would often choose vivid shades of red. Red lipstick brightens the face and whitens your smile.  And with so many red tones now available – there is certainly the perfect shade to complement any complexion.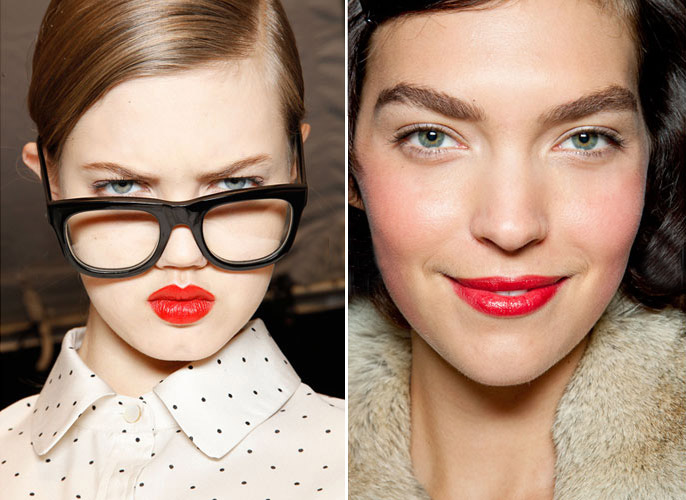 And did you know… During World War II women were encouraged to wear red lipstick as a morale booster? Servicewomen were also required to wear lip colour that matched the red chevrons on their uniforms and cords on their hats. To meet this demand Elizabeth Arden created the iconic Montezuma Red.
Rock a bold red lip flawlessly with some simple preparation and a little tender loving care. Before applying your red shade, gently exfoliate lips and use a light balm. Keep your eye makeup minimal so all attention is drawn to your lovely lips.
Red lipstick inspiration…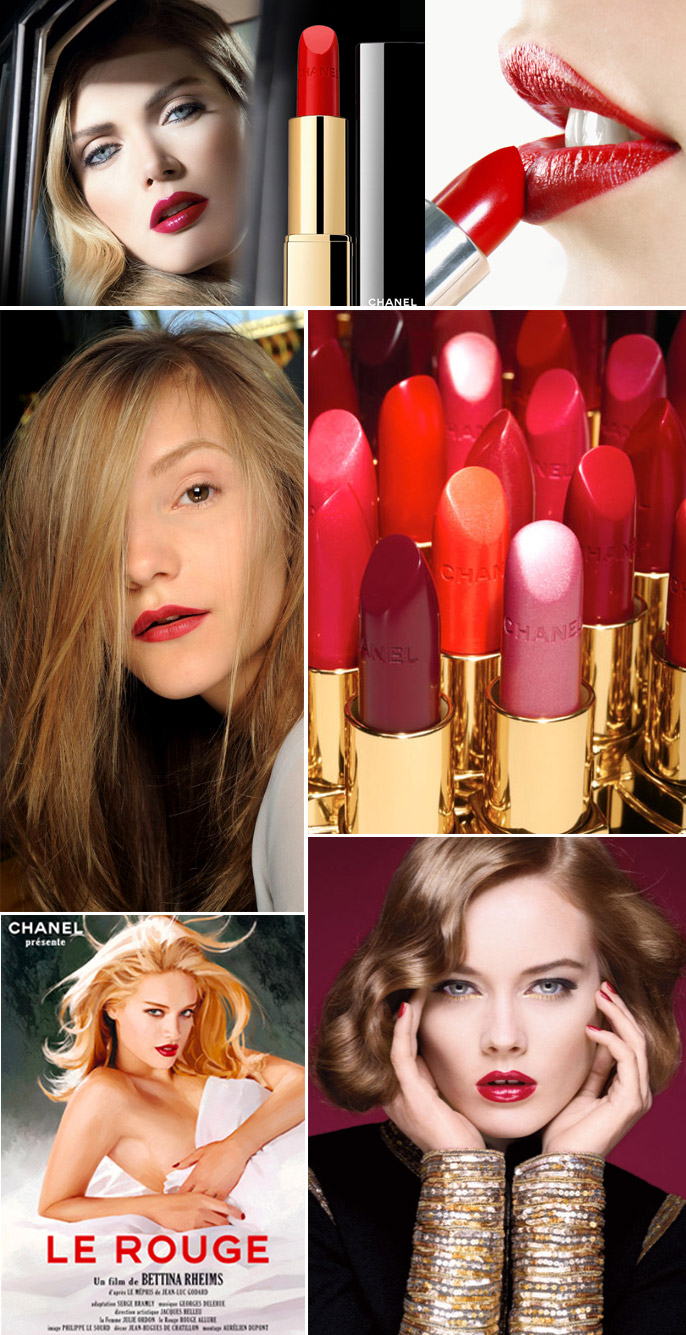 Will your kisses come from a statement red pout? xx
Photos from marieclaire.com / google images
The eye make-up palettes from the Fall collections were full of technicolour delights. From vivid orange to hypnotic green, the eyes have it in candy colours that pop perfect for your Easter long weekend.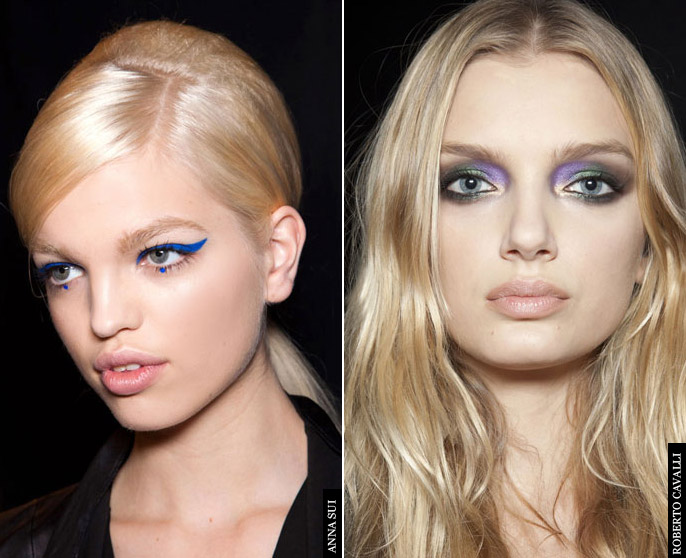 Atmospheric eye make-up has a retro elegance for Fall. Take your cue from rich hues; bold lines; and an explosion of concentrated colour – across the lids, lashes & lips.
Statement making peepers appeared across the runways. At Prada, futuristic eyes had a Mad Max inspiration. Black was painted around the eyes and finished with bursts of orange intensity at the brow. Prabal Gurung's brilliant blue plumes evoked a striking peacock; while at Stella McCartney lashes were layered in beautiful blue mascara.  
At Anna Sui, theatrical cobalt blue eyeliner flicks made a startlingly beautiful impression. To create the look, a thick liquid line was drawn along the models' upper lashes with an upward flick on the end. The inner rim was traced with a white pencil to open the eye, before a coat of mascara added a dramatic 60's feel.
Inspired by candy coloured brights, eye make-up is delicious enough to eat this Easter…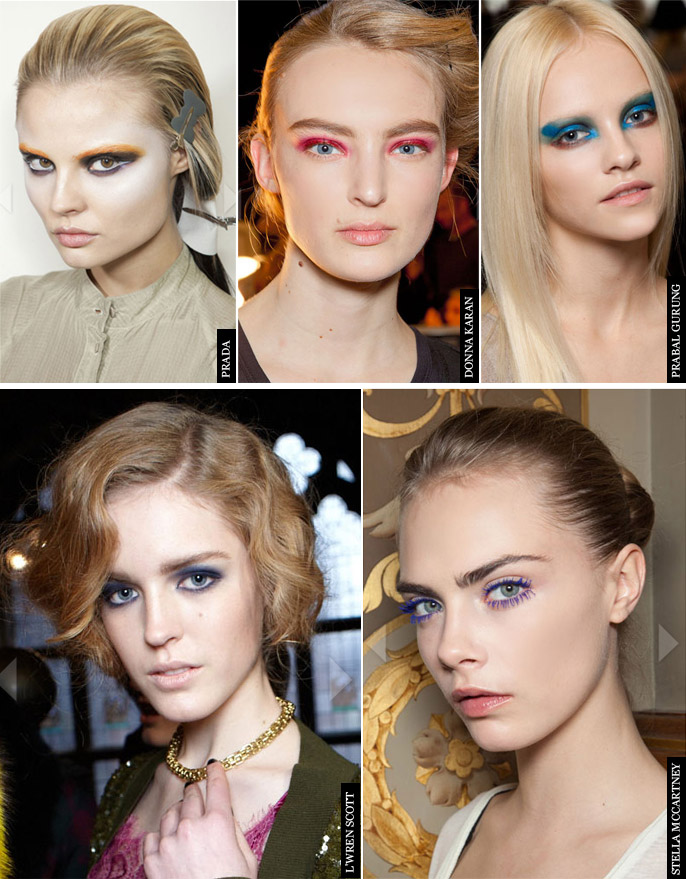 Will you embrace candy coloured eye make-up? xx
Photos from style.com / harpersbazaar.com