Be inspired by the London Olympics & dress for gold, silver or bronze…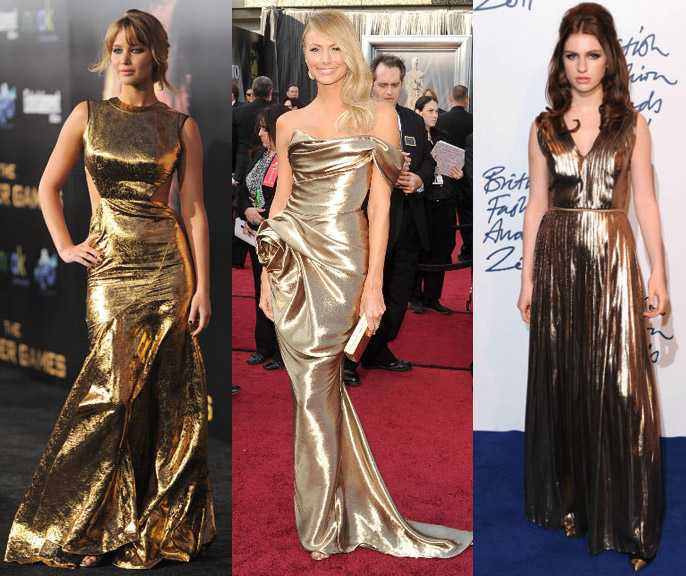 All that sparkles…
no Olympic event is complete without the lustre of precious metal. Salute your Olympic heroes' with a glamorous, shimmering of gold, silver or bronze.
While diamonds are a girl's best friend – precious metals can be equally enchanting. Whether you choose to add your metallic sparkle to wrists with selection of heavy jewels or to your eyes with a glistening shadow – molten metals can add a show stopping shimmer.
And while discretion is often the epitome of chic, don't be afraid to embrace the heavy metal movement. A full length metallic gown can be truly hypnotising…
Will you be going for gold, silver or bronze? xx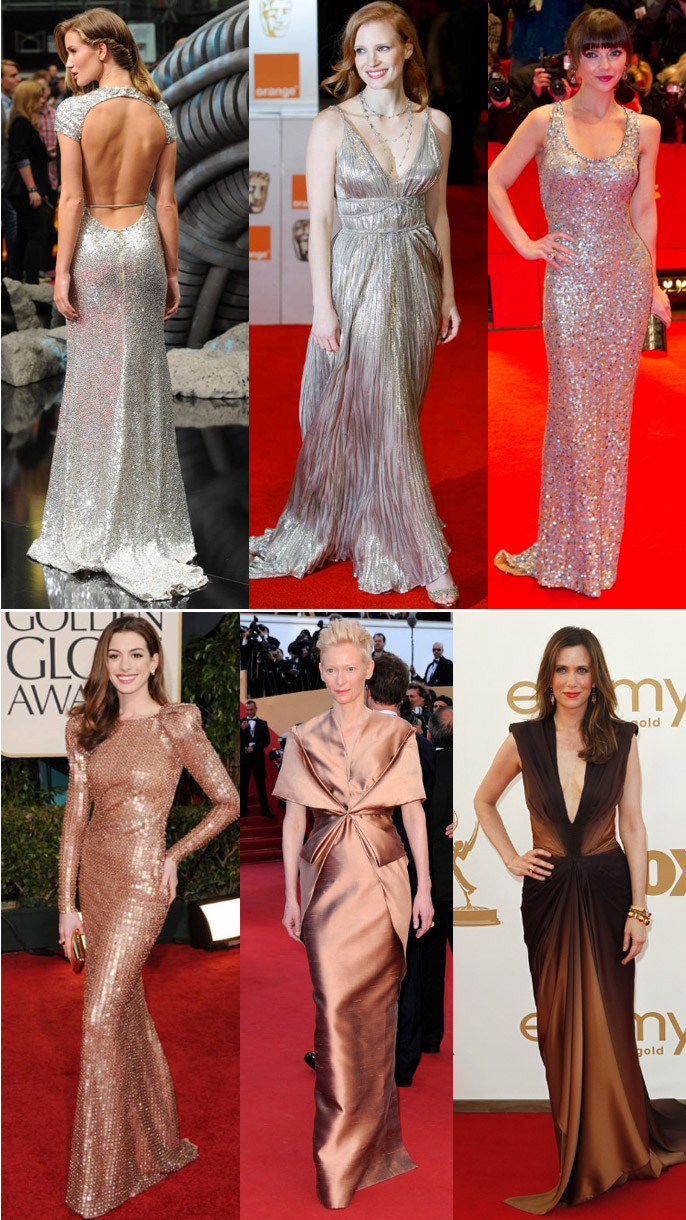 Photos from stylebistro.com / candybarbie.com / stephieprice.com / graziadaily.co.uk / magazine.motilo.com / fashionschooldaily.com / yahoo.com / fashion.about.com / celebrity-event.com
The eye make-up palettes from the Fall collections were full of technicolour delights. From vivid orange to hypnotic green, the eyes have it in candy colours that pop perfect for your Easter long weekend.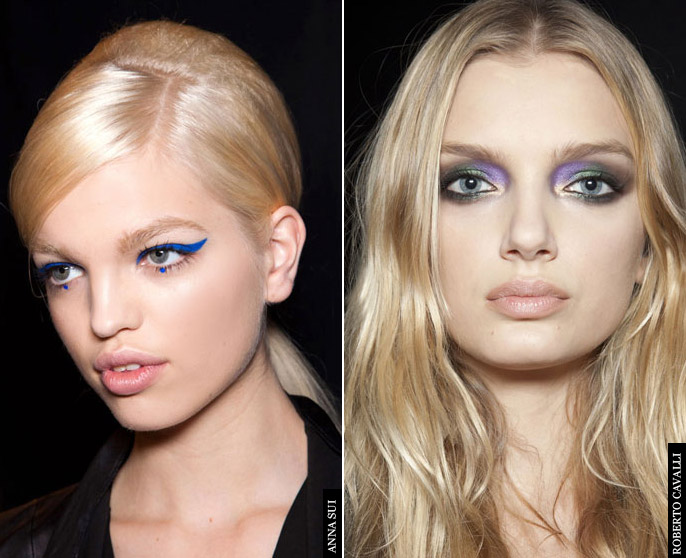 Atmospheric eye make-up has a retro elegance for Fall. Take your cue from rich hues; bold lines; and an explosion of concentrated colour – across the lids, lashes & lips.
Statement making peepers appeared across the runways. At Prada, futuristic eyes had a Mad Max inspiration. Black was painted around the eyes and finished with bursts of orange intensity at the brow. Prabal Gurung's brilliant blue plumes evoked a striking peacock; while at Stella McCartney lashes were layered in beautiful blue mascara.  
At Anna Sui, theatrical cobalt blue eyeliner flicks made a startlingly beautiful impression. To create the look, a thick liquid line was drawn along the models' upper lashes with an upward flick on the end. The inner rim was traced with a white pencil to open the eye, before a coat of mascara added a dramatic 60's feel.
Inspired by candy coloured brights, eye make-up is delicious enough to eat this Easter…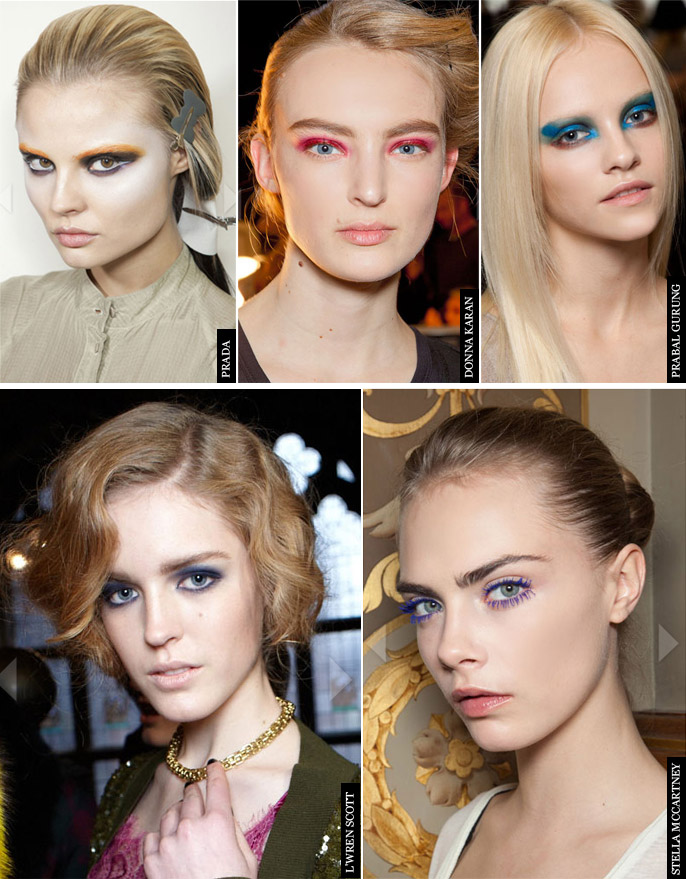 Will you embrace candy coloured eye make-up? xx
Photos from style.com / harpersbazaar.com
Embodying Old Hollywood Glamour…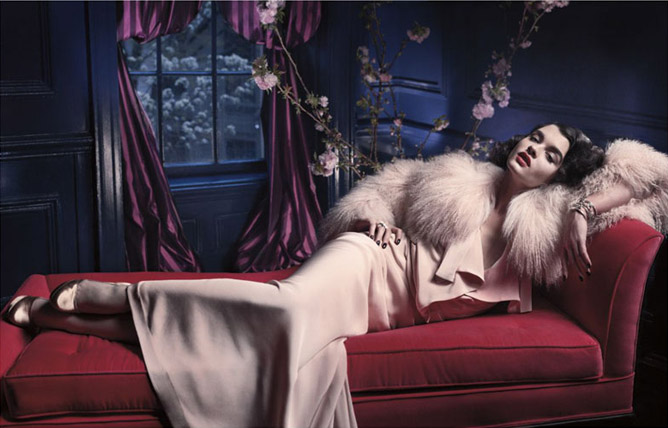 Old Hollywood glamour is something I continually aspire to achieve. It's that elegance, charisma and alluring iconic beauty that exudes unmistakable 'jena se qua' or something special you cannot quite place.
Elegance and glamour never goes out of style. Yet it is difficult to emulate. It is innate. What makes someone elegantly glamorous? Is it their clothes, style, behaviour? Maybe it is how they hold themselves and their self-belief? Icons of poise and sophistication – Audrey Hepburn, Grace Kelly, Jackie Kennedy, to name but a few – ticked all of those boxes. And their elegance is timeless – continuing to inspire and delight today.
The editorials below all celebrate that allure of Old Hollywood glamour and timeless beauty. From Crystal Renn's decedent editorial for Vogue Spain; to the light-filled 50's inspired beauty of Emma Stone's shoot for Vanity Fair; then finally Rachael Taylor's glamorous pics for Vogue Australia – all show striking beauty is truly timeless.
Crystal Renn wears opulent gowns from Gucci, L'Wren Scott, Prabal Gurung, Loewe and others.  Meanwhile, Emma Stone charms in striking red and white pieces from Chanel, Chloé and Oscar De la Renta, among others. While Rachael Taylor goes Gucci glam for Vogue Australia.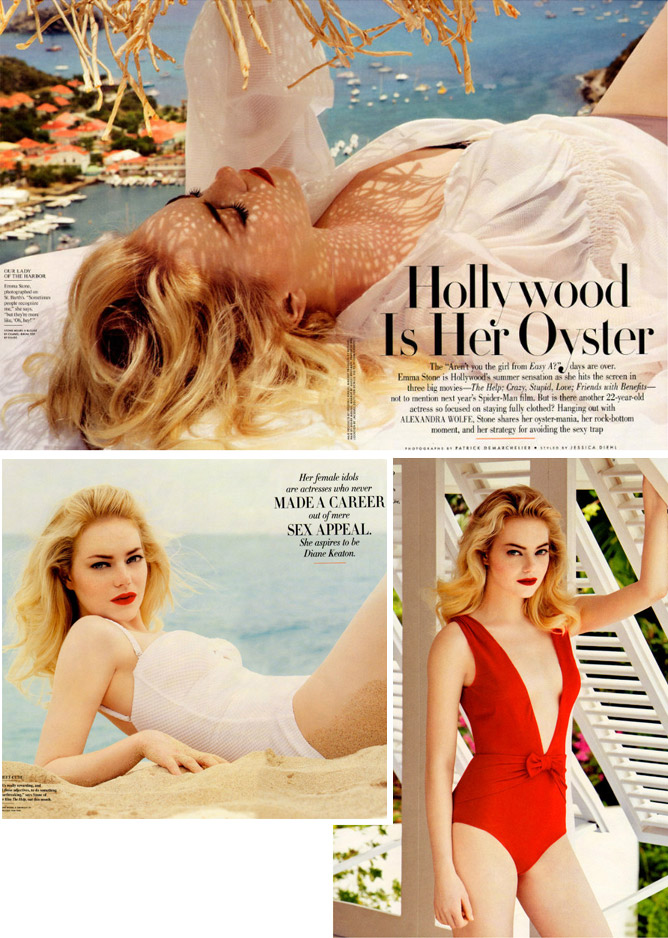 What does 'Old Hollywood Glamour' mean to you today? xx
photos from fashiongonerogue.com