Sultry, Sexy Cat Eye Make-Up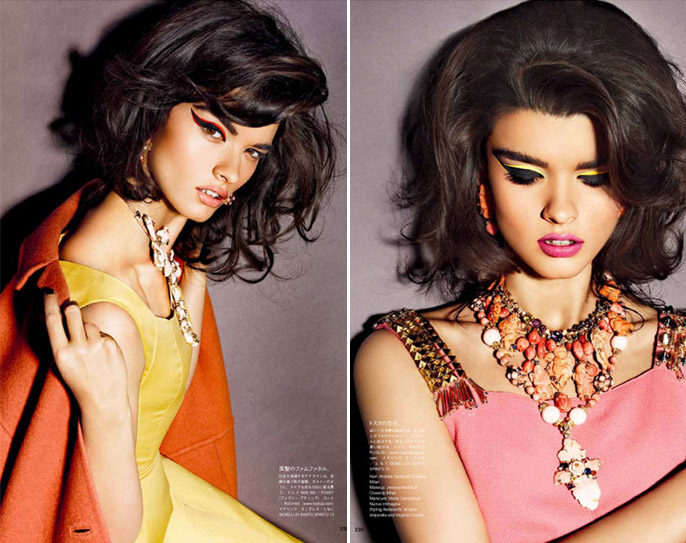 My Weekend Inspiration came in the form of a beauty editorial for Vogue Japan featuring some decadently delicious eye make-up.  The editorial entitled 'Call Her Diva', featuring Crystal Renn, styled by Anna dello Russo and photographed by Giampaolo Sgura, highlights dramatic cat eyes teamed with striking crimson lips and luscious pink shades. Throughout the images Renn wears vibrant pieces by Tom Ford, Rocha and Yves Saint Laurent, amongst others.
Achieving The Cat Eye Make-Up Magic
Cat eyes are edgy, sexy and dramatically alluring. It is the best way to draw attention to your eyes. Cat eye make-up can be as dramatic or subtle as you like. Start by using a sharp eyeliner pencil, in black or brown, to make a bold statement. Lightly trace the pencil along the root of your eyelashes – from the inner eye and work your way out. Follow the natural curve of your eye and stop just before your pupil ends. Begin to subtly slant your eyeliner line upwards and continue as long as you desire. You will then have a thin cat eye line; continue to retrace your steps until the line is to your desired thickness.
To add that extra va-va voom, incorporate some colour! Be inspired by Crystal Renn's eye popping colour in an assortment of irresistible hues…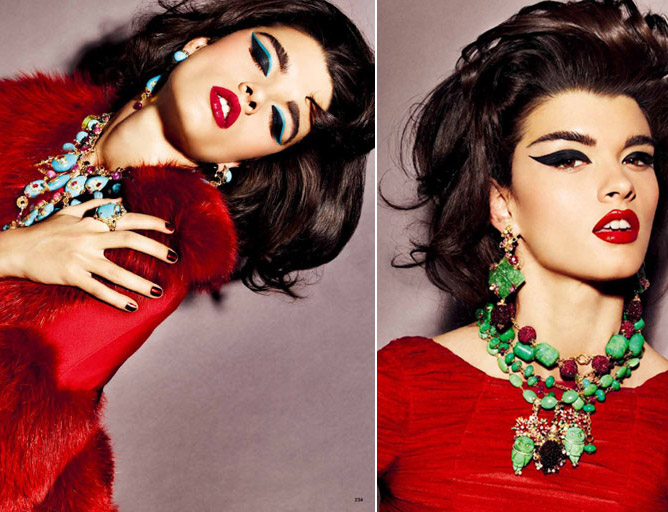 Which make-up trick is guaranteed to make you feel fabulous? xx
Photos from fashiongonerogue.com
Embodying Old Hollywood Glamour…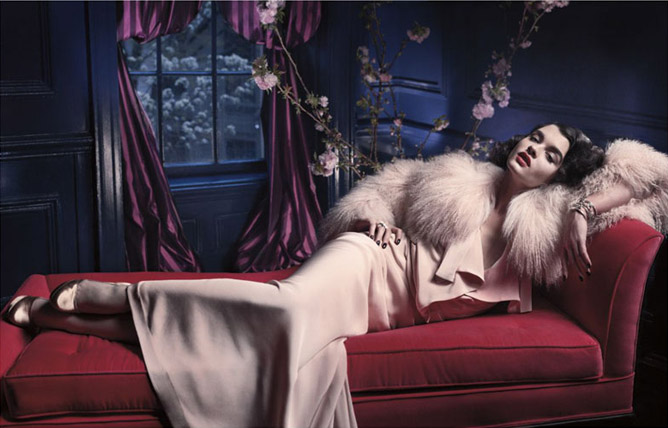 Old Hollywood glamour is something I continually aspire to achieve. It's that elegance, charisma and alluring iconic beauty that exudes unmistakable 'jena se qua' or something special you cannot quite place.
Elegance and glamour never goes out of style. Yet it is difficult to emulate. It is innate. What makes someone elegantly glamorous? Is it their clothes, style, behaviour? Maybe it is how they hold themselves and their self-belief? Icons of poise and sophistication – Audrey Hepburn, Grace Kelly, Jackie Kennedy, to name but a few – ticked all of those boxes. And their elegance is timeless – continuing to inspire and delight today.
The editorials below all celebrate that allure of Old Hollywood glamour and timeless beauty. From Crystal Renn's decedent editorial for Vogue Spain; to the light-filled 50's inspired beauty of Emma Stone's shoot for Vanity Fair; then finally Rachael Taylor's glamorous pics for Vogue Australia – all show striking beauty is truly timeless.
Crystal Renn wears opulent gowns from Gucci, L'Wren Scott, Prabal Gurung, Loewe and others.  Meanwhile, Emma Stone charms in striking red and white pieces from Chanel, Chloé and Oscar De la Renta, among others. While Rachael Taylor goes Gucci glam for Vogue Australia.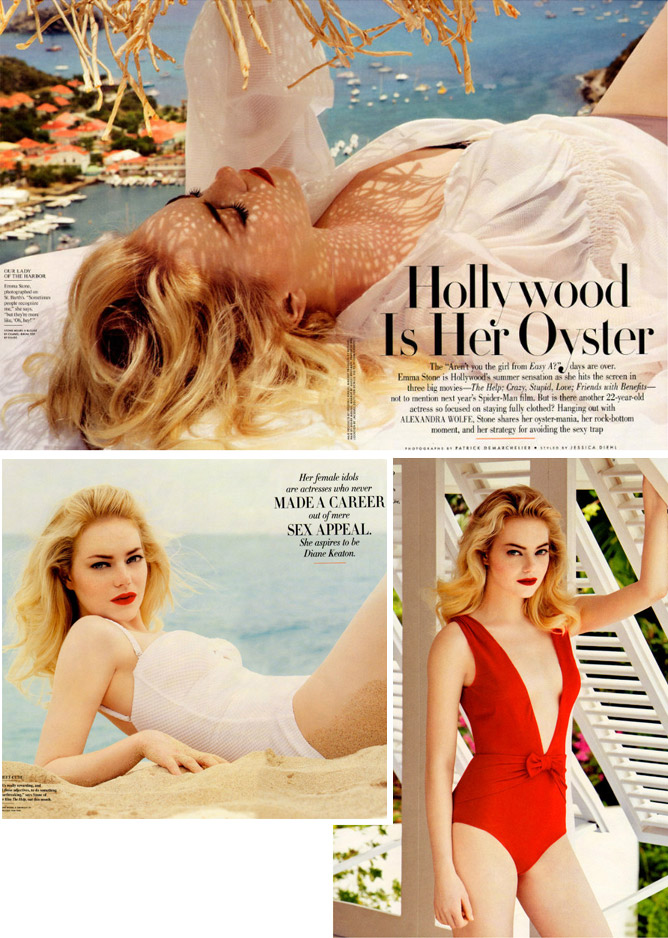 What does 'Old Hollywood Glamour' mean to you today? xx
photos from fashiongonerogue.com