Editor's Letter
My Top 5 Beauty & Make-Up Must Haves…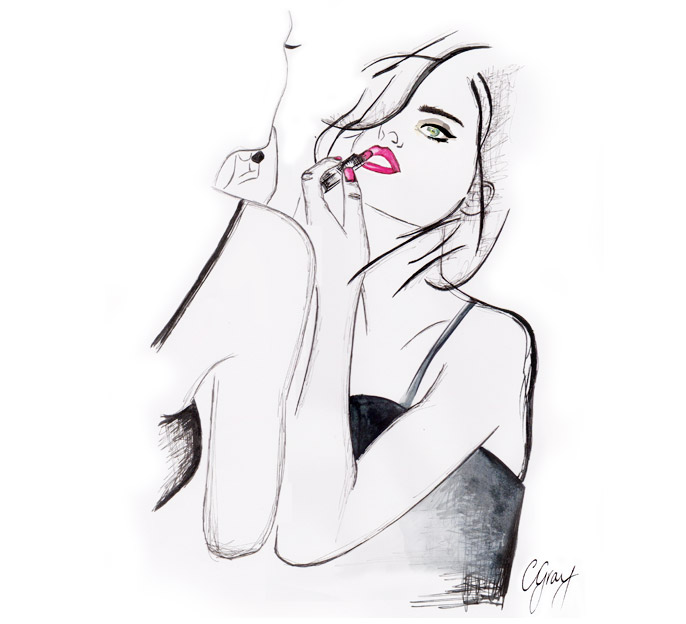 I have had a couple of people ask me about my beauty routine and the products I simply cannot live without. While I try to keep my routine simple and really rather effortless {I have a tendency to run late in the morning}, here are my top 5 beauty product must-haves…
1. BareMinerals Foundation
 My make-up routine begins every morning with BareMinerals. I have very sensitive skin, so I choose BareMinerals as it is formulated without preservatives to promote clear, healthy skin.  First I use BareMinerals Primer – to even out my complexion and create a smooth texture for my foundation coverage. I then apply BareMinerals Foundation (which looks like a powder yet feels like a cream); followed by their Mineral Veil for my skin finale (to absorb oil and soften the complexion).
2. Chanel Mascara
If your eyes are the windows to your soul, then Mascara is the curtains. Widening and intensifying the eyes, mascara is one of my absolute favourite beauty products. Chanel 'Inimitable Intense' Mascara is voluminous and lengthening. It adds an instant bold glamour to your look. Simply lash magnifique!
3. Lancome Lipstick
I am a 'statement lip' kinda-girl. I forgo sexy smoky eye trends and sultry cat eyeliners in favour of bold, dramatic colour for lovely luscious lips. Shopping for lipsticks is a favourite past time of mine and I recently discovered how truly brilliant Lancome lipsticks are. One I absolutely adore is the 'Rouge In Love' collection in shade 34 (Rose Boudoir) – an eye-popping tone perfect for cocktail hour. Je t'aime Lancome Lips!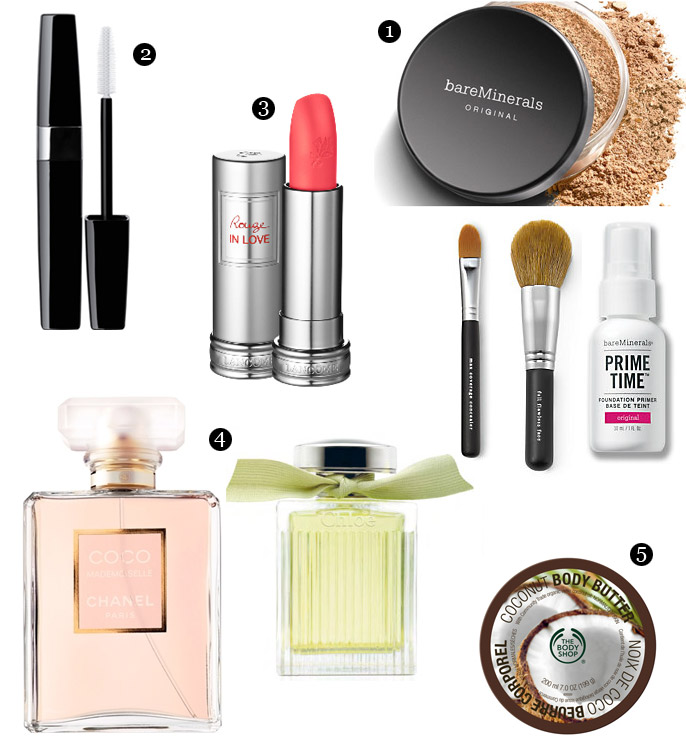 4. Pretty Perfumes
Coco Chanel believed that women should wear perfume wherever they wanted to be kissed. Perfume is a very personal statement. Your signature scent is an extension of your personality and character. Two of my favourites are: Chanel 'Coco Mademoiselle' and Chloé 'L'Eau de Chloé'. Spray your perfume lightly on pulse points morning and evening.
5. Moisturising Moments
I moisturise my hands a couple of times a day and I love Coconut Body Butter from The Body Shop. A simple yet classic product, the creamy texture and divine Summery fragrance are uplifting every time you apply it.
– – – – – – – – – – – – – – – – – – – – – – – –
What are your top 5 must-have beauty products? xx
Photos from chanel.com /  lancome-usa.com / bareescentuals.com / chloe.com / allthingsbeautyuk.blogspot.com