Must-Have Pieces & Wish List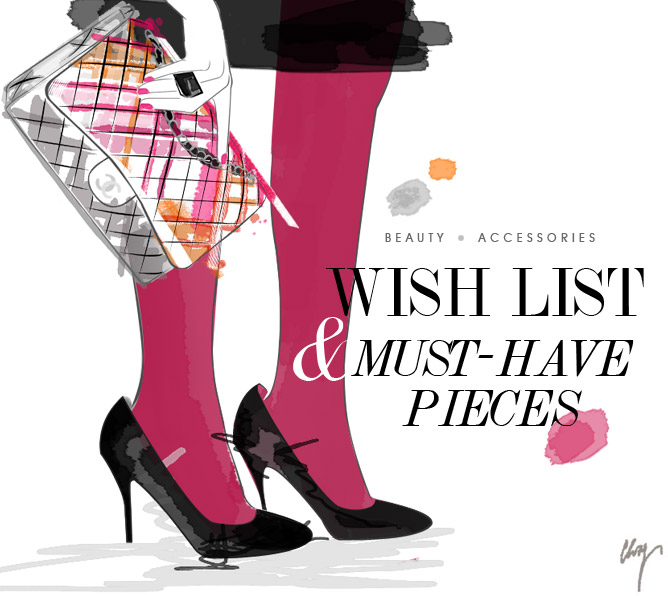 "I believe in manicures. I believe in overdressing. I believe in primping at leisure and wearing lipstick. I believe in pink. I believe happy girls are the prettiest girls. I believe that tomorrow is another day, and… I believe in miracles."  ― Audrey Hepburn
Your beauty routine and accessories give the perfect finishing touches to your look. A carefully chosen accessory can compliment you and make your outfit pop. For me, make-up and beauty products are amongst my greatest indulgences. I love discovering new products and growing my collection of pretty nail polishes and lip glosses.
I wanted to share with you some of my must-have accessories and beauty products, as well as a couple of items that are on my dream wishlist…
My favourite accessories: Hermès Printed Silk Scarves; Statement Sunglasses; Exquisite Chanel Jewellery; Lanvin Embellished Elbow-length Gloves; Tory Burch Ballet Flats; Tiffany & Co Cocktail Rings; Chanel & Hermès Handbags; Sweet Headbands 
Must-have beauty products: Striking Red Nail Polish; Alluring Red Lipstick; Chanel No5 or Coco Mademoiselle; Mascara; Mineral Make-up

Which beauty products & accessories can you not live without? xx
Photos from google images
Your Daily Fashion Scoop
Shoe Espresso Shots of News…
Jimmy Choo Celebrates 15 years
Jimmy Choo has turned 15 and is celebrating with a traditional 15th Anniversary gift… Crystal… in the form of shoes of course! The Jimmy Choo Crystal Collection promises timeless evening glamour at the highest voltage! (pictured above and right)
Iconic Jimmy Choo skyscraper heels and chic flats have been bedazzled in sparkle. From large bagettes to pavé-style tiny crystals, this collection will have your toes twinkling. Founder and Chief Creative Officer of Jimmy Choo, Tamara Mellon has said of the Crystal Collection, "I was inspired by vintage jewellery to add sparkling and luminous details to iconic Jimmy Choo shapes."
Selfridges Shoe Galleries
Stepping into shoe heaven at the Selfridges Shoe Galleries is a must-do experience next time you are in London!
Since opening the Shoe Galleries at the beginning of September, the Department store is now selling 7,000 pairs of shoes each week. And it is easy to see why. With 55,000 shoes in stock at any one time and 4,000 shoes on display from over 150 brands – Selfridges' new Shoe Galleries will change the way you shop for shoes forever! From Dior to Chanel (pictured below), Lanvin to Prada as well as many of the High Street shoe brands – every shoe you could ever dream of is here!
My Shoe Christmas Wishlist…
Speaking of shoes… here is a couple of pairs that have caught my eye and I am hoping to find in my Christmas stocking this year…
What shoes are you dreaming of this Christmas? xx