Pretty In Pink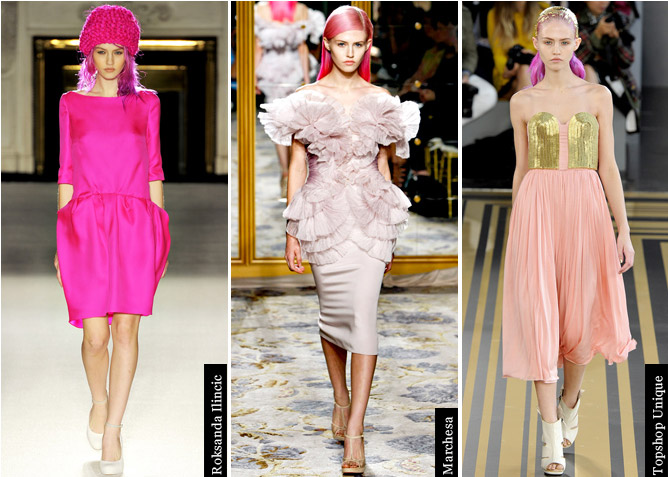 A Pink Lady Pledge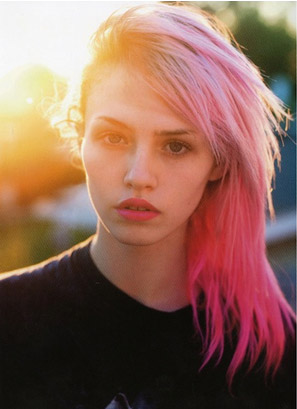 Model of the moment, Charlotte Free, isn't afraid to stand out from the crowd. Her striking pink locks have walked in a number of runway shows both in London and New York for high profile labels – from Marchesa to Vivienne Westwood.
What is quite unexpectedly startling though is how seemingly transitional pink hair can be. Looking at the selection of catwalk images from the Spring / Summer 2012 runways, Free's statement tresses embrace whatever the styling direction of the label. Whether channelling 'fresh, polished sophistication' at Marchesa; 'edgy grunge' at Kinder Aggugini; or 'sexy 60's Lolita' at Jeremy Scott – Free looks quite simply divine.
Having previously opened Vivienne Westwood's Red Label show; for Spring / Summer 2012 Free has already walked for Roksanda Ilincic, Topshop Unique, Jeremy Scott, PPQ, Kinder Aggugini, Vivienne Westwood and Louise Gray, amongst others.
Originally dying her own hair, using an assortment of shades – sweetly called 'Virgin Rose', 'Cupcake Pink', 'Hot Hot Pink' and 'Cotton Candy' – Free now leaves her daring pink tresses to the professionals.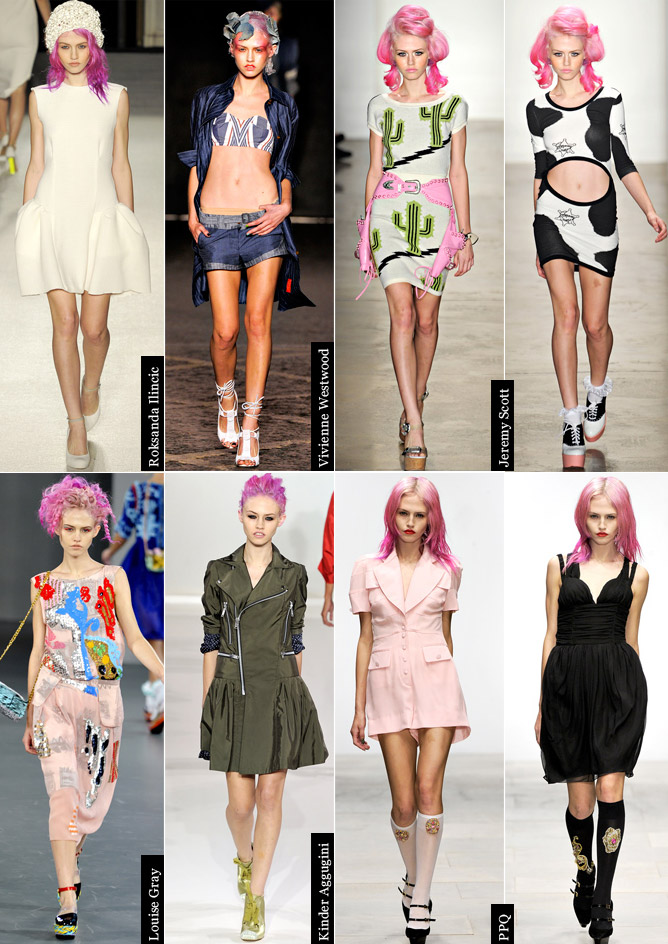 Pink hair = fearless beauty. Would you take the plunge? xx
Photos from style.com
Your Fabulous Fashion Scoop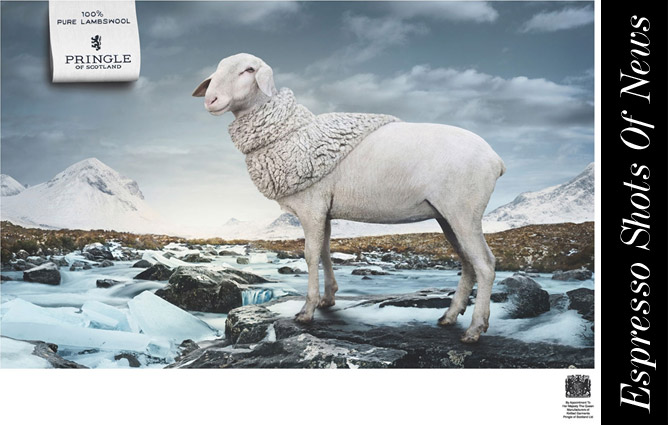 4 Delicious Espresso Shots Of News…
It's 100% Pure Lambswool for Pringle of Scotland
While everyone loves to see today's top models covering the high fashion campaigns, Pringle of Scotland has released a new ad series that may just capture your heart! Reminding us of where their clothing comes from, Pringle of Scotland features an adorable sheep, with the wool having been shorn into a hat, scarf and jumper… too adorable!

Daphne Guinness: Fashion As Art
Daphne Guinness in collaboration with Barneys New York, will turn fashion into installation art. The Heiress, renowned for her love of high fashion, will be showcasing some of her most exquisite couture pieces in a six week changing window display for the iconic department store. From Alexander McQueen to Gareth Pugh; the finale will be Guinness herself getting dressed and readied for the Met Ball in the store window.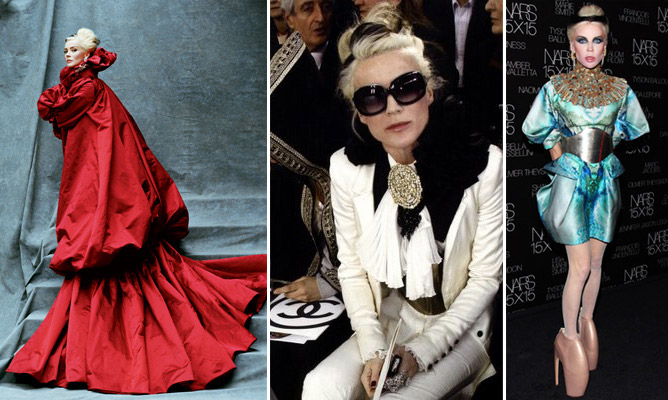 Christophe Decarnin Leaves Balmain
Luxury French fashion house, Balmain, announced Christophe Decarnin has stepped down as Creative Director. It is believed Decarnin's successor will most likely be someone from within the current design team. Decarnin had been absent from Balmain's Autumn / Winter 2011 collection show, amid rumours he was in a mental hospital. From the Balmain official statement:
"Balmain's success in the Decarnin years was based on a relatively simple formula of impeccably tailored jackets, tough pants, T-shirts and sexy beaded dresses — all for staggering sums — and Mr Decarnin may have felt stuck in recent months about his direction. Designers are indeed under a lot of pressure, some of it self-imposed, to create relevant collections. Shy and introverted, with a label that had its admirers and critics, Mr Decarnin may have been more vulnerable than others to that pressure."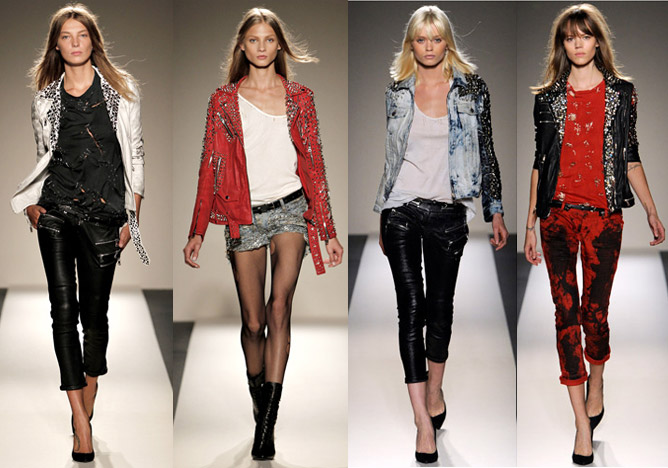 Happy Birthday Dame Vivienne Westwood
As a belated celebration for Dame Vivienne Westwood's 70th birthday (last Friday April 8th), below are a selection of looks from her signature label's Autumn / Winter 2011 collection. Entitled 'World Wide Woman', the collection celebrates the woman as a guardian of culture, values and the planet. From gold glittery shoes to dark punk-warrior makeup; the collection offered something for every woman's style…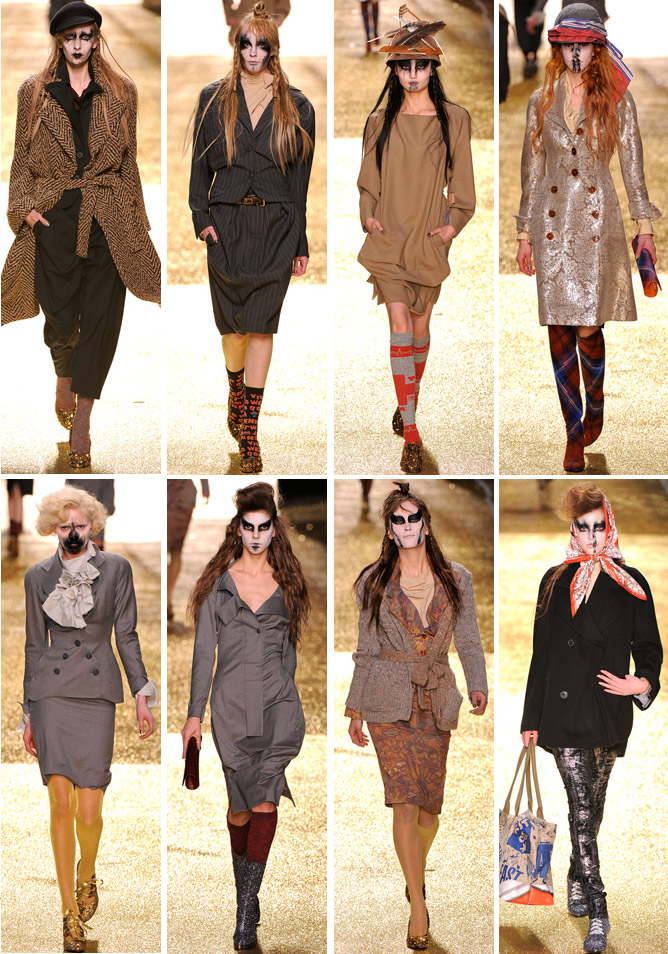 Happy Monday! Hope you all have a fabulously fashionable week! xx
Photos from fashionising.com / fashion.telegraph.co.uk / style.com
Love Is In The Air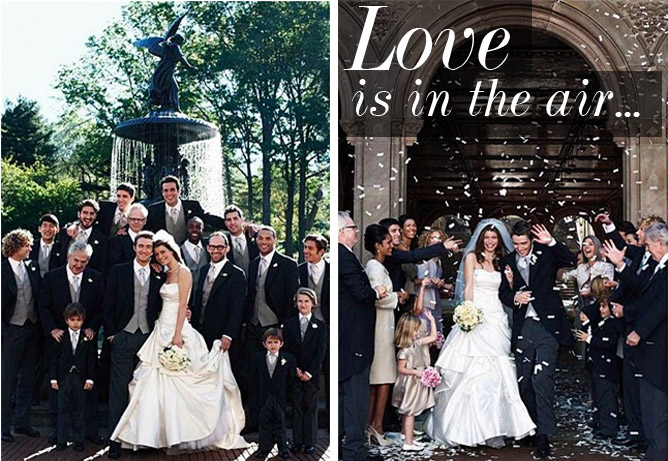 Wedding Espresso Shots of News…
Love, love, love a Wedding!
The world has fallen in love with the elegant, sophisticated Kate Middleton. The Royal Wedding, set to take place on April 29, 2011 at Westminster Abbey, has sprinkled love in the air right across the globe…
Tiffany & Co. Spring Campaign
Tiffany and Co. have released their Spring 2011 ad campaign, which perfectly captures the elegance, beauty and love of a gorgeous New York Wedding! The photography, styling, models and jewellery (pictured above & right), are as to anticipated from a Tiffany campaign, all exquisite. Love Tiffany's ability to transport you into a world of luxury…
Vogue UK Wedding Editions
To celebrate the Royal wedding of Prince William and Kate Middleton, Vogue UK is releasing three exquisite covers for the May 2011 issue (pictured below). The Three key factors to creating these extraordinarily beautiful covers:
– Three supermodels
Natalia Vodianova, Freja Beha Erichson and Lara Stone
– Three exquisite gowns
Vivienne Westwood, Oscar de la Renta and Bruce Oldfield
– One renowned Fashion Photographer
Mario Testino
Vodianova wears Vivienne Westwood, Beha Erichson in Oscar de la Renta, while Stone shines in Bruce Oldfield. The issue is Wedding themed and also features articles on Kate Middleton; a piece on fashion brides; as well as a guide to being a perfect wedding guest…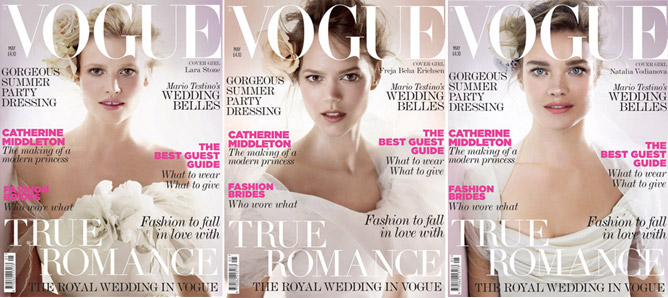 My Top Royal Wedding Gown Choices
While who will design the wedding gown of the Princess-to-be is still unknown, here are 6 of my favourites for Kate Middleton to consider… Alexander McQueen (Autumn / Winter 2011 collection), Elie Saab (Couture Spring / Summer 2011) and Marchesa (Autumn / Winter 2011 collection)!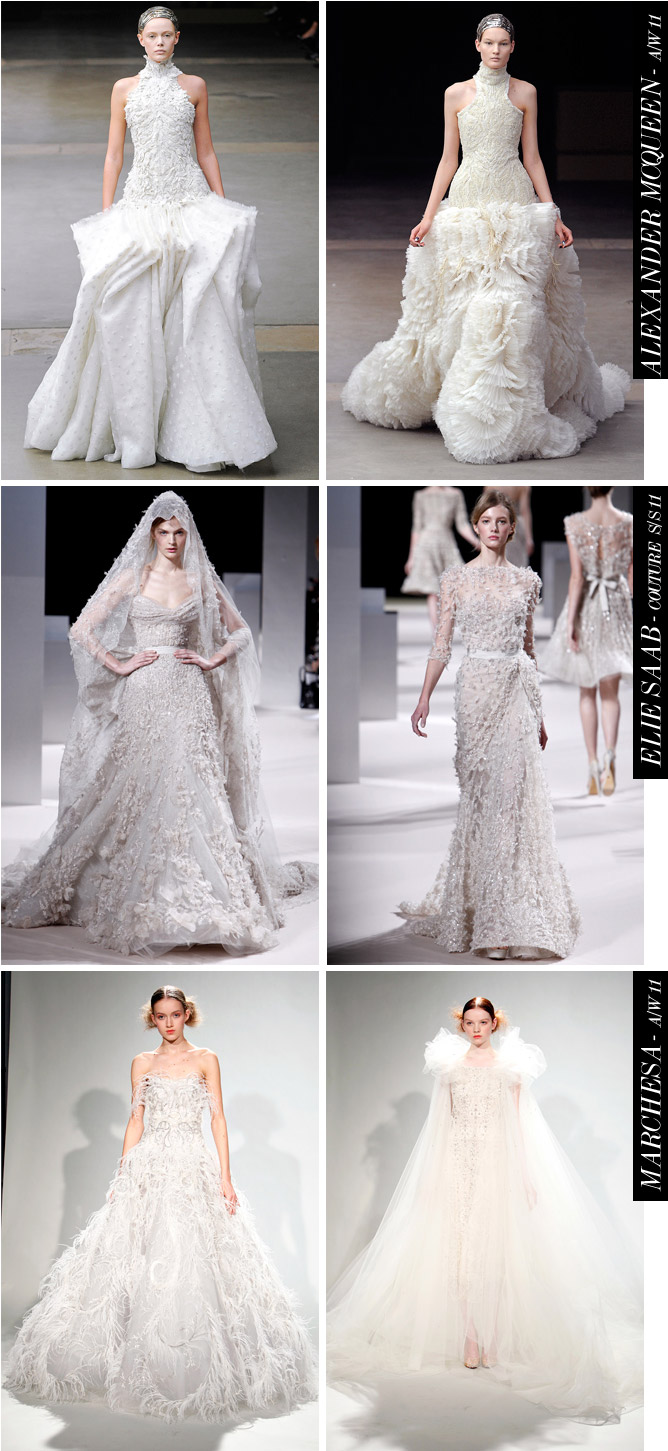 Who would you like to see design Kate Middleton's gown? xx
Photos from thetrendreport.ch / fabsugar.com.au / style.com