Your Fabulous Fashion Scoop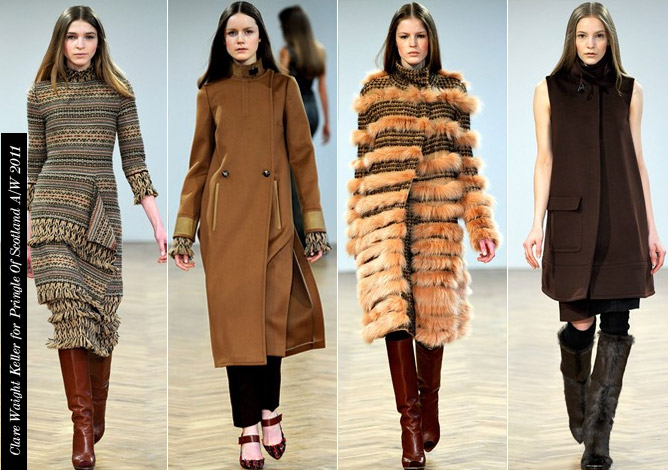 A Chloé Espresso Shot Of News
Clare Waight Keller – the new Creative Director at Chloé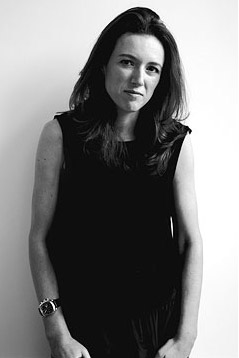 It has been announced today that Clare Waight Keller, former creative director of Pringle of Scotland, will take the helm of French label, Chloé.
Taking control of the label on June 1st, Clare Waight Keller (pictured right) will replace fellow Brit, Hannah MacGibbon, who was with the label for over 10years.
Clare Waight Keller has become known as the person who brought modernity to the heritage brand, Pringle Of Scotland. With an innovative approach to knitwear, she presented her first collection for the label in February 2006, before going on to win the Scottish Cashmere Designer of the Year at the Scottish Fashion Awards in 2007.
Of her new role, Waight Keller has said, "I am thrilled to be joining one of the most prestigious design houses in Paris. Chloé is a brand that conveys a beautiful sense of effortless femininity and vivacious sophistication that I look forward to continuing into the next era."
Her Résumé…  Pringle Of Scotland A/W 2011-12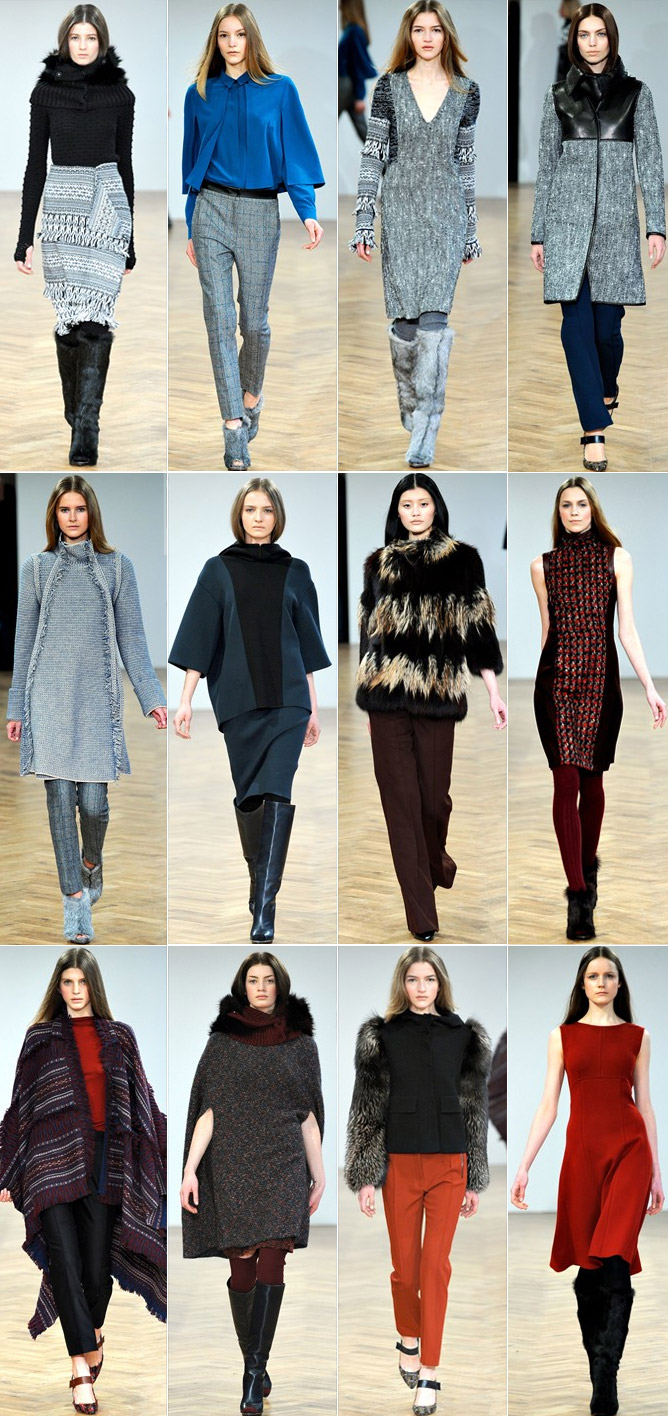 What do you think of this news?
Chloé is one of my favourite houses, so I will be watching the next collection very closely! xx
photos from vogue.co.uk
Love Is In The Air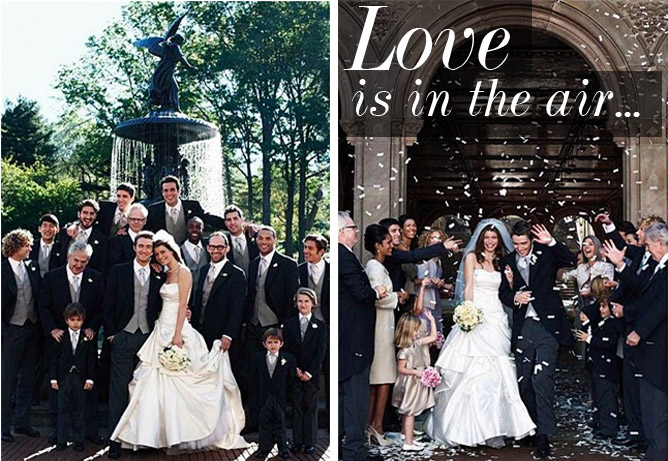 Wedding Espresso Shots of News…
Love, love, love a Wedding!
The world has fallen in love with the elegant, sophisticated Kate Middleton. The Royal Wedding, set to take place on April 29, 2011 at Westminster Abbey, has sprinkled love in the air right across the globe…
Tiffany & Co. Spring Campaign
Tiffany and Co. have released their Spring 2011 ad campaign, which perfectly captures the elegance, beauty and love of a gorgeous New York Wedding! The photography, styling, models and jewellery (pictured above & right), are as to anticipated from a Tiffany campaign, all exquisite. Love Tiffany's ability to transport you into a world of luxury…
Vogue UK Wedding Editions
To celebrate the Royal wedding of Prince William and Kate Middleton, Vogue UK is releasing three exquisite covers for the May 2011 issue (pictured below). The Three key factors to creating these extraordinarily beautiful covers:
– Three supermodels
Natalia Vodianova, Freja Beha Erichson and Lara Stone
– Three exquisite gowns
Vivienne Westwood, Oscar de la Renta and Bruce Oldfield
– One renowned Fashion Photographer
Mario Testino
Vodianova wears Vivienne Westwood, Beha Erichson in Oscar de la Renta, while Stone shines in Bruce Oldfield. The issue is Wedding themed and also features articles on Kate Middleton; a piece on fashion brides; as well as a guide to being a perfect wedding guest…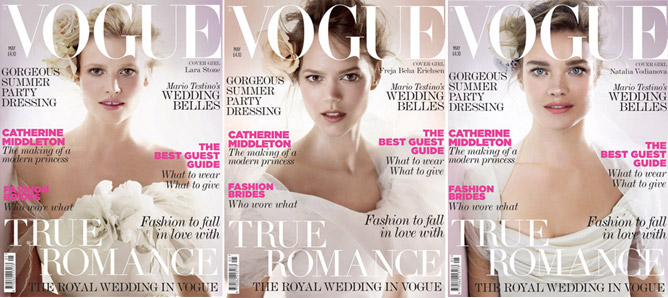 My Top Royal Wedding Gown Choices
While who will design the wedding gown of the Princess-to-be is still unknown, here are 6 of my favourites for Kate Middleton to consider… Alexander McQueen (Autumn / Winter 2011 collection), Elie Saab (Couture Spring / Summer 2011) and Marchesa (Autumn / Winter 2011 collection)!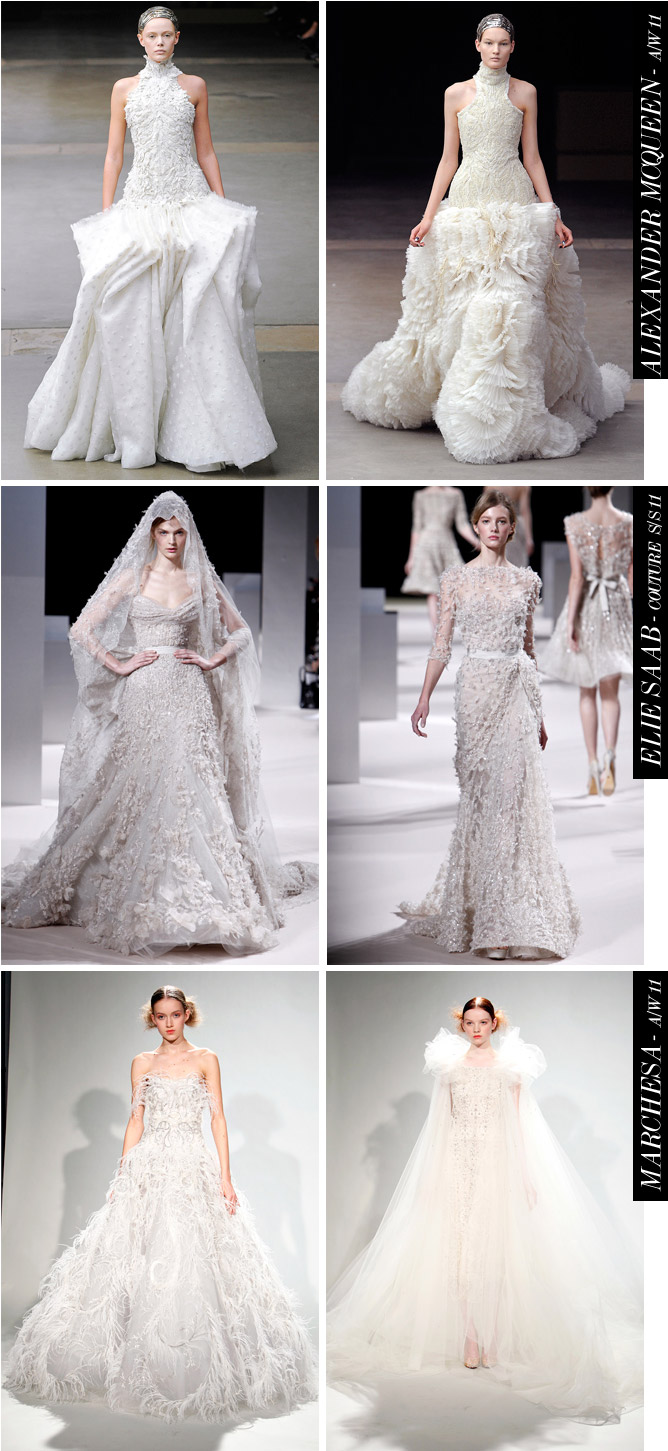 Who would you like to see design Kate Middleton's gown? xx
Photos from thetrendreport.ch / fabsugar.com.au / style.com
Your Daily Fashion Week Scoop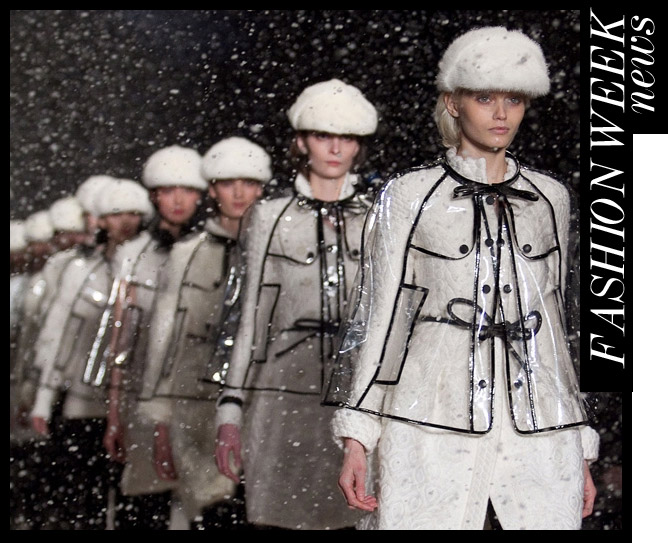 4 Fashion Week Espresso Shots Of News…
Let It Snow, Let It Snow,
Let It Snow… At Burberry
Not only did Burberry live-stream their Fall 2011 collection online across the globe; London was given an even better view. Thanks to Vitamin Water and the British Fashion Council who sponsored a spot on Piccadilly Circus, the show was live-streamed for everyone walking by to watch! With a collection full of spectacular coats in an assortment of colours and fabrics, the Burberry show came to an epic finale… falling snow! The coats, the clothes, the snow… one of the most beautiful fashion spectacles I have ever seen! And it gets even better! For the next week you can buy direct from the runway at Burberry.com and have the items delivered to your door within 7 weeks! Burberry just leaves me speechless…
Versace Back In Control
Of Versus
Versus – the label designed by Christopher Kane alongside Donatella Versace – is back under the Versace wing. Versace regained control of Versus, which has previously been produced and distributed By Swinger International SpA. Meanwhile, Swinger will remain as the sole manufacturer and distributer for Versace Jeans. The Versus Fall 2011 collection will be shown in Milan on February 27th…
Don't Tell Anyone….
Tom Ford Showed At London Fashion Week
Tom Ford's Fall 2011 collection was presented at London Fashion Week and was again a top secret affair. The collection was treated as a top secret event, with guests believed to have signed a nondisclosure agreement before viewing the collection. No sneaky iPhone pics or bloggers at this show! Of the reason behind this, Ford said: "I don't want to be reviewed, I'm not an artist with an opening; this is not a film. I'm just trying to make pretty clothes. And beautiful clothes make beautiful women, but sometimes they don't make fashion news"…
Jil Sander At The Oscars
While everyone has been talking about the costumes for Black Swan, and all the controversy surrounding who designed what; another fashion house has collaborated with an Oscar Nominated designer. Raf Simons for Jil Sander was commissioned by costume designer Antonella Cannarozzi to create the looks for Tilda Swinton's character, Emma Recchi in the film I Am Love. Antonella Cannarozzi is Oscar Nominated for the film…
Happy London Fashion Week Everyone! xx
Photos from fashionising.com.au, style.com, fashiongonerogue.com & google images