Love Is In The Air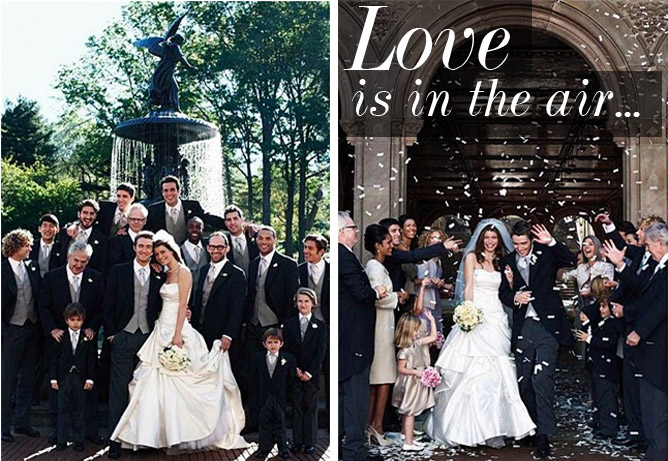 Wedding Espresso Shots of News…
Love, love, love a Wedding!
The world has fallen in love with the elegant, sophisticated Kate Middleton. The Royal Wedding, set to take place on April 29, 2011 at Westminster Abbey, has sprinkled love in the air right across the globe…
Tiffany & Co. Spring Campaign
Tiffany and Co. have released their Spring 2011 ad campaign, which perfectly captures the elegance, beauty and love of a gorgeous New York Wedding! The photography, styling, models and jewellery (pictured above & right), are as to anticipated from a Tiffany campaign, all exquisite. Love Tiffany's ability to transport you into a world of luxury…
Vogue UK Wedding Editions
To celebrate the Royal wedding of Prince William and Kate Middleton, Vogue UK is releasing three exquisite covers for the May 2011 issue (pictured below). The Three key factors to creating these extraordinarily beautiful covers:
– Three supermodels
Natalia Vodianova, Freja Beha Erichson and Lara Stone
– Three exquisite gowns
Vivienne Westwood, Oscar de la Renta and Bruce Oldfield
– One renowned Fashion Photographer
Mario Testino
Vodianova wears Vivienne Westwood, Beha Erichson in Oscar de la Renta, while Stone shines in Bruce Oldfield. The issue is Wedding themed and also features articles on Kate Middleton; a piece on fashion brides; as well as a guide to being a perfect wedding guest…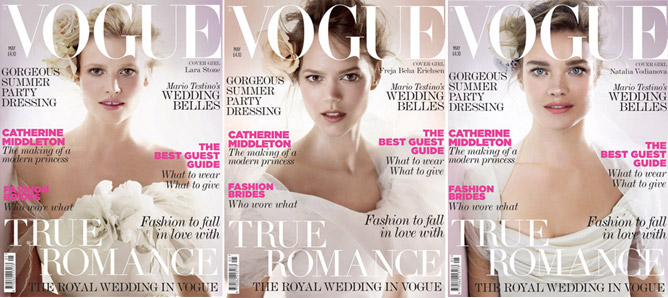 My Top Royal Wedding Gown Choices
While who will design the wedding gown of the Princess-to-be is still unknown, here are 6 of my favourites for Kate Middleton to consider… Alexander McQueen (Autumn / Winter 2011 collection), Elie Saab (Couture Spring / Summer 2011) and Marchesa (Autumn / Winter 2011 collection)!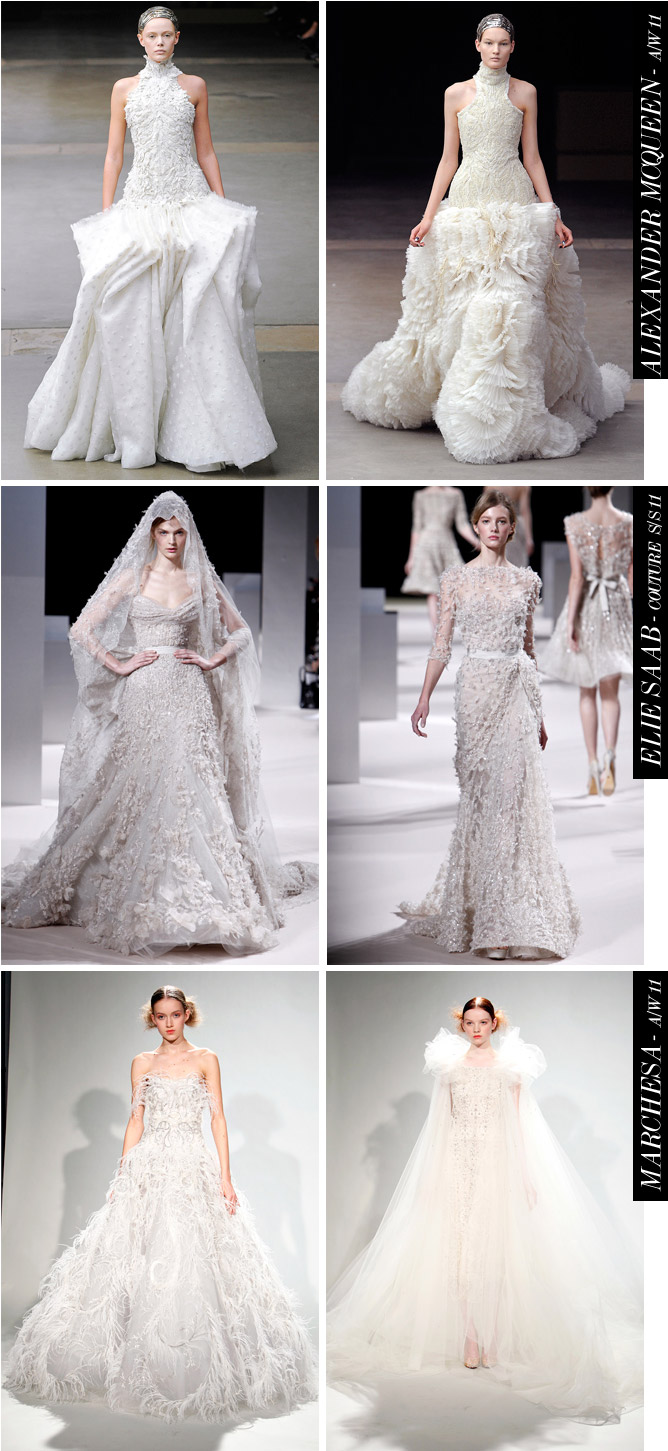 Who would you like to see design Kate Middleton's gown? xx
Photos from thetrendreport.ch / fabsugar.com.au / style.com
Your Fabulous Fashion Scoop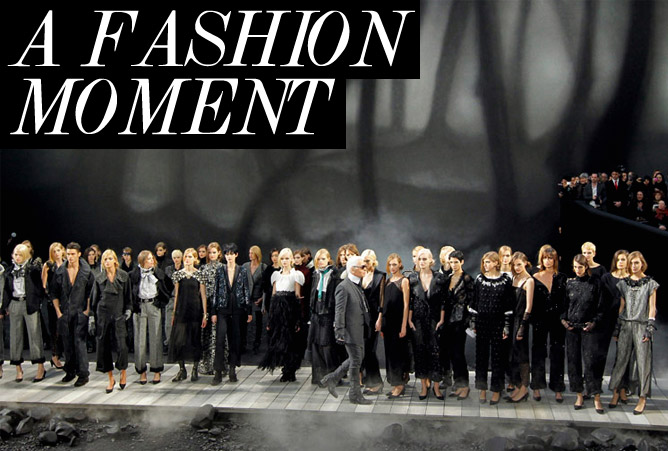 1 Beautiful Fashion Moment…
A Volcanic Catwalk At Chanel
As many of you may know, Chanel is my fashion true love. It is perfection in the form of a delicate evening gown; immaculately tailored suit or one of the astonishingly beautiful 2.55 quilted handbags. Chanel always surpasses my wildest fashion dreams.
From a giant lion to striking iceberg in previous shows, the Chanel set can be just as intoxicating as the collection itself. However, the Fall 2011/12 show took this to a new high. A volcanic catwalk! Models emerged from the smoke, and walked amongst volcanic rocks. The charcoal toned tweed and darker mood to the collection, were perfectly accentuated by the brooding surrounds. Chanel perfection at its finest! A selection of looks from the Chanel Fall collection are featured below…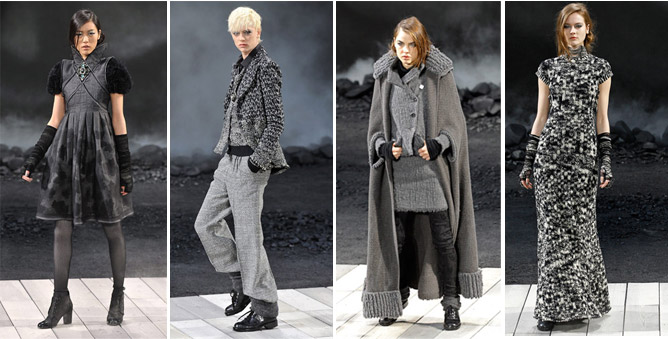 5 Espresso Shots Of News…
NOT YET CONFIRMED: Galliano's Dior Replacement
There is still much speculation over who will replace John Galliano at Dior. While Harper's Bazaar Editor-At-Large Derek Blasberg "confirmed" Riccardo Tisci's appointment as Creative Director for Christian Dior; it's still an official "no comment" from the LVMH Group. But Tisci does have Anna Dello Russo's vote, who said: "I think Riccardo deserves the [Dior] position. He's becoming a very mature artist. For me, Givenchy was the best show of the season so far."
Meanwhile, other speculation includes, Alber Elbaz of Lanvin taking the Dior position, while Jason Wu would replace him at Lanvin. Marc Jacobs has taken himself out of the running at the Louis Vuitton show, by saying "No! I haven't been asked". Only time will tell who will become the Creative Director for Christian Dior, but I cannot wait to hear!
Kate Moss Smokin' Hot (Literally!) at Louis Vuitton
When Kate Moss took to the catwalk at Louis Vuitton in Paris under the helm of Marc Jacobs, something dramatic was bound to occur. Moss walked the catwalk with a cigarette in hand, dramatically blowing smoke as she closed the runway. The collection which had themes of fetishism, crimes and scandals, certainly lived up to its concept! There were lots of leather, bustiers and handcuffs swinging off handbags for this collection. Also returning to the Louis Vuitton runway: Naomi Campbell, Amber Valetta and Carolyn Murphy.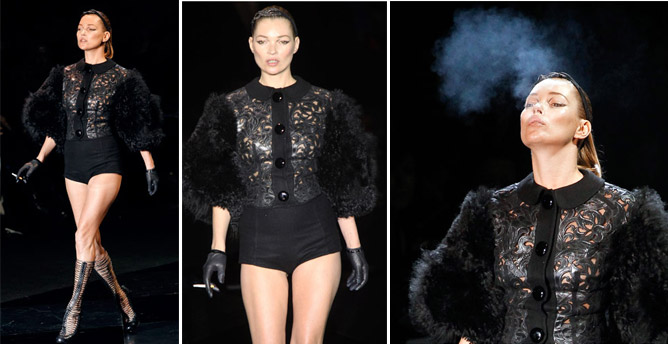 McQueen For The Royal-Wedding?
Kate Middleton's wedding dress designer has had the world's media in a flurry. Who will the designer be? If current rumours are true, Sarah Burton of Alexander McQueen may have the top honour. US Elle magazine's Creative Director Joe Zee, tweeted: "Kate Middleton, I love you but if you don't have Sarah Burton design your wedding dress, you're making a big mistake. HUGE." The new Fall McQueen collection does look perfect for a Princess! Devine shapes, texture and embroidery make this collection soar like a fairytale coming to life.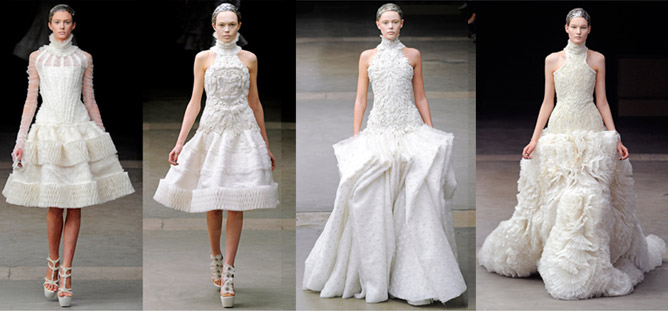 Blake Lively For Chanel
Blake Lively's beautiful Chanel ads are slowly being released to the media. As the face of Chanel's Mademoiselle Handbag line, Lively looks devine with some of the essential pieces for Spring.

Pregnant Rachel Zoe covers The Hollywood Reporter
Rachel Zoe has graced the cover of the new issue of The Hollywood Reporter. The glowing mum-to-be showed off her baby bump in 'exquisite fashion'!
Happy Thursday! xx
Photos from grazia.com.au / style.com
Your Daily Fashion Scoop
6 Espresso Shots of News…
From Keira Knightley to Alexa Chung – the delicious scoops of fashion news you need to know now…
1>> Keira Knightley graces the cover of Vogue UK's January 2011 issue (pictured right). Photographed by Mario Testino, the cover is strikingly different with its dramatic black and white tones and Knightley's red necklace. Inside the issue she also models looks from Miu Miu, Sonia Rykiel, Prada and Marni… 
2>> Speaking of Mario Testino, the renowned fashion photographer, has taken the engagement pictures of Prince William and Kate Middleton. Testino also captured Prince William's mother, Diana, Princess of Wales, when she was alive. The photos are set to be released before Christmas… 
3>> Proenza Schouler looks set to sell a 45% share in their label to businessman, Andrew Rosen. Rosen is also head of Helmut Lang and has investments in Alice + Olivia, Gryphon and Rag & Bone… 
4>> Kohl's has announced they will renew their license to manufacture Simply Vera by Vera Wang as well as bring a Vera Wang Cosmetics line into production. Vera Wang cosmetics will be in stores for Spring 2012… 
5>> The winners of the 2010 British Fashion Awards have been announced at London's Savoy Hotel and Theatre. Some of the winners included: … 
Phoebe Philo     Designer of the Year award
Alexa Chung      British Style award
Lara Stone          Model Of The Year
Burberry              Digital Innovation Award 
6>> The super stylish stepped out looking divine for the British Fashion Awards (as is to be expected!). My top 4 best dressed of the night (and pictured below): 
Alexa Chung in Chanel with a Burberry jacket
Lara Stone in Calvin Klein Collection
Yasmin Le Bon in Christopher Kane
Victoria Beckham in a dress from her collection