From Chanel to Proenza Schouler, Marc Jacobs, Alexander McQueen, Jason Wu and more, the Peplum silhouette is back with an ultra chic vengeance.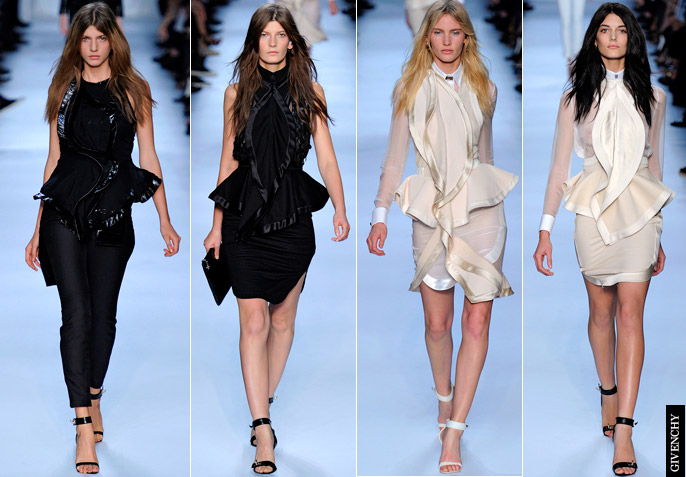 Lady-like, elegant and seductively chic, the peplum silhouette draws attention to the waist and accentuates feminine curves.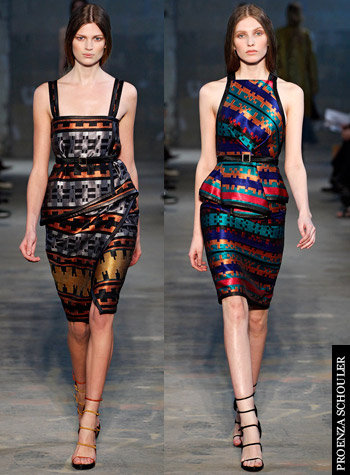 Flaunt your curves with elegant panache in the peplum. This whittled-in-at-the-waist silhouette is often teamed with a conservative hemline and is decidedly charming. Always appearing polished and feminine, the sculptural embellishment creates subtle volume around the hips for a flattering shape.
A peplum is essentially the embellishment or ruffle which is incorporated into the waistline of pencil skirts, jackets or dresses. Restrained in silhouette in comparison to the popular 80's peplum; it still evokes a classic retro aesthetic while appearing effortlessly fashion forward.
When wearing a peplum silhouette, keep your look streamlined and chic with a fitted blouse and heels. Add a thin belt just above the waistline for further definition. Most popular in neutral shades, the peplum also made a runway splash in bold jewel tones (a la Giambatista Valli). Best of all, the peplum is flattering to most body shapes – lending curves to a boyish frame or flaunting the tiny waist of an hourglass figure.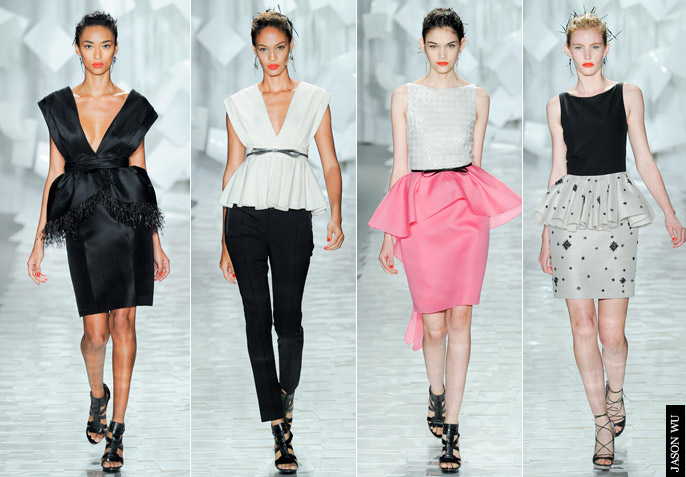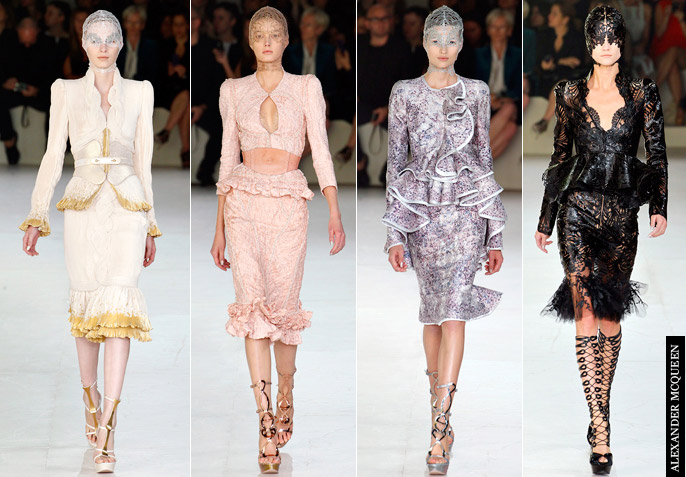 Will you incorporate a peplum silhouette into your wardrobe? xx
Photos style.com
4 Fabulous Fashion Shots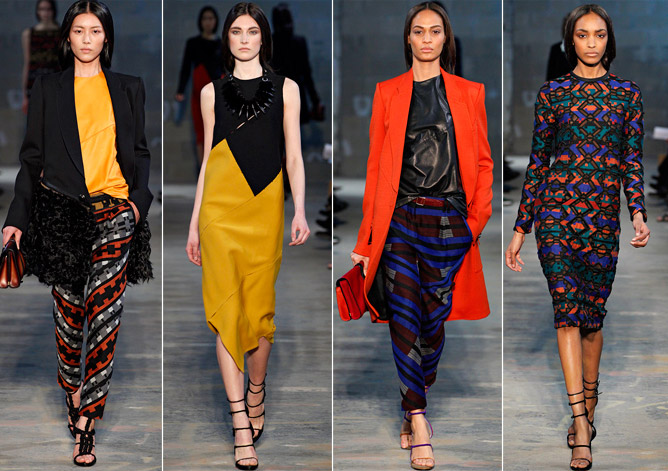 Proenza Schouler
To Grow Under New Investment
A 45% stake in Proenza Schouler, previously owned by the Valentino Fashion Group, has been brought by Andrew Rosen (owner of Theory) and John Howard (financier). Rosen has a portfolio of fashion investments, including; Rag & Bone, Alice & Olivia and Gryphon.
In a joint statement, Proenza Schouler duo, Jack McCollough and Lazaro Hernandez, said: "We are thankful to VFG for giving us a start, and allowing us to get where we are today. There's so much we'd like to accomplish and have found the perfect complement in John and Andrew to help us realize our dreams."
Proenza Schouler has become the hot ticket at New York Fashion Week, favoured by the super stylish; Kate Bosworth, Liv Tyler, Kirsten Dunst and Jennifer Lawrence, amongst others. Starting the label in 2002, Proenza Schouler has already been awarded the Council of Fashion Designers of America 'Designer of the Year' on two occasions.
– – – – – – – – – – – – – – – – – – – – – – – – – – – –
Olivia Palermo Face Of Carrera y Carrera
Modern day style icon; New York socialite; model; designer; reality TV starlet; and all round entrepreneur; Olivia Palermo has been announced as the new face of Spanish jewellery label –  Carrera y Carrera.
In the campaign images (pictured right) Palermo looks radiant and glowing. Adore Olivia Palermo… always immaculately chic!
– – – – – – – – – – – – – – – – – – – – – – – – – – – –
Coco Chanel Secrets Uncovered In New Biography
'Coco Chanel: An Intimate Life', written by Lisa Chaney, will be released later this year and is set to lift the lid on the designer's private life. The biographer claims to have found evidence, Chanel "used drugs, embraced bisexuality and had an affair with Salvador Dali while he was married".
The author's publicist has also confirmed that Chaney accessed documents from the Swiss Federal Archives to prove Günther von Dincklage (one of Chanel's lovers) was a spy for the Nazis during World War II.
While there are many Chanel bios already out there, this one is certainly shaping up to be a compelling read.
– – – – – – – – – – – – – – – – – – – – – – – – – – – –
Rachel Zoe To Design Children's Wear Line
Rachel Zoe has revealed she is designing a children's line. While doing an interview on Hollywood mothers  with US television network ABC, Zoe spoke about her line and said: "There are going to be a lot of boys clothes in my line."
At four months of age Skyler's walk-in-wardrobe is already topped with the crème da la creme, including; custom-made Missoni sweaters and a leather Gucci bomber jacket, amongst others.
– – – – – – – – – – – – – – – – – – – – – – – – – – – –
Hope you are all having a fabulously fashionable week xx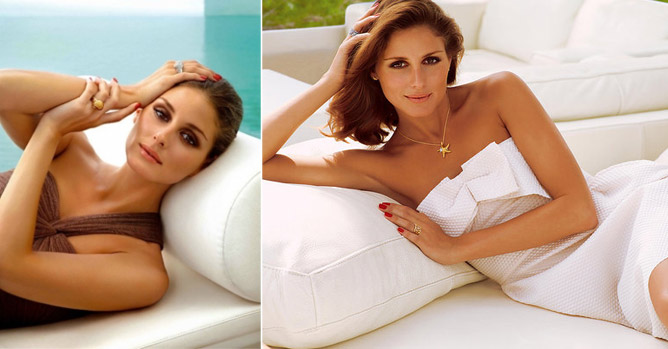 Photos from style.com / google images
Make-Up Trends From The Catwalk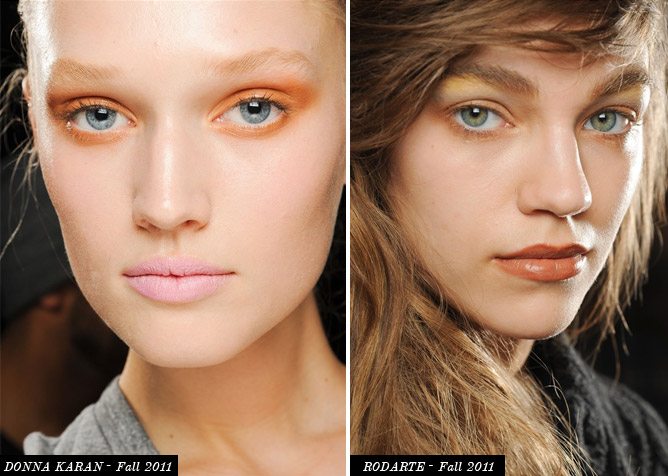 Forget The Lips! Autumn Has 'Fall'en For The Eyes
While I love a statement red lip, this coming Autumn / Winter 2011 season it is all about dramatic, alluring, captivating eyes.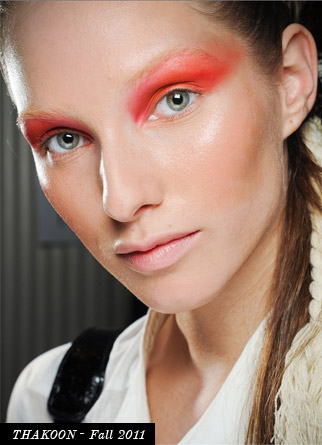 From girly playfulness at Donna Karan (pictured above left) to high-octane neon pinks at Thakoon (pictured right) – the Fall runways left lips nude while eyes had their moment. Powerful eye statements were also seen at: Philip Lim, Anna Sui, Marc Jacobs, Vera Wang and Rodarte.
My favourite: At Donna Karan tangerine cream eye shadow was smudged across the top lid while white eyeliner discreetly traced the bottom. Lips were a delightful pastel pink matte to soften the look. Eyebrows were left untamed. Sweet, simple, playful perfection!
Meanwhile, Philip Lim saw metallic green eyes take the spotlight. At Marc Jacobs, a modern tough baby doll aesthetic took the traditional sweetness of this trend to the next level. Anna Sui created a different take on eye contouring that was both dramatic and intriguing; while Vera Wang's grunge eyes created a dark and brooding prettiness that was just the right amount of sweet and sexy. Rodarte drew inspiration for eyes from the reds, golds and tawny browns of autumn. But the cleanest look was Proenza Schouler, where 'minimalist' eyes still drew the bulk of the impact in the midst of this flawless, barely-there look.
From the catwalk…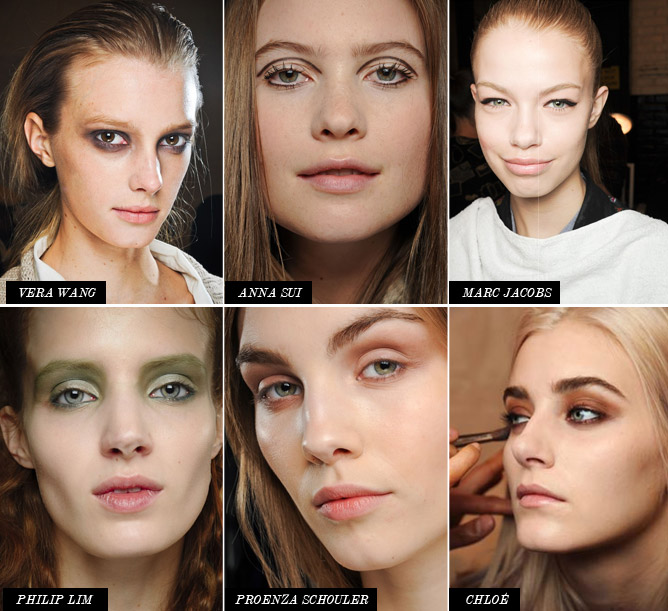 Will your Fall make-up reflect the catwalk trends? Are you feeling a statement eye? xx
Photos from glamourmagazine.co.uk