Valentine's Day Dress List
In celebration of Saint Valentine's Day tomorrow and the beautiful New York Fashion Week collections being shown right now, here are some of my favourite looks which would be just perfect for this romantic occasion.
With a couple of days remaining during New York Fashion Week, it appears red will play an important role for the upcoming Fall season.
From Diane von Furstenberg to Victoria Beckham, Monique Lhuillier, Thakoon, DKNY and more, many have caught a little scarlet fever.
Paint The Town Red… not a colour for the faint of heart, red can give that unmistakable va-va-voom.
The colour of love, passion and seduction – red is the prefect choice for a romantic date this Valentine's Day.
Some red hot inspiration…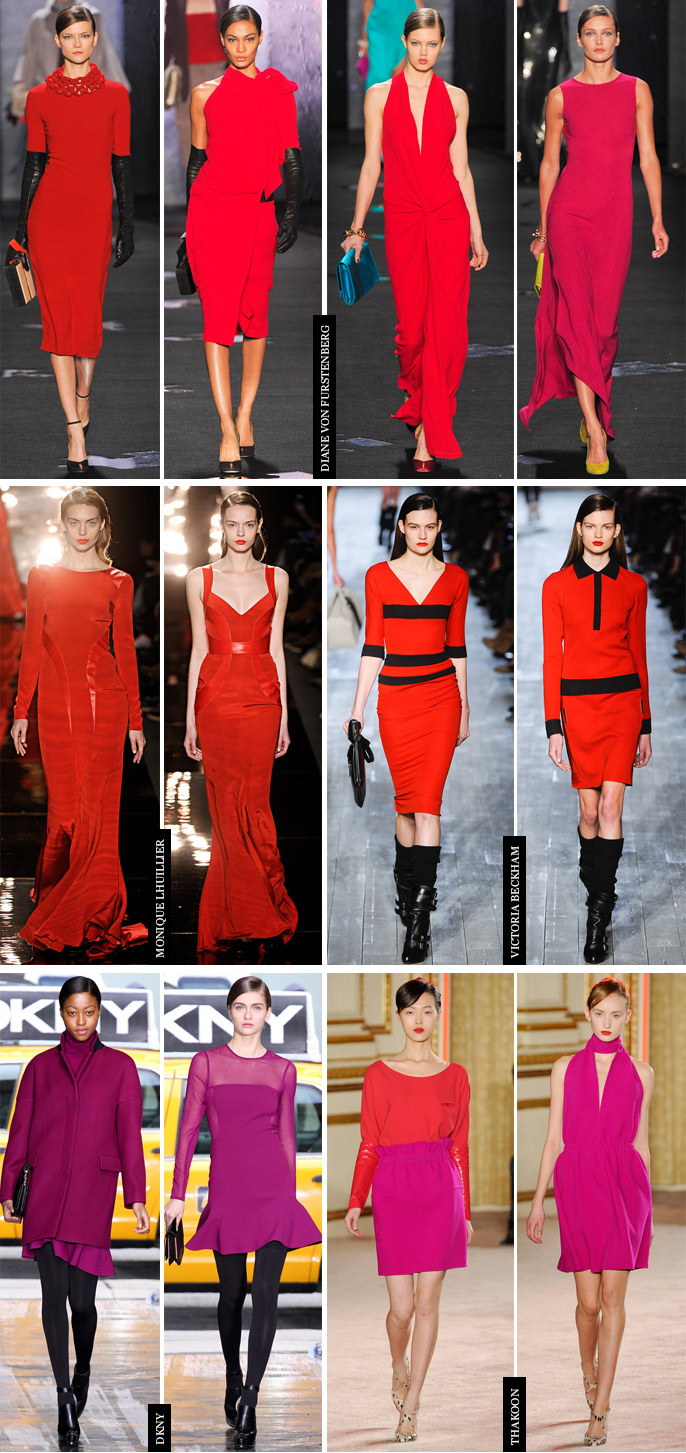 Happy Valentine's Day for tomorrow xx
Photos from style.com
Make-Up Trends From The Catwalk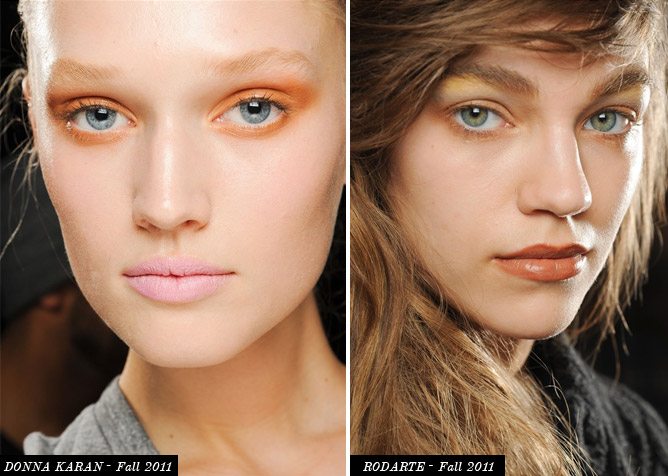 Forget The Lips! Autumn Has 'Fall'en For The Eyes
While I love a statement red lip, this coming Autumn / Winter 2011 season it is all about dramatic, alluring, captivating eyes.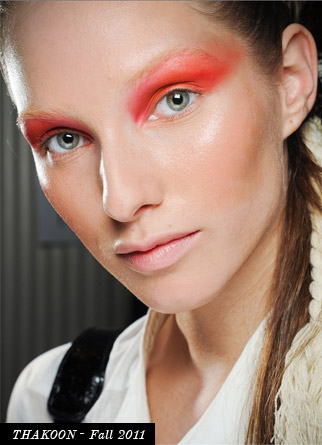 From girly playfulness at Donna Karan (pictured above left) to high-octane neon pinks at Thakoon (pictured right) – the Fall runways left lips nude while eyes had their moment. Powerful eye statements were also seen at: Philip Lim, Anna Sui, Marc Jacobs, Vera Wang and Rodarte.
My favourite: At Donna Karan tangerine cream eye shadow was smudged across the top lid while white eyeliner discreetly traced the bottom. Lips were a delightful pastel pink matte to soften the look. Eyebrows were left untamed. Sweet, simple, playful perfection!
Meanwhile, Philip Lim saw metallic green eyes take the spotlight. At Marc Jacobs, a modern tough baby doll aesthetic took the traditional sweetness of this trend to the next level. Anna Sui created a different take on eye contouring that was both dramatic and intriguing; while Vera Wang's grunge eyes created a dark and brooding prettiness that was just the right amount of sweet and sexy. Rodarte drew inspiration for eyes from the reds, golds and tawny browns of autumn. But the cleanest look was Proenza Schouler, where 'minimalist' eyes still drew the bulk of the impact in the midst of this flawless, barely-there look.
From the catwalk…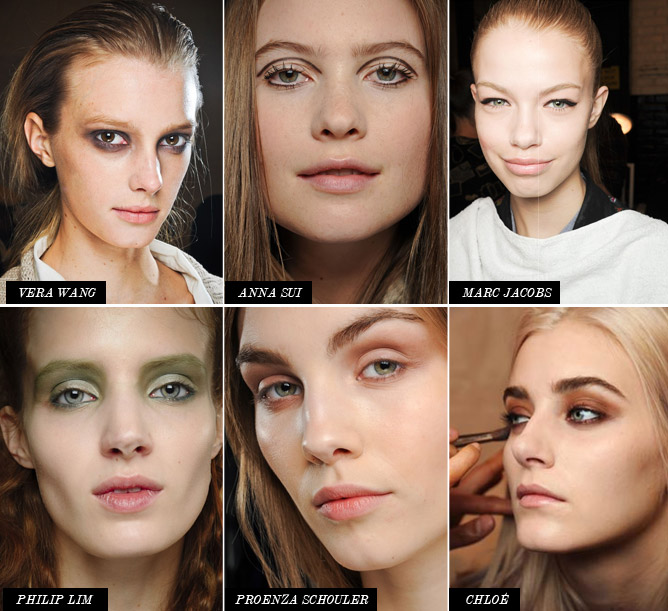 Will your Fall make-up reflect the catwalk trends? Are you feeling a statement eye? xx
Photos from glamourmagazine.co.uk
A Crisp White Summer Awaits
While I have been waiting with baited breath for Fall (to bring out my new minimalism wardrobe essentials…aka the cape!), after seeing the wonderful New York shows I am already dreaming straight ahead to Spring!
Spring/Summer 2011 looks set to be two fun, vibrant seasons. Seasons that will say bye bye to restraint and hello to bright white, colour, prints and sheer exuberance.
NY Favourite Looks:

  White Wonderland

White, white, white! My favourite summer shade and what looks set to be next seasons must do colour! I will go as far to say white will be the new camel of 2011! It's fresh, pure and striking. It also does wonders for a lovely summer glow. White can add an unexpected dash of crisp, classic, sophistication to any look… just think what a white tee can do for jeans.
NY Favourite Collections Part 2:
Michael Kors
After seeing Michael Kors collection, next Summer I will definitely be heading to the Hamptons! Starting the collection with fresh white looks created a breezy, luxe optimism that stayed present throughout the show. The collection then went on to introduce a spectacular colour palette of fresh grass green, vibrant daffodil yellow, delicious candy pink and splashes of creamy purple and blue added in for beautiful measure. Luxe grey and crisp white broke up the collection throughout.
I loved the casual, chic feel of this collection. Crisp cotton and draped jersey in loose silhouettes made dreams of relaxing by the pool materialise from the catwalk. Meanwhile grey cardigans were worn oversized and cozy.
My Michael Kors must haves….
The yellow shift dress (pictured 2nd row) is one of my absolute must-haves for next season! I WANT IT NOW! I also adore the grey cashmere sweatshirt and sequined trouser combination… magnifique!
Thakoon
Sheer organza, swiss eyelet and faded denim created a sexy yet sweet collection at Thakoon. Soft and pretty, the collection mainly in white with cornflower blue touches, before building to black, featured light layering, wispy blue blouses and breezy feminine dresses. Thakoon's pieces embodied the essential cool, effortlessness you desire in a wearable summer wardrobe. Touches of sharp tailoring in pure white also created some strong looks.
My top choice at Thakoon….
The wispy, light cornflower blue dress is my favourite Thakoon look (pictured 2nd row). Appearing weightless and goddess-like, this dress will demand an entrance at any Spring Wedding or Pool Party.
Victoria Beckham
Victoria Beckham's Spring/Summer collection took an unexpected turn away from corseted structure this season. Instead we saw loose silhouettes and soft draping. Electric shades of ultraviolet and sunshine yellow added notes of the unexpected to her main colour palette of: blush pink, soft brown, silver, white and black. With a nod to the 60's, Beckham's dress shapes were beautiful, feminine and fun. Exposed zippers running down the back and soft seams on the front of dresses, were subtly sexy.
My essential Victoria Beckham pieces….
Two of my favourite dresses from the whole of NY Fashion week appeared in this collection! Firstly the white pleat shoulder bell dress with silver waist (pictured at the very top of this page). And secondly the white optical print flare dress (pictured centre of the 2nd row). I love, love, love them!