4 Fabulous Fashion Shots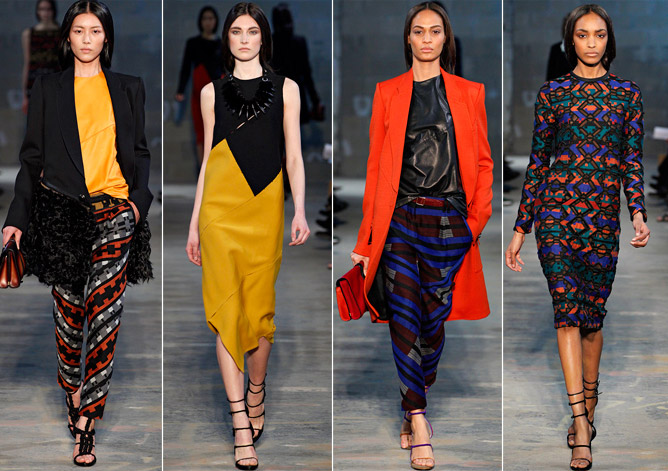 Proenza Schouler
To Grow Under New Investment
A 45% stake in Proenza Schouler, previously owned by the Valentino Fashion Group, has been brought by Andrew Rosen (owner of Theory) and John Howard (financier). Rosen has a portfolio of fashion investments, including; Rag & Bone, Alice & Olivia and Gryphon.
In a joint statement, Proenza Schouler duo, Jack McCollough and Lazaro Hernandez, said: "We are thankful to VFG for giving us a start, and allowing us to get where we are today. There's so much we'd like to accomplish and have found the perfect complement in John and Andrew to help us realize our dreams."
Proenza Schouler has become the hot ticket at New York Fashion Week, favoured by the super stylish; Kate Bosworth, Liv Tyler, Kirsten Dunst and Jennifer Lawrence, amongst others. Starting the label in 2002, Proenza Schouler has already been awarded the Council of Fashion Designers of America 'Designer of the Year' on two occasions.
– – – – – – – – – – – – – – – – – – – – – – – – – – – –
Olivia Palermo Face Of Carrera y Carrera
Modern day style icon; New York socialite; model; designer; reality TV starlet; and all round entrepreneur; Olivia Palermo has been announced as the new face of Spanish jewellery label –  Carrera y Carrera.
In the campaign images (pictured right) Palermo looks radiant and glowing. Adore Olivia Palermo… always immaculately chic!
– – – – – – – – – – – – – – – – – – – – – – – – – – – –
Coco Chanel Secrets Uncovered In New Biography
'Coco Chanel: An Intimate Life', written by Lisa Chaney, will be released later this year and is set to lift the lid on the designer's private life. The biographer claims to have found evidence, Chanel "used drugs, embraced bisexuality and had an affair with Salvador Dali while he was married".
The author's publicist has also confirmed that Chaney accessed documents from the Swiss Federal Archives to prove Günther von Dincklage (one of Chanel's lovers) was a spy for the Nazis during World War II.
While there are many Chanel bios already out there, this one is certainly shaping up to be a compelling read.
– – – – – – – – – – – – – – – – – – – – – – – – – – – –
Rachel Zoe To Design Children's Wear Line
Rachel Zoe has revealed she is designing a children's line. While doing an interview on Hollywood mothers  with US television network ABC, Zoe spoke about her line and said: "There are going to be a lot of boys clothes in my line."
At four months of age Skyler's walk-in-wardrobe is already topped with the crème da la creme, including; custom-made Missoni sweaters and a leather Gucci bomber jacket, amongst others.
– – – – – – – – – – – – – – – – – – – – – – – – – – – –
Hope you are all having a fabulously fashionable week xx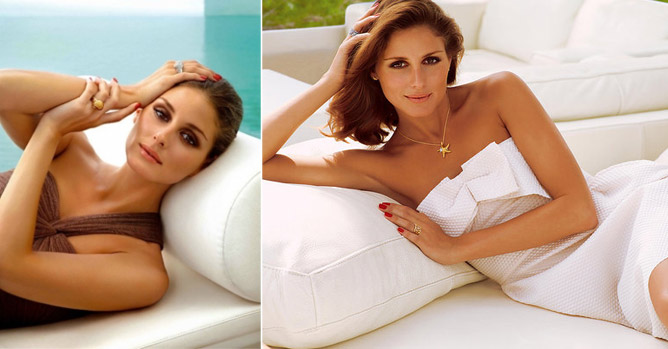 Photos from style.com / google images
2 Double + 6 Espresso Shots Of News…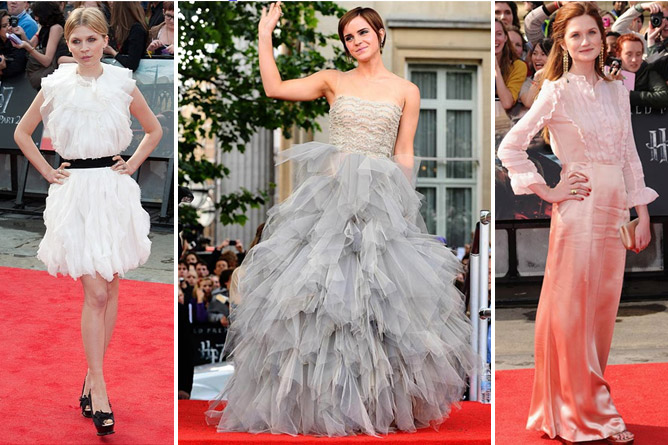 2 Double Espresso Shots Of News…
"Harry Potter And The Deathly Hallows Part 2″ World Premiere  – The Fashion…
Emma Watson chose a spectacular Oscar de la Renta fairytale ball gown for the World Premiere of "Harry Potter And The Deathly Hallows Part 2″ in London last week.  The tulle gown with embroidered bodice and full skirt, from the Oscar de la Renta Fall 2011 collection, was a truly breathtaking fashion moment! Dramatic, romantic and whimsically beautiful… Emma Watson was simply enchanting!
For the after party, Watson changed into a darling embellished Elie Saab dress (one of my personal favourites from the Spring 2011 Couture collection)! (pictured right)
Clemence Poesy also bewitched in a white silk chiffon Nina Ricci dress from the Spring / Summer 2011 collection. Accentuated with black waistband, Poesy is the epitome of French polished chic.
Finally, Bonnie Wright chose a floor-length gown by Miu Miu. The peach long sleeved gown with a ruffed bodice was elegantly reserved. Love her statement Wright and Teague earrings!
The Beckhams' Welcome Harper Seven Beckham…
David and Victoria Beckham welcomed their first daughter, Harper Seven Beckham, yesterday morning in Los Angeles.  Announcing her arrival on Facebook, David Beckham wrote: "I am so proud and excited to announce the birth of our daughter Harper Seven Beckham. She weighed a healthy 7lbs 10oz and arrived at 7.55 this morning, here in LA. Victoria is doing really well and her brothers are delighted to have a baby sister. xx"
Her middle name, Seven, references her father's sporting history, having played in the number seven shirt for both Manchester United and England. While it was also revealed by a spokesperson, the couple liked the name Harper, because it was an "old English name" and also had connections with the baby's country of birth – American novelist Harper Lee.
6 Espresso Shots Of News…
Rumours, Rumours… No John Galliano For Topshop!
The Fashion world was abuzz last week with the speculation of a John Galliano for Topshop Collaboration.  John Galliano has now asserted he will not be collaborating with Topshop in the near future. A spokesperson for Galliano has said:  "His only focus for the foreseeable future is concentrating on his rehab.  There is no truth in this rumour."
Roland Mouret For
Robert Clergerie
Roland Mouret has bene announced as the new Creative Director of Robert Clergerie, the French footwear label. Mouret will be working with the label in an attempt to raise it's profile. Of his new appointment, Mouret has said: "This is a chance for me to work with a master on the art and craft of shoe design and to be part of the special relationship that women have with their shoes."
The Duchess of Cambridge Wears Jimmy Choo & Causes An Online Sell Out
The Duchess Of Cambridge, stepped out wearing the gorgeous Jimmy Choo Vamp Glitter Finish Sandals for the BAFTA event in Los Angeles over the weekend (pictured right). Since then the heels have sold out very quickly online! The power of a princess!
Anna Wintour Receives France's Highest Award – The Legion d' Honneur
Last week US Vogue Editor, Anna Wintour, was presented with the Legion d' Honneur by French President, Nicolas Sarkozy at the Élysée Palace. Wintour joins other fashion visionaries – Karl Lagerfeld, John Galliano and Ralph Lauren, who have all previously received the prestigious medal. Wintour wore Chanel to the occasion (pictured right).
Camilla Al Fayed has bought a controlling share in Issa – aka the Duchess of Cambridge's favourite label
Camilla Al Fayed (daughter of ex Harrods owner, Mohamed Al Fayed), purchased a 51% stake in the label, Issa. Her title will be chairwoman and she will oversee the commercial expansion of the brand.  If you recall, The Duchess Of Cambridge chose an Issa blue wrap dress for her engagement announcement to Prince William.  
Azzedine Alaia's Catwalk Return
After eight years away from the catwalk collections, Azzedine Alaia returned during Couture week with a highly fashionable bang! Ultra feminine silhouttes, floor-length gowns, fur and flamenco ruffles made for a decedent affair… LOVE, LOVE, LOVE!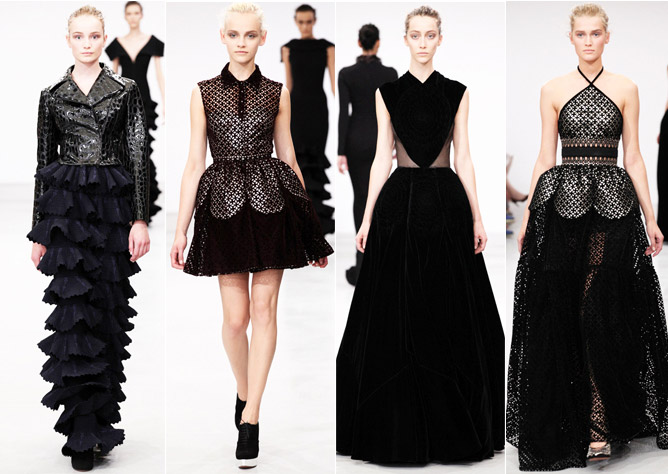 Hope everyone had a fashionable Monday! xx
photos from style.com / mirror.co.uk / net-a-porter.com / google images 
Your Fabulous Fashion Scoop

4 Espresso Shots Of Fashion News On Thursday…
– – – – – – – – – – – – – – – – – – – – 
Aussie 'Plus Size' Model Covers Vogue Italia
& Elle France
Australian 'plus size' model, Robyn Lawley, has landed the cover Vogue Italia's June 2011 issue. The 21year old also covers French Elle's latest Spécial Rondes 'Body Issue' .  (both covers pictured above)
This is the first time plus-size models have graced the cover of Vogue Italia since Sophie Dahl in 2000. Lawley was shot by renowned photographer Steven Meisel for the cover, which she shares with Tara Lynn and Candice Huffine. Vogue Italia Editor, Franca Sozzani, has dedicated a section of the magazine to curvier models, saying: "Why should these women slim down? Many of the women who have a few extra kilos are especially beautiful and also more feminine."
For Elle France, Lawley appears on the cover and also a 10-page editorial inside the magazine.
Lawley is an Australian size 14 and looks exquisitely beautiful on both covers…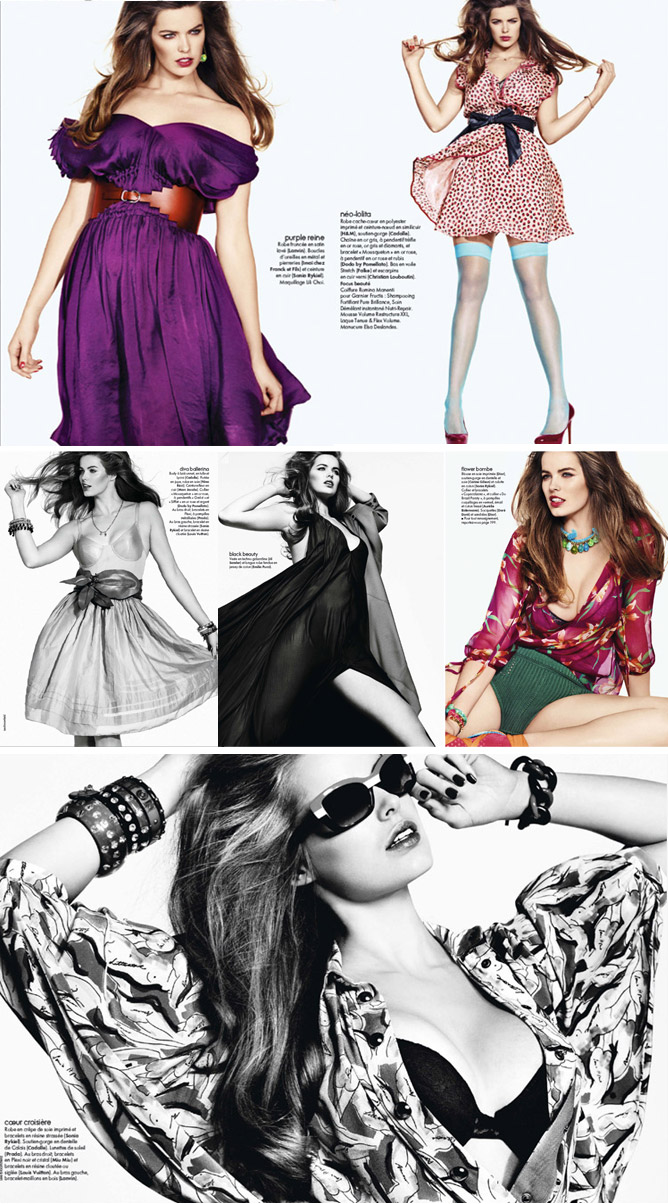 Jessica Simpson Tween Line
It was recently reported Jessica Simpson's clothing label is about to become the first ever celebrity line to top a billion dollars in retail sales. And now she is set to expand her fashion empire to the tween market!
The Jessica Simpson tween line will feature: shoes, outerwear, sportswear, activewear and jeans. Her younger sister, Ashlee Simpson, will also come on board as co-creative director. Of the new area of her brand, Jessica Simpson has said:
"Creating a tween apparel collection was a natural extension for the brand. I'm excited to bring my sister, Ashlee, along as co-creative director of this division, because she brings a savvy rocker edge that defines today's tweens."
– – – – – – – – – – – – – – – – – – – – 
Mario Testino For
Kate Moss' Wedding
Kate Moss has chosen Mario Testino as her official wedding photographer (pictured right).
The date is set for Moss to wed Jamie Hince on July 2nd.  Testino has had some practise in the Wedding genre of late, having taken the Duke and Duchess' of Cambridge's engagement pictures. Other details of the Moss wedding have been kept under wraps; however, rumour has it Shirley Bassey is set to perform. Watch this space…
– – – – – – – – – – – – – – – – – – – – 
A Chanel Bag Made Entirely Of Beef Jerky?
That is exactly what Nancy Wu, Art Center College of Design student, has created (pictured right)! Formed by hand-stitched sheets of dried meat, the bag also features the gold-chain handle and interlocking CC logo synonymous with the classic 2.55 Chanel handbag. Nancy also created a Louis Vuitton beef jerky wallet in her collection.
Very clever… but I think I will hold out for original!
– – – – – – – – – – – – – – – – – – – – 
Happy Thursday! xx
Photos from grazia.com.au / google images