4 Fabulous Fashion Shots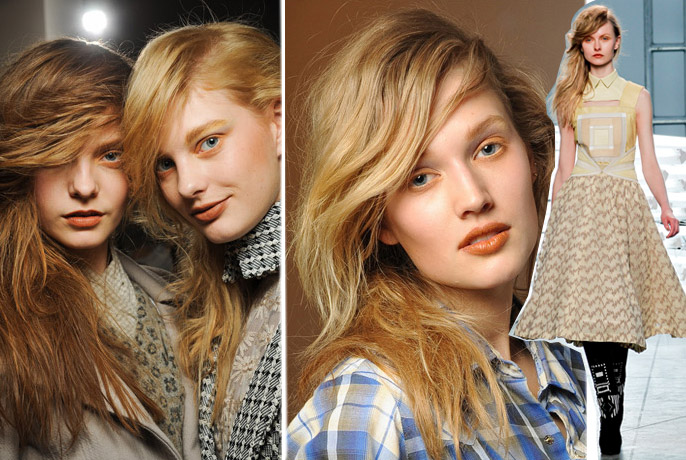 Beauty Look Of The Week… Rodarte's Sun Kissed Glamour
Rodarte's Fall 2011 collection took inspiration from the American Plains of Terrence Malick's "Days Of Heaven". Reminiscent of glowing sunsets, the colour palette of golden wheat hues imitate amber-lit mornings and dusk, while also brightening the complexion.
To achieve the look, start with a flawless complexion and a dusting of bronzing power underneath the cheekbones for added definition. Yellow and golden eye shadow tones are then applied around the rim of the lids, brow bone and in the crease. The inner rims of the eyes are lined with fresh toned pencil, before the look is finished off with a rich copper-berry shade on the lips.
The Rodarte make-up and texturised tresses are prefect for a glowing Summer look.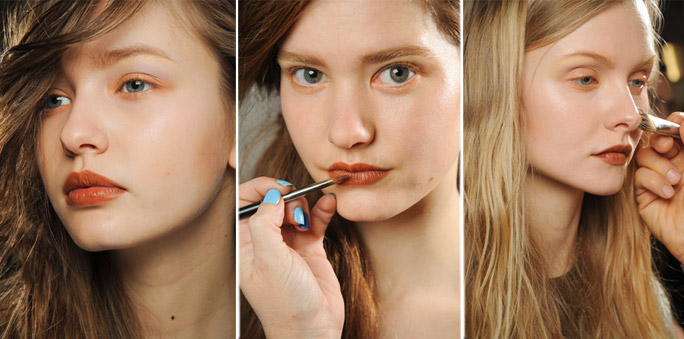 Kim Kardashian's Wedding Gowns
The first cover of Kim Kardashian on her Wedding Day has been released. The People's Magazine cover shows a good glimpse of one of the magnificent Vera Wang gowns she wore on her big day.
It's been reported that just two days before the wedding Kim hadn't decided which one of the dresses she was going to wear for her big "I do" moment. Of her chosen gown, Vera Wang said: "It was Cinderella. But Cinderella with a very sexy body. She has a very Liz Taylor or Sophia Loren kind of body and we didn't want to lose that." Kim later changed into her two other gowns for the festivities (see sketches below).
Lady Gaga Fashion Label
Lady Gaga and her little sister, Natali Germanotta, are believed to be creating a fashion line.
The line will reportedly be "relatively normal and wearable", with the pair intending to remodel iconic dresses from the past but with a twist – think of Marilyn Monroe's white dress but created rubber… interesting!
Marc Jacobs For Dior?
The rumour mill is still in overdrive with reports indicating Marc Jacobs will move to the helm of Christian Dior, while Phoebe Philo will take on his position at Louis Vuitton.
Now Marc Jacobs president, Robert Duffy, has added fuel to the fire by commenting, "[Marc] could do a couture line". Meanwhile, no shortlist has been revealed by Dior and no date has yet been set for an announcement of who will take over as Creative Director.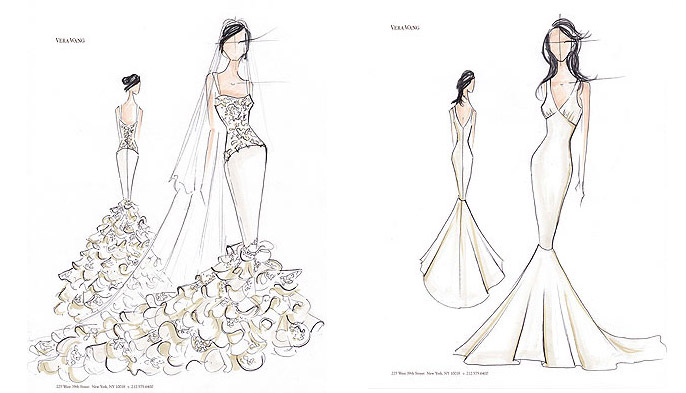 Happy Thursday! xx
photos from style.com / grazia.com.au
Your Fabulous Fashion Scoop

4 Espresso Shots Of Fashion News On Thursday…
– – – – – – – – – – – – – – – – – – – – 
Aussie 'Plus Size' Model Covers Vogue Italia
& Elle France
Australian 'plus size' model, Robyn Lawley, has landed the cover Vogue Italia's June 2011 issue. The 21year old also covers French Elle's latest Spécial Rondes 'Body Issue' .  (both covers pictured above)
This is the first time plus-size models have graced the cover of Vogue Italia since Sophie Dahl in 2000. Lawley was shot by renowned photographer Steven Meisel for the cover, which she shares with Tara Lynn and Candice Huffine. Vogue Italia Editor, Franca Sozzani, has dedicated a section of the magazine to curvier models, saying: "Why should these women slim down? Many of the women who have a few extra kilos are especially beautiful and also more feminine."
For Elle France, Lawley appears on the cover and also a 10-page editorial inside the magazine.
Lawley is an Australian size 14 and looks exquisitely beautiful on both covers…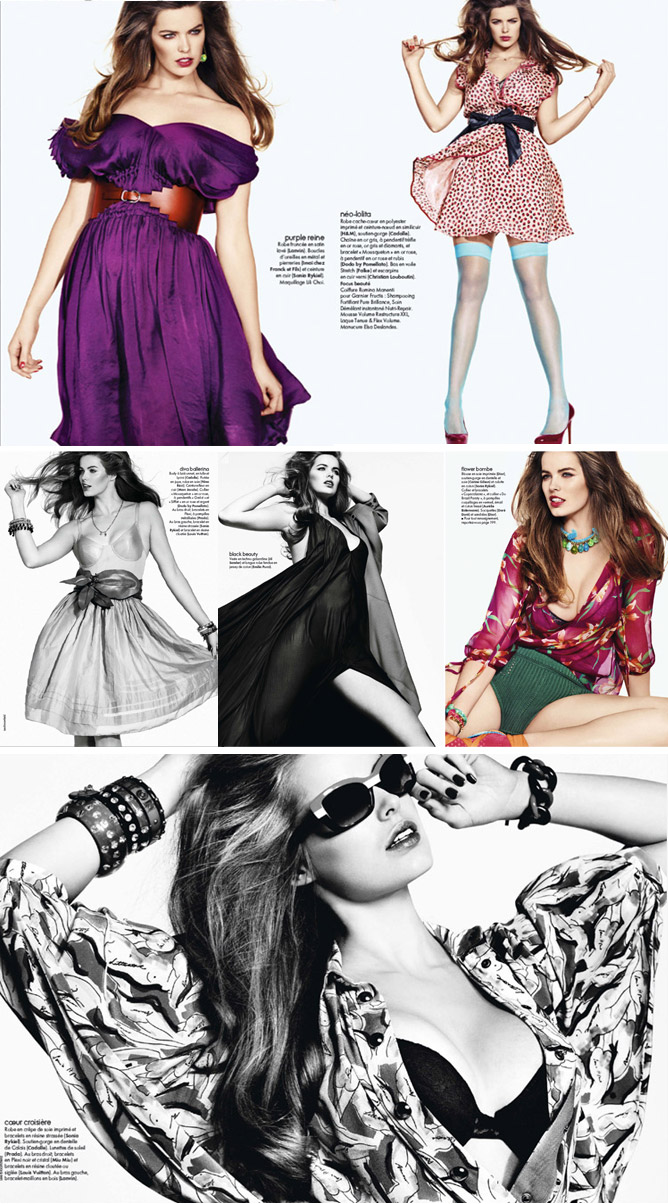 Jessica Simpson Tween Line
It was recently reported Jessica Simpson's clothing label is about to become the first ever celebrity line to top a billion dollars in retail sales. And now she is set to expand her fashion empire to the tween market!
The Jessica Simpson tween line will feature: shoes, outerwear, sportswear, activewear and jeans. Her younger sister, Ashlee Simpson, will also come on board as co-creative director. Of the new area of her brand, Jessica Simpson has said:
"Creating a tween apparel collection was a natural extension for the brand. I'm excited to bring my sister, Ashlee, along as co-creative director of this division, because she brings a savvy rocker edge that defines today's tweens."
– – – – – – – – – – – – – – – – – – – – 
Mario Testino For
Kate Moss' Wedding
Kate Moss has chosen Mario Testino as her official wedding photographer (pictured right).
The date is set for Moss to wed Jamie Hince on July 2nd.  Testino has had some practise in the Wedding genre of late, having taken the Duke and Duchess' of Cambridge's engagement pictures. Other details of the Moss wedding have been kept under wraps; however, rumour has it Shirley Bassey is set to perform. Watch this space…
– – – – – – – – – – – – – – – – – – – – 
A Chanel Bag Made Entirely Of Beef Jerky?
That is exactly what Nancy Wu, Art Center College of Design student, has created (pictured right)! Formed by hand-stitched sheets of dried meat, the bag also features the gold-chain handle and interlocking CC logo synonymous with the classic 2.55 Chanel handbag. Nancy also created a Louis Vuitton beef jerky wallet in her collection.
Very clever… but I think I will hold out for original!
– – – – – – – – – – – – – – – – – – – – 
Happy Thursday! xx
Photos from grazia.com.au / google images