4 Fabulous Fashion Shots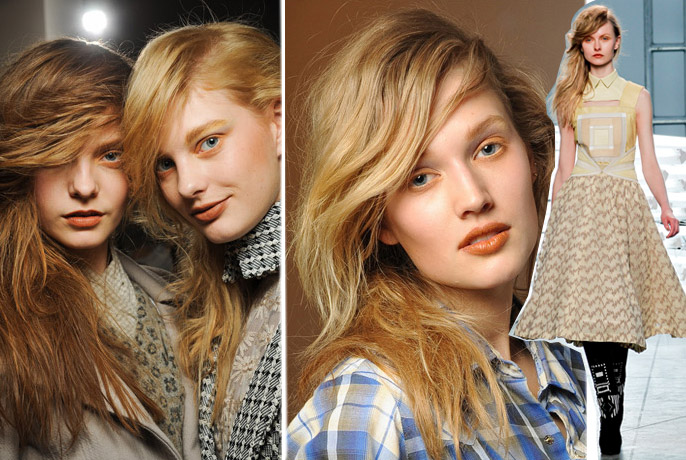 Beauty Look Of The Week… Rodarte's Sun Kissed Glamour
Rodarte's Fall 2011 collection took inspiration from the American Plains of Terrence Malick's "Days Of Heaven". Reminiscent of glowing sunsets, the colour palette of golden wheat hues imitate amber-lit mornings and dusk, while also brightening the complexion.
To achieve the look, start with a flawless complexion and a dusting of bronzing power underneath the cheekbones for added definition. Yellow and golden eye shadow tones are then applied around the rim of the lids, brow bone and in the crease. The inner rims of the eyes are lined with fresh toned pencil, before the look is finished off with a rich copper-berry shade on the lips.
The Rodarte make-up and texturised tresses are prefect for a glowing Summer look.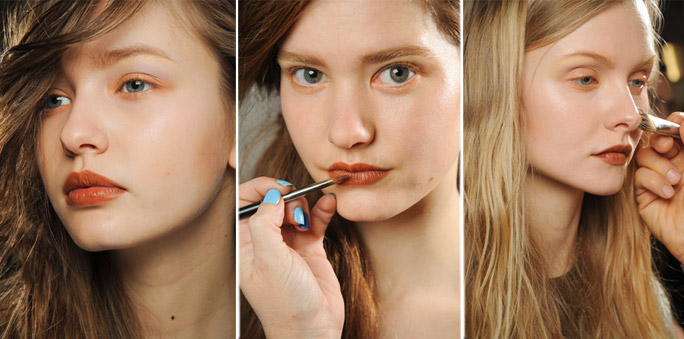 Kim Kardashian's Wedding Gowns
The first cover of Kim Kardashian on her Wedding Day has been released. The People's Magazine cover shows a good glimpse of one of the magnificent Vera Wang gowns she wore on her big day.
It's been reported that just two days before the wedding Kim hadn't decided which one of the dresses she was going to wear for her big "I do" moment. Of her chosen gown, Vera Wang said: "It was Cinderella. But Cinderella with a very sexy body. She has a very Liz Taylor or Sophia Loren kind of body and we didn't want to lose that." Kim later changed into her two other gowns for the festivities (see sketches below).
Lady Gaga Fashion Label
Lady Gaga and her little sister, Natali Germanotta, are believed to be creating a fashion line.
The line will reportedly be "relatively normal and wearable", with the pair intending to remodel iconic dresses from the past but with a twist – think of Marilyn Monroe's white dress but created rubber… interesting!
Marc Jacobs For Dior?
The rumour mill is still in overdrive with reports indicating Marc Jacobs will move to the helm of Christian Dior, while Phoebe Philo will take on his position at Louis Vuitton.
Now Marc Jacobs president, Robert Duffy, has added fuel to the fire by commenting, "[Marc] could do a couture line". Meanwhile, no shortlist has been revealed by Dior and no date has yet been set for an announcement of who will take over as Creative Director.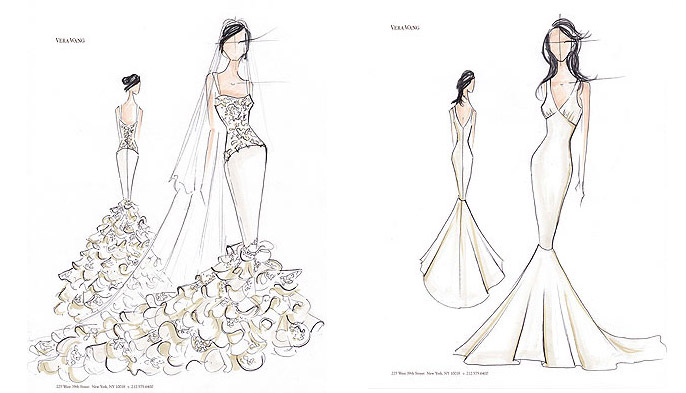 Happy Thursday! xx
photos from style.com / grazia.com.au
Your Fabulous Fashion Scoop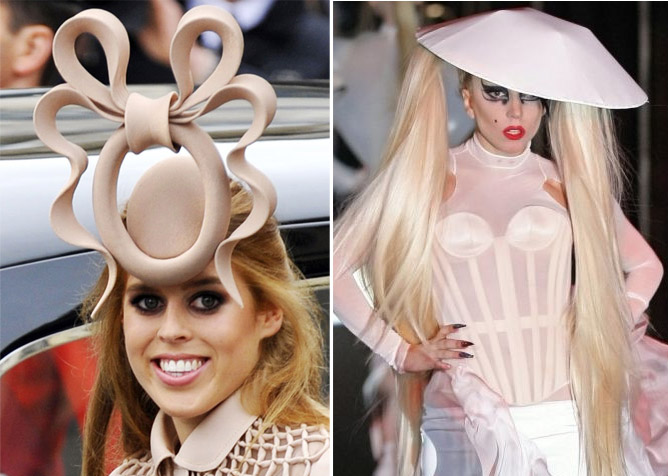 5 Delightful Sunday Espresso Shots of News…
Bids Reach £80,000 for Princess Beatrice's Royal Wedding Hat
Just three weeks ago it was referred to as 'fashion roadkill', yet now Princess Beatrice's Philip Treacy headpiece has reached £80,000. Attracting over a 100 bidders online, the profits will go straight to the Little Bee Initiative, a charity founded by Princess Beatrice to raise money for Children in Crisis and Unicef. Initially attracting much ridicule, with the "Princess Beatrice's ridiculous royal wedding hat" Facebook page having more than 142,000 likes; Treacy remained defiant, stating "The hat is a symbol of positivity. I hope people all over the world will be generous and the hat will benefit many." Bidding is set to close today, so a flurry of last minute bids is to be expected… watch this space.
Lady Gaga's Fashion Also Up For Sale In New Charity Auction
Lady Gaga is selling some of her most iconic looks in aid of the Robin Hood Foundation. The three day event in conjunction with Gaga's stylist Nicola Formichetti and the charity, will take place in New York but is also open to everyone online via the Gilt Groupe website. One of the most sought after items is the white full length gown, worn by Gaga at Paris Fashion Week in March. As well as clothing, concert tickets and Gaga-inspired charms up for up for auction…
David Beckham's Underwear Line
David Beckham has announced he will be launching his own bodywear line for men. Beckham has said, "I've had the idea of doing a bodywear collection for some time now. The push to do something of my own really came as a result of my collaboration with Armani.".  He will also be launching a new scent entitled 'Homme by David Beckham' later this year.  The advertisements will include a specially designed logo created by Stella McCartney's husband Alasdhair Willis (pictured right). Victoria Beckham tweeted a pic of the branding along with the words: "David announced today he is launching his own bodywear range!!! x" last week. And before you ask… of course he will be face of both his bodywear and fragrance products!
Marion Cotillard
Baby News
Actress and Dior muse, Marion Cotillard has given birth to her first child, a baby boy named Marcel. In celebration, here are some of my favourite Marion Cotillard's style looks…
The World's First Fashion Hotel In Dubai
The five-star hotel to be owned and operated by the Al Habtoor Group and will comprise of 30-storeys. The most impressive part… the exterior will display a projection using the world's largest 100 metre LED screen! Even better than this… it will broadcast the latest Fashion TV highlights, around the clock! Guests will also have access to 30 Fashion TV channels, as well as the biggest Fashion DVD library in the world – offering 50,000 DVDs on the history of fashion! Check me in now…
Happy Sunday! xx
Photos from independent.co.uk / grazia.com.au / google images
Your Daily Fashion Scoop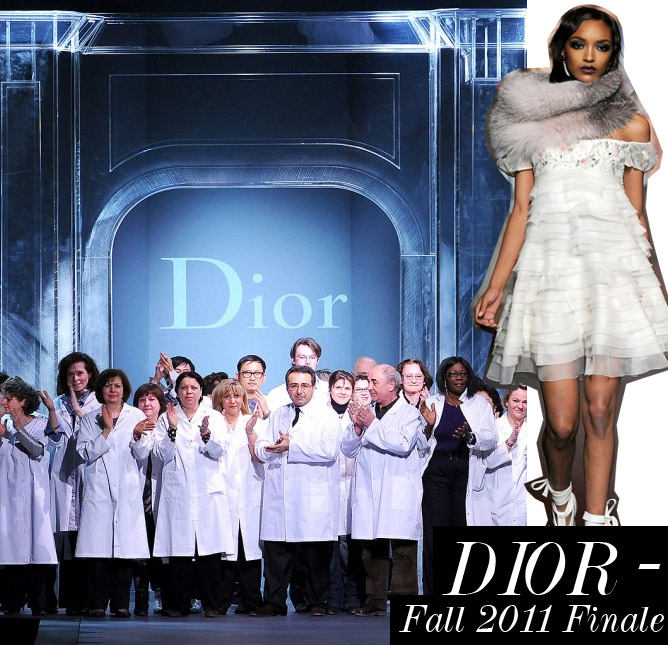 1 Beautiful Fashion Moment…
After the events of last week, who would have known what to expect at the Dior Fall 2011 show yesterday. But as the lights dimmed after the final look left the runway, the entire 30-strong members of the Dior ateliers – the seamstresses and craftsmen, all dressed in white coats – appeared. Tears were shed and the crowd applauded… a beautiful moment at the end of much upheaval.
9 Espresso Shots Of News…
John Galliano's Show Cancelled
1>> John Galliano's show has been cancelled due to last week's events. Select editors and buyers have been invited to view the new collection at a much smaller presentation on Sunday. Galliano however will not be attending…
Miranda Kerr Back On The Catwalk At Balenciaga
2>> Just 2months after giving birth to her first child, Flynn, Miranda Kerr was back on the catwalk at the Balenciaga during Paris Fashion Week. This was her third time walking for Balenciaga (last season she was 5months pregnant when she took to the runway!). Her husband Orlando Bloom watched from the front row. After the show, Kerr wrote on her Facebook: "The Balenciaga Show was incredible. We are having a great time in Paris. Love Miranda xxx".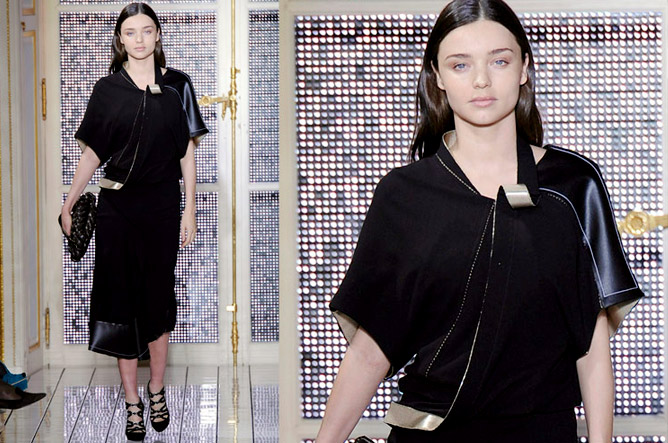 Lady Gaga Walks For Mugler In Paris
3>> Lady Gaga also took to the catwalk this week, modelling for Nicola Formichetti's first womenswear show for Mugler in Paris. Nicola Formichetti is Gaga's Stylist and became creative director of Mugler last year. Never one to do things by halves, Gaga also took on the role of Musical Director for the show; treating the crowd to the premiere of her new song Government Hooker. Gaga took to the catwalk wearing two looks from the collection – one black and one white…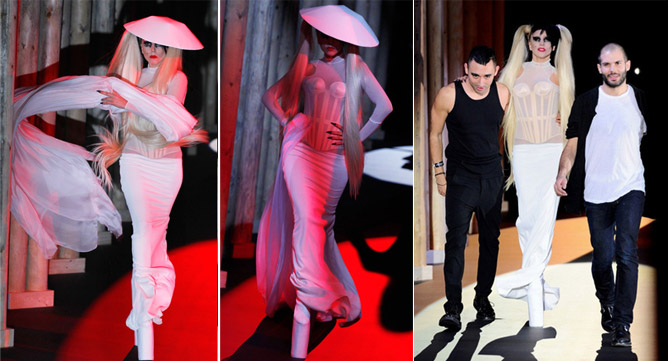 Alberta Ferretti & Emma Watson's 'Pure Treads'
4>> The first look from Alberta Ferretti and Emma Watson's capsule collection Pure Treads has been released. Made from environmentally friendly materials in Italy, the capsule collection is available to buy exclusively from AlbertaFerretti.com from March 21st 2011. A percentage of each purchase will be donated to People Tree…
Kate Middleton's Royal Wedding Shoes
5>>While what gown Kate Middleton will be wearing for her royal wedding has been in high discussion, talk is now turning to her toes. WWD's Footwear News asked five esteemed shoe designers – Manolo Blahnik, Giuseppe Zanotti, René Caovilla, Cesare Casadei and Georgina Goodman – to sketch what they believe is perfect for special day…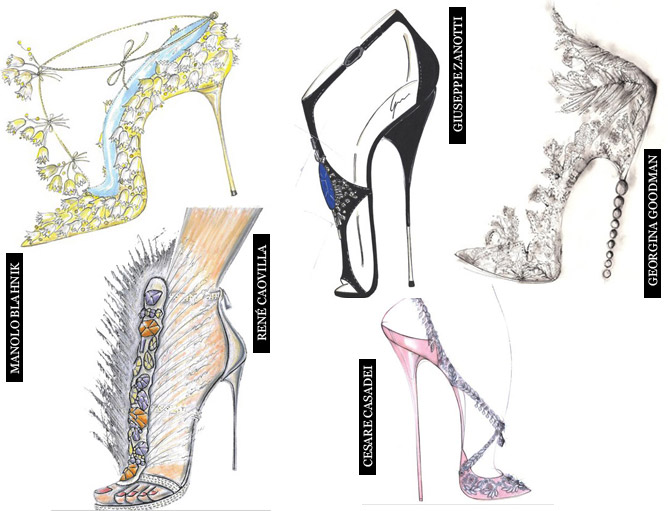 Megan Fox For Giorgio Armani
6>> Megan Fox has been announced as the face of Giorgio Armani Code Woman. Her striking campaign sees her wear a devine Armani gown and alluring red lipstick, while showcasing her extraordinary beauty…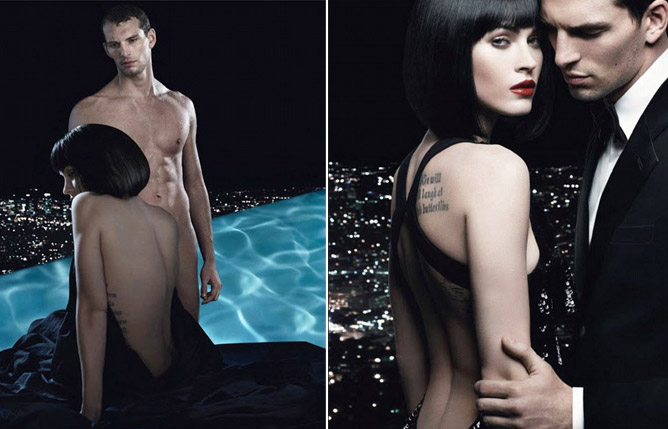 Ashton Kutcher For Colcci
7>> Speaking (well typing) of an actor turned 'model', starring in the Colcci Autumn Winter 2011 Campaign, is Ashton Kutcher. In the campaign he is joined by Victoria's Secret Angel Alessandra Ambrosio. Kutcher is no stranger to modelling jeans, he was previously the face of Pepe Jeans…

Abbie Cornish Wears Iconic Prada Stripes
8>> The iconic Prada Spring / Summer 2011 stripes make another extraordinary cover! Abbie Cornish graces the cover of Harper's Bazaar Australia wearing the divine strapless green stripe dress! Simply stunning…
Brad Goreski Styling
Jessica Alba
9>> Brad Goreski (aka previously Rachel Zoe's bow tie wearing Stylist Assistant) now has his own star client. Goreski is styling Jessica Alba. Cannot wait to see Alba at her next red carpet event for the result…
What did you think of Dior's Fall 2011 collection? & Who do you think will replace John Galliano at Dior? xx
Photos from style.com / vogue.co.uk / grazia.com.au / albertaferretti.com / dailymail.co.uk / harpersbazaar.com.au