Your Fabulous Fashion Scoop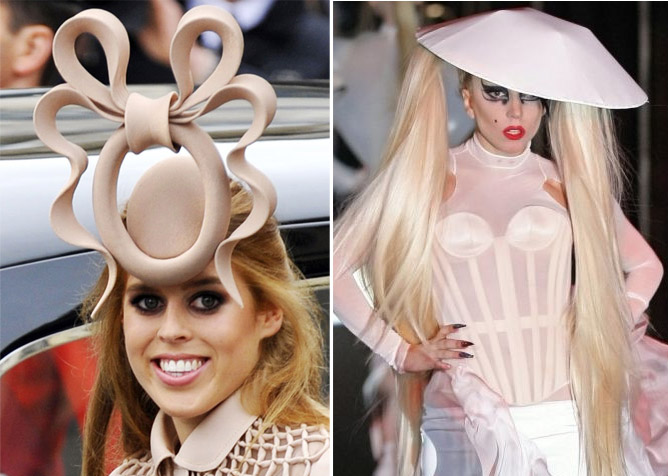 5 Delightful Sunday Espresso Shots of News…
Bids Reach £80,000 for Princess Beatrice's Royal Wedding Hat
Just three weeks ago it was referred to as 'fashion roadkill', yet now Princess Beatrice's Philip Treacy headpiece has reached £80,000. Attracting over a 100 bidders online, the profits will go straight to the Little Bee Initiative, a charity founded by Princess Beatrice to raise money for Children in Crisis and Unicef. Initially attracting much ridicule, with the "Princess Beatrice's ridiculous royal wedding hat" Facebook page having more than 142,000 likes; Treacy remained defiant, stating "The hat is a symbol of positivity. I hope people all over the world will be generous and the hat will benefit many." Bidding is set to close today, so a flurry of last minute bids is to be expected… watch this space.
Lady Gaga's Fashion Also Up For Sale In New Charity Auction
Lady Gaga is selling some of her most iconic looks in aid of the Robin Hood Foundation. The three day event in conjunction with Gaga's stylist Nicola Formichetti and the charity, will take place in New York but is also open to everyone online via the Gilt Groupe website. One of the most sought after items is the white full length gown, worn by Gaga at Paris Fashion Week in March. As well as clothing, concert tickets and Gaga-inspired charms up for up for auction…
David Beckham's Underwear Line
David Beckham has announced he will be launching his own bodywear line for men. Beckham has said, "I've had the idea of doing a bodywear collection for some time now. The push to do something of my own really came as a result of my collaboration with Armani.".  He will also be launching a new scent entitled 'Homme by David Beckham' later this year.  The advertisements will include a specially designed logo created by Stella McCartney's husband Alasdhair Willis (pictured right). Victoria Beckham tweeted a pic of the branding along with the words: "David announced today he is launching his own bodywear range!!! x" last week. And before you ask… of course he will be face of both his bodywear and fragrance products!
Marion Cotillard
Baby News
Actress and Dior muse, Marion Cotillard has given birth to her first child, a baby boy named Marcel. In celebration, here are some of my favourite Marion Cotillard's style looks…
The World's First Fashion Hotel In Dubai
The five-star hotel to be owned and operated by the Al Habtoor Group and will comprise of 30-storeys. The most impressive part… the exterior will display a projection using the world's largest 100 metre LED screen! Even better than this… it will broadcast the latest Fashion TV highlights, around the clock! Guests will also have access to 30 Fashion TV channels, as well as the biggest Fashion DVD library in the world – offering 50,000 DVDs on the history of fashion! Check me in now…
Happy Sunday! xx
Photos from independent.co.uk / grazia.com.au / google images