Your Fabulous Fashion Scoop

4 Espresso Shots Of Fashion News On Thursday…
– – – – – – – – – – – – – – – – – – – – 
Aussie 'Plus Size' Model Covers Vogue Italia
& Elle France
Australian 'plus size' model, Robyn Lawley, has landed the cover Vogue Italia's June 2011 issue. The 21year old also covers French Elle's latest Spécial Rondes 'Body Issue' .  (both covers pictured above)
This is the first time plus-size models have graced the cover of Vogue Italia since Sophie Dahl in 2000. Lawley was shot by renowned photographer Steven Meisel for the cover, which she shares with Tara Lynn and Candice Huffine. Vogue Italia Editor, Franca Sozzani, has dedicated a section of the magazine to curvier models, saying: "Why should these women slim down? Many of the women who have a few extra kilos are especially beautiful and also more feminine."
For Elle France, Lawley appears on the cover and also a 10-page editorial inside the magazine.
Lawley is an Australian size 14 and looks exquisitely beautiful on both covers…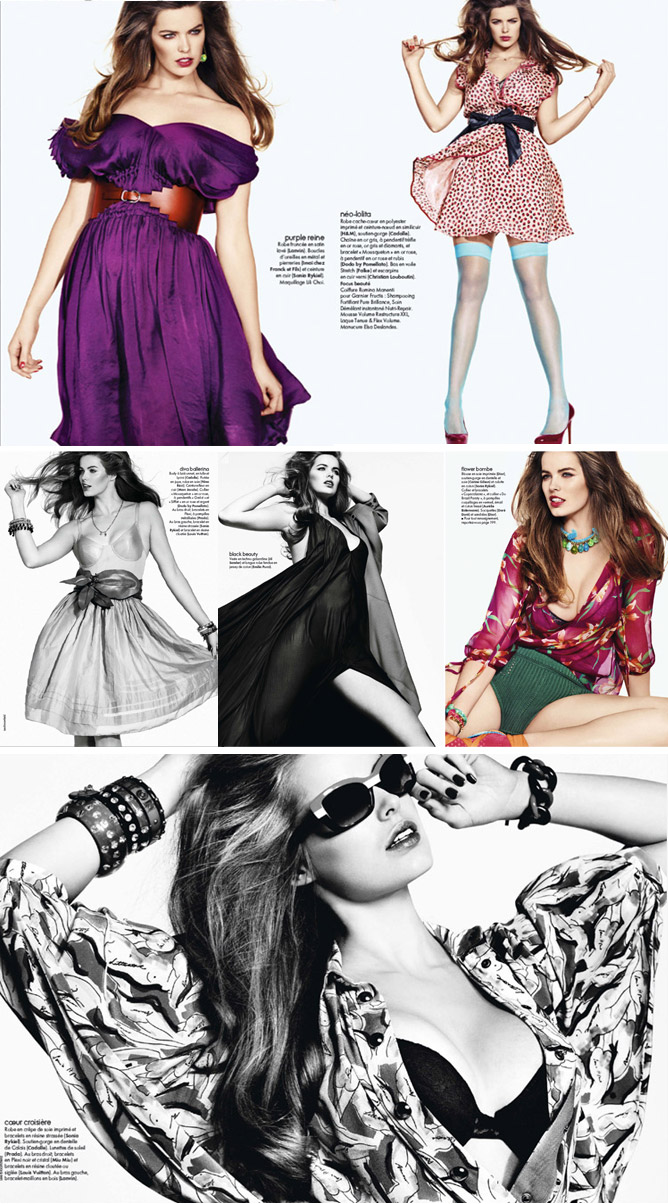 Jessica Simpson Tween Line
It was recently reported Jessica Simpson's clothing label is about to become the first ever celebrity line to top a billion dollars in retail sales. And now she is set to expand her fashion empire to the tween market!
The Jessica Simpson tween line will feature: shoes, outerwear, sportswear, activewear and jeans. Her younger sister, Ashlee Simpson, will also come on board as co-creative director. Of the new area of her brand, Jessica Simpson has said:
"Creating a tween apparel collection was a natural extension for the brand. I'm excited to bring my sister, Ashlee, along as co-creative director of this division, because she brings a savvy rocker edge that defines today's tweens."
– – – – – – – – – – – – – – – – – – – – 
Mario Testino For
Kate Moss' Wedding
Kate Moss has chosen Mario Testino as her official wedding photographer (pictured right).
The date is set for Moss to wed Jamie Hince on July 2nd.  Testino has had some practise in the Wedding genre of late, having taken the Duke and Duchess' of Cambridge's engagement pictures. Other details of the Moss wedding have been kept under wraps; however, rumour has it Shirley Bassey is set to perform. Watch this space…
– – – – – – – – – – – – – – – – – – – – 
A Chanel Bag Made Entirely Of Beef Jerky?
That is exactly what Nancy Wu, Art Center College of Design student, has created (pictured right)! Formed by hand-stitched sheets of dried meat, the bag also features the gold-chain handle and interlocking CC logo synonymous with the classic 2.55 Chanel handbag. Nancy also created a Louis Vuitton beef jerky wallet in her collection.
Very clever… but I think I will hold out for original!
– – – – – – – – – – – – – – – – – – – – 
Happy Thursday! xx
Photos from grazia.com.au / google images
Your Fabulous Fashion Scoop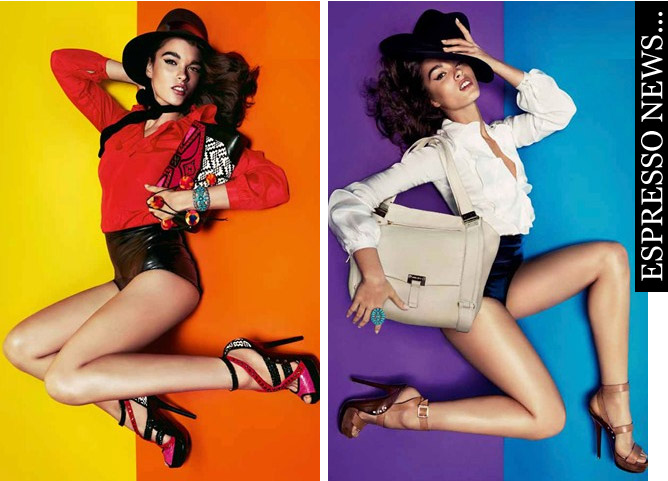 4 Espresso Shots Of Fashion News & My Top 5 'Chic Last Week'…
– – – – – – – – – – – – – – – – – – – – – – – –
Jimmy Choo Sold for £525.5 million
Labelux, a luxury goods group which also owns Bally, has brought Jimmy Choo for what is thought to be £525.5 million. While figures are yet to be confirmed, the future now looks even brighter for the luxury shoe label. Labelux has announced it has plans to expand Jimmy Choo into Asia.
Of the Business deal, Tamara Mellon, Jimmy Choo President and Co-Founder , has said; "I am immensely proud of all we have achieved over the last 15 years and delighted we are to be part of Labelux, a partner [that] I know shares our values and passion and [that] seeks ambitious growth in the luxury industry. This is wonderful news for the women who are, or who aspire to become, part of the Jimmy Choo lifestyle."
– – – – – – – – – – – – – – – – – – – – – – – –
Balmain To Launch
New Line
Balmain will be launching a new line targeting a younger customer. Entitled 'Pierre Balmain', after the label's founder, it will be created by a new design team but overseen by the new Creative Director, Olivier Rousteing. Pierre Balmain will feature both men's and women's ready-to-wear and will be unveiled in September for spring/summer 2012 season.
– – – – – – – – – – – – – – – – – – – – – – – –
Gucci Launches New Documentary Film Award
Gucci announced it will be launching a new documentary film award entitled – 'Spotlighting Women's Documentary Award'. The award, with a prize of $50,000 for the winner, is for film-makers highlighting women's issues. Francois Henri Pinault, PPR chairman, has said of the award, "This award dedicated to stories about women is a wonderful opportunity to raise awareness of women's issues such as violence, rights and empowerment to a larger audience."
– – – – – – – – – – – – – – – – – – – – – – – –
The Six New Faces Of Louis Vuitton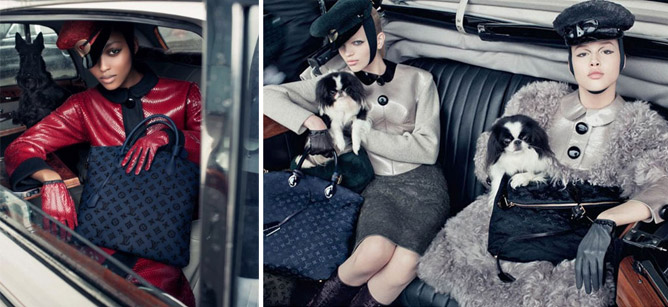 Out with the 'old' and in with the 'new'… and in this case, the very new.  Zuzanna Bijoch, Daphne Groeneveld, Gertrud Hegelund, Nyasha Matonhodze, Anaïs Pouliot and Fei Fei Sun, were announced as the new faces of Louis Vuitton. For the past two seasons, Louis Vuitton has championed more 'experienced' models… the Spring / Summer campaign featured – Kristen McMenamy, 46, Raquel Zimmermann, 28, and Freja Beha Erichsen, 23. Then Kate Moss and Naomi Campbell took to the catwalk Fall. And if you recall… this was the collection that attracted criticism when Moss smoked a cigarette back in February.
Changing it up, in this campaign the average age of the ladies is 18. The fresh faced models were shot by renowned fashion photographer, Steven Meisel, for the luxury French fashion label's Autumn/Winter 2011 campaign. Of the campaign, Marc Jacobs said, "Steven Meisel and I met and decided we would do this wonderful story of beautiful vintage cars, little dogs and fresh-faced young women. It's a very classic scenario, and of course it suggests travel, but I think we gave it a fresh, modern and sometimes a little bit naughty, tongue-in-cheek spin."
– – – – – – – – – – – – – – – – – – – – – – – –
Top 5 – Chic Last Week
Stepping Out Looking Ultra Chic Last Week: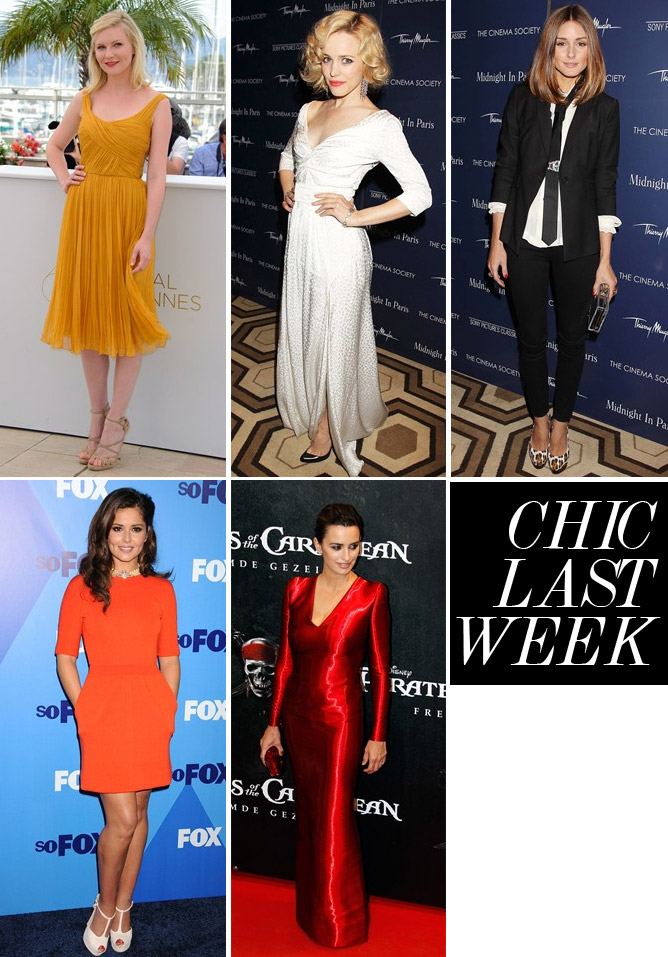 1>>  Kirsten Dunst wearing Chloe at a Photo Call in Cannes.
2>>  Rachel McAdams in Louis Vuitton at the New York premiere of Midnight in Paris.
3>>  Olivia Palermo also attended the Midnight in Paris premiere in a chic tuxedo look.
4>>  Cheryl Cole in a Giambattista Valli.
5>>  Penelope Cruz wore Armani in Munich at the premiere of Pirates of the Caribbean: On Stranger Tides.
Who was your best dressed lovely? xx
Photos from vogue.co.uk / fashion.telegraph.co.uk / style.com / jimmychoo.com
Getting Colourful With Jessica Stam & Karen Elson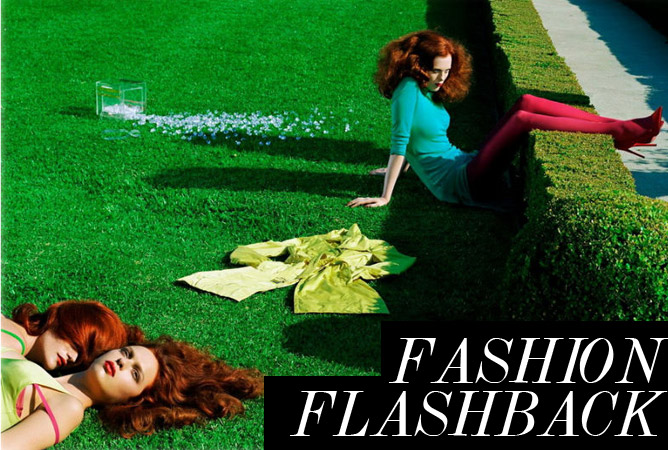 Entitled 'Red Alert', this editorial turns up the volume on the colour scale.
My mid-week inspiration came in the strikingly beautiful form of Jessica Stam, Karen Elson, Missy Rayder & Elise Crombez for Vogue Italia, originally published in August 2004.
Showcasing some brilliant colour blocking techniques; colour is pushed to the edge with some seriously divine vibrant tights, coloured pumps and of course the clothes! Love the bold, unafraid use of colour. Not to mention each models' flowing red hair. LOVE it!
Are you ready for a colourful Spring…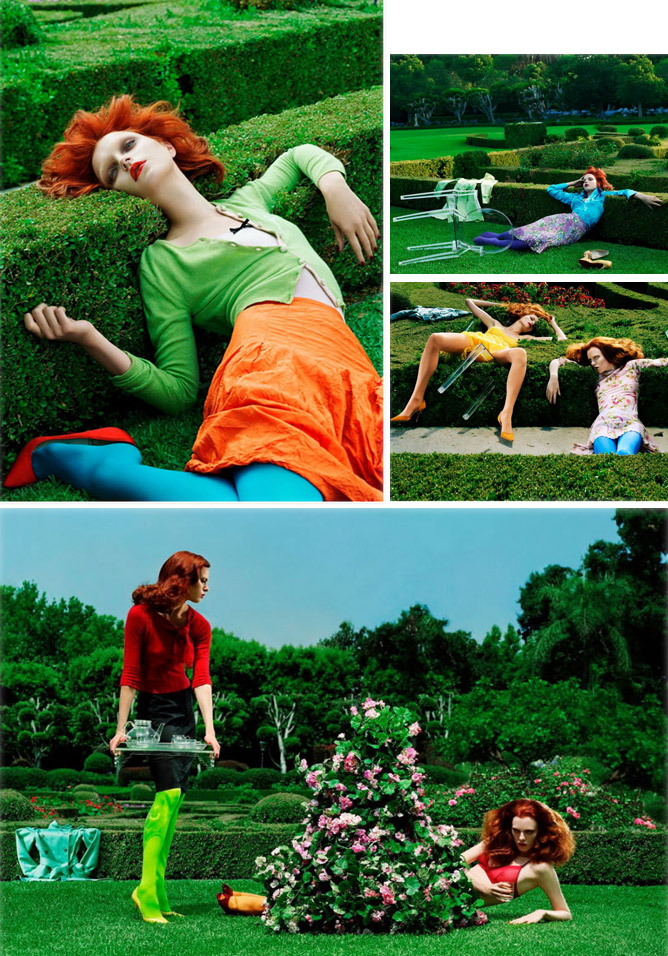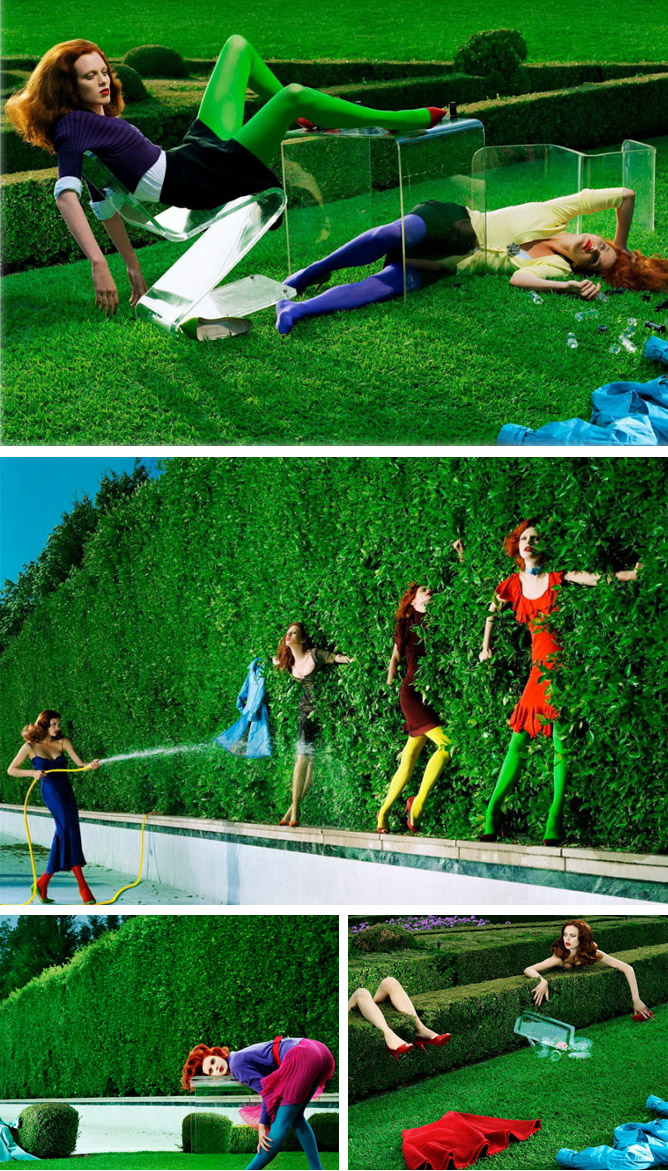 Will you be going bold & bright in colour this Spring / Summer? xx
Photos from fashiongonerogue.com