Your Fabulous Fashion Scoop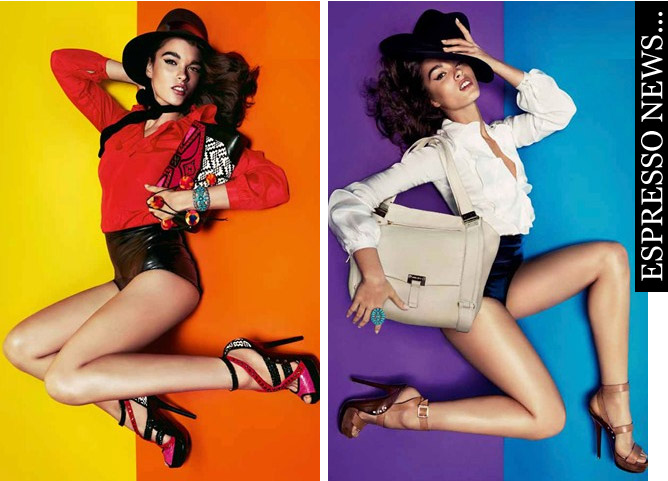 4 Espresso Shots Of Fashion News & My Top 5 'Chic Last Week'…
– – – – – – – – – – – – – – – – – – – – – – – –
Jimmy Choo Sold for £525.5 million
Labelux, a luxury goods group which also owns Bally, has brought Jimmy Choo for what is thought to be £525.5 million. While figures are yet to be confirmed, the future now looks even brighter for the luxury shoe label. Labelux has announced it has plans to expand Jimmy Choo into Asia.
Of the Business deal, Tamara Mellon, Jimmy Choo President and Co-Founder , has said; "I am immensely proud of all we have achieved over the last 15 years and delighted we are to be part of Labelux, a partner [that] I know shares our values and passion and [that] seeks ambitious growth in the luxury industry. This is wonderful news for the women who are, or who aspire to become, part of the Jimmy Choo lifestyle."
– – – – – – – – – – – – – – – – – – – – – – – –
Balmain To Launch
New Line
Balmain will be launching a new line targeting a younger customer. Entitled 'Pierre Balmain', after the label's founder, it will be created by a new design team but overseen by the new Creative Director, Olivier Rousteing. Pierre Balmain will feature both men's and women's ready-to-wear and will be unveiled in September for spring/summer 2012 season.
– – – – – – – – – – – – – – – – – – – – – – – –
Gucci Launches New Documentary Film Award
Gucci announced it will be launching a new documentary film award entitled – 'Spotlighting Women's Documentary Award'. The award, with a prize of $50,000 for the winner, is for film-makers highlighting women's issues. Francois Henri Pinault, PPR chairman, has said of the award, "This award dedicated to stories about women is a wonderful opportunity to raise awareness of women's issues such as violence, rights and empowerment to a larger audience."
– – – – – – – – – – – – – – – – – – – – – – – –
The Six New Faces Of Louis Vuitton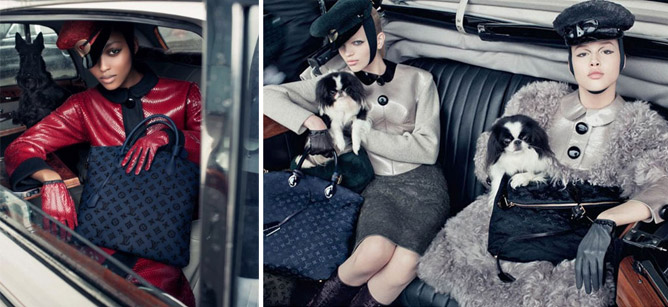 Out with the 'old' and in with the 'new'… and in this case, the very new.  Zuzanna Bijoch, Daphne Groeneveld, Gertrud Hegelund, Nyasha Matonhodze, Anaïs Pouliot and Fei Fei Sun, were announced as the new faces of Louis Vuitton. For the past two seasons, Louis Vuitton has championed more 'experienced' models… the Spring / Summer campaign featured – Kristen McMenamy, 46, Raquel Zimmermann, 28, and Freja Beha Erichsen, 23. Then Kate Moss and Naomi Campbell took to the catwalk Fall. And if you recall… this was the collection that attracted criticism when Moss smoked a cigarette back in February.
Changing it up, in this campaign the average age of the ladies is 18. The fresh faced models were shot by renowned fashion photographer, Steven Meisel, for the luxury French fashion label's Autumn/Winter 2011 campaign. Of the campaign, Marc Jacobs said, "Steven Meisel and I met and decided we would do this wonderful story of beautiful vintage cars, little dogs and fresh-faced young women. It's a very classic scenario, and of course it suggests travel, but I think we gave it a fresh, modern and sometimes a little bit naughty, tongue-in-cheek spin."
– – – – – – – – – – – – – – – – – – – – – – – –
Top 5 – Chic Last Week
Stepping Out Looking Ultra Chic Last Week: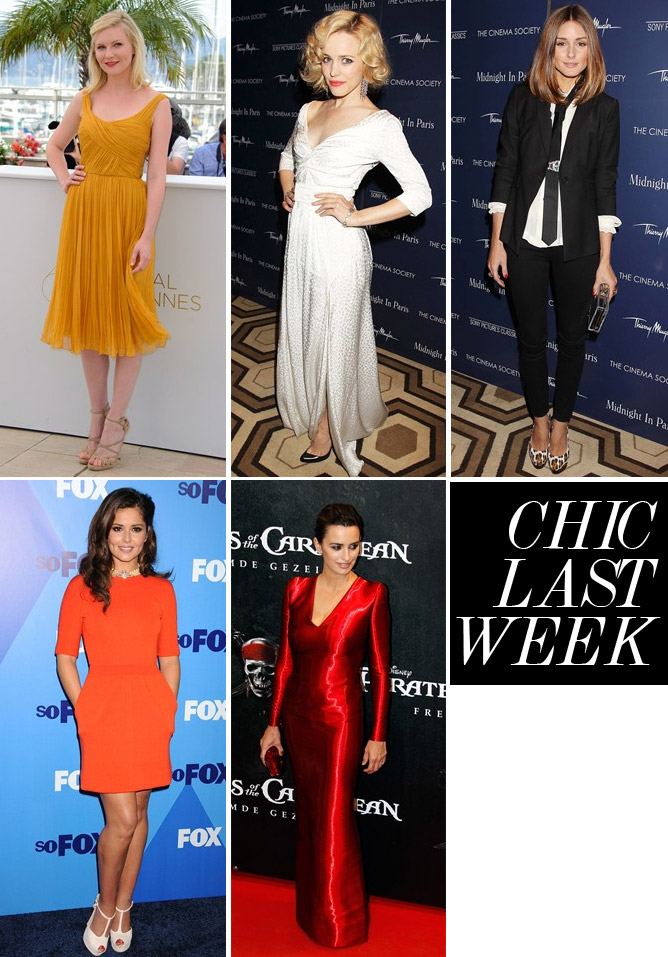 1>>  Kirsten Dunst wearing Chloe at a Photo Call in Cannes.
2>>  Rachel McAdams in Louis Vuitton at the New York premiere of Midnight in Paris.
3>>  Olivia Palermo also attended the Midnight in Paris premiere in a chic tuxedo look.
4>>  Cheryl Cole in a Giambattista Valli.
5>>  Penelope Cruz wore Armani in Munich at the premiere of Pirates of the Caribbean: On Stranger Tides.
Who was your best dressed lovely? xx
Photos from vogue.co.uk / fashion.telegraph.co.uk / style.com / jimmychoo.com
Luxury Of Haute Couture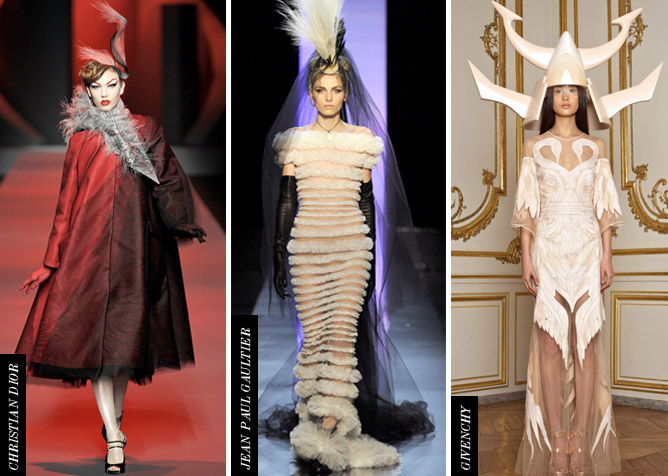 Couture collections are some of the most highly anticipated events on the fashion calendar – not to mention the most enchantingly beautiful. But do these seemingly expensive, overtly extravagant and often times very impractical pieces have a place in today's 'fast fashion' society?
Quite simply yes. And Haute Couture is even becoming more popular!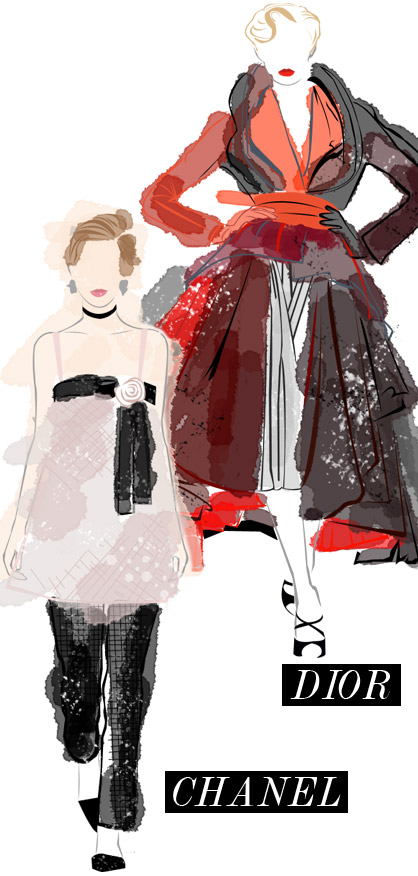 Haute couture, French for 'high sewing', refers to the creation of exclusive custom-fitted clothing made to order. Sewn with extreme attention to detail with hand-executed techniques, Haute Couture is created with the highest quality fabrics, finishings and embellishments. Now a 'protected name' there are only a handful of labels that meet the couture criteria. These include: Chanel; Christian Dior; Valentino; Elie Saab; Givenchy; Armani Privé and Jean Paul Gaultier.
The Haute Couture Business
To these powerful luxury labels, Haute Couture is still an important element of business. It's an investment in the label's image and global communication.
The dream of Couture fantasy helps to sell perfume and all areas of the brand; but most importantly it is the purest form of fashion, with a growing client base intent on keeping the extraordinary craftsmanship and intangible beauty alive.
Today, Chanel has estimated that there are 1,000 potential Haute Couture clients around the world. With 200 to 300 of these clients attending the Chanel collections each season. Dior too has expressed that their client base is growing. The Dior Couture Spring 2011 collection was presented in front of 800 guests – double that of the previous season. Demand for Givenchy couture is expected to rise by 10%; meanwhile for Elie Saab the couture calendar accounted for 43% of the company's business.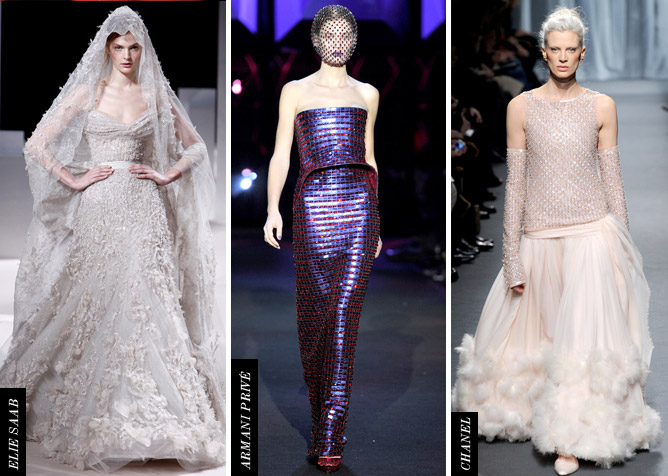 It is also an imperative component in publicity – with images of actresses walking the red carpet in these spectacular gowns beamed around the world. With Paris Couture Week taking place just before the Golden Globes, Oscars then followed by the Cannes Film Festival – it's a winning combination for both actress and the label's image. Remember Cate Blanchett's unique Givenchy Haute Couture gown or the lavender lace Elie Saab Haute Couture gown worn by Mila Kunis (both pictured below)? These ladies and their gowns will be documented forever.
Haute Couture Evolution
An imperative element of all fashion is evolution. And Haute Couture is no exception. During the Couture Spring 2011 collections, a few houses broke the convention of traditional 'Haute Couture' to present spectacular creations for women of today.
Karl Lagerfeld weaved his magic at Chanel with a collection that was fresh with iridescent sparkle and delicate charisma. This wasn't Chanel as we know it or traditional Haute Couture either. Skinny black jeans, black ballet flats and sprinklings of 'cobweb' like beads, floated down the runway like glistening rebellious ballerinas.
In fantastical shades of the lightest pinks, like delicious sweet macaroons, worn with beaded tulle leggings or jeans cut long and close to the leg – Chanel was seemingly enchanting a whole new generation of couture lovers. Of the collection, Lagerfeld said: "Haute Couture is about modern attitude. You have to adopt to the mood of the moment… this is the way people dress today."  

Christian Lacroix once said, "Haute Couture should be fun, foolish and almost unwearable" Haute Couture is a expression of spectacular craftsmanship, everlasting beauty, mesmerizing extravagance and above all else desire. Qualities I am certain will hold their place in the world for many, many years to come.
Some Monday Inspiration…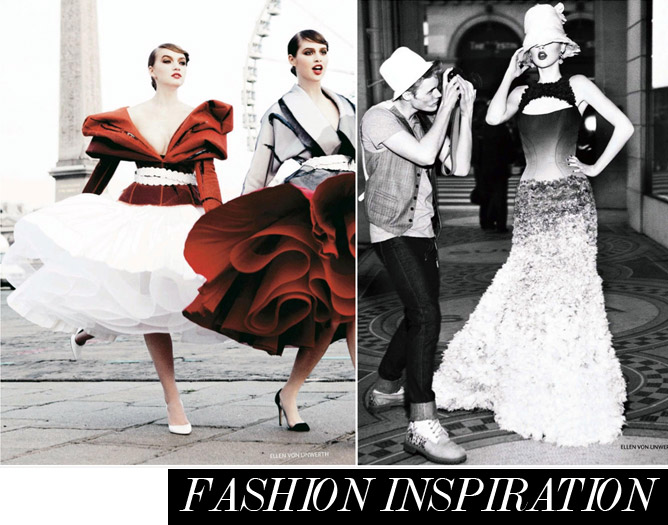 Entitled 'Cheeky Couture', I love the old-fashioned glamour of these shots for Vogue Russia. I especially adore the two photos featured above, showcasing the Dior Couture dresses and Atelier Versace gown.
Capturing a story of fabulous couture fun, Kristians Silis plays the role of 'photographer' to Anais Pouliot and Cordelia K. In show-stopping pieces from the Spring / Summer 2011 Haute Couture shows, the models create some divine photos in the likes of Armani Privé,  Atelier Versace, Valentino, Dior and Givenchy Haute Couture. The editorial was photographed by Ellen von Unwerth and styled by Katerina Mukhina for Vogue Russia April 2011 issue.
Spectacular couture with touches of nostalgia to glamorous years gone by…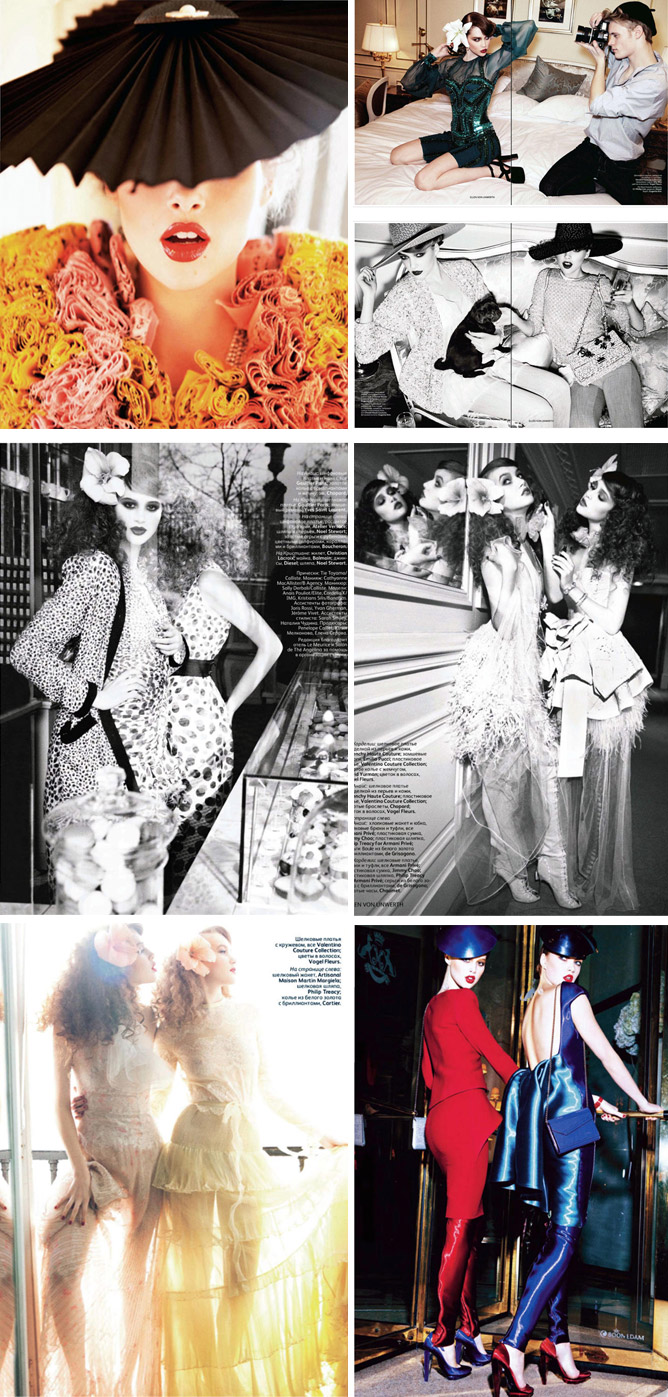 What is inspiring you this week? xx
Photos from fashiongonerogue.com