Tuesday Fashion Shot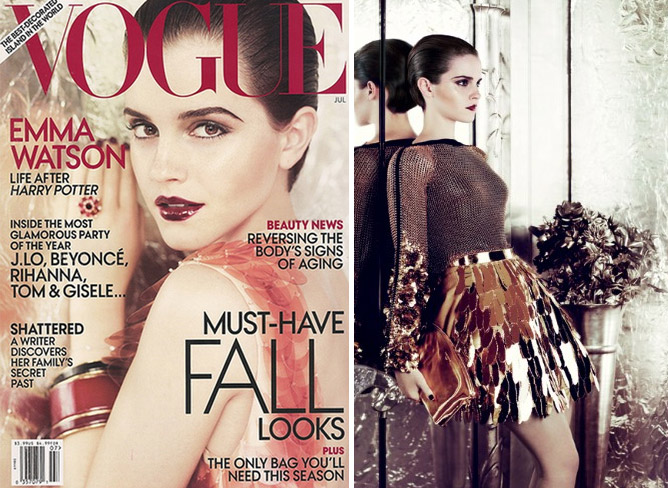 Emma Watson's First US Vogue Cover
Emma Watson has landed her first US Vogue cover at just 21 years of age!
The glamorous beauty covers the July 2011 issue of American Vogue, ahead of the release of the final Harry Potter film. Looking immaculately polished with her flawless skin and striking, delicate features; Watson wears a divine gown from the Prada Fall 2011/12 collection. Photographed by Mario Testino, within this issue Watson also wears looks by Tom Ford, Alexander McQueen, Prada, Calvin Klein and Dolce & Gabbana.
Watson is a fan of young British Designers – often choosing to wear labels such as Erdem and Hakaan, among others – and said in her interview with Vogue US: "I thought: "If people are going to write about what I'm wearing, then I would wear young British designers who need the publicity."
– – – – – – – – – – – – – – – – – – – – – – – – – – – – – – – – – – – – 
Angelina Jolie By Annie Leibovitz for Louis Vuitton

Renowned photographer Annie Leibovitz has photographed Angelina Jolie for the Louis Vuitton Core Values campaign.
The Louis Vuitton Core Values campaigns celebrate Vuitton's timeless classics pieces, in real situations on real people. Reclining on a wooden boat in Cambodia, Angelina Jolie looks serenely beautiful with her own six-year-old monogrammed 'Alto' carryall bag.
Of the campaign, Louis Vuitton's executive vice president, Pietro Beccari, has said: "People are not used to seeing Angelina in this situation. I like the fact that it's a real moment. This travel message we give through personal journeys is a fundamental one for the brand."
Previous people to feature in this campaign, include; Bono and his wife Ali Hewson in Africa; Sofia Coppola and her father Francis Ford Coppola in the Buenos Aires countryside; Keith Richards in a hotel suite; and Mikhail Gorbachev, former President of the Soviet Union and Nobel Peace Prize winner in the back of a limo passing remains of the Berlin Wall.
Jolie will donate a significant portion of her fee to a charity, which will most likely be the Maddox Jolie-Pitt Foundation in aid of community development and conservation in Cambodia.
– – – – – – – – – – – – – – – – – – – – – – – – – – – – – – – –
Tobey Maguire For Prada Menswear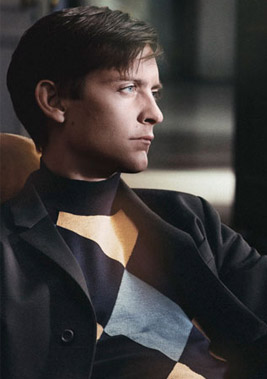 Tobey Maguire has been announced as the new face of Prada's Menswear Autumn / Winter 2011-12 campaign (pictured right).
Of his new role Maguire has said: "A great supporter of the Arts, Miuccia Prada has inspired a culture of creativity that is woven through every aspect of her company, from her collections, her campaigns, to every design detail in her stores. I have such admiration for her artistry and I'm thrilled to be a part of Prada's fall campaign."
– – – – – – – – – – – – – – – – – – – – – – – – – – – – – – – –
Top 3 Covers For July 2011
Besides Emma Watson's divine cover for Vogue US; my other top 3 covers for July 2011 are:
–  Cate Blanchett covers In Style Australia, in Gucci
–  Claudia Schiffer covers Harper's Bazaar UK, in Prada
–  Beyoncé covers Dazed & Confused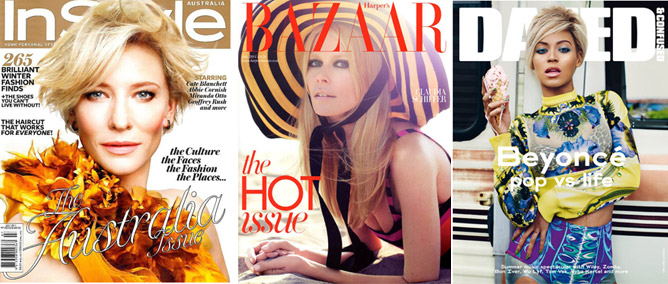 Happy Tuesday! xx
Photos from fashion.telegraph.co.uk / fashiongonerogue.com / vogue.co.uk
Luxury Of Haute Couture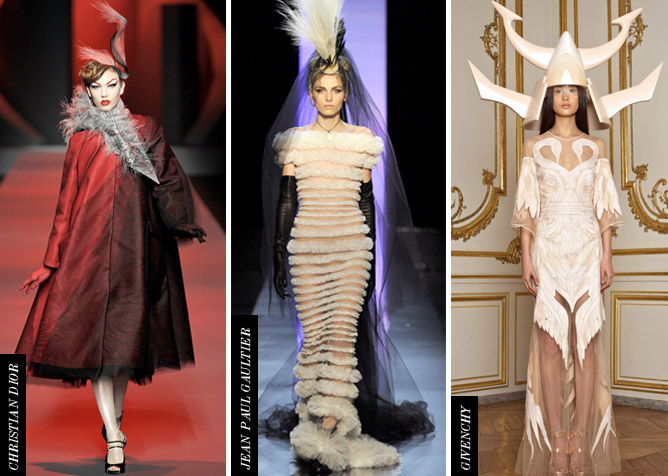 Couture collections are some of the most highly anticipated events on the fashion calendar – not to mention the most enchantingly beautiful. But do these seemingly expensive, overtly extravagant and often times very impractical pieces have a place in today's 'fast fashion' society?
Quite simply yes. And Haute Couture is even becoming more popular!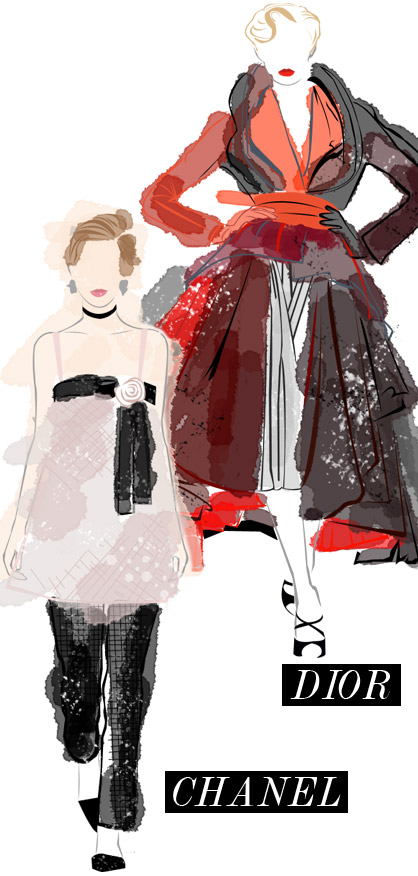 Haute couture, French for 'high sewing', refers to the creation of exclusive custom-fitted clothing made to order. Sewn with extreme attention to detail with hand-executed techniques, Haute Couture is created with the highest quality fabrics, finishings and embellishments. Now a 'protected name' there are only a handful of labels that meet the couture criteria. These include: Chanel; Christian Dior; Valentino; Elie Saab; Givenchy; Armani Privé and Jean Paul Gaultier.
The Haute Couture Business
To these powerful luxury labels, Haute Couture is still an important element of business. It's an investment in the label's image and global communication.
The dream of Couture fantasy helps to sell perfume and all areas of the brand; but most importantly it is the purest form of fashion, with a growing client base intent on keeping the extraordinary craftsmanship and intangible beauty alive.
Today, Chanel has estimated that there are 1,000 potential Haute Couture clients around the world. With 200 to 300 of these clients attending the Chanel collections each season. Dior too has expressed that their client base is growing. The Dior Couture Spring 2011 collection was presented in front of 800 guests – double that of the previous season. Demand for Givenchy couture is expected to rise by 10%; meanwhile for Elie Saab the couture calendar accounted for 43% of the company's business.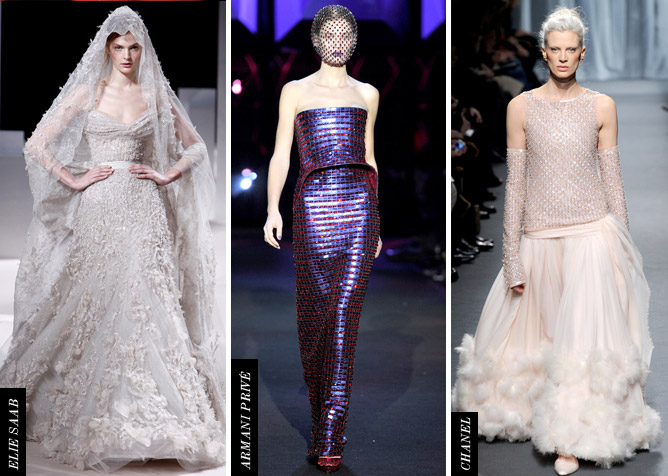 It is also an imperative component in publicity – with images of actresses walking the red carpet in these spectacular gowns beamed around the world. With Paris Couture Week taking place just before the Golden Globes, Oscars then followed by the Cannes Film Festival – it's a winning combination for both actress and the label's image. Remember Cate Blanchett's unique Givenchy Haute Couture gown or the lavender lace Elie Saab Haute Couture gown worn by Mila Kunis (both pictured below)? These ladies and their gowns will be documented forever.
Haute Couture Evolution
An imperative element of all fashion is evolution. And Haute Couture is no exception. During the Couture Spring 2011 collections, a few houses broke the convention of traditional 'Haute Couture' to present spectacular creations for women of today.
Karl Lagerfeld weaved his magic at Chanel with a collection that was fresh with iridescent sparkle and delicate charisma. This wasn't Chanel as we know it or traditional Haute Couture either. Skinny black jeans, black ballet flats and sprinklings of 'cobweb' like beads, floated down the runway like glistening rebellious ballerinas.
In fantastical shades of the lightest pinks, like delicious sweet macaroons, worn with beaded tulle leggings or jeans cut long and close to the leg – Chanel was seemingly enchanting a whole new generation of couture lovers. Of the collection, Lagerfeld said: "Haute Couture is about modern attitude. You have to adopt to the mood of the moment… this is the way people dress today."  

Christian Lacroix once said, "Haute Couture should be fun, foolish and almost unwearable"Haute Couture is a expression of spectacular craftsmanship, everlasting beauty, mesmerizing extravagance and above all else desire. Qualities I am certain will hold their place in the world for many, many years to come.
Spotlight On: Romance Was Born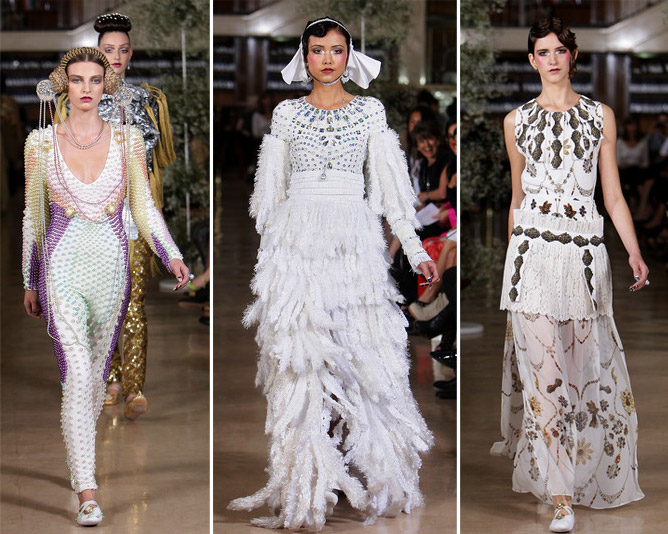 Luxurious, Decedent, Enchanting, Feminine, Fantastical, Showstopping…
Take a peak at one of Cate Blanchett's favourite labels – Romance Was Born.
Entitled 'The Oracle', the Romance Was Born Spring / Summer 2011/12 collection was inspired by the work of 1920's illustrator, Erte, and 'The Neverending Story'.
Staging their bold collection at Sydney's historic Mitchell Library on the eve of Rosemount Australian Fashion Week last Sunday, the front row included a particularly stylish guest, Cate Blanchett (pictured below). Both a fan and friend of Luke Sales and Anna Plunkett's extraordinary designs (both pictured below), Blanchett recently collaborated with the label for the costumes of an upcoming production of Edward Gant's 'Amazing Feats of Loneliness'.
The collection had a glistening Chanel aesthetic to it, with lots of lace and exquisite illustrious pearls. While this collection still captured the label's whimsical, show stopping pieces; it was also probably their most 'wearable' to date.  Starting with embellished jeans, fluid dresses, decedent prints and ballet flats – Romance Was Born quickly went on to feature the extraordinarily eccentric gowns the label is renowned for…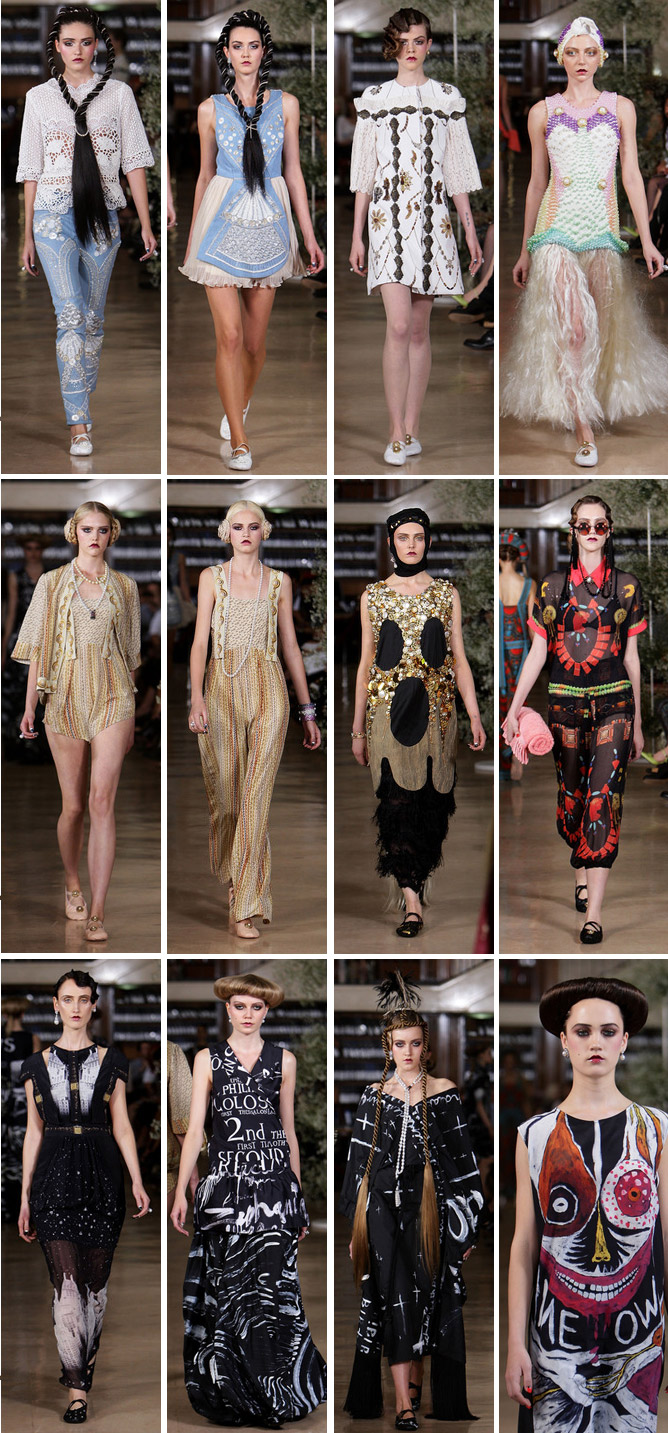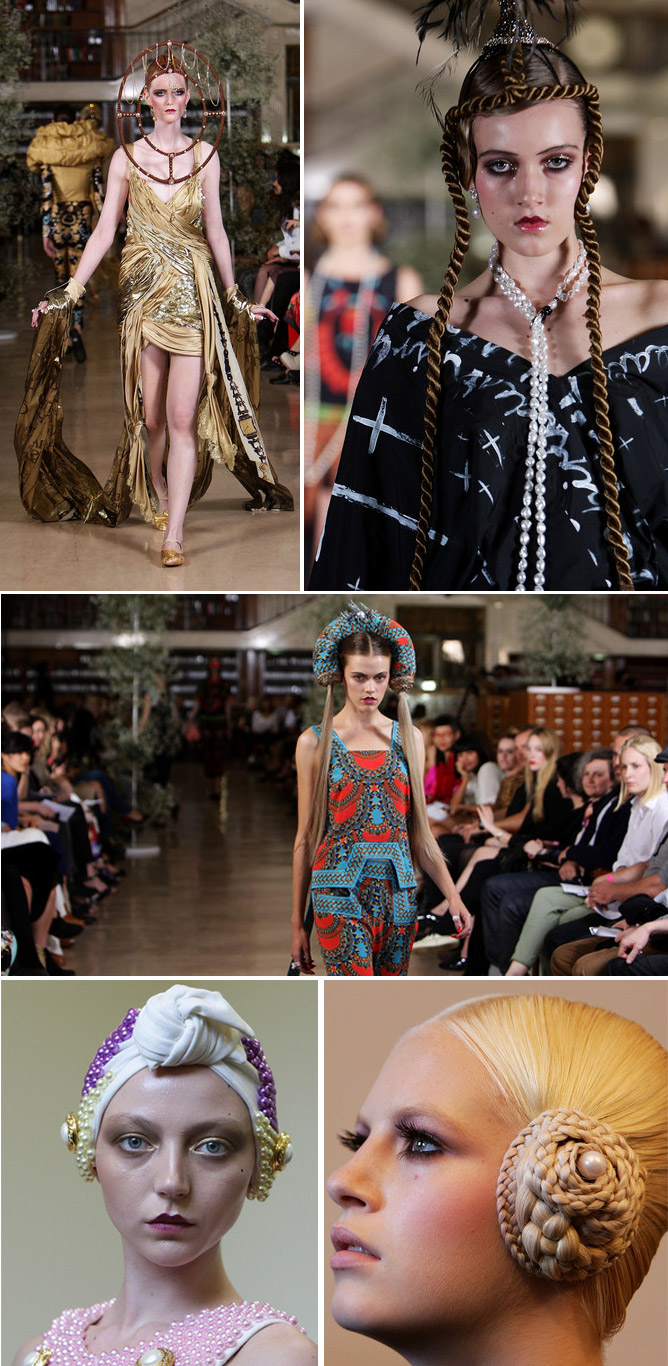 What do you think of the Romance Was Born Spring 2011 / 12 collection? xx
Photos from zimbio.com / harpersbazaar.com.au