Uptown Twirl Espresso News Returns For 2012 With 5 Fabulous Fashion Shots!
1. Mila Kunis – The Newest Dior Beauty
Mila Kunis has become the new face of Christian Dior. The exquisite beauty stars in the Spring / Summer 2012 campaign which was shot by Mikael Jansson (pictured above). With her glowing natural beauty, Kunis can be seen in chic black looks and holding the newest 'Miss Dior' handbag.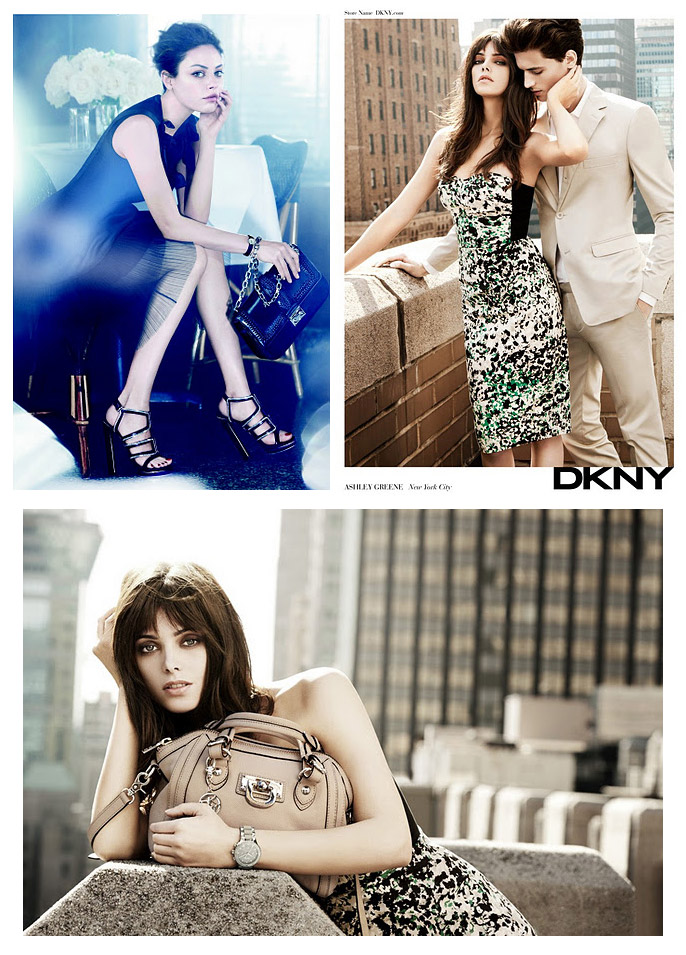 2. Ashley Greene Hearts DKNY
Posing amid the gorgeous Manhattan skyline, a gorgeous Ashley Greene strikes a pose as the face of DKNY (pictured above). Beautiful neutral tones shine across her clothing, accessories and eye make-up for fresh radiance.
– – – – – – – – – – – – – – – – – – – – – –
3. Emma Watson's Lancôme Beauty
Emma Watson's stunning Lancôme Cosmetics Ad has been revealed (pictured below). With her glowing clear complexion, Watson is exquisite in red lipstick and nail polish from the French label's two new collections – 'Rouge in Love' (the lipstick collection) and 'Vernis in Love' (the nail polish collection). The lipsticks will be available in 24 shades and come in a metallic case that can also be used as a mirror.
With Watson as the face of both lines, Lancôme hopes to ignite a love of lipstick amongst a younger generation of women. Youcef Nabi, president of Lancôme International, has said: "The idea is to make this young generation — that has been a gloss fan — come back to using lipsticks."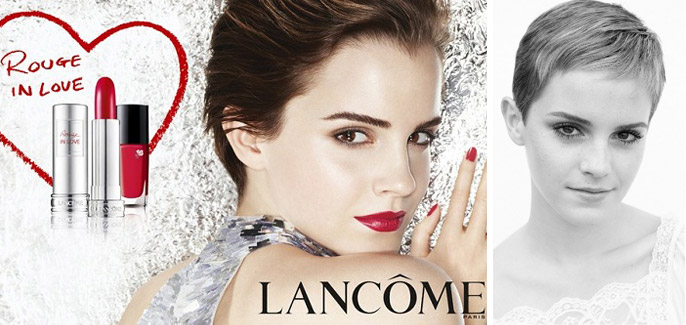 4. Emma Watson's Iconic Crop
In other news, Emma Watson's gorgeous pixie hair style has been named the most influential cut of 2011. The Wall Street Journal mentioned her darling crop in their Fashion Highlights from 2011 and even went so far as to recognise it may have instigated a major shift in hairstyle trends. Hair stylists around the world have been inundated with requests for her style and according to numerous reports, searches for Watson's hair have even outnumbered those for Jennifer Anniston's iconic locks.
5. Paul Smith Celebrates The London Olympics
Paul Smith has designed a collection of seven stamps in celebration of the London 2012 Olympic Games. Inspired by his friend, Olympic cyclist Mark Cavendish, the stamps showcase Smith's signature bright colour palette and distinct graphics. They are available from Paul Smith stores worldwide.
– – – – – – – – – – – – – – – – – – – – – –
Happy Thursday! xx
Best Magazine Covers for August 2011…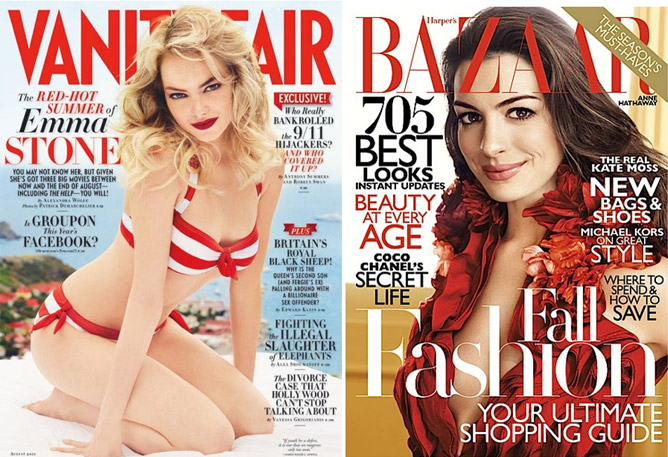 Hi, my name is Cara Gray and I am a Magazine Addict. I purchase several each month – sometimes even those in other languages!
And many times this is all down to the cover. The power of an exceptional Fashion Magazine cover can never be under estimated. The model (or celebrity); the fashion; the styling; the typography – all elements coming together to create a pure fashion fantasy.       
My favourite Covers so far for August 2011 are:
>> Emma Stone on the cover of Vanity Fair
>> Anne Hathaway for Harper's Bazaar US
>> Zoe Saldana covers Harper's Bazaar Russia
>> Mila Kunis gracing the cover of Flare Canada
Below are some of the gorgeous photos from Anne Hathaway's Harper's Bazaar feature. Wearing looks by Miu Miu; Max Mara; Prada; Valentino; and Alexander McQueen; Hathaway looks timelessly glamorous in this chic London editorial!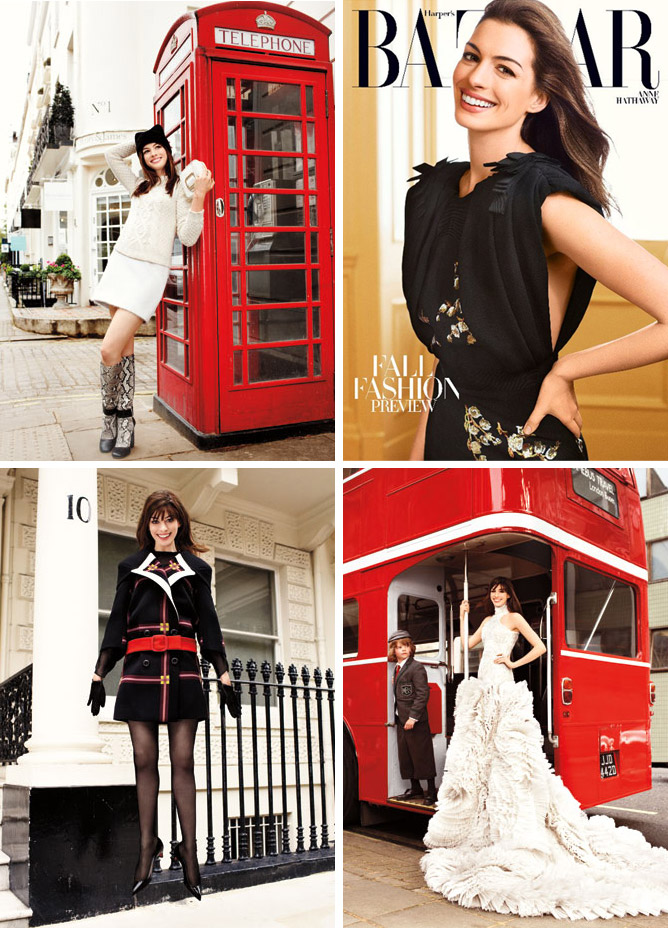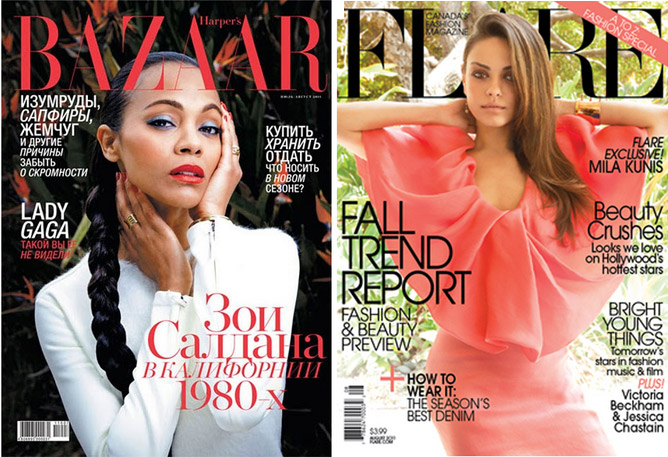 Which magazine is your 'must read' each month? xx
Photos from fashiongonerogue.com
Luxury Of Haute Couture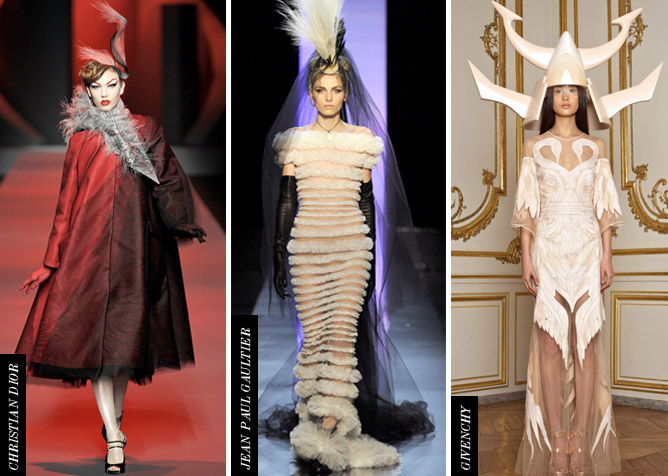 Couture collections are some of the most highly anticipated events on the fashion calendar – not to mention the most enchantingly beautiful. But do these seemingly expensive, overtly extravagant and often times very impractical pieces have a place in today's 'fast fashion' society?
Quite simply yes. And Haute Couture is even becoming more popular!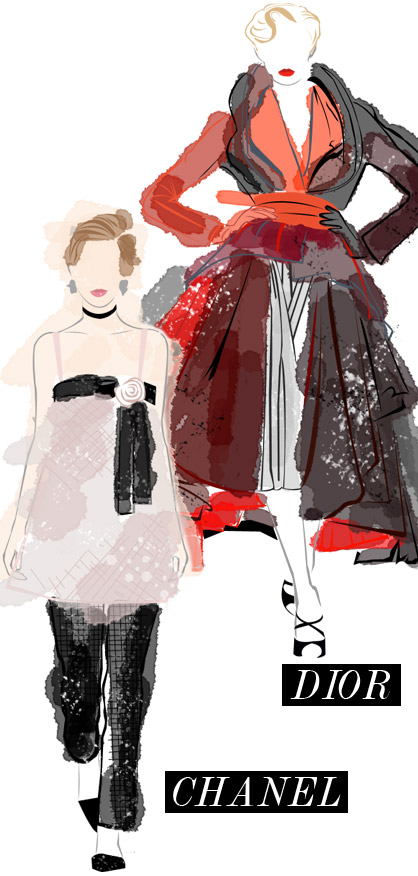 Haute couture, French for 'high sewing', refers to the creation of exclusive custom-fitted clothing made to order. Sewn with extreme attention to detail with hand-executed techniques, Haute Couture is created with the highest quality fabrics, finishings and embellishments. Now a 'protected name' there are only a handful of labels that meet the couture criteria. These include: Chanel; Christian Dior; Valentino; Elie Saab; Givenchy; Armani Privé and Jean Paul Gaultier.
The Haute Couture Business
To these powerful luxury labels, Haute Couture is still an important element of business. It's an investment in the label's image and global communication.
The dream of Couture fantasy helps to sell perfume and all areas of the brand; but most importantly it is the purest form of fashion, with a growing client base intent on keeping the extraordinary craftsmanship and intangible beauty alive.
Today, Chanel has estimated that there are 1,000 potential Haute Couture clients around the world. With 200 to 300 of these clients attending the Chanel collections each season. Dior too has expressed that their client base is growing. The Dior Couture Spring 2011 collection was presented in front of 800 guests – double that of the previous season. Demand for Givenchy couture is expected to rise by 10%; meanwhile for Elie Saab the couture calendar accounted for 43% of the company's business.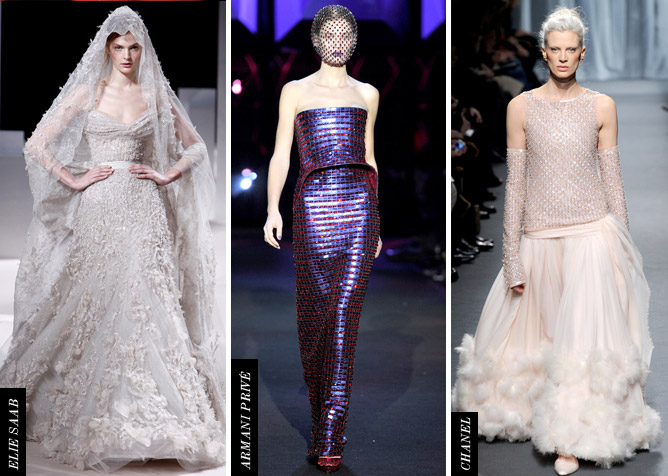 It is also an imperative component in publicity – with images of actresses walking the red carpet in these spectacular gowns beamed around the world. With Paris Couture Week taking place just before the Golden Globes, Oscars then followed by the Cannes Film Festival – it's a winning combination for both actress and the label's image. Remember Cate Blanchett's unique Givenchy Haute Couture gown or the lavender lace Elie Saab Haute Couture gown worn by Mila Kunis (both pictured below)? These ladies and their gowns will be documented forever.
Haute Couture Evolution
An imperative element of all fashion is evolution. And Haute Couture is no exception. During the Couture Spring 2011 collections, a few houses broke the convention of traditional 'Haute Couture' to present spectacular creations for women of today.
Karl Lagerfeld weaved his magic at Chanel with a collection that was fresh with iridescent sparkle and delicate charisma. This wasn't Chanel as we know it or traditional Haute Couture either. Skinny black jeans, black ballet flats and sprinklings of 'cobweb' like beads, floated down the runway like glistening rebellious ballerinas.
In fantastical shades of the lightest pinks, like delicious sweet macaroons, worn with beaded tulle leggings or jeans cut long and close to the leg – Chanel was seemingly enchanting a whole new generation of couture lovers. Of the collection, Lagerfeld said: "Haute Couture is about modern attitude. You have to adopt to the mood of the moment… this is the way people dress today."  

Christian Lacroix once said, "Haute Couture should be fun, foolish and almost unwearable"Haute Couture is a expression of spectacular craftsmanship, everlasting beauty, mesmerizing extravagance and above all else desire. Qualities I am certain will hold their place in the world for many, many years to come.