Hair is one of the key beauty trends for 2012. While the Spring / Summer collections brought a sugary menu of pastel hair colours to the runway; for Autumn / Winter locks have turned to the dark side.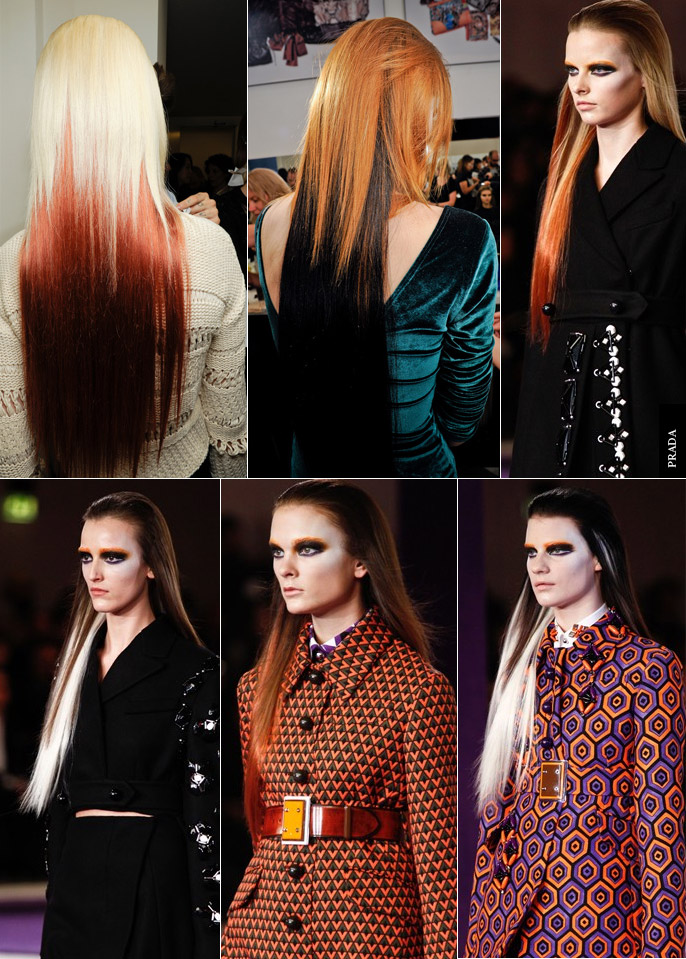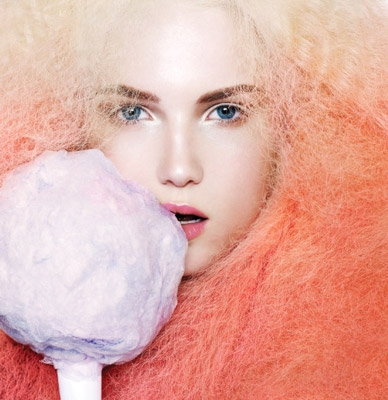 From Prada to Pringle Of Scotland, Jean Paul Gaultier to Haider Ackermann, designers embraced vivid hair dyes in unexpected places for high impact statements. And the best part about this trend… it can just wash out!
At Prada models wore hair extensions in contrasting colours for a sultry dip dye effect. While at Pringle Of Scotland dip dyed hair came in blue and pink. "Dip dye for many girls is like dipping your toe into the pool of hair colouring without taking the full commitment." – Alex Brownsell, Bleach salon founder
Dip dying was then literally turned on its head at Jean Paul Gaultier, where hair was painted at the root in an assortment of intense colour – giving a chic nod to the collections grunge aesthetic.
Switching your hair colour doesn't just mean choosing between blonde, brunette and red anymore – there are now so many more options to consider…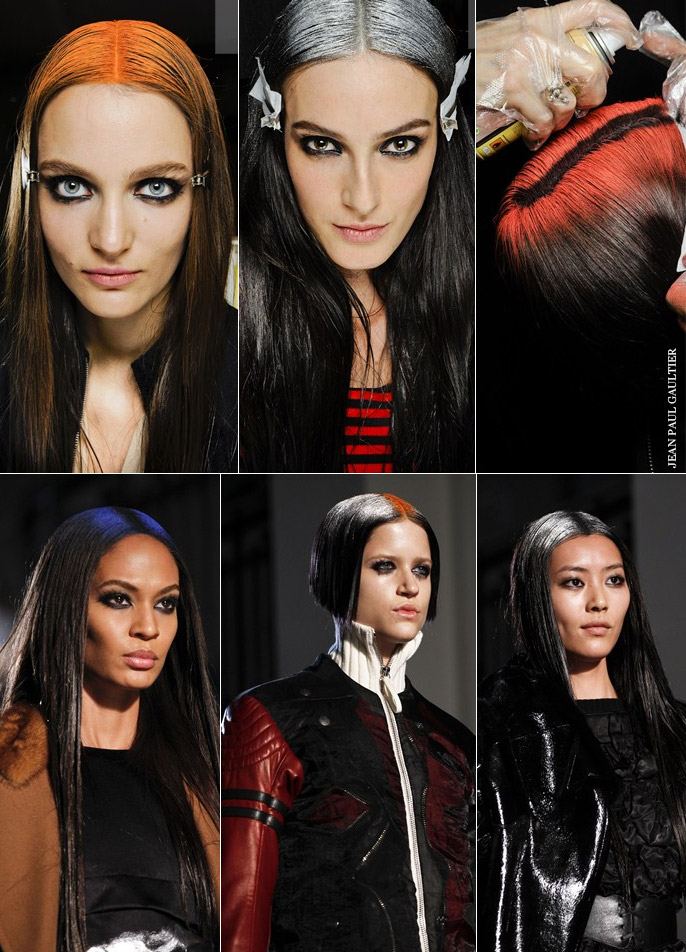 Would you dye your hair in one of these vivid shades? xx
Photos from vogue.co.uk / fashion magazine
Vivid coloured blossoms, bold prints and artistic patterns are truly enchanting – especially on trousers. This season both on and off the catwalks, printed trousers have become the go-to for effortlessly chic dressing.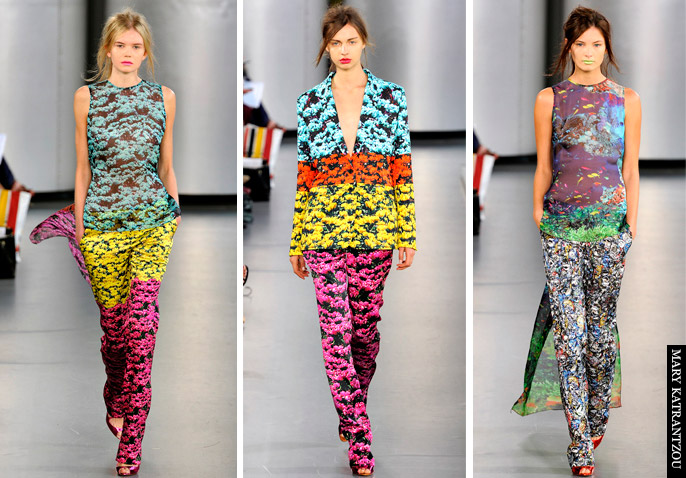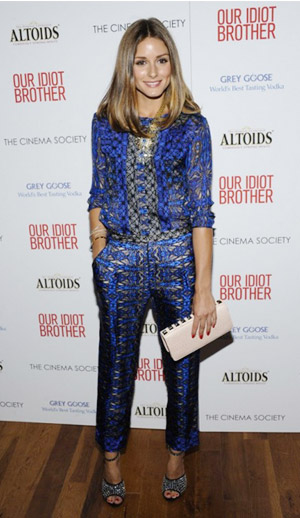 Making an appearance during the Autumn / Winter 2011 shows (from Jean Paul Gaultier to Dries Van Noten); printed pants went on to hit a catwalk high note for Spring. From Isabel Marant to DVF, Paul & Joe and more; printed trousers struck a pose with panache. 
Banish your thoughts of ghastly prints in oversized unflattering shapes – this trend is all about modern polished elegance. With a focus on clean lines and refined cuts, printed trousers in sharp silhouettes look nonchalantly cool yet surprising elegant. Tailored cigarette pants or capris (finishing just above or on the ankle) should be well-fitted for 'glamorous,jet-setting style' (a la Isabel Marant). While wide palazzo pants (as seen at Paul & Joe) or silk wide-leg harem styles (from Diane von Furstenberg) are equally alluring.
Wear with a crisp white shirt for fresh sophistication or highlight a tone from the print with a simple, relaxed tee. A loose silk blouse in a neutral shade will also look beautiful.
From effeminate watercolour splashes to intense tribal prints – luxe shapes in exquisite colour is a Spring  focal point.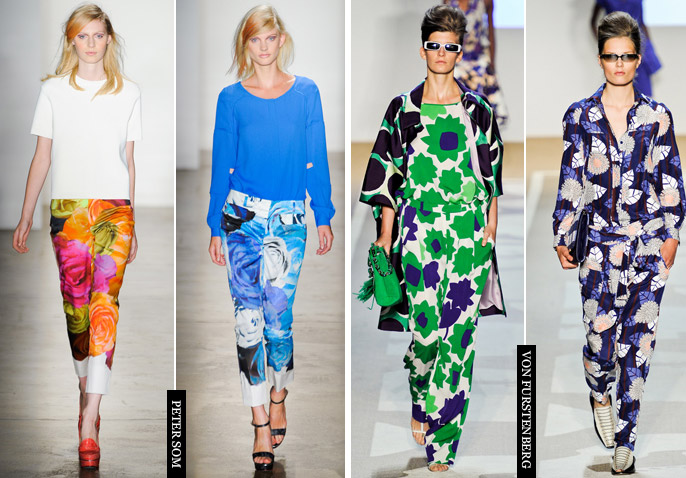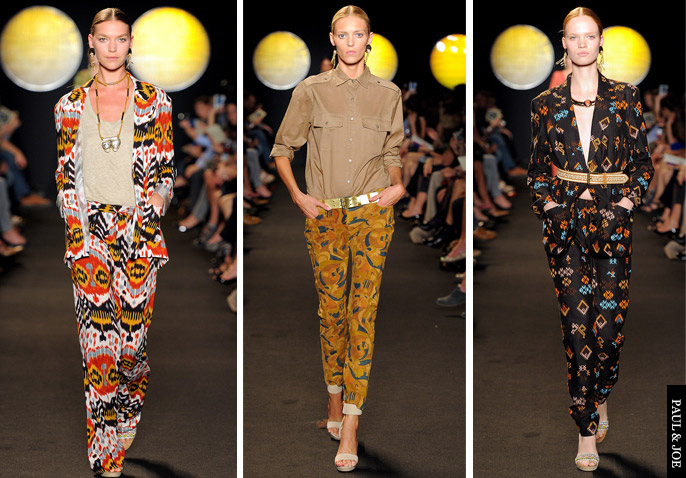 Will you go bold in printed trousers? xx
Photos from style.com
Luxury Of Haute Couture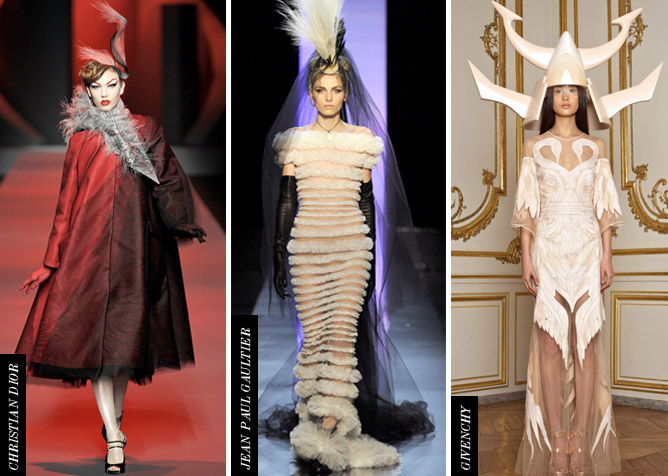 Couture collections are some of the most highly anticipated events on the fashion calendar – not to mention the most enchantingly beautiful. But do these seemingly expensive, overtly extravagant and often times very impractical pieces have a place in today's 'fast fashion' society?
Quite simply yes. And Haute Couture is even becoming more popular!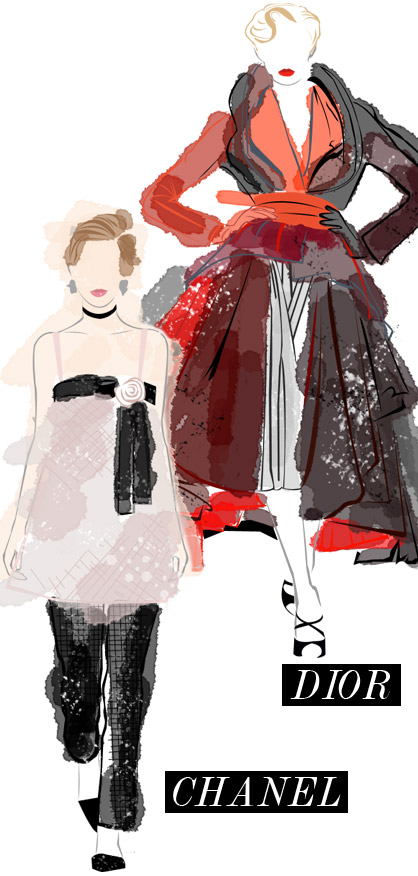 Haute couture, French for 'high sewing', refers to the creation of exclusive custom-fitted clothing made to order. Sewn with extreme attention to detail with hand-executed techniques, Haute Couture is created with the highest quality fabrics, finishings and embellishments. Now a 'protected name' there are only a handful of labels that meet the couture criteria. These include: Chanel; Christian Dior; Valentino; Elie Saab; Givenchy; Armani Privé and Jean Paul Gaultier.
The Haute Couture Business
To these powerful luxury labels, Haute Couture is still an important element of business. It's an investment in the label's image and global communication.
The dream of Couture fantasy helps to sell perfume and all areas of the brand; but most importantly it is the purest form of fashion, with a growing client base intent on keeping the extraordinary craftsmanship and intangible beauty alive.
Today, Chanel has estimated that there are 1,000 potential Haute Couture clients around the world. With 200 to 300 of these clients attending the Chanel collections each season. Dior too has expressed that their client base is growing. The Dior Couture Spring 2011 collection was presented in front of 800 guests – double that of the previous season. Demand for Givenchy couture is expected to rise by 10%; meanwhile for Elie Saab the couture calendar accounted for 43% of the company's business.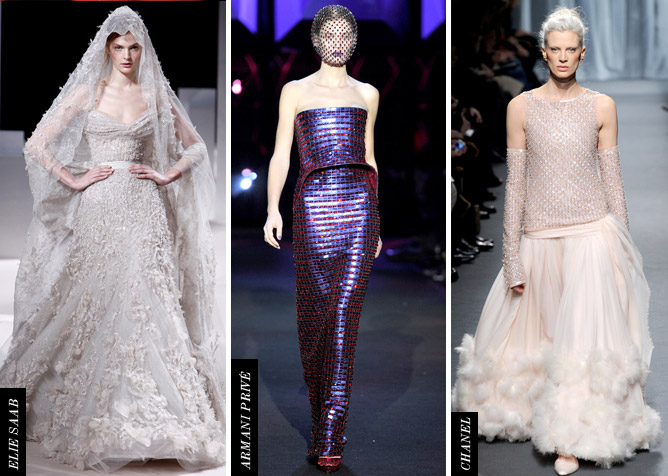 It is also an imperative component in publicity – with images of actresses walking the red carpet in these spectacular gowns beamed around the world. With Paris Couture Week taking place just before the Golden Globes, Oscars then followed by the Cannes Film Festival – it's a winning combination for both actress and the label's image. Remember Cate Blanchett's unique Givenchy Haute Couture gown or the lavender lace Elie Saab Haute Couture gown worn by Mila Kunis (both pictured below)? These ladies and their gowns will be documented forever.
Haute Couture Evolution
An imperative element of all fashion is evolution. And Haute Couture is no exception. During the Couture Spring 2011 collections, a few houses broke the convention of traditional 'Haute Couture' to present spectacular creations for women of today.
Karl Lagerfeld weaved his magic at Chanel with a collection that was fresh with iridescent sparkle and delicate charisma. This wasn't Chanel as we know it or traditional Haute Couture either. Skinny black jeans, black ballet flats and sprinklings of 'cobweb' like beads, floated down the runway like glistening rebellious ballerinas.
In fantastical shades of the lightest pinks, like delicious sweet macaroons, worn with beaded tulle leggings or jeans cut long and close to the leg – Chanel was seemingly enchanting a whole new generation of couture lovers. Of the collection, Lagerfeld said: "Haute Couture is about modern attitude. You have to adopt to the mood of the moment… this is the way people dress today."  

Christian Lacroix once said, "Haute Couture should be fun, foolish and almost unwearable" Haute Couture is a expression of spectacular craftsmanship, everlasting beauty, mesmerizing extravagance and above all else desire. Qualities I am certain will hold their place in the world for many, many years to come.